Archived News
Waynesville funds emergency overnight stays for unsheltered individuals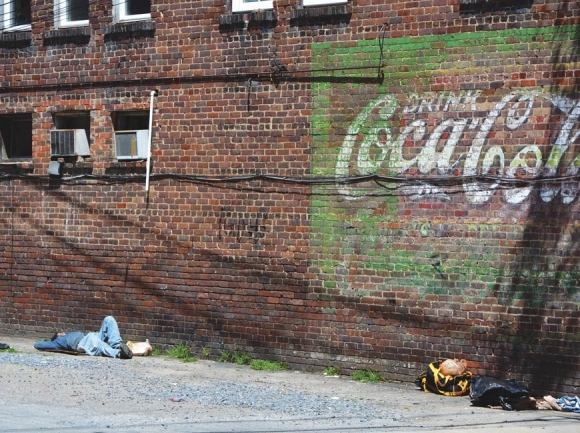 A man naps outside a building in Waynesville's Frog Level district in late 2019.
Cory Vaillancourt photo
Just days after a local nonprofit asked the Town of Waynesville to help fund emergency overnight stays for the unsheltered, aldermen gave them an answer.
"We said yes because I think it's the right thing to do," said Jon Feichter, a Waynesville alderman. "Lots of folks are unsheltered in this community and for them this might be the first step to permanent housing or ending substance abuse or getting a job. The alternative is, these folks are out on the streets 24/7/365 and that's not good for anybody. It's not good for the community and certainly not good for those individuals. This a win-win, a win for the community, and a win for unsheltered that live among us."
On May 25, community social worker Korri McLauglin delivered a presentation during a town meeting on behalf of Helping Hands of Haywood, a group that provides various free services to vulnerable populations.
Those populations largely consist of the very old, the very young and people experiencing mental health problems, substance use disorder or other poverty-related issues that contribute to homelessness.
The problem of homelessness in Waynesville – and to a lesser extent, other areas in Haywood County – has garnered increasing amounts of attention over the past several years, and was a central issue in the 2019 municipal election.
McLauglin, who is also an HHH board member, asked the town for up to $70,000 over two years to fund overnight hotel stays that will essentially serve as the first step in a housing continuum that ultimately leads from the streets to something safe, secure and affordable.
After a unanimous June 2 vote, aldermen will now provide $35,000 in each of the next two years to Helping Hands of Haywood.
That money will fund approximately 1,000 nights of emergency overnight hotel stays for unsheltered people each year, and comes as part of the estimated $2.97 million the town will receive over two years as part of President Joe Biden's American Rescue Plan. For the first year, funds will be disbursed quarterly, and HHH will be required to report back quarterly on how the money was spent.
"I obviously hope that this would be a model that other municipalities and counties would follow. This problem is not going away, and it's not unique to Waynesville," Feichter said. "This is a problem that affects all of us and it seems to have been dumped in Waynesville's lap. We are struggling with these kinds of questions, and balancing the needs of folks who are unsheltered in this community with the folks who are experiencing problems associated with drug abuse and addiction. I think the alternative, doing nothing, is helping nobody. Not doing anything is not acceptable in my eyes."
Funding provided by the town is to be used only for residents of Waynesville, but McLauglin said that would free up other funds the nonprofit has raised on its own to help those who don't qualify.
Included with McLauglin's request were letters of support from several community partners in the social services arena, including the North Carolina Harm Reduction Coalition, Mountain Projects and Waynesville's Grace Church in the Mountains. All vowed to partner with HHH in the effort, Grace Church has already stepped up with a $6,500 donation towards the effort.
"We're going to continue our efforts with fundraising and apply for separate grants so we can continue providing survival supplies needed for other seeking support from the surrounding areas," McLauglin said.
The decision by the town is bound to leave some people unhappy; residents have used the last two public comment sessions at town meetings to harangue aldermen over their handling of the homeless problem, but Feichter hopes the funding decision ends up being a positive step.
"We need to work together," he said. "I'm willing to do that and I talk to a lot of people that realize we may not agree on everything, but we can agree on a lot and work from there, and that's how I'm proceeding. Let's work together."
Leave a comment
2

comments
1,000 nights at $35 a night. Really!

Monday, 06/07/2021

Reading this makes me feel proud to say I live in Waynesville. It is a humane act. We citizens who have shelter need to support long term solutions to homelessness and all of the situations that lead to it. Thank you to the board.

Saturday, 06/05/2021