Archived News
Homeless pose risks to general public, each other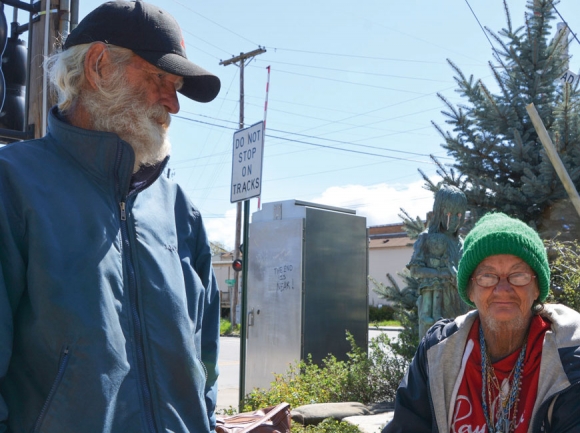 Unsheltered individuals who cannot obey the "stay home" order are still congregating in Frog Level. Cory Vaillancourt photo
A coalition of local nonprofits will pay to house some of Haywood County's unsheltered population amidst the Coronavirus Pandemic after Haywood County government announced it wouldn't pursue federal funding — essentially, free money — to do so.
"I think for Long's Chapel and the Open Door, it's just been an amazing opportunity to step up and fill a void that's kind of existed in this community," said Bill Guy, executive director of the Open Door since last November.
Waynesville's Open Door is a ministry of Long's Chapel Methodist Church, and has long been a provider of services to those living in poverty or living on the streets, including meals, groceries and emergency lodging, among other things.
Haywood County's unsheltered population poses a greater risk of contracting and transmitting the coronavirus due to unsanitary living conditions, difficulty in maintaining social distancing and the impossibility of obeying Gov. Roy Cooper's "stay home" order, but last week the county told The Smoky Mountain News that it would not pursue reimbursements from the Federal Emergency Management Agency to shelter them, leaving the general public at risk.
In this case, FEMA doesn't provide advance funds for such endeavors — the county would have to expend funds on its own in hopes of reimbursement, which isn't always a guarantee and is never quick to come.
Still, that didn't stop the county from spending $100,000 earlier this month on COVID-related overtime and equipment that Finance Director Julie Davis said was essentially a gamble in terms of getting reimbursed.
While the county does have protocols in place to transport, feed and house the unsheltered who test positive for the virus or are suspected of having the virus, the rest of the county's homeless population has been left to fend for itself after the county pulled the plug on a plan in progress to pay for the unsheltered to stay at any number of area hotels currently vacant due to Cooper's ban on non-essential travel.
"They were initially involved in putting together a shelter for the homeless during this COVID-19 crisis, and last Tuesday I was made aware that the county was no longer gonna take part in that," Guy said. "I was literally in the middle of writing a grant to the Community Foundation of Western North Carolina that day."
Guy said he switched up the grant proposal, which was approved the next day. A few days later, a check for $10,000 arrived and Guy immediately put it to work.
"We're using that to pay for rooms at the Scottish Inn in Maggie Valley," said Guy. "All their other needs are being met by the Open Door, Pathways, First United Methodist Church and the Harm Reduction Coalition has partnered with us as well. It's really been a grassroots effort since last week to get this thing up and going."
The rooms go for around $65 a night, not including taxes. The coalition started off by sending eight people — none of whom have the virus — to the hotel based on projections that they could afford to continue sheltering them for almost a month. Since then, Guy said he's received several donations that helped increase that number to 11 people.
"From a health standpoint," Guy said, "obviously you want to minimize their risk of becoming infected because once [coronavirus] would get into the homeless population, it would be extremely challenging."
Those 11 people are but a small portion of Haywood's unsheltered population; a national point-in-time count spearheaded by the U.S Department of Housing and Urban Development last January estimated at least 95 people living under bridges, in tent camps or squirreled away somewhere in the woods.
Guy thinks the number is higher. He's been keeping detailed records of those who utilize the Open Door's services since the pandemic began in earnest more than a month ago and puts the number at 120 — and growing.
Given the county's estimate of $120 a night to house an unsheltered individual, it would cost more than $390,000 each month to put them where the rest of the population is — with a roof over their heads, minimizing contact with each other and with the general public.
"When you look at the overall humanity of it, obviously regardless, you want people to have shelter," he said.
To make a tax-deductible donation that will help the Open Door provide temporary non-congregate housing for the unsheltered, send a check to 32 Commerce Street, Waynesville, NC 28786 or visit www.longschapel.com/give.