Archived News
Biden's American Rescue Plan means millions for NC local governments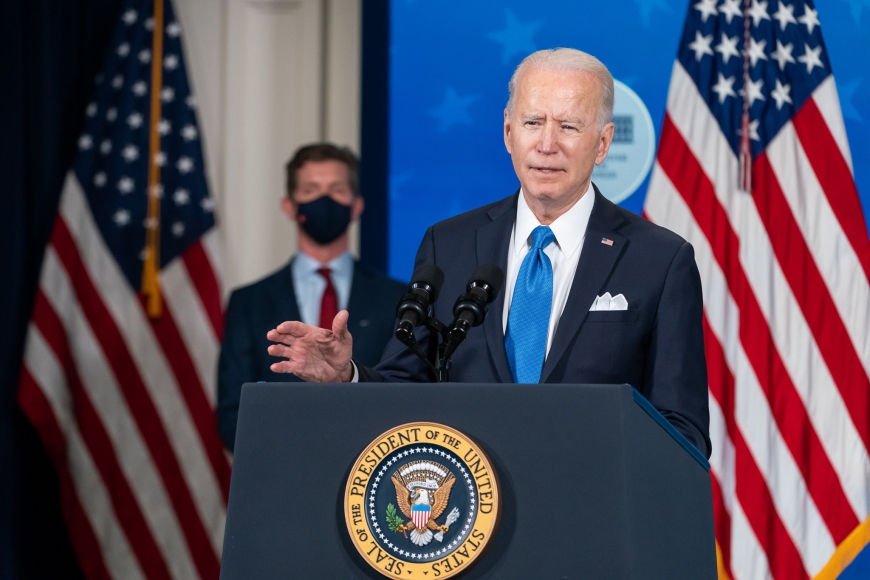 President Biden signed the American Rescue Plan (ARP) on March 11.
whitehouse.gov photo
While most Americans are looking forward to receiving the $1,400 payments included in President Joe Biden's $1.88 trillion American Rescue Plan (ARP) passed by Congress on March 6, counties and towns across the country are also eagerly awaiting a stimulus package of their own.
"A major part of this package is related to direct help to local municipal governments," said Canton Mayor Zeb Smathers, who is also chair of the Southwestern Commission, a consortium of local governments in North Carolina's seven westernmost counties. "I've never known a time where there would be such a direct payment. With that comes a lot of excitement, but a lot of unknowns, and this is going to kickstart dynamic conversations on how to spend that money."
Probably the best-known provision of the ARP is the one allowing for direct payments to individuals and families, but there are a host of other allocations within the bill that direct funding to a variety of recipients, including SNAP and EBT programs, schools, child care operations, vaccination clinics, mental health and substance abuse treatment services and small businesses, to name just a few.
State, county, local, tribal and territorial governments are also in line for substantial cash payments "for economic relief and to combat the virus," according to the Senate Democrats website.
Around $350 billion was allocated for state and local relief, 57 percent of which was allocated to states and 35 percent to local governments.
The state portion amounts to $195 billion, with $25 billion divided equally among the states, and $169 billion divided based on the share of unemployed workers in each state from October through December, 2020.
The local portion of around $130 billion was divided equally between counties and non-county municipalities. Counties across the country will be given $65 billion based on their share of the U.S. population as based on 2019 census data.
Non-county municipalities with populations above 50,000 will split more than $45 billion using a modified version of the Community Development Block Grant funding formula.
Non-county municipalities with populations below 50,000 – that's almost all of Western North Carolina outside of Asheville – will receive more than $19 billion based on their share of state population.
Tribal governments will receive an allocation of $20 billion, and U.S. territories, $4.5 billion.
An executive summary of the ARP prepared by U.S.-based law firm Holland & Knight says there are several acceptable uses of these funds, but they appear to be very broad in scope.
"We're going to look at our master plans, but we're also going to ask our citizens," Smathers said. "This is an opportunity like no other, and the focus has to be on getting it right. Like other taxpayer money, it will be spent in a fair and open manner."
For example, funds may be used to "respond to the public health emergency with respect to COVID-19 or its negative economic impacts, including assistance to households, small businesses and nonprofits, or aid to impacted industries such as tourism, travel and hospitality," according to the executive summary.
Funds can also be used by local governments to ameliorate revenue deficiencies attributable to the Coronavirus Pandemic.
Aside from public health-related concerns, the executive summary also says that funding can be used to "make necessary investments in water, sewer or broadband infrastructure," or premium pay for essential workers.
The first round of payments must occur no later than 60 days from the ARP's March 11 enactment. The second round will be distributed at least 12 months after the first round. All funds must be spent by the end of 2024, with state and local governments required to submit periodic reports providing a detailed accounting of how the funds end up being spent.
The NC League of Municipalities has issued guidance for municipal officials on the ARP, and will host a webinar next week to help them navigate its many provisions. The Southwestern Commission will likewise discuss the ARP at an upcoming meeting.
Although funding amounts are preliminary and may change, initial estimates issued by Senate Democrats provide an early look at what those formulas suggest in terms of funding levels.
Of the 50 states, North Carolina will receive just over $8.94 billion, more than 40 other states.
North Carolina's 100 counties will all receive funding, with amounts ranging from $215 million in Wake and Mecklenburg counties to $780,000 in Tyrell County. From Asheville to Wilmington, 24 cities with populations over 50,000 will receive amounts varying from $3.65 million (Lenoir) to $148 million (Charlotte).
Western North Carolina's counties, on account of population size, will see smaller amounts that will likely have an outsized impact – Buncombe, $50.66 million; Haywood, $12.09 million; Jackson, $8.52 million; Macon, $6.95 million; Swain, $2.77 million; Cherokee, $5.55 million; Clay, $2.18 million; and Graham, $1.64 million.
"I don't think this kind of funding comes along very often, not even every few generations," said Haywood County Manager Bryant Morehead. "I've been in government 20 years and don't ever remember getting $12 million from the federal government. We owe it to taxpayers to spend this money wisely."
Morehead said the county has incurred "significant" COVID-related costs over the past year, especially with the extensive vaccination efforts now underway.
"I think we should treat this as one-time money and use it for one-time cost items, not recurring costs," Morehead said. "Of course, that's up to the commissioners to decide."
Cities, towns and villages in Western North Carolina will also experience an impact from ARP funding – Andrews, $540,000; Bryson City, $420,000; Canton, $1,270,000; Clyde, $380,000; Dillsboro, $70,000; Forest Hills, $110,000; Franklin, $1,200,000; Hayesville, $140,000; Highlands, $290,000; Maggie Valley, $360,000; Murphy, $480,000; Robbinsville, $190,000; Sylva, $800,000; and Waynesville, $2,970,000.
"I cannot speak for what council will do but if we get $1.2 million, I'm going to advocate putting it into the underserved people and areas of town," said Franklin Mayor Bob Scott. "I need for that money to go to people who are desperately in need of help."
By comparison, Franklin's all-funds budget is around $8 million a year, according to Scott, who said that when the first round of ARP funding hits the town's bank account he wants to have a list of shovel-ready projects available for public input.
Smathers said he'd like to look at his own list of small-dollar projects the town hasn't quite been able to get to, especially those centering around recreation.
"This is an opportunity to attack that list, but also to look and see if there are other big projects where we can partner with other municipalities," he said.
The ARP bill first passed the House on Feb. 27 by a vote of 219 to 212, with two Democrats (Oregon's Kurt Schrader and Maine's Jared Golden) voting no, and no Republicans voting yes.
It then passed the Senate on March 6, with no Republicans voting yes.
The amended bill then went back to the House on March 10, where it passed by a vote of 220 to 211, with one Democrat voting no (Golden, again) and no Republicans voting yes.
The bill was signed by Biden on March 11, the one-year anniversary of the World Health Organization's pandemic declaration.
The full list of all governments to receive funding is downloadable in Excel format at www.democrats.senate.gov/final-state-and-local-allocation-output-030821.
ARP funding by county, in millions
Buncombe County $50.66
Cherokee County $5.55
Clay County $2.18
Graham County $1.64
Haywood County $12.09
Jackson County $8.52
Macon County $6.95
Swain County $2.77
Source: democrats.senate.gov/arp
ARP funding by city, town or village
Andrews $540,000
Bryson City $420,000
Canton $1,270,000
Clyde $380,000
Dillsboro $70,000
Forest Hills $110,000
Franklin $1,200,000
Hayesville $140,000
Highlands $290,000
Maggie Valley $360,000
Murphy $480,000
Robbinsville $190,000
Sylva $800,000
Waynesville $2,970,000
Source: democrats.senate.gov/arp