Archived News
Homeless in Haywood for the holidays
Wednesday, December 06, 2017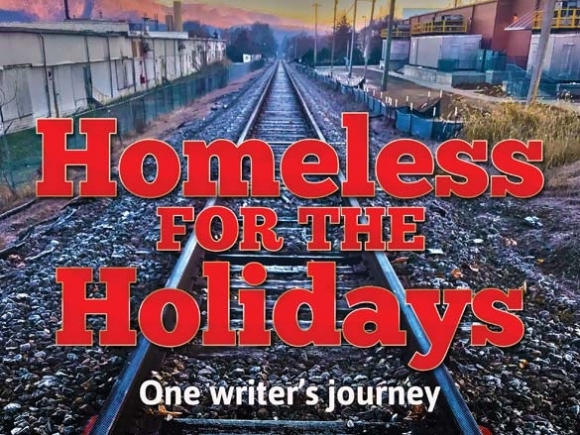 I don't really want to go into the domestic circumstances that led up to it, but even though I had no car, no money, no work and now, nowhere to live, I walked down our darkened driveway in the middle of the cold starry night with little more than the clothes on my back.
Worse than the dearth of resources, I had no social support structure, and with no real knowledge of the resources available to someone in a short-term housing crisis, there I was, standing in a Maggie Valley gas station mere moments into Thanksgiving Day, in a short-term housing crisis.
At least, that was my story.
Working and walking
Shortly after midnight on Thursday, Nov. 23, 2017, I walked out my front door and ventured off into that narrative, armed only with a pen, a notepad and a cell phone, determined not to return until I'd fully explored how a reasonable adult thrust into an all-too-common circumstance might fare — homeless, in Haywood County.
Online employment website CareerBuilder said in an August report that 8 out of 10 Americans live paycheck to paycheck, meaning a disaster of even a few hundred dollars could be catastrophic for most.
In Haywood County, where the U.S. Bureau of Labor Statistics says the unemployment rate is just 4 percent but the U.S. Census Bureau says the poverty rate is 17.6 percent, the paycheck-to-paycheck poor but one step from homelessness are numerous, especially given the region's well-documented affordable housing crisis.
To boot, the supposed increases in the need for social services during the holidays are no myth, according to Patsy Davis, executive director of local human services agency Mountain Projects.
"I do see that, and I think that the people that come through our doors live from one paycheck to the next. It doesn't take much to come off the rails," said Davis. "That increases during the holidays."
All of these factors — low-wage employment, high housing costs and increasing domestic discord — conspire with rural topography, oft-dangerous weather and a distinct lack of public transportation to create a uniquely challenging set of circumstances for those suddenly thrust into homelessness in rugged Western North Carolina.
Granted, this isn't the type of homelessness that most people associate with the term. Mental illness, substance abuse and criminal convictions complicate chronic homelessness tremendously. Without a social support system those individuals so afflicted can sometimes be left out in the cold, literally and figuratively.
For the sake of the story, I had no social support system, either. No nearby family, no couches to surf, no one to call.
Mine was simply a short-term housing crisis; I'd just hit a rough patch and only really needed three hots and a cot for a few days, or weeks.
Without assistance, I might be forced into vagrancy and end up in jail, but with a little help, I could get back on track because I could still work, and I could still walk.
My working hypothesis was that I'd probably confront a discouraging scene and come upon deep divisions between the "they" and the "we."
My walking conclusions, however, were startlingly different.
Exile on Mill Street
Maggie Valley at night is a wondrous spectacle, especially at this time of year. Most all the leaves have fallen, revealing previously unseen homes nestled halfway up some mountain or another. With their far off porch-lights, they look like stars — stars on the ground.
Westbound down Soco Road, the small, mostly seasonal tourist town was bathed in black, but for that remote and comforting glow just below Orion's scabbard low in the southern sky.
On the ground, it was 34 degrees. My iPhone told me so.
I'd brought the contraption with me to document the miles I'd walk, and to photograph the things I'd see. I wouldn't use it to search the internet for resources or maps, nor would I use it to call ahead for information or help, because in a region where connectivity is spotty but poverty is not, the luxury of a smartphone is assumed but far from assured.
This presented an immediate challenge when I faced the first of many husks of what used to be pay phones at the Sunoco on Soco; perhaps an operator could have connected me to some toll-free resources in my area. Perhaps not. Regardless, it wasn't and wouldn't be an option.
Eastbound down Soco Road, the isolation gradually gives way to Waynesville's brightly lit and burgeoning Russ Avenue commercial district, where the town's latest economic development victory will soon occupy the former site of an aging motel.
The Russ Avenue strip, bordered at the near end by the Great Smoky Mountains Expressway and at the far end by a set of railroad tracks veering toward the southwest, is probably the most vibrant commercial corridor in the county.
I followed those tracks through Waynesville, Frog Level and Hazelwood to a small knot of big box stores out near the expressway.
After exploring the surrounding area for a few hours while dancing around a sherriff's deputy who was patrolling the parking lots, I found what I thought was a pretty good spot for some shuteye, and as the first rays of the new rising sun became visible in the east, I tried to sleep.
Sitting up on cold concrete while holding your knees to your chest and shivering is not sleep.
Nevertheless, I woke from it around 11 a.m., on Thanksgiving Day, bright sun blazing.
I guess it was a good spot.
A door opens
High ceilings capped with stamped white tin and baby blue walls sporting ruddy brown burlap panels could let the airy, sunshine-flooded space at 32 Commerce Street in Frog Level pass for some trendy new Asheville bistro. But it's not.
"We are a ministry of Long's Chapel United Methodist Church," said Perry Hines, executive Director of Open Door Ministries. "We are a Christian ministry, so what we do, we do to exalt the name of Christ and reach out to people in His name."
Founded in 1996, Open Door runs on a budget of about $250,000 per year, 70 percent of which comes from the organization's social enterprise, Second Blessing Thrift Shop, located next door. Almost all the rest comes from individual donors.
Open Door provides a range of assistance to those in need, and in 2016 doled out more than $33,000 in cash assistance, 88 haircuts, 479 showers, laundry service for 461 and food boxes for 1,232. They also served 34,367 meals.
Through October 2017, Open Door was on pace to provide almost 25 percent more food boxes than in 2016, but almost 10 percent fewer meals.
Seeking one of those meals, I hopped back on the mainline into a deserted Frog Level that brilliant Thanksgiving morning and arrived at Open Door around noon.
Navigating a mostly-full room of people dining at large plastic tables, I walked up to the counter and did the hardest thing I'd ever done in my life.
"I heard I could get a meal here," I told the woman behind the counter sheepishly.
"Absolut-" she offered, cut off by a man beside her, red plastic plate in hand, spooning squash onto it.
"Here we go!" he said, without hesitation.
Once that plate was passed around behind the counter, I was handed a small mountain of turkey, green beans, mashed potatoes, gravy, a biscuit and a piece of pumpkin pie.
As I ate, I looked around and saw old and young, black and white, people who looked better off than me, and people who looked far worse. I cleaned my plate shortly after 1 p.m. and was the last diner there.
Back at the counter, volunteers were cleaning up. I inquired as to whether there'd be dinner that night or not, but learned there wouldn't be. Open Door serves breakfast and lunch Monday through Friday, dinner on Saturday, and lunch and dinner on Sunday.
"You heard of Pathways?" said a man cleaning a dish.
I later learned that man was Hines himself, and that dish was but one of about 90 cleaned that afternoon.
"No, I haven't."
"You know where the Sheriff's Office is?"
"No, I don't."
"You know where the new Hazelwood Ingles is?" he said, pointing in the general direction.
"I sure do," I said, shifting my weight from one sore knee to the other.
Back down the tracks, again. Next stop, Hazelwood, again. I'd passed the Pathways Center twice already, and then for a third time as I headed back to my previous sleeping spot under temperate fall skies and light winds. At some time approaching 3 p.m., I nodded off for a few hours and at dusk woke disoriented in a world I scarcely recognized.
The sun had succumbed to violet hues from behind Wolfpen Mountain as a waxing crescent moon frowned down upon the pre-Black Friday big box store shopping mania. The sidewalks were full of people and every spot in the lot was full of car. This year's Black Friday shopping mayhem actually started at 6 p.m. Thursday, and it was game on for those looking for deals.
Back up the tracks, again. Next stop, Pathways, again. I walked the short distance over to Brown Avenue and queried an EMT taking a break outside the Haywood County Emergency Services building on Hemlock Street. Had he heard of something called Pathways?
"It's around back."
Restoration, recovery, redemption
Walking in to what turned out to be the dining hall of the Haywood Pathways Center shortly after 6 p.m. and again navigating a mostly-full room of people dining at large plastic tables, I gingerly walked up to the counter.
"I heard I could get a meal here," I told the lady.
Soon a mountain of turkey, stuffing, creamed corn and green beans crowned my red plastic plate. Grabbing a Sierra Mist, I sat at one of about 60 seats, placed my plate atop the plastic floral-print tablecloth, and began to eat my Thanksgiving dinner.
Looking up between mouthfuls, I saw about 30 others doing likewise in the former minimum-security prison; I saw happy laughs and smiles on faces dark and light, some rippled with age, some taut with youth — including a newborn being passed around to universal adoration.
Several volunteers on their way out made it a point to stop, offer their hand, and wish me a happy Thanksgiving as I comingled my stuffing and creamed corn. Splashing down the last of my soda, I cleaned my plate and used the men's room.
It was just past 7 p.m. when I approached a woman who seemed to be in charge.
"I heard I could get a bed here," I told her, learning after the fact that there were 26 for women and 32 for men.
"Yeah, sure, maybe," she said. "Hang on just a minute and have a seat while I go find Louis."
The dining room had emptied, but for a small crew of people cleaning tables and sweeping floors. I took a seat for a moment until a slim giant of a man lumbered over and extended his hand.
Originally from Virginia, Louis Williams never planned on working in social services. He expected to be a carpenter or a contractor, but in 2005 heard a radio commercial for a shelter in Wilmington, North Carolina that was looking for staff.
"I just kind of said, 'God, is this for me?'" the soft-spoken Williams told me in a Frog Level coffee shop days after our initial meeting.
For eight years it was, until Providence, he said, and the love of a woman brought him to Haywood County and to Pathways, where I first encountered the imposing yet kindly Williams that Thanksgiving night.
Taking a seat next to me as residents continued cleaning around us, he introduced himself.
"I'm Louis," he said. "What's your name?"
"Lawrence," I replied, hoping to avoid being recognized as The Smoky Mountain News' city/county government reporter.
He asked if I had been a resident of Haywood County for 90 days, and walked off to make a photocopy of my ID, which reads "Cory Lawrence Vaillancourt."
Returning a few minutes later holding a blue rubber glove, a disposable plastic cup with two sealed pouches in it, a few pieces of paper, a pen and a small zippered clutch, Williams set them all in front of me on the plastic floral-print tablecloth as chairs were being turned up on tables nearby.
"What kind of work do you do?"
"Just, like, labor. Paint. Whatever."
"Everyone here works to the extent of their ability," he said, explaining that I'd have to pay the lesser of 10 percent of my income or $25, each week.
He later told me in that coffee shop that the employment rate at Pathways is quite high, compared to other shelters and thinks that says a lot about a community willing to give people a chance.
"I don't got no work right now though."
"We'll talk about that soon," he said, proceeding to pepper me with a long list of short questions: You identify as white, I take it? Age? Social Security number? Are you on any prescription medications? Any convictions? Pending legal actions? Do you use any recreational drugs? How much do you drink? Are you currently going through alcohol or drug withdrawals? Any allergies? HIV positive? Hepatitis A, B or C? Bedbugs, lice, fleas or ticks?
It all sounded like a song he'd sung many times.
"Have you been a victim of domestic abuse or violence?" he asked.
I hadn't.
"Men can be victims, too, you know."
For the first and only time on this journey, I offered up a small portion of my carefully rehearsed backstory — an unspecified domestic incident that didn't involve law enforcement, but did involve me suddenly being thrust into a short-term housing crisis with no resources or social support structure.
From there the questions only became more personal. Williams was respectful and treated me with dignity, but was also looking out for the safety of staff, residents, guests, neighbors and volunteers.
"Are you a registered sex offender?"
I'm not, and I told him so, well aware of a July decision to prohibit sex offenders from Pathways.
"Do you have a spiritual background?"
"Not really," I said. "Christian, I guess."
Pathways' mission and vision are thick with religious motivation; it's a self-proclaimed Christ-centered program "for the lost, lonely and least of Haywood County" that seeks to feed and shelter the hungry and homeless while guiding them along a path to self-sufficiency, decreasing recidivism in the process.
"Well, that's a start," Williams smiled, unzipping the small zippered clutch.
Inside was a digital breathalyzer. Upon inserting the plastic mouthpiece, I blew steadily until I heard the double beeps and Williams showed me the double zeros.
"Very good, that's what we like to see. I'm also going to ask you to fill that," he said, glancing at the plastic cup.
Williams followed me into the men's room and stood nearby. After a minute of deafening silence, I sensed nothing was going to happen.
"Hang out and drink some water. I should have told you when you came in, but I didn't know you were looking for a bed, I just thought you were here for a meal."
I pounded several large glasses of tapwater and left the dining room for the designated smoking area — a small outdoor space situated between the men's dorm, the women's dorm and the dining room where concrete tables and benches offer a stunning north-facing view of Eaglenest Mountain.
For almost an hour I stood there, drinking water, walking, waiting, until from among the comers and the goers sat an older man who struck up a match and a conversation.
"You new here?"
"Yep."
Pathways itself is new here, so to speak. Founded in late 2014, it came together largely through the vision of Haywood County Sheriff Greg Christopher, who earlier that year watched two men walk out of jail with nowhere to go.
"They have no hope," said Christopher. "So many of these people that are in our facility [the Haywood County Detention Center] right now, they're completely away from their family for whatever reason, and have nobody else to reach out to. A lot of times, especially during this cold weather, we'll find that when they leave here, they will actually go out and commit a crime just to come back for another meal and another bed."
Tired of arresting the same people again and again, Christopher partnered with Next Step Ministries, Open Door and the Haywood Christian Emergency Shelter in a communitywide effort to raise funds and renovate a former minimum-security prison facility next door to the detention center, just before another cruel winter could grip the region.
Executive Director of Pathways Mandy Haithcox said that the organization has never received funding from any government entity; it's $330,000 annual budget comes largely from individual donors and churches, along with some small grants, the largest of which was $15,000.
Eight full-time and five part-time workers have since December 2016 alone served more than 26,000 meals, helped 188 find jobs, helped 94 find housing, and helped 71 find salvation.
Of those who were released from the detention center in 2016 and utilized Pathways, 53 percent of men and 32 percent of women became recidivists; in a 2014 interview before Pathways opened, Christopher said general recidivism in the detention center was above 80 percent.
According to Christopher, it costs taxpayers $73 a day to house someone in the Detention Center. Pathways does it at almost no cost to taxpayers for about $36 per person, per night.
Exhaling a bluish-gray cloud of smoke into the cold black mountain air, the man paused and faced me.
"Welcome aboard."
Impatiently pacing near a cold concrete bench, I asked him how long one could feasibly stay.
"If you want to work and follow the rules, you can stay up to six months," he said, noting that there were lots of stipulations one had to follow so as not to run afoul of staff. Quiet time at 9 p.m., lights out at 10, up at 6 a.m., breakfast at 7, hit the bricks by 8:30, dorms re-open at 4:30 p.m., dinner at 6, roll call at 7, snack meeting at 8.
And there were more; according to the rules, I couldn't just lay around and get room and board for $100 a month. I had to see a caseworker in three days, and begin to overcome whatever had brought me to Pathways in the first place — unemployment, drug addiction, lack of education, whatever.
"The opportunity that we have at Pathways is not just to get people back into the community, but to change the community," Williams later said. "In larger communities, people see homeless people and disregard them utterly. Then they go back out and do the same thing over and over again."
If able, I was to apply for 15 jobs each week, with verification, as well as donate 10 hours each week to community service with a registered nonprofit. I'd also have to pitch in with upkeep of the facility. In return, I could stay for three days, and then if all went well, up to six months.
"They treat you pretty good here," said the man, stuffing his cigarette down one of those obelisk-esque receptacles before meandering back to the dining hall.
The mandatory 8 p.m. snack meeting had cut our conversation short, and when I walked in, already seated were nine women and 18 men, plus a staffer or two and Williams, who was lecturing the group about the importance of finishing up chores.
"How you live in here is how you'll live out there," he told us as I continued to sip water.
Once we were dismissed, I loitered and listened to the residents who'd remained opine offhand about getting clean and staying clean, about getting employed and staying employed, about getting out and staying out.
I was still hoping just to get into this place that would both give me a fish, and, if I so needed, teach me to fish.
More than an hour later, probably due to mild dehydration, physical exertion and two large, filling meals in the last eight hours, my body finally had some fluid to spare.
Based on the results of my seven-panel drug screen, I'd be admitted as one of about 40 lodgers that night and subject to random drug tests at any time. As long as they continued to come back clean after 30 days, Williams said I'd have no problems and fewer tests.
He then took me outside to a supply closet and issued me two hotel-sized conditioning shampoos, a bar of soap, a toothbrush and a tube of toothpaste.
I broached the possibility of a shower.
"You'll have that opportunity," he said, showing me the laundry room while explaining that I'd have to sign up for a 90-minute time slot once a week and remain present with my laundry the entire time. He also explained that the women's dormitory — and the sidewalk around it — is off limits to men, and vice versa. Even married couples.
On the way in to the men's dorm, he stopped, turned, and told me that a Bible study course was central to the Pathways program.
"It's as important as anything else we do."
The modestly appointed dorm consisted of a lounge with a worn but comfy leather couch, a computer with an internet connection, lots of reading material and a small television tuned to The History Channel, but as Williams showed me where the towels were kept and handed me a set of bedsheets, all I could think about was that shower.
"All of your belongings have to fit in these two clear plastic tubs," said Williams, guiding me into the barracks area of the dorm.
Shower?
"You're in bunk number three," Williams said. "A prized bottom bunk."
Shower?
"It should look like that in the morning," he said, pointing to an example of proper bed-making procedure.
Shower?
He handed me a copy of the rules, then left me there by my bunk. I signed up for the last shower slot of the evening and took the best shower ever, but only for my allotted 10 minutes.
Once dry, I brushed my teeth, put on the same dirty clothes I'd been wearing for the last 30 hours and 23 miles, made up my bunk, took those dirty clothes off — except for underwear — put them in a clear plastic tub and shoved the whole lot under my creaky iron bunk.
Pulling out my notepad and pen planning to take down some notes, I rolled over into my rack and before my head even hit the pillow fell into a deep, hard sleep punctuated only by having to get up and pee every 45 minutes for the next four hours.
A return to the altar
Although it resembled a military barracks but for the 16-inch rust-colored ceramic tile and vividly painted walls, there would be no Gunnery Sergeant Hartman-style reveille, no billy clubs banging metal trash cans at the break of day.
The 6 a.m. wakeup call on Friday, Nov. 24 came with a hushed, "Good morning, gentlemen," as the TV and lights came on but the skies were yet dark.
It wasn't Williams who'd awakened us, however, it was another Pathways staffer who couldn't have been more of a contrast to him. Shorter, whiter and more vocal, Daniel prowled the dorm ensuring all would heed his hushed call.
"Good morning, gentlemen."
Some Pathways residents had left earlier, for jobs; I lazed for a few minutes, but recalling Williams' discussion the night before about rules, responsibilities, teamwork and consequences, I put on those same dirty clothes, got up, got myself together, and walked the short distance to the dining room.
Grabbing a cup of coffee, I caught the WLOS morning newscast on the TV, and went back out to the designated smoking area. Looking over the Plott Balsams, it was apparent that a thick, hoary frost had set in overnight, which would have made sleeping outside much more dangerous.
The morning shadows receding from the peaks, though, suggested a warm, inviting portrait, even if framed by chain link and razor wire.
At 6:45 a.m. the dining room began to fill up with Pathways residents waiting for the 7 serving. It was obvious by the way they sat together and talked to each other that this whole was greater than the sum of its parts.
Once we'd all been seated with biscuits, gravy and sausage, Daniel began to speak.
"We have a new member of the community. Everybody say hi to Lawrence," he said, pointing at me. "Help him out. Show him the ropes."
Everyone in the room looked directly into my soul. Weary-eyed, I waved back until one woman seated across the room locked eyes with me.
"Welcome home," she said.
Looking down at my biscuit, I fought back tears. Days later, looking down at my keyboard, I lost that fight.
Daniel proceeded to talk about conflict resolution, citing Matthew 5:23 — if in bringing your gift to the altar of the Lord you remember that your brother has a grievance against you, first reconcile with your brother and then return to the altar.
"This is a difficult time of the year for a lot of us, probably everyone in this room, myself included," he said. "Don't be hot and blow up, don't be cold and give up, be cool and in control — of yourselves, and of your actions. Don't react, respond."
Although the dorms usually close from 8:30 a.m. to 4:30 p.m. on weekdays, Daniel announced that this being the day after Thanksgiving, they'd remain open all day.
Nonetheless, once I sopped up every last bit of gravy, I put my plate on the pile, and by 7:30 a.m. had walked back out to the tracks, where the cold steel rails shimmered white in the 34-degree morning air.
As important as nourishment
It was almost 10 a.m. when I made the 1.8 miles from Hazelwood back to Frog Level, the fourth time I'd traversed the span.
Having recognized a regular traffic flow between Pathways and the Open Door — breakfast and dinner are served at the former, breakfast and lunch at the latter — I decided to continue northbound along the tracks until they curved east, briefly embracing the shoulder of Lake Junaluska for a half mile until again crossing the Great Smoky Mountain Expressway.
Frog Level, Hazelwood and Waynesville lie at the center of Haywood County; to the west, there's not much in the way of resources in Maggie Valley, and no other shelters before Murphy, in Cherokee County. The eastern end of Haywood County, however, was thus far terra incognita.
Piercing the heart of Clyde and then following Carolina Boulevard until it becomes New Clyde highway, the tracks crest a slight hill before looking down on the imposing Evergreen Paper complex about 4 miles further on up the road. From Blackwell Drive, it was only another half mile to the Community Kitchen on Pisgah Drive in Canton.
After walking all day in temperatures near 60 degrees, I arrived at five past five and didn't even have time to again navigate a mostly-full room of people dining at large plastic tables.
Just two steps in the door, a boy of about 10 ran up to me.
"What would you like to drink sir?"
"Huh?" I was startled by the unexpected young waiter and, perhaps, by a full day without even the slightest basic human contact.
"Oh, uh, water. Ice water. Please."
Walking up to the counter behind which stood seven or eight volunteers, I said for what I hoped would be the last time in my life the hardest thing I'd ever said in my life.
"I heard I could get a meal here."
"Have a seat and we'll bring it to you right away," she said.
Almost before I could sit down at one of six long, rectangular tables, someone put a Styrofoam plate in front of me.
Founded in 2006, the Community Kitchen has been doing just that around 50 times a night, every night, for more than 10 years. The organization receives donations daily from Food Lion and on weekends from Walmart, and also offer baked goods, groceries and about 220 food boxes a month to the hungry, all on a budget of just over $100,000 a year.
The organization is also supported with donations and volunteers from a list of local churches so long it'd probably be easier just to name the Haywood County houses of worship that don't contribute — if there even are any.
The volunteers who served me two huge pancakes and two links of sausage and the ice water that night were from Sulphur Springs Baptist Church in Waynesville.
"I wish we weren't needed," said Community Kitchen Board Chairman Chris Jennings when I caught up with him and other staffers a few days later. "That would be the ultimate goal, that we're not needed, but there are nights that there will be almost 90 plates that are served."
When the kitchen first opened, Jennings said, it wasn't uncommon to see few people eating. But since then, the need has consistently grown in Canton; there is no shelter here, and Community Kitchen is the only place around to get a plate. Operations Director Allison Jennings said they'd just seen their busiest Thanksgiving ever.
"During the holidays, food box distribution goes up but meals go down, because it's one of the few times a year that those without housing might find themselves invited to share a holiday meal in the home of a family member or friend," she said. "But then the next day, they're right back here."
Administrative Director Bill Brown pointed out something I'd noted while dining that night — among the 20 or so eating at the time were a higher proportion of elderly folks than anywhere else I'd been.
Often, Chris Jennings explained, these are people who have homes, but are without power, or running water, or companionship — a need of all humans as important as nourishment.
Then there are the 10 or so regulars he says are truly homeless. They, too, show up for more than just the pancakes.
"We have one that likes the way he's treated here. He's made to feel special," he said, adding that as the only outpost on the eastern end of Haywood County, lack of transportation makes the trip to and from Pathways impractical for most and impossible for some.
"To leave here means he loses that. For him to think, 'OK, I've got something special here, I've got people that are kind to me and treat me well. Will I leave that to have a bed to sleep in? Or do I manage something else?'"
I would certainly have to manage something else for the night; there was no way to cover the 12 miles back to Pathways by 7 p.m. roll call.
Walking back down Pisgah Drive around dusk that Friday evening, I turned left and hit the tracks again, watching wispy padparadscha-white clouds float silently through the steadily darkening yet still baby blue western sky.
Finding a safe place to crash for the night earlier in the day — just off the tracks, in Clyde — I returned to it by 9:30 p.m. and went to sleep in the pleasant 40-degree night air. Awake and with a full head of steam by 7:30 a.m., I returned to my home in Maggie Valley right around 11 a.m. on Saturday, Nov. 25.
Epilogue
As I said at the beginning, that was my story.
And I stuck to it, for more than 50 miles on foot and almost 60 hours on the streets, except for eight precious hours of respite in a bed at the Pathways Center on Thanksgiving night.
But as also noted earlier, I didn't really need to put so much time into my fictional backstory. Not once, when I asked for help, did anyone ask me why I needed it; as in the Gospel of Matthew, I was hungry and they gave me something to eat. I was a stranger and they invited me into their home.
That was only one way my experience differed from what I'd expected going into it.
I'd expected to learn of an utter lack of resources along with abuse, neglect, filth and degeneracy, danger, drugs and death at every turn.
I learned of no such things.
Instead I learned that from one end of Haywood County to the other, caring volunteers, attentive staff and a generous community provides on average about 80,000 free meals a year, funded to the tune of about $700,000.
Aside from some very small grants given to some of these organizations by some municipalities, the entire time I was out there the vast majority of the assistance that kept me alive came directly from the hearts and homes of Haywood County churchgoers.
"There's no way that I can literally express how grateful that I am as the sheriff of this county — and personally as well — that so many people would give like they have to the Pathways Center," said Sheriff Greg Christopher. "What this tells me is that people have a heart of generosity and that people do care about their neighbor, that being one of the foundations of the Bible and the Ten Commandments."
The system, as it were, seems to be operating fairly well, meeting an incredible amount of need rather efficiently, and helping as many as can be helped each year.
But that doesn't mean it's perfect.
I soon learned that I would be hot and sweaty and cold and sweaty and damn thirsty from walking all the time, and that there's really nowhere to sit in this entire county.
I also learned that while you were rushing in to Walmart on Thanksgiving for an extra case of beer or that jar of pumpkin spice you'd forgotten to buy earlier, there were likely people sleeping unseen in very close proximity. Because I was one of them.
Waynesville's Police Chief Bill Hollingsed said that in his 19 years in town, homelessness, whether long term or short term, isn't going away.
"It certainly hasn't declined," said Hollingsed. "I'd say it's remained steady."
Pathways Executive Director Mandy Haithcox said that last month her facility notched all-time highs in terms of guests who stayed at least one night, and in terms of meals served.
Community Kitchen's Chris Jennings said that a small community of homeless has recently sprung up in Canton.
"We do need homeless help here — badly," Jennings said. His kitchen could use some help too — a new 7,000 square-foot facility on Champion Drive they purchased outright will soon allow the Community Kitchen to close its current 1,100 square-foot rental space and expand its programming, but some kinks in the building's HVAC system have delayed the move and increased the cost.
Central Haywood County still needs help too — since the demolition of The Lodge, a motel on Russ Avenue in Waynesville that was recently razed to make way for a new Publix grocery store — finding hotel rooms has been challenging as well.
Open Door's Perry Hines said that he's made a partnership with another such establishment, but hotels unable to work with his clientele or his financial limitations are more the norm.
Hines' partnership is indicative of how these organizations work together, and is today especially crucial, considering children aren't currently allowed at the county's only homeless shelter.
"When we inherited the prison, physically there was just a men's dorm and a women's dorm, so there wasn't a way for us to help anyone that has children," said Deb Isenberg, a community liaison at Pathways.
But in October, Haywood County Commissioners gave their blessing to Pathways for a new two-story, 5,300-square-foot, $625,000 modular home right behind the existing women's dorm with up to 10 rooms to accommodate women with children. Haywood County owns the land upon which Pathways sits.
As usual, no county funds will go toward the tab and Pathways is out fundraising, hoping to open this summer. Until then, women with children are directed to Open Door and Hines' generous, accommodating, anonymous benefactor.
That leaves only homeless men with children and registered sex offenders nowhere to go. While homeless men with children are rare, the North Carolina State Bureau of Investigation says there are at least 51 registered sex offenders living within a five-mile radius of Waynesville's Main Street.
"The community was not happy that there were registered sex offenders here, so the county said that needed to end," Haithcox said. "With a couple folks left, we compromised on a time frame and got most of them into housing, so we know where they are."
It's understandable, especially since the Hazelwood-Frog Level corridor traveled by many homeless people runs right through more than a few back yards, and right through Waynesville Middle School's campus along Brown Avenue.
When a resident complained to Haywood Commissioners during a meeting June 19 about seven sex offenders in residence at Pathways, the decision was made.
Now, should any of those 51 registered sex offenders become homeless, they won't be under the watchful eye of Pathways anymore.
Instead they'll likely end up at one of the three homeless camps I stumbled upon during my journey, or the two more camps I learned about after my journey had ended.
Or maybe they'll end up at Hotel Christopher — the county jail — for $73 a night, billable to John and Joan Q. Public.
Where they probably won't end up is Buncombe County, where Sheriff Christopher believes there may be shelters that accept them.
With no real public transportation available in Haywood County, Buncombe County might as well be British Columbia to these folks; Mountain Projects does run a small fleet of vehicles as Haywood Public Transit, but due to a lack of funding, they're anything but convenient.
"Currently, we have what's called a demand-response kind of system," said Mountain Projects Executive Director Patsy Davis. "It requires that we put as many people in the vehicle as we can."
It also requires reservations, if possible a day before and only runs Monday through Friday from 6 a.m. to 5:30 p.m.
"I have a dream of a route that would run 12 hours a day, two vehicles, and it would do nothing but ride a circular route [around the county] and pick you up and drop you off at all points," Davis said.
Uber hasn't yet infiltrated these parts and may never, taxi cabs are exceedingly rare and both are prohibitively expensive as a lifestyle; unless and until matching funding can be procured from the county for a more robust transportation system that would also open up economic development and employment opportunities, residents of Pathways can look forward to an upcoming partnership with Bicycle Haywood that may soon get them rolling.
They are far from hopeless, Haywood's homeless, but as we watch Christmas approach we know that things are likely to get harder for them.
Except as Pathways staffer Louis Williams sees it, the "they" and the "we" really aren't all that different — a thought with which I must concur, after finding myself homeless in Haywood for the holidays.
"What I'm hoping to foster in the shelter is a sense of unity among the guests and residents, so they take that message out into the community," Williams said. "We as a society have bred an innate division between color, economics, what school you went to, how much money you make, what kind of house you live in — we need to find all the reasons that make us one, and we can rally around that."
Donations were made by The Smoky Mountain News to Community Kitchen, Open Door and Pathways in excess of the cost of services provided to our writer.
Help for the holidays
Although nonprofit organizations can always use volunteers and donations every day of the year, the need increases during the holiday season. If your holiday plans include donating to one of the very worthy organizations mentioned in this story, here's how to do it:
Open Door
• Mail: 32 Commerce St., Waynesville, NC 28786
• Phone: 828.452.3846
• Online: www.opendoor-waynesville.org
• Greatest needs: "With the exception of financial contributions, Second Blessing Thrift Shop needs new or gently used items," said Perry Hines, executive director of Open Door. "We take and resell them, and that's a wonderful way for us to make profit. People can also give of their time and be a volunteer. Truthfully, there's just almost any imaginable way they can help. Service providers, like hairdressers, lawyers, they can help."
Pathways
• Mail: 179 Hemlock St., Waynesville, NC 28786
• Phone: 828.246.0332
• Online: www.haywoodpathwayscenter.org
• Greatest needs: "We always need hygiene supplies," said Mandy Haithcox, executive director at Pathways. "Underwear and socks are good, but we have a list on the website that we update, so if we get inundated with socks, we'll take socks off for a while."
Community Kitchen
• Mail: P.O. Box 513, Canton, NC 28716
• Phone: 828.648.0014
• Online: www.cantoncommunitykitchen.org
• Greatest needs: "Our greatest need other than cash is cash," laughed Open Door Operations Director Allison Jennings. "We have staples that we do run out of a lot and there are items that we end up having to buy, which are sugar, tea, coffee, mixed vegetables, canned green beans, carrots Sloppy Joe sauce, and ranch dressing."