Archived News
Cawthorn's internal poll measures job performance, approval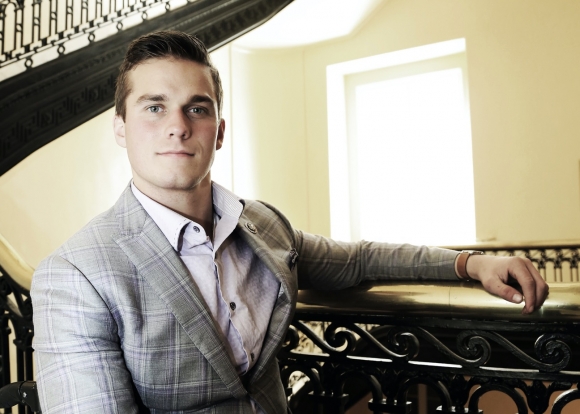 Rep. Madison Cawthorn sits in a hallway outside his Washington, D.C. office on Jan.21, 2021.
Jeffrey Delannoy photo
After almost five months in office, Rep. Madison Cawthorn, R-Hendersonville, has his first look into the major political questions that have arisen during his short, tumultuous tenure – namely, his approval rating among Republicans, the state of the Republican Party and their current opinion of former President Donald Trump.
"The results make me feel really good. I think it definitely shows that when you have the back of the American people, that when you abide by what you said you were going to do in Congress, that when you are true to your word and you're true to your district and you don't go all Washington, people have your back," Cawthorn said. "The people of Western North Carolina I think are very good judges of authenticity and I think that's the reason why this is even more support than we found in the original Primary Election. We came out with 66 percent of the [Republican runoff] vote, now we're up to 72 percent and we plan to keep on growing that, by just showing that we're a serious legislator just as much as we are a fighter against this radical left uprising."
There are some significant caveats to the survey. Internal polls are, as the name suggests, conducted internally by staffers as opposed to high-priced professional polling firms. This method of polling could lead sympathetic pollsters to push for more positive results, however, it's in no one's interest to expend all that effort for inaccurate results that don't tell the whole story.
It's also a Primary Election survey – focused on how the Republicans who will vote in the Primary Election feel about their congressman right now. General Election polls, which may come much later in the cycle, usually have a broader scope and include other voters situated elsewhere on the political spectrum.
This particular poll was conducted using interactive voice response, live landline calls, and online mobile interviews on May 12 and 13, and included only registered Republican voters in Cawthorn's NC11 district who had voted in at least two of four elections from 2014 through 2020.
Of the 600 respondents – 300 men and 300 women – 59 percent describe themselves as "very conservative" with a further 28 percent saying, "somewhat conservative." Moderate, liberal or very liberal Republicans make up about 12 percent of the district's Republicans, according to the survey.
About 51 percent were aged 65 and older, with 20 percent 55 to 64, 22 percent aged 35-54, and 7 percent under 34.
Residents of Buncombe County made up the largest segment of the poll, almost 24 percent. Henderson County weighed in at almost 20 percent, with Transylvania a distant third at 9 percent. Avery, Haywood, Macon and McDowell were all clustered around 5-6 percent, with the rest of Cawthorn's 17-county district between 1 and 3 percent.
All 600 respondents say they're extremely likely or somewhat likely to vote in the 2022 Republican Primary Election, which is good news for Cawthorn – 60 percent say they strongly approve of his job performance to date, and 22 percent say they somewhat approve, while 9 percent say they somewhat or strongly disapprove.
"Everywhere I am across the district, Madison is seen as a true conservative fighter," said Michele Woodhouse, NC11 GOP chair. "His approval ratings are actually probably much higher than that, but I'm pleased with those numbers as I'm sure he is."
Favorability ratings for Cawthorn appear similar, with 73 percent saying they hold a favorable opinion of him, against 11 percent holding unfavorable opinions of him. A further 14 percent had no opinion.
If those numbers hold true, it could spell trouble for Buncombe County resident Wendy Nevarez, who is Cawthorn's first, and so far only, declared Republican challenger.
Any other challengers like Nevarez would likely find themselves running not only against Cawthorn, but also against Trump – to whom Cawthorn has been closely tied since last year's General Election.
That may spell more trouble for Republican challengers, as well as any of the half-dozen or so Democrats who've already signed up to run against Cawthorn in the November, 2022 General Election.
The survey shows that almost 83 percent of NC11 Republicans say they approve of Trump's tenure as president, and another 8 percent say they "somewhat approve." The other two choices, somewhat disapprove or strongly disapprove, totaled less than 7 percent.
Favorability ratings for Trump also remain high, around 87 percent. Just 10 percent of NC11 Republicans said they held an unfavorable opinion of Trump, and 2 percent said they had no opinion.
"Those are great numbers and not surprising at all," said Woodhouse. "What would be fascinating would be to see those numbers against Joe Biden's, because Joe Biden's America has been disastrous for Americans, and especially for those us in the mountains."
Of course, there are those who think Cawthorn's numbers among Democrats and unaffiliated voters will be far lower, especially after another busy week on the Hill.
"Cawthorn likes to rile up his base with fearmongering over a fanciful culture war narrative where far-right Republicans are heroes and everyone else is a villain," said Michael O'Shea, who was just elected as the Democratic NC11 chair. "Back in reality, a majority of his constituents are independents and Democrats who peacefully coexist with their Republican neighbors and don't appreciate the constant derision."
The Smoky Mountain News: That veterans bill that was just passed seems to have been overshadowed on social media by your inaccurate claim about being the first freshman to pass a bill. How did that happen?
Madison Cawthorn: I don't know if it's overshadowed, it's been really celebrated here on the Hill, but um there was a guy named Andrew Garabino (R-NY), a dear friend of mine, who passed a procedural vote before I did. We had called the leadership staff just clarifying that no one had passed a bill yet in the freshmen class, and that was our understanding. But then we then found out that Andrew had. I talked to Fox yesterday and Newsmax yesterday giving him props for being the first, but we were still among the first. So I'm quite happy with that. And this bill is something that really demonstrates the fact that you can come up here and be a fighter. You can come up here and be a hard charger for your beliefs. You can still get something done. And I think that's kind of a new example, a new version of the GOP,
SMN: You've also been called out on social media as the freshman who's missed the most votes.
MC: You know what, if I ever had to choose between going on a honeymoon with my wife and staying here to vote with Nancy [Pelosi, Democratic speaker of the House] and missing a week of votes, I will always choose that. There were no major, really major bills that came up that week. You only get married one time, and Christina already put off a wedding once for us to finish the campaign so definitely it's something that I knew we'd probably take a hit on, but everyone that I've talked to once they find out that it was because I was on my honeymoon, no one has problem with it.
SMN: Getting back to your survey, Trump's favorability numbers are really high, and I think we saw that play out with the removal of Liz Cheney. Back in January, you told me you voted for her to serve as conference chair, and that the Republican Party needed unity. Last week, you voted to remove her. What changed for you between January and today?
MC: A lot of people were confused about this. We did not vote to kick her out of Congress. I believe that right only should reside with the people who elected her. We just kicked her out of a leadership position of our conference. When somebody is in a leadership position, their job is to really champion the message. It's really important the person that we demonstrate to the press, they know our message so if you want to hear what we believe, they are a great contact for you. They're an authoritative source, but Liz Cheney continually just keet kicking us in the teeth. Continually. Just went around in circles about what she believed, did not have our back and just trying to litigate the past, when I'm not focused on the past. I am focused on making sure that dining room politics 10 years from now are better than what we have today, so that when people in my generation are getting married they start saying, "Hey, you know what? I do want to have a child. I think that I have hope for that child because I believe, well, this world is going to be a better place when I leave it."
SMN: I watched the floor vote yesterday on the Jan. 6 commission. It was a voice vote, but I assume you voted no on that.
MC: I absolutely voted no on it. It's a little narrow scope to say that it's just going to focus on Jan. 6. It basically puts it on the same level as 9-11, which I think is just kind of insulting to the people who went through 9-11. [The proposed commission] is to focus on the political violence that occurred on a single day. Really, in a calendar year when it turns out that there was political violence for months in 2020, that has never been investigated. As awful as it is that we lost the Capitol police officer due to this riot here on Capitol Hill, I wonder how the wives and the husbands of the six fallen officers that fell here in the Black Lives Matter protest this summer feel when they hear they're putting a commission. The scope needs to be brought in to look at all political violence.

SMN: Some people have suggested your vote against that commission might be rooted in your purported involvement on Jan. 6 and your speech at the Ellipse. What would you have to say to those folks?
MC: I think that's laughable. Anybody who really listened to that, it's very clear that I was representing them on the House floor. I think there were some bad actors in town on Jan. 6. Itelligence reports that we received showed that there were people who had very orchestrated plans that had been weeks and in the works and they were just wanting to take advantage of the fact that there was a huge crowd in Washington. The Capitol police were going to be spread thin because of the number of people and then just a lot of people who came with a lot of diversionary tactics that they used to their advantage. And it was disgusting.

SMN: As we're talking about your job performance based on the survey, when you came into the house, the pandemic was probably the biggest issue. You've been vaccinated, right?

MC: That's part of my personal, my personal data, when it comes to my health, I share that with my doctor.

SMN: Regardless, what's your current opinion, the vaccination situation and what would you say to folks who haven't yet been vaccinated?
MC: Our vaccination rates are so high that we announced we're starting to export vaccines, which I think is great that we have access to enough vaccines that anyone who wants one can get one. I have absolutely zero advice for people who have not taken a vaccination yet. I think that would be absolute folly, for someone who's not a medical doctor to start saying, "Oh, well, I think you should do X, Y, and Z." You know, I have to guess that's why our country is in such a terrible state, because you have so many politicians who don't know much of anything who would just start talking like they're an authoritative force on something. But you know, I think [vaccination] is between you and your doctor and God and you should have that conversation.
Leave a comment
8

comments
He is trying to convince young people to drop out of college because I guess we don't need engineers, technology experts, pharmacists, or even teachers to compete with the Chinese. No botanists, No architects, no nurses...He is a drop out, therefore he doesn't want anyone near him to make him look like an idiot....guessing his wife left him because he has just gotten to damn embarrassing.

Thursday, 12/23/2021

Cawthorn has missed more votes in the House than anyone else. He is a disgrace to the 11th District.

Tuesday, 05/25/2021

He called people he knew and more than likely from his top donation list. With his track record of missing votes and being on vacation—I think he is simply trying to cover himself. When u do an internal poll u get the results you want simply by not using any negative comments

Monday, 05/24/2021

There is no way this was an unbiased survey. If anyone believes these numbers reflect opinions/feelings of somewhat knowledgeable voters, I think they are sadly mistaken. He has been a disaster in this office since the very beginning. And, I am a registered Republican.

Monday, 05/24/2021

This is beyond ridiculous. Why are you giving this guy any credit at all. He only cares about himself and getting the votes of his fellow Trumpites. Of course the survey is going to go your way when you are hand picking the respondents. It is completely sad and disheartening to know that he would rather participate in idiocracy than democracy.

Monday, 05/24/2021

Just as many people voted for Forest and know cooper cheated

Friday, 05/21/2021

So, in a poll of conservative voters who voted for Cawthorn , only 30% are unsatisfied with his performance? That doesn't seem all that great.

Friday, 05/21/2021

Representative Cawthorn | What About All The Paper Ballot Postcards Your Office Mailed To Us? I Just Got It In The Mail And Now I Can't Vote. Are We Suppose To Throw Them Away?

Thursday, 05/20/2021