Archived News
Eating an elephant: Canton, county will solve huge mill problems by taking small bites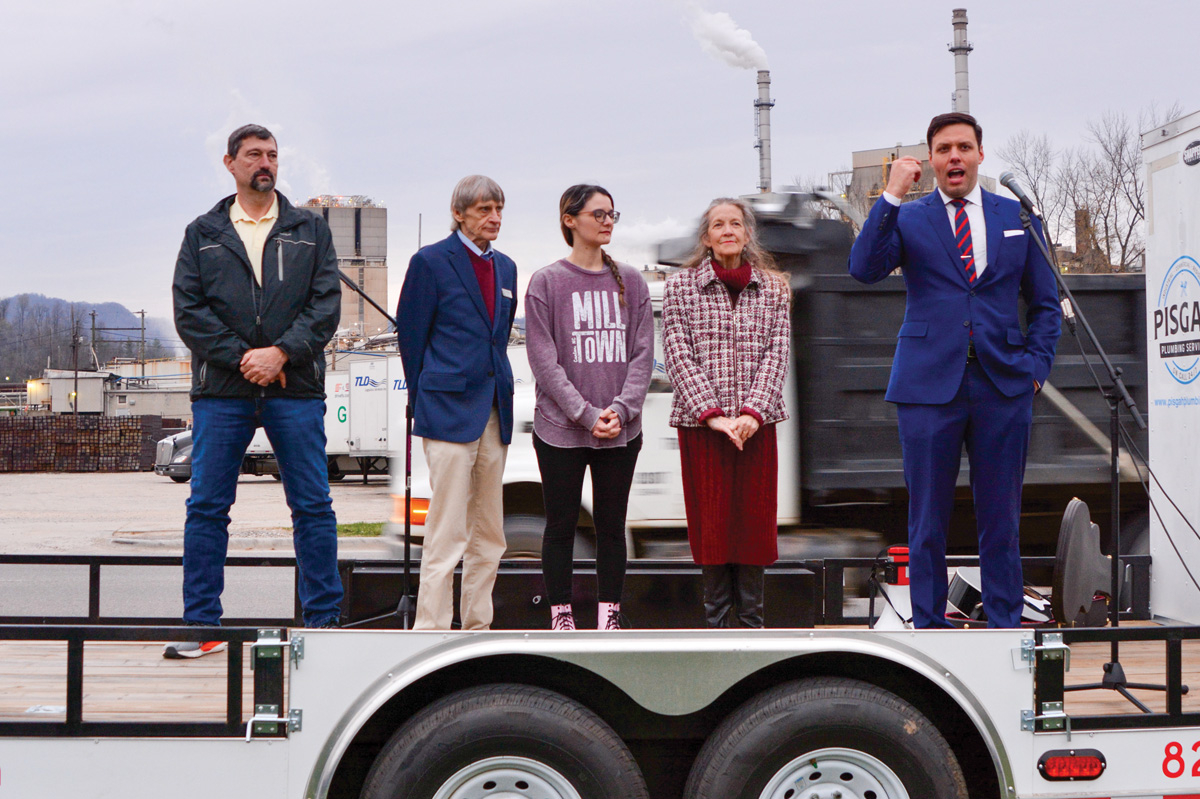 Canton Mayor Zeb Smathers (right) speaks during a prayer vigil for mill workers as (left to right) Rep. Mark Pless, Alderman Ralph Hamlett, Alderwoman Kristina Proctor and Mayor Pro Tem Gail Mull look on. Cory Vaillancourt photo
No one living can remember a time when there wasn't a paper mill at the heart of Canton. Now, after 115 years in operation, it all comes down to three months.
On March 6, Pactiv Evergreen kicked off a week that would rock Western North Carolina by announcing it would shutter the venerable old mill.
In three months, the last whistle will blow.
In three months, the age of the Southern Appalachian lumber barons will end.
In three months, the sickly-sweet stench of money in the air will vanish forever.
Already long gone are the company picnics at Lake Logan, the rec league softball teams and the notions that a worker could spend their entire life honing one particular craft knowing that they'd have some semblance of economic security and maybe, just maybe, have the chance to pass along generational wealth to their descendants. The closing of what locals still call "Champion" will be the final blow.
While the announcement shocked workers, their families and the community at large, they're all just now beginning to contemplate how to address challenges that didn't exist before March 6, multifaceted and massive as they may be.
What they're finding is that the best way — the only way really — to eat an elephant, is one bite at a time.
It's a picturesque little burg bisected by railroad tracks and the river that runs straight through it.
Modest mom-and-pop shops line the cozy main street, not far from early-20th century homes that still stand as a testament to an era of wealth and prosperity. Unemployment remains low, and many if not most collars there are blue.
For more than a century, the town forged a distinct identity of its own, despite serving as a bedroom community to a much larger city just 30 miles to the east.
The facility, once called Champion Paper and then Blue Ridge Paper and now Pactiv Evergreen, provided a meaty living for these small-town folks who'd come to rely on the good-paying jobs as a means of economic and social mobility — the American Dream, basically.
"You've had people, their grandfathers worked there, their mothers, their fathers. It was always a family tradition," said James Graven, mayor of Olmsted Falls, Ohio. "A good friend of mine worked there. He's a vet and returned from Vietnam and got his job back. It's been a big part of our community for a long time, about 60 years."
On March 6, the towns of Olmsted Falls, Ohio and Canton, North Carolina became forever linked when Pactiv Evergreen announced it would halt operations at several major North American facilities.
Graven said he never heard from company officials about the closing of his town's second-largest employer and instead learned about it on the morning of March 7, after employees began taking to social media the previous night.
"Just as soon as I found out that they were closing, I had a meeting with my finance director and my economic development director," he said. "Number one, let's do whatever we can to help all these employees transition into new jobs and number two, let's market the property, get another industry in there."
Olmsted Falls has a population of 8,600 residents, nearly double Canton's 4,400. It sits on the southwestern flank of the Cleveland metropolitan area in a county with 1.3 million people, compared to Canton's county of Haywood, population 62,500.
While the loss of 160 jobs in Olmsted Falls pales in comparison to the expected 800 manufacturing jobs that have gone up in smoke in Canton, the blow still stings for Graven.
"Not only do I feel bad for the employees in Olmsted Falls, I also feel bad for the people in North Carolina who are losing their jobs," Graven said. "You know, it's bad enough when one person loses a job but it's really terrible when you have approximately 1,300 people losing their jobs."
As the sun sets on Pactiv Evergreen's Canton operations, town administrators and elected officials are working late to address a host of problems. Cory Vaillancourt photo
Despite the similarities between Olmsted Falls and Canton, there is one big difference.
The decline of American manufacturing has been well-documented through both story and song, but Cleveland's extant industrial base, ready Great Lakes access and sheer population size may just make it easier for workers in Graven's rust belt town to melt into the economic fabric of surrounding communities.
"I'm hoping that they find new employment fairly soon, maybe even better paying jobs," Graven said.
Workers in Mayor Zeb Smathers' Canton, however, will face significant challenges in rural Southern Appalachia, where manufacturing concerns on the scale of Canton's paper mill have grown increasingly rare.
The greater Haywood County community, including public and private sector institutions as well as ordinary individuals, wasted no time in prioritizing workers affected by the impending layoffs.
A Facebook group quickly materialized, sharing information on hiring opportunities in the region. As with Olmsted Falls, the Town of Canton will hold a job fair.
During the town's regular March 9 board meeting, administrators announced the creation of a website, milltownstrong.com, as a resource for affected workers, but Haywood Community College has taken the lead on establishing a clearinghouse of sorts for other employment resources.
SEE ALSO: Papertown stands strong in the face of an identity crisis
Shelley White, president of HCC since Jan. 1, 2020, has significant experience in workforce development and had also been a part of "rapid response" teams in the past.
At a March 10 press conference, White called for a unified community response.
"I've seen this firsthand," White said. "I've seen how the sadness and uncertainty will turn the page and will turn towards hope and new opportunity. And I do find hope in the fact that I still see people today in Buncombe County who I had a chance to work with during those years who found new opportunities, found new careers and found stabilization and a new day to move forward."
White acknowledged that many employees will start new jobs immediately and that HCC was there to fill in the gaps.
She was joined by representatives from a bevy of local economic and policy groups including David Garrett of the Southwest Commission, Nathan Ramsey of the Land of Sky Regional Council, Teresa Allison from Haywood County HHS and Doug Birchfield, dean of HCC's workforce and industry training center.
Birchfield ran down a list of current and forthcoming opportunities for training at HCC for people looking to work in construction, law enforcement and nursing or as CDL drivers, electricians, maintenance lineman or machinists.
White went on to announce that the Haywood Community College Foundation had voted to use $56,000 in unrestricted funds to create "Haywood Strong" scholarships of up to $1,000 per semester for the regular curriculum or for continuing education.
Right now, the scholarships are intended for affected workers, but as donations start rolling in, the scholarships will be expanded to include workers at other businesses affected by the closing, as well as members of workers' households.
All that may not be enough to stave off an exodus of Canton families seeking manufacturing work elsewhere. Many local jobs posted offer average pay, no benefits and no recognition of seniority earned at the mill.
Mayor Smathers said he didn't expect to turn bubbas into baristas.
A 2022 report filed by Pactiv Evergreen with the North Carolina Department of Commerce lists the average wage at the Canton mill as $84,199 — far above Haywood County's 2021 per-capita average of $31,302.
Many of the workers at Canton's mill have only ever had to fill out one job application in their entire lives. Comments overheard at a sandwich shop in town, filled with lunching mill workers, suggest that even amongst thirty-somethings formal resumes are rare and familiarity with resources like LinkedIn is low.
Champion Credit Union, a regional financial institution that caters to many of the mill's workers, said in a press release that it had established a $150,000 relief fund for mill workers, but details were still scarce as of press time.
Mountain Credit Union, another regional financial institution, didn't go quite that far but will offer credit counseling services and maintain a list of local employers who may be seeking applicants.
When the company announced the layoffs, workers were told that most of them would be notified of their last day of work at least 60 days prior and that those terminated earlier would still receive full pay and benefits for at least 60 days.
Currently, workers have three different types of pensions, retirement plans or 401k accounts depending on their years of service and when they were hired. Those pensions aren't in jeopardy.
According to employees, they'll also receive severance of one week's pay for each consecutive year of service in the mill. The way that severance is disbursed could impact how displaced workers might qualify for unemployment compensation.
During the Coronavirus Pandemic, many North Carolinians learned for the first time that the state has one of the worst unemployment compensation schemes in the entire country.
Qualifying workers are eligible for a maximum of $350 a week, for 13 weeks — a slap in the face to workers who have paid into the system for decades and are used to bringing home well over $1,000 a week.
The way the announcement was rolled out to workers and to the community was also a slap in the face, after 115 years of loyalty and support from both.
Like Mayor Graven of Olmsted Falls, Mayor Smathers was given no advance notice of the mill's closing. Smathers spoke of feeling "numb" and "heartbroken" when he first heard.
Pactiv Evergreen began announcing the layoffs in a series of in-person meetings with workers on the evening of March 6. Acting on a tip, The Smoky Mountain News was able to slip into one of those meetings and document the only first-hand account of what, exactly, workers were told.
SMN then published the first reports of the plant's imminent closing on Facebook and Twitter at 5:50 p.m.
A few comments on those posts revealed dismay from Pactiv Evergreen employees who had to find out on social media that they'd lost their jobs — some of them, while still at work.
United Steelworkers Smokey Mountain Local 507 President Troy Dills said the company could have handled the announcement better.
"The way they did this was all wrong," Dills said. "People don't want to hear about their employment and their livelihood online."
During the meeting, Byron Racki, president of beverage merchandising, informed about 40 employees gathered in an auditorium that the mill would close sometime during the second quarter of 2023 and that human resources staff would begin meeting with employees immediately to advise them of their status and their options.
The company's Waynesville facility will remain operational for the time being, albeit with drastically reduced staff as Pactiv Evergreen explores what Racki called "strategic alternatives" for the facility.
Racki blamed the closing not only on the huge cost of updating the facility, but also on the current state of the paper market.
"Really, since November [or] December, markets have gone to hell, for lack of a better way of saying that," he said. "It's not just us, it's everybody, from a marketing standpoint."
Daniel Flippo, director of the USW district that covers all of the South as well as the U.S. Virgin Islands, endorsed that — at least partially.
"I wouldn't say it's went to hell, but it's been drastically reduced," Flippo said. "If you go to a doctor's office now, you'll notice they're using these iPads. It's not like the old days where you got a piece of paper that you took to the pharmacy to get your prescription. People aren't mailing stuff anymore. And then you got some foreign competition in that market as well."
Indeed, there were signs of trouble just a month before the closing was announced. In another story reported exclusively by SMN, company officials told workers on Feb. 8 to take one of the mill's four paper-making machines offline.
According to a leaked, undated internal memo from Mill Manager John McCarthy, reduced demand was to blame.
"There has been a sharp downturn in the Uncoated Free Sheet (UFS) market due to reduced customer demand and an increase in UFS imports from other parts of the world," it reads. "As a result of this downturn, our recent UFS manufacturing output has exceeded our sales and our warehouses are now full of product with very little additional space available and no indication of change in market conditions for the foreseeable future. As such, the Company has decided to idle PM20 to more closely match our UFS production to customer demand."
When informed of the developments at Pactiv Evergreen, Hendersonville Republican Congressman Chuck Edwards failed to respond to requests for comment from SMN about what he knew or if he was doing anything to prevent the mill's imminent collapse.
Once the closing was announced, Edwards likewise refused to speak with SMN about what, if anything, he'd done since February to preserve the 1,100 jobs — 80% of which are union — at Pactiv Evergreen.
As the bargaining chair for the USW's District 9, Flippo said that he's been through mill and plant closings before and that the union jumped right into action.
"Anytime you get this call, the first thought is, is there anything we can do from a workforce standpoint, from a contractual standpoint, that would prevent the closure and keep the mill in operation? Naturally, that was our first conversation," he said.
The union is also having conversations with other paper companies that employ its workers, letting them know that there may be a mill available for purchase in Canton soon, if they're looking.
That possibility seems unlikely at this point, but Rep. Mark Pless (R-Haywood) remains optimistic.
"I spoke to Evergreen's lobbyist and asked her to sit down and see if the state can do anything to keep them open," Pless said. "They didn't come to us to ask for anything, so they may not want our help."
Mayor Graven said he plans to market his soon-to-be empty Pactiv Evergreen site in Olmsted Falls; however, his is a medium-sized industrial building, not a sprawling complex with dozens of massive structures and outbuildings.
Again, this will be much harder in Haywood County.
Pactiv Evergreen's Canton parcel was last assessed at more than $19.7 million, including $4.8 million for the land alone. Of late, the mill's been plagued by environmental problems, but nobody yet knows if the site is contaminated to the point that it could haunt redevelopment efforts for years to come.
Traditionally, Haywood County has struggled to attract industry of any sort, despite a joint marketing deal between the Haywood County Chamber of Commerce and the Asheville Area Chamber of Commerce that has sent around half a million dollars of taxpayer money to Asheville over the past five years and produced no results.
Plus, the entire Pactiv Evergreen site is subject to periodic flooding. The core of the parcel along the Pigeon River is in the floodway, outlying areas are in the 100-year flood zone, and the periphery is in the 500-year flood zone.
Although company officials have said nothing about the future of the physical infrastructure at the mill itself, water cooler rumors and basic logic both suggest that it would be foolish for Pactiv Evergreen to sell the mill to another paper-making concern that would inherit a highly skilled, highly specialized workforce that would then vigorously compete against Pactiv Evergreen's remaining operations.
And if the market is as bad as they say, dreams of someone swooping in to save the day are probably just that — dreams.
"The paper board that's used in coated milk cartons and all, I don't think that business has went to hell in a handbasket. I think Pactiv, at least from what I understand, is taking the position that they can buy that board cheaper than they can run that mill. They've got another mill in Pine Bluff, Arkansas that does the same thing, and they're talking like it's for sale," Flippo said. "From what I understood from their conversations with us, they're focusing their business primarily on the food and merchandising market, which means that they'll still do the milk cartons and those kinds of things — they're just not looking to have a mill that makes the paper. They'll buy it on the market because that market is saturated."
Adding further credence to reports that the industry as a whole is suffering and saturated, another paper mill in Hutchinson, Kansas, shut down on the very same day. Workers there were given no notice, according to a March 9 story in The Hutchinson News, and no reason for the sudden closing was given.
The Hutchinson mill is operated by Hartwell, South Carolina-based Sonoco Products. Sonoco operates a plastics manufacturing facility in Haywood County, but the future of that facility doesn't appear to be in peril.
Canton's mill was unionized in 1966, according to George Loveland's book, "Under the Worker's Caps" (University of Tennessee Press, 2005, 201 pages).
Contract negotiations between the union and Pactiv Evergreen were ongoing at the time of the shutdown, according to both Flippo and Dills.
The master agreement, which deals with broad terms, had been ratified; however, Dills' local had pushed for wage adjustments in the supplementary contract, called a local agreement.
Twice in 2022, with votes featuring record turnout, workers rejected offers from Pactiv Evergreen. An anonymous source with knowledge of the contract said the company was only offering a raise of $1.25 an hour, far below the cost-of-living adjustment sought by workers. Negotiators were set to return to the table near the end of this month, so the machine shutdown back in February was viewed by some as a scare tactic meant to intimidate workers into accepting the contract without a pay increase.
Flippo doesn't agree.
"I'm in my fourth term as director, and we serve a four-year term. I've been in the labor movement, working for the international union, for 26 years," he said. "Do companies do things to try to sway members' thought processes during negotiations? Certainly they do. There's no doubt. Do they shut machines down and affect their profit to do it? Not generally."
Hoping against hope, others in the community speculate that the closing announcement, too, could be another company tactic to sway negotiations.
"Do they announce the closure of a facility to do it? Never if you're a public company, because what does that affect? That affects the share price, right? And most of your senior executives are paid how? Yeah, through shares," he said.
On Feb. 13, SMN first reported that Pactiv Evergreen had paid a 10-cent per share dividend to shareholders last December.
An earnings report issued by Pactiv Evergreen around 9 p.m. on March 6 briefly mentioned "restructuring" — corporate-speak for layoffs — while boasting of strong 2022 financial performance.
On March 8, SMN broke the news that top executives sold more than $660,000 in company stock less than a week before telling 1,300 workers that they'd lost their jobs.
The stock sales prompted Rep. Edwards to call on the U.S. Securities and Exchange Commission to investigate the transactions, however Edwards incorrectly cited WLOS television station in Asheville as the original source of the reporting. WLOS in a report last week about the stock sale failed to cite The Smoky Mountain News as the original source of the information.
North Carolina's Republican senators, Ted Budd and Thom Tillis, both said through spokespeople that their schedules were too full to answer questions about what help might be coming.
As news of the stock sales hit the community around 4 p.m. on March 8, it was met with outrage.
Pactiv-Evergreen's (NASDAQ: PTVE) stock price had hit a recent high of $11.69 per share at 9:30 a.m. on March 6 — eight hours before the announcement — and remained at $11.38 when markets closed just before workers were informed of the layoffs.
When trading began the day after the layoffs were announced, PTVE opened at $11.04 but then tanked to $9.48 by mid-morning.
Four days before that, four Pactiv Evergreen employees sold more than 58,000 shares of stock at $11.30 a share.
Michael King, president and CEO, sold 45,113 shares for $509,776, per market research firm Wall Street Zen. Douglas Owenby, COO, sold 3,969 shares for $44,849. Chandra Mitchell, chief legal officer, sold 5,613 shares for $63,427.
Byron Racki was the beverage merchandising president who told workers the bad news on March 6. Racki also told them, "I can't pretend to say I know what it's like, other than I know enough to know it's terrible."
What Racki didn't tell them was that he'd just sold 4,093 shares for $46,251.
What Racki also failed to mention was when, or if, proper notice of the layoffs would be filed pursuant to the Worker Adjustment and Retraining Notification Act of 1988.
The WARN Act notice requires certain employers to provide at least 60 days' notice of mass layoffs. Although Pactiv Evergreen would appear to be subject to the notice requirements, there are dozens of loopholes.
Federal law dictates that the company inform the state's dislocated worker agency and the appropriate local government, along with affected workers. The notice must also include the "job titles of positions to be affected and the names of the workers currently holding affected jobs."
The key word there is "current." Dills thinks that by announcing the layoffs and not providing the WARN notice, Pactiv Evergreen is trying to short-change affected workers, including more than 150 military veterans.
"By not sending the WARN letter out, people quit in the interim who would have been on the list and thus eligible for federal protections," Dills said. "After the announcement led some people to find other jobs, the list has now become that much smaller."
If the company holds to its late May/early June closing timeline, it would still have around three weeks to file and meet the 60-day deadline.
Later this month, on March 28, the union and the company will again sit down for negotiations — not for a new contract, but instead for what's called "effects bargaining." Union officials will try to squeeze concessions from the company on things like severance and extending health care coverage.
"We hate to see communities devastated by the loss of jobs," Flippo said. "What would help is if Americans started looking at where stuff is made and started buying stuff made in America. As Americans, we've got to quit looking at just the price of the cheap stuff coming from China and think about our communities that are dependent upon workers having an opportunity to produce those products for us. Unfortunately, we don't practice that enough."
A Haywood County GIS map shows portions of the Pactiv Evergreen paper mill in Canton subject to periodic flooding. Haywood County photo
Workers won't be the only ones affected by Pactiv Evergreen's decision to shutter facilities.
"Their income tax was approximately 2.5% of the city's total income tax revenue last year," said Olmsted Falls' Graven.
That figure represents about $95,000, Graven said, putting Olmsted Falls' total tax collections around $3.8 million. As with the associated job losses, the effects of the closing in Canton will be much larger.
Canton sells potable water to the plant, on the order of 100 million gallons a year. That's about 25% larger by volume than all of Lake Hartwell. The sales bring in around $325,000 a year, says Canton Town Manager Nick Scheuer.
"If they were to vacate that property and stop paying real and personal taxes, as well as utility sales, I would anticipate we'd have a shortfall of approximately between $1.8 and $2 million, which is over 20% of our annual operating budget," Scheuer said.
The hit in water revenue will be felt as soon as the mill stops buying it later this spring, but real and personal (business) property taxes are levied on Jan. 1, so Pactiv Evergreen will still be on the hook for this year's payments.
Scheuer said the town is looking for ways to save money right now, even before the full effects of the shutdown on revenue become more apparent in the 2024-25 fiscal year budget.
And it gets worse. Scheuer said he's concerned about the impact of a $100 million annual payroll vanishing into thin air.
The town estimates that more than 80% of workers live within five zip codes in or contiguous to Haywood County.
Not only does that payroll support spending by workers on businesses large and small in the city, county and region, that spending in turn affects sales tax revenues. The mill also purchases items subject to sales tax, and when they stop, so do the sales tax collections and disbursements.
When asked about state help with the municipal budget holes, Pless said he was trying.
"That's typically not something the government does, but maybe that's because nobody's ever asked," he said. "I intend to ask. We're in the budget process right now, and the worst they can do is tell me no."
There's also the issue of wastewater treatment. Since Pactiv Evergreen treats the town of Canton's wastewater, the mill's closing adds a sense of urgency to pre-existing plans by the town to free itself of the precarious entanglement.
A 1964 contract between the mill and the town says that Pactiv Evergreen must give a two-year notice before it stops treating the wastewater, which will buy Canton some time.
Given the slow progress of Waynesville's new treatment plant, it may not be enough.
"I was already working on getting $35 million to build a new facility, and I still think that's the best way to go forward," Pless said. "The town's been looking at property where it can't be flooded, so I honestly think they're going to get a new facility."
Pless added that he thinks the North Carolina Department of Environmental Quality may be able to help expedite the permitting process.
Haywood County government will experience similarly undetermined impacts from the loss of sales tax collections, as well as real and personal property tax revenues. County records show that in 2022, Pactiv Evergreen paid more than $1.5 million in real and personal property taxes. If the company demolishes some of the buildings or removes property before taxes are levied on Jan. 1, 2024, that number could drop dramatically.
Like Canton, Haywood County is in the middle of budgeting season for the 2023-24 fiscal year and will pass a budget by July 1, but County Manager Bryant Morehead thinks there probably won't be major changes in this year's budget.
"The direction we were going was basically to take care of what we have — employees, vehicles, facilities," said Morehead. "The mill closing makes it a little harder but doesn't stop us from doing that.
Morehead added that the county's real and personal property tax collections total about $47 million.
"We're bracing ourselves for a reduction of about $2 million," he said.
The mill's personal property taxes are still a big unknown for the county, but Morehead said he's ready to push back if Pactiv Evergreen attempts to get too aggressive with its write-offs.
Additionally, there may be increasing costs to the county for health care coverage and for food and nutrition assistance, but right now it's too early to tell how many workers' families will need it.
SEE ALSO: Survey will study impact of mill closure
There may also be increasing burdens on local law enforcement agencies. If the mill isn't resurrected under new ownership and instead languishes as a vacant, decaying brownfield, it could become a public safety nightmare of epic proportions.
The 185-acre site, crisscrossed by roads and rails, has an external perimeter of nearly 5 miles, with innumerable access points. The chunk of the parcel that straddles the Pigeon River has a perimeter of 2.8 miles alone, and the chunk east of Champion Drive has a perimeter of 2.2 miles.
"We currently have a mutual aid agreement in place and are confident we have the resources available to assist Canton PD in the event they request it," said Bill Wilke, Haywood County's sheriff. "As for a prediction of what extra resources may be required, that is a planning factor we are in the process of assessing."
State agencies aren't exactly taking the mill's closing lying down either.
Dills said he'd spoken with a task force set up by Gov. Roy Cooper on March 13. His main point, he told SMN, was to ensure that forthcoming help would focus on more than just the workers themselves.
"As of right now, this is critically important — I want to be sure the assistance that's coming will include the family unit, not just the employee," he said. "Some spouses will need jobs and if they have to go to work, some will need childcare."
Dills also asked for emergency mental health support and a mill shutdown plan for essential personnel who need to be on-site. He said he's dispatched Anthony Rickman, USW's co-chair of the mill's health and safety committee, to Pittsburgh to coordinate with the international union.
Attorney General Josh Stein told SMN on March 8 that his office would do everything in its power "to help ensure that the mill complies with its legal obligations to its workers and the town" and that he'd remain in touch with Smathers.
Andrew Beal, a communications manager with the North Carolina Department of Commerce, said that even in the absence of Pactiv Evergreen's WARN notice the department was moving forward, trying to help.
"Our NCWorks system partners at the state, regional and local level are available to assist workers with a variety of helpful services, and indeed are already working to support the workers affected by this particular situation," Beal said. "For example, the NCWorks Career Center in Waynesville is already helping affected workers, and any worker is encouraged to contact their local career center at any time."
SEE ALSO: 'It means everything': Former worker reflects on career amid Canton mill closure
David Rhoades, communications manager for the Department of Commerce, said that as of March 9, his department hadn't received any notice from Pactiv Evergreen about the closing but had already been in communication with federal partners at the U.S. Department of Labor, discussing the potential for additional federal grants and resources to help the affected workers.
Then, there's the issue of Pactiv Evergreen's Job Maintenance and Capital Development grant from the state.
Signed by Republican Gov. Pat McCrory back in 2014, the discretionary JMAC agreement promised the mill's owners $12 million over 10 years to convert its coal-fired boilers to natural gas, contingent on the company spending at least $51 million. An October 2022 report on the grant program says that the $12 million has been fully disbursed and that the company had actually spent more than $56 million.
Some, including Mayor Smathers, have openly wondered if there aren't clawback provisions in the agreement or if the mill's closing could possibly place Pactiv Evergreen in noncompliance with the terms of the deal.
"The grant is still active and it runs through 2024," Rhoades said. "Media reports of the company's situation became public last Tuesday evening, so we have only just begun our investigation into the specific circumstances of the company's action. Any decision regarding potential repayments under the JMAC agreement will only occur after we complete a full assessment."
The mill's monthly newsletter, called The Log, documented many of the company's business, educational and recreational activities. File photo
As the community grapples with the challenges posed by the mill shutdown, eating an elephant one bite at a time, it's important to remember that Canton and Haywood County haven't yet finished eating the last elephant.
Deadly flooding inundated parts of Haywood County, including downtown Canton, back in August 2021 and caused more than $18 million in damages to town-owned infrastructure alone.
Canton's municipal government is still operating out of a modular building on Summer Street, as is the police department. The historic Colonial Theatre and the Armory remain closed. Navigating FEMA processes has been a full-time concern for many local government administrators for nearly 21 months.
But that last elephant prepared the community for this new elephant. During the flooding, an inspiring display of community resilience, of grit and grace, of sheer will, was apparent from the moment the Pigeon River slipped its banks. This elephant is little different.
In three months, when the gates are locked and the lights grow dim and the steam stops pumping from the mill's every available orifice, a century's worth of blood, sweat and tears will testify to a proud past, but will also counterintuitively presage a bright future.
"We're the small town that won't stay down," said Canton Alderwoman Kristina Proctor. "This isn't going to keep us down forever. We will pick up and keep moving, knowing that history and honoring that heritage. We are 'grit and grace.' And we will continue to be."
Significant contributions to this story were made by SMN Outdoors Editor Holly Kays and SMN News Editor Kyle Perrotti.
Leave a comment
5

comments
Stock up on ammo because crime is going to skyrocket in Canton. Desperation leads to people doing atrocious things

Friday, 03/17/2023

Ok since my messages and post keep getting deleted. I posted my last message and forgot to add.
I messaged the mountaineer about the environmental hazards that caused my family to get sick. Including me!! Most dead. Even included scientific backing.
After expressing this I got nothing more then a emoji with a mad face.
Instead of reporting or researching. I get a emoji. That's not what the media is for. Let alone how it shows your true agendas.
Again!!!! Do your jobs and stop acting like it's in the local's interests!!!
I didn't use a mean word that's wasn't even profanity so hopefully this one will stick around!!
My family gets to die and I can't even ask for help without a disrespectful emoji. That's pretty pathetic.

Thursday, 03/16/2023

So just because the plant provides cash flow, that justifies all the environmental harm the plant has caused over the years. Even in the article the writer stated, they didn't know how bad the area was contaminated. That's about as remedial as calling it papertown. Then pride yourselves off it. The real locals that watched foam float down there river and the fish floating for years knew not to swim in it. I'm glad it's closing. Shower you people with money and common sense goes out the window.
There's government programs and severance packages as you stated for the employees. Open your eyes. Waynesville likes to re word everything as well. Like over fertilizing and dumping pesticides on barbers orchard and red bank.
In the 90s the people on well water was considered safe. In 2023 there carcinogenic agents. 90% of my family. All dead or dying. We all grew up on that well. Now I'm sick as well. Thanks.
The political people of power are blind and only care about money. Shoving tourists on Laural ridge. The rich moved into political power because well… they supply revenue. The locals like myself just thought it was good for business. Sold our souls. Keep listening to your news reports and people reading this garbage a thousand miles away might feel bad for these poor workers.
I'm so tired of the re wording.
You can't live in the woods without power connection. Can't drink the water from the creek or wells anymore. Can't breath for that paper plant. Can't take a dump without paying for it. Literally. I watched my little town advance into a money market by the town officials that moved here and took, sorry take advantage of the locals. Just think about this article. Contamination, cutting down trees for paper. All that is a good thing. We are trying to clean up the world. Less paper. Great. Clean up the mountains. Great. There isn't much else to say.
Sorry you lost your jobs that your going to get paid for grossly. Move on. It sucks. I watched my entire family dye off for these people to write this bogus article like all the locals share their opinions. That's the media regardless.
Now shower the locals with money so they shut their mouths. Pathetic that we let this happen. Gadolinium (Gd)–based contrast agents (GBCAs) have been routinely used in magnetic resonance imaging. Has just been studied. It's a mineral that does not deplete after you excrete it from your body. Has been building up in the environment since it was first used.
Would you like to talk about the filtration plant that dumps their "clean" water out in the river every day all day down hwy 209. It's just a waist water cleaning facility. In 2020 it's safe and harmless.
In 2023 it's causing the body to develop autoimmune and cancers. Just like our well on Vaughn cove. Time is prospective. One day it's safe. 10 years later and their not.
I will not trust you people ever again. I hope you burn for this. Either way I'm glad it's closing the doors. If your to remedial to read this article and pick up on the environment advantages it's going to have. Then not pick up on how it's another political agenda to shower the locals with money and still get their way.
Then my little town is in the rear view. I know.. if you don't like it, cry cry cry.
The mountains is the last places you can live healthy after they have plagued our land. In 10 more years they will own it all. Keep selling your souls and let these people speak for us locals and see how that works out.
For me, I'm headed to Tennessee where the government can't buy out your land, shut down churches to build a Tesla plant. Then leave their people in the cold.
It's called eminent domain. It's used to seize homes and a Church for electric car factory. Right here in Nc. If you buy land in tn. It's yours. You keep trusting these leaches and our home is gone.
Big plans for these people. Wake up my brothers and sisters. If you can even use a gender identity anymore. You going to buy into that too.


https://reason.com/2023/03/13/north-carolina-using-eminent-domain-to-seize-homes-and-a-church-for-electric-car-factory/

Thursday, 03/16/2023

Quote talking about unemployment system: "... workers who have paid into the system for decades ... " If I am not mistaken, unemployment taxes, both state and federal, are assessed ONLY on the employer NOT the worker. Does not make the system any better or worse, but employees, in fact, have not paid into that system. Feel free to check the accuracy of my statement but ...

Wednesday, 03/15/2023

Great coverage of a challenging issue that affects surrounding counties' citizens employed there.

Wednesday, 03/15/2023