Archived News
Up in the air: Challenges await Canton in the coming year
Tuesday, January 04, 2022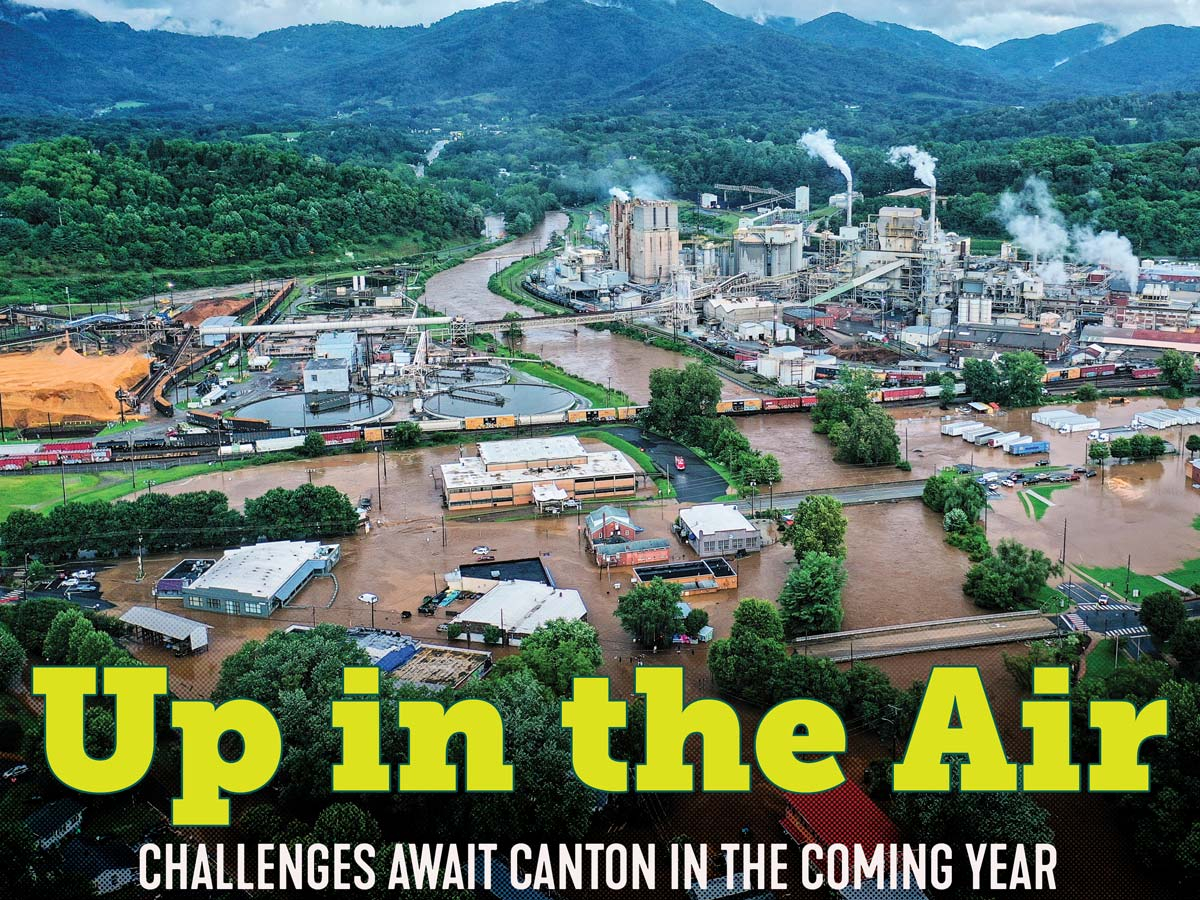 By the summer of 2021 things seemed to be on the up-and-up in North Carolina, and in Haywood County's microcosm of it, Canton.
Trump-era aid packages and state unemployment benefits helped many businesses and individuals stave off economic collapse. Coronavirus case counts declined across the state after the widespread availability of vaccines. County sales tax and room occupancy figures exceeded pre-pandemic totals.
Canton was still thriving. The papermill was still churning. The Pigeon River was still flowing lazily through the heart of town.
Then came the rains of August.
Flooding on the Pigeon River further upstream in unincorporated Cruso killed six, but Canton bore the brunt of the property damage. For the second time in less than two decades, rising waters displaced hundreds of people and washed over Canton's core, taking out police, fire and town administration buildings.
As aldermen and alderwomen look to 2022, the future of these critical institutions — and others — remains up in the air.
Canton operates on a yearly general fund budget of about $7 million, but a list of the town's flood damages — everything from paper to staples to bridges, buildings and cars — totals more than $17.5 million.
"I'm not sure any municipality wants to get to 2022 faster than we do," said Zeb Smathers, now in his second term as Canton's mayor. "We are eager to turn the corner on 2021 and quickly move into the business of the town."
Pisgah Memorial Stadium, shown here in the immediate aftermath of the flood, experienced extensive damage to the playing surface. A Shot Above WNC photo
Although most if not all Canton businesses that were affected by the flood have reopened or will soon do so, the town government's most pressing issue is what to do about its own buildings.
"The number one priority is laying out a plan of attack on how we're going to build back the facilities we lost," Smathers said.
The William G. Stamey Municipal Building, on Park Street, houses town administration as well as the Canton Police Department. On Aug. 18, it took on several feet of water, washing out law enforcement operations and forcing harried town staff to work out of makeshift locations.
The town's fire department, located just behind town hall, also experienced damage and as the town struggled to make sense of what had happened the night before, critical services were offline, for all intents and purposes.
The same thing happened in 2004, when a one-two punch of hurricane-induced rains also flooded Canton's downtown. As this now seems to be a regular occurrence, elected officials are giving thought to what, exactly, the future of those buildings might be.
"Town hall, police and fire, that is still up in the air and a lot of it is based upon money," said Smathers.
Get ready to hear that refrain a lot this year in Canton — "based upon money."
Almost every decision the town will make this year with regards to flood recovery is contingent upon how much federal and state aid the town receives. The cost of constructing new buildings for town services is many times the size of Canton's annual budget and Canton's taxpayers cannot, and should not, be on the hook for any of it.
Another repeated chorus in Canton this year will be, "up in the air." Perhaps literally.
There's been discussion as to whether moving the buildings to a new location on higher ground is the best option, but the alternative is to build upward, possibly converting the ground floor of town hall to a parking deck so future floods won't disrupt municipal operations.
"We might need to build a new facility," said Alderwoman Kristina Smith. "I'm totally down for that. I think we need to figure out where it would be, how much it would cost. All of those things we have to take into consideration. If the funds and the money and opportunity are not there, building upward is not out of the question in my mind either."
Smith thinks that a new facility would also give the town the ability to plan for future growth and its resultant staffing concerns.
For Alderman Tim Shepard, all options are still on the table, and he prefers whatever is most cost effective.
Other town facilities, however, can't be moved or elevated.
"We have buildings such as the Armory and the Colonial, which I expect to go back exactly the way they were, including the museum," Smathers said.
The Canton Armory, situated up on Penland Street, suffered substantial damage, as did the town's history museum, located right next to town hall. But right across the street, the historic town-owned Colonial Theater also took on water, just as it did in 2004.
The Colonial has been a pain point for the town for a number of years now. The 90-year-old Colonial Revival-style gem requires substantial upkeep, doesn't even come close to breaking even each year and isn't as nearly as fully utilized as it could be.
Discussions were held in 2018 and the prospect of selling or leasing the building to a private operator was raised, but little has changed since then.
"When it comes to the Colonial, I think we have an opportunity to optimize that space and work with a partner to attract events there. I still see an opportunity there for that," said Smith. "I mean, we're obviously entertaining lots of different options when it comes to the Colonial, but selling it right now is not on the docket."
Shepard is open to leasing the building to an outside operator in hopes of minimizing cost to the town, as well as generating more economic activity and jobs.
"I'd like to get more use out of it, because it just adds so much to the town," he said.
One additional infrastructure concern that remains is the town's aging water system. During the flooding, manholes washed away and allowed river water to infiltrate the wastewater treatment system. Canton's wastewater is treated by Evergreen Packaging.
By all accounts the treatment system held fast during the worst of the flooding and experienced no outages or releases. Some sewer lines and various pieces of equipment were damaged in the process, but a $9.2 million appropriation in the state budget will begin to shore up the system.
"That should get them well underway," said Rep. Mark Pless, R-Haywood.
Once that happens, it will likely reignite discussions about municipal water system consolidation and redundancy across the county.
"That's a huge conversation we're going to be having not just with our town, but with Evergreen, which houses our wastewater and with our other sister municipalities," Smathers said. "You can't talk about economic growth unless you have the ability to provide water and treat water."
Sandbags lie strewn around the entrance to Canton's police department on the morning of Aug. 18, 2021. Cory Vaillancourt photo
It may be far from top-of-mind at this point, but it's important to remember that the town had a number of projects in motion before the flood. Smathers wants to make sure that they don't get lost in the shuffle.
Chief among them is Chestnut Mountain Park, located on the edge of town nearest Asheville. Work there is largely complete as flooding didn't really affect the 400-plus acre site, which will be home to a world-class series of mountain biking trails for riders of all abilities.
An April opening is expected, and several hundred thousand dollars in grants are rumored to be coming now that the first phase of the project has been completed with private donations.
"That's going to dynamically change the future of Canton and Haywood County, both economically and through outdoor recreation," Smathers said.
Closer to downtown, Sorrells Street Park was also slated for improvements. Work will continue there, thanks to a line item in the state's budget.
"There's $100,000 that was in the state budget for Sorrells Street Park, and that's important," Smathers said. "Pair that with the Cruso Endowment and other opportunities and I think people will be satisfied that we're still on the ball on projects that we already had in the works."
The grassy field now home to Sorrells Street Park was, once, a troublesome eyesore at the western entrance to the town, but the 2004 floods washed it all away and gave the town a unique opportunity to mitigate flood risk while at the same time providing a park-like atmosphere for events and festivals.
Sidewalks through the park were installed by town staff last year, and even bigger plans are in the works to engage in some creative placemaking.
"The future of that space is going to be amazing," said Smith. "As a municipality, it's very rare that you get to start from scratch on a park and that's essentially what Canton's been able to do. We still have the plans for the splash pad and ideally we will also have hookups for bigger acts to be able to have a stage."
Sorrells Street Park serves as the town's go-to event venue, but a lack of event-grade electricity means that vendors and performers, like those at Balsam Range's flood benefit concert last October, must rely on noisy portable gasoline generators that pollute the air and destroy the ambience.
Then, there's Canton's annual Labor Day celebration, an event as central to the identity of the town of Canton as the paper mill itself. The parade is billed as the oldest Labor Day celebration in the South, but after the 113th annual event in 2019, it was cancelled in 2020 over coronavirus concerns.
After much debate , it was again cancelled in 2021 over coronavirus concerns and as a sign of respect to those who'd lost so much during the floods of the previous month, and those who'd worked so hard to help them.
In recent years, the Labor Day Festival had evolved to include major music acts — the Oak Ridge Boys, Ricky Skaggs and Yonder Mountain String Band, to name just a few — to perform at Sorrells Street Park.
"I know I can speak for myself that we'll do everything we can to have Labor Day this year," said Smith. "Depending on COVID, depending on resources and what things look like in Sorrells Street Park, it might look different but it is very important to me that we look toward Labor Day to reignite the excitement that Labor Day is known for."
The concepts of excitement and identity in Canton cannot be discussed without also mentioning another century-old tradition that regularly whips residents not only of Canton but also of greater Haywood County into a frenzy — high school football.
The 7,000-seat Pisgah Memorial Stadium, perched just a dozen or so feet above the banks of the Pigeon River, was inundated with floodwaters that also submerged the town's pool, wreaked havoc on the playground and dismantled dugouts on the adjacent softball field.
The pool doesn't appear to have sustained lasting damage, and the town has committed to building a flood-resistant all-abilities playground like the one in Waynesville, but the future of the football field is a hot topic at the moment.
Unlike other infrastructure concerns, this one falls outside of Canton's purview — it's to be handled by the county board of education.
"It's easy for me to say this, because I don't have to make the tough decisions, but I fully expect and hope that the Pisgah Bears will be playing on that field in the fall," Smathers said.
Smathers and others are eager to see the field back in action, especially with a big game coming up this year — it's said to be the 100th anniversary of Canton playing Waynesville in football, a rivalry called one of the best in the United States that dates back to pre-integration Waynesville and Canton high schools.
Pisgah played its 2021 home games in nearby Enka, but wants to be back in black right next to the river as the Bears look to tie the longest win streak in the century-old contest, which currently stands at 10 and is held by the Mountaineers of Waynesville's Tuscola High School.
"I expect not just the press, but the politicians that were here in August, will be there," said Smathers. "I want them to see what our people have been able to do with their businesses and homes and with that stadium. The politicians and the people that helped us, from Wilmington to Cherokee, I want them there and I want them to know that we're back."
Associate Superintendent Dr. Trevor Putnam recently gave a presentation outlining the possible fate of the stadium. The first step, the inventory and damage assessment phase, was completed in early December.
The second step is currently underway, as Civil Design Concepts confers with McGill and Associates on a rehabilitation plan that will meet flood-related guidance from the U.S. Federal Emergency Management Administration. Once McGill approves the final plan, which includes things like moving all utilities to at least 2 feet above flood stage, the plan will go out for bids.
"We anticipate the bidding process will be complete by mid-February, and hopefully we'll be telling a contractor to begin work as early as March," Putnam said.
If that all happens on that timeline, Putnam said it's "feasible" that there could be football on the field sometime this fall.
The synthetic turf on the field is insured for more than $400,000, but utilities and the drainage system beneath it aren't. However, the insurance policy does include $750,000 for all flood-related damage, according to Putnam. That should be enough to complete the repairs without having to utilize FEMA funding.
With all the talk of state and federal aid flowing into flood-ravaged Canton, it's also important to remember that the town's annual budgeting process will soon begin. An all-day budget retreat will likely be scheduled for later this month. Several public hearings will then ensue, and state law requires a budget be passed no later than June 30 each year.
"I am looking toward what we need to start thinking about when it comes to out-of-pocket [expenses] and hopefully what can be minimized as much as possible through FEMA, federal or state reimbursements," Smith said.
The property tax rate in Canton had been stuck at 58 cents per $100 in assessed value for nearly 15 years, and was the highest in the county. After a countywide property revaluation last year that saw values skyrocket by 20 to 30 percent, Canton, like other municipalities, cut its rate, down to 54 cents.
Smathers doesn't expect any major changes in the way the town will approach the budgeting process, and does not expect any tax increase in the coming budget. There was, however, no appropriation in the state budget for Canton's town hall, police or fire department, leaving that issue up in the air.
"The question is, 'How do we transition from the Canton comeback into building the hometown of tomorrow?' and that's everything from infrastructure to business development to economic development," Smathers said. "The flood obviously was a sucker punch to us but we're not gonna use that as an excuse. We think not only can we catch our breath but we think we can throw a few punches ourselves and get back not only to where we were, but get even further ahead to where we want to be as a town."
Leave a comment
1

comment
I am an artist and I feel that artists are always the pioneers that make areas attractive to visitors. There are tons of creative and talented folks in the area and Asheville is getting too expensive for many artists to work and afford studio or retail space. Canton is very close and could draw many creatives if they are able to get into reasonably priced and art friendly spaces. Main street Canton is very charming and I often daydream about getting studio space there. I live in Clyde and it would be super convenient.
Perhaps a start would be to free up a building that could house artists studios ,a gallery, classroom space and maybe even a café, and offer very affordable rates to artists. Be arts friendly on the main street, encouraging galleries, cafes, hair salons and music venues that play up on it's funky charm . Make it into a place where spillover tourists from Asheville could visit and locals could frequent.
I am from Miami and have seen Wynwood, which has gone from being a kind of no-mans land to some of the most expensive and visited areas in Miami. Why? Artists moved in when they were priced out of other areas and made it hip. Now, sadly it's untouchable to most artists but its thriving. I'm not saying to turn Canton into Wynwood (God forbid!) but the template is there... bring in the arts and the people will come.
Best of luck

Sheri Friedman

Friday, 01/07/2022