Archived News
Can Canton's Colonial come back?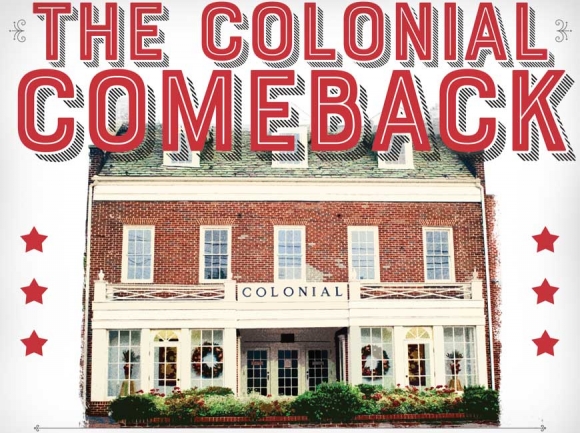 Many Fridays a small group of longtime Canton residents meet up informally at the town's historical museum on Park Street as soon as it opens in the morning to peruse the artifacts and talk about the town's tomorrow, the town's today and the town's yesterday.
As they do, they sometimes come to the topic of the historic Colonial Revival-style building located just across the street since 1932 — the aptly named Colonial Theater.
"It was kind of the highfalutin' movie house in town," said Bill Rolland, a year older than the theater. "We used to see all the Westerns up there, and all the serials."
The thick brick walls and slick slate roof conceal a rich, detailed interior of swirled stucco and intricate architectural design little changed from the days when a young Roland Osborne would catch the latest films from one of the theater's 300 seats.
"You could spend all day in there for nine cents, as long as they didn't run you out," he laughed.
Week after week, generations of Cantonians like Phil Paxton kept up with the exploits of silver screen celebrities like Hopalong Cassidy and Commando Cody, Sky Marshall of the Universe.
"He wore a leather jacket that had little buttons on it, and when he flew he adjusted his speed on his jacket. He had a helmet that looked like it was made out of cardboard," Paxton said.
"And when it was almost over," Osborne continued, "there was no way that hero could get out of that mess, whether he was Superman or whoever. Then you'd go back the next week, and in 30 seconds he'd've taken care of that mess and started moving himself into another."
In their day, small-town theaters like the Colonial were important community gathering places — cultural centers that by necessity would both entertain and educate beneath the futuristic glow of a streetside marquee.
Two unidentified women (above) stand before a poster for Walt Disney's Alice in Wonderland, released in 1951. Canton Historical Museum photo
"When I was growing up we were in the middle of the second World War," Rolland said. "Newsreels were important to us."
Developments both at home and abroad were covered in short films, which offered small but precious slivers of information on the fate of loved ones in arms overseas or the effort as a whole.
"That was the only information you could get, other than listening to Edward R. Murrow on the radio," said Osborne. "When you'd go, you'd hope that there would be a newsreel."
Sometimes there wasn't.
Such were the glory days of small-town American cinema until, like its spaceman cowboy heroes, it rode off into the sunset as more and more people purchased televisions. The need for theater newsreels — and Murrow — waned, while increasing numbers of Americans began eating dinner at home with Walter Cronkite and the CBS Evening News each night.
Since that time, many small theaters have faltered or outright failed with the onset of cable television and multiplex movie theaters, not to mention Netflix, but many like the Colonial have fallen under municipal ownership because of important aesthetic, historic and sentimental value.
Regardless, those glory days aren't coming back, meaning municipalities like Canton have to figure out how to make theaters like the Colonial, known informally as the "Jewel of Canton," something other than a gaudy, underutilized expenditure.
Better than most
The two-and-a-half story, five-bay Colonial looks a bit like a residence from the outside, with its gabled dormers perched atop nine-paned windows.
Brothers Charles and Frank Benton designed the building, one of dozens around the state bearing the stamp of Benton & Benton, an influential architectural firm based in the eastern part of the state.
Many Benton & Benton designs in North Carolina are listed on the National Register of Historic Places, including in Washington, Wilson, Nags Head and Fayetteville.
The Colonial is as well, despite a widely-repeated error in the town's 1999 NRHP application that lists its capacity as 650 seats.
Not that the town couldn't have supported that many; another Canton theater, The Strand, had been showing silent movies since the 1920s.
Between 1920 and 1930 Canton doubled in population, almost solely due to the Champion Paper mill, which actually expanded during the Great Depression and supported a mushrooming downtown core utilized by an expansive middle class.
As such, Canton's 5,200 residents fared far better than those of most other milltowns, to the great interest of Marion C. Sprinkle, owner of the Canton Laundry, Ice and Coal Company.
Officials with the Town of Canton (below) tour the small second-floor lobby of the Colonial Theater. Cory Vaillancourt photo
Sprinkle took notice in the summer of 1931 and soon began work on the downtown parcel he'd purchased from Ms. Nova Sharp, utilizing local contractors on the $50,000 project — $915,000 in 2018 dollars — that would open on June 6, 1932, as the Colonial Theater.
According to personal journals kept by Cantonian Carol Smathers between 1937 and 1942 that are cited in the NHRP application, movies like "Boys Town," "Snow White and the Seven Dwarfs," "Dumbo" and "The Wizard of Oz" were screened there.
Concessions were available in the Colonial Soda Shop, now known as the annex. Like many theaters in the segregated South — including Waynesville's Strand — African American patrons weren't allowed in the lobby area and instead had to climb an exterior fire escape directly to the third floor for balcony seating.
After World War II, Sprinkle leased out the theater to a national chain and then a regional chain, but the property itself remained in the Sprinkle family until the Sprinkle Real Estate Company deeded it to Canton's Alcoholic Beverage Control Board in 1981. The ABC board deeded it to the town in 1986.
Around that time, as Canton's downtown became a ghost town and the small screen had long since supplanted the big, the Colonial finally succumbed to decades of disuse.
'Use it'
Today, more than 30 years later, Canton's leadership looks a lot more like Canton's tomorrow than Canton's yesterday — three of the five town board members are under the age of 40, including the mayor. Two of them weren't even born in the state. Two are women, and Town Manager Jason Burrell isn't yet 40, either, despite serving the town in various management roles for almost a decade.
"The idea is, we're not going to solve the question of what the highest and best use of the building is today, but what I'd like to be doing annually is looking at the expectations the board has for these facilities and brainstorm ideas for improvement," Burrell told the board during a March 13 retreat intended to spark that brainstorm.
The numbers, though, aren't pretty and the conversation quickly evolved into finding a balance between community accessibility and fiscal responsibility.
"So if you booked this place 350 times a year, we would just about break even, is that what I'm seeing?" asked James Markey, a newly elected Canton alderman, during the retreat.
It was indeed; yearly rental income from both the theater and the 80-seat annex from 2015 through the present has remained about $18,000 a year, meaning it's operating at a loss.
Luckily, Burrell said, the facility is in great shape — it's ADA compliant, has no structural issues, a good roof, top-of-the-line A/V equipment and a digital projector that serves in the stead of two antique ones still sitting in the fireproof projection room above the balcony.
Spacious dressing rooms and the availability of alcohol anywhere in the building except the balcony and auditorium — including the entrance, the annex and a posh upstairs lobby suitable for small events — make the venue especially appealing for weddings, according to Burrell.
During 2016, 23 events were held in the theater, and 63 in the annex. In 2017, those numbers grew to 36 in the theater, and 74 in the annex. Through early 2018, there had already been 10 events in the theater, and 22 in the annex.
"Clearly, looking at these numbers it's accessible to the community, but we're here to make that choice," said Alderwoman Kristina Smith of the operating loss and the possibility of raising rates. "Can we do that without jeopardizing access to the community? I don't know if we can."
Maintaining that sense of community — the one that still brings Bill Rolland, Phil Paxton and Roland Osborne together after all these years — is just as important as establishing viability and both, according to Alderman Ralph Hamlett, can be achieved simultaneously.
"We're faced with a constraint," said Hamlett, also an associate professor of political communications at nearby Brevard College. "What we're seeing is the opening up of event centers in Canton. Are we going to be another events center competing with these folks? I think we can do more. If this is the 'Jewel of Canton,' yeah, have concerts, have open mics, but make an investment, make a celebration of this place. No one else can do that. Then we compete with Asheville, then we compete with The [Waynesville] Strand."
Burrell, Smith and Mayor Zeb Smathers also discussed enhanced marketing of the space, including the possibility of a standalone website that could incorporate booking and payment options as well as display equipment specs and capacity information that would help not only fiancées but also promoters find what they need, and fast.
"We're looking for partners to help us take the next step," Smathers said.
One of the people Smathers might want to talk to is Jeff Whitworth of Worthwhile Sounds, a booking and promo company that also dabbles in band management.
Whitworth is the former owner of Asheville's well-known music venue The Grey Eagle and is currently a talent buyer for The Grey Eagle, the Asheville Downtown Association's Downtown After Five and the Cold Mountain Music Festival at Lake Logan, among others.
"I've heard of it, but I've never been there," he said of the Colonial, probably like many in his industry. "The tricky thing for them is they're right next door to the hotbed of Asheville. Even though they're only 8 miles apart, Canton doesn't look the same as Asheville on a tour schedule — but if the room speaks for itself, it's just a matter of getting it up and known."
Doing that, Whitworth said, is a pretty standard business model.
"You have to pump money into it," he said. "In an area steeped in as much musical tradition as we have, it shouldn't be hard to fill those seats as long as they book things appropriate to the region, establish their name on bluegrass, appealing first and foremost to the people of Canton."
Canton Town Manager Jason Burrell (left) and Alderwoman Kristina Smith (right) look over the Colonial's stage from the balcony with Town Clerk Lisa Stinnett (center). Cory Vaillancourt photo
As an upscale theater, the Colonial compares favorably with other area venues and is about the same size as Asheville's Masonic Temple and slightly smaller than the Diana Wortham Theatre.
A prime example is when hometown bluegrass act Balsam Range packs 'em in for their semi-regular shows at the Colonial; many of those concertgoers also end up spending money in Canton's rejuvenated downtown before, during and after the performance.
"The musical footprint of Asheville is expanding," said Whitworth. "Now there's more moves being made in Western North Carolina outside of Asheville than in Asheville. The Colonial has a great opportunity to make a similar move. I think a really good model for that is the Newberry Opera House [40 miles northwest of Columbia, South Carolina]."
The Newberry Opera House's yesterday mirrors the Colonial's — it screened its last movie in the early 1950s and was restored right about the time the Colonial was applying for NHRP inclusion, albeit by a charitable foundation and not by the City of Newberry. Since then, it's hosted everyone from Art Garfunkel to Willie Nelson and has a capacity of about 420.
Alcohol sales are important as well, according to Whitworth, but the Colonial's current practices don't seem out of line with similar venues, although some venues ironically allow alcohol consumption in the same balcony "VIP" seating once reserved for America's segregated second-class citizens.
"You're not going to become rich off ticket sales, simply because of the profit margin," Whitworth said. "That's where they're going to make their money is alcohol."
Alcohol isn't the only key to responsible fiscal management of the Colonial, per Whitworth; making that space as creative and adaptable as possible is critical.
"Talk to local theater companies, have events of any nature whether it be a craft fair, book signing, whatever," he said. "If you've got a beautiful space there, use it."
Rejuvenated jewel
Back in Canton's historical museum, Roland Osborne recalls the time he saw silver screen cowboy "Lash" LaRue in person at the theater, probably during LaRue's late 40s-early 50s heyday. LaRue was a renowned wielder of an 18-foot bullwhip — hence the name "Lash" — and instructed Harrison Ford in its usage for his popular Indiana Jones movies.
"I would say we had plenty of good years on through the 1950s," Osborne said.
Phil Paxton recalls Clark Gable not giving a damn and Humphrey Bogart looking at you, kid, and said that whenever he now sees "Gone with the Wind" or "Casablanca" on television, he's transported right back inside that 86-year-old Colonial Revival-style building on Canton's Park Street.
"I remember a lot of the movies I saw there," Paxton said. "Some of them are classics."
Like town leaders and other residents of Canton, Osborne, Paxton and Rolland hope for a rejuvenated jewel in the Colonial Theater — a Colonial comeback.
"My opinion is that they're public buildings and they should be used," Osborne said. "I'd rather see them complain about having to fix something that had been worn out than for it to set there and never be used."
But also like town leaders and other residents of Canton, Osborne's still not sure what, exactly, that entails.
"Now, what direction that should take," he said, "I've got no idea about that."