Archived News
After the Flood: Trying times, trauma, trepidation and triumph
Wednesday, August 17, 2022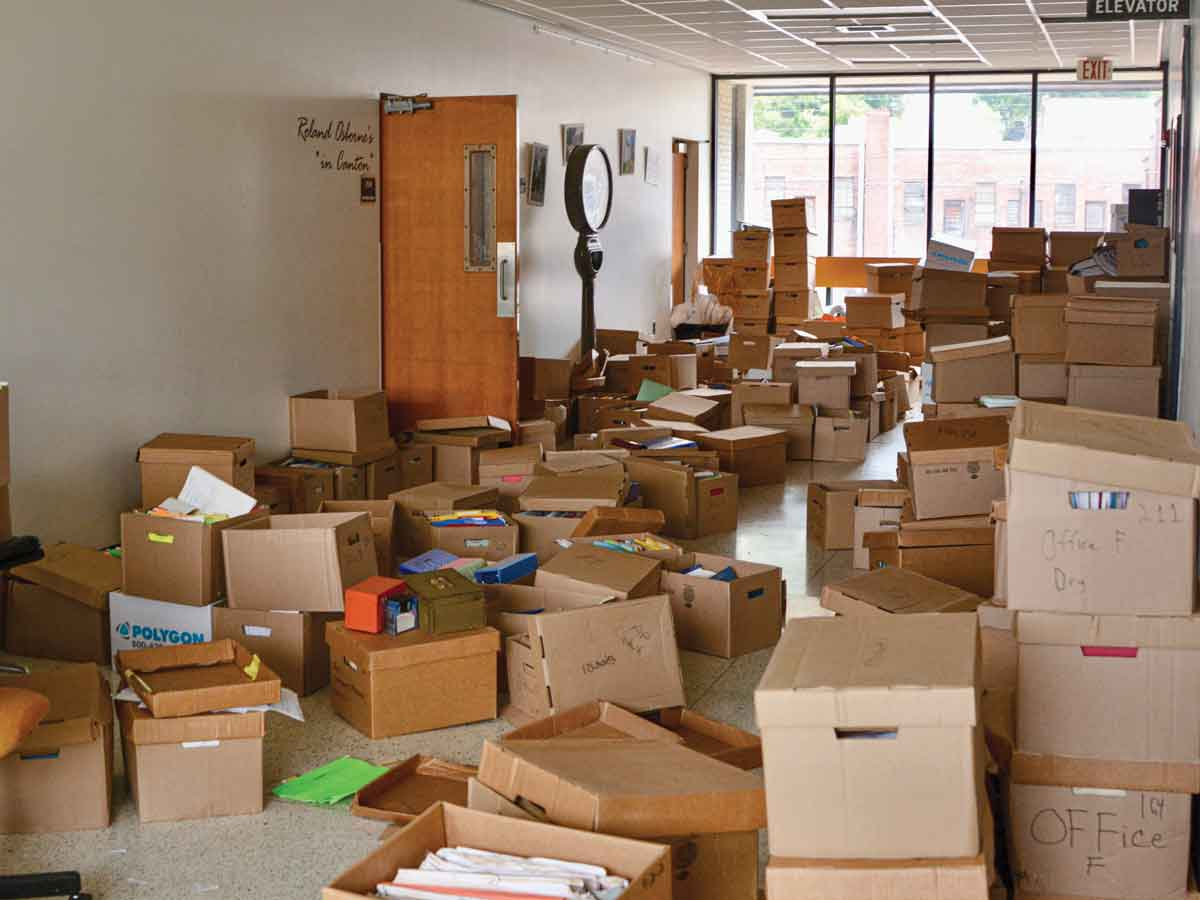 Boxes full of paperwork lie strewn about the second floor of Canton's now-unused town hall. Cory Vaillancourt photo
Hours earlier, Natasha Bright had been trapped atop a bunk bed in a barricaded bedroom with her dogs, her cats and her brother, watching the floodwaters from the furious Pigeon River rising through the floorboards beneath them, but after a long, cold, wet night the waters finally receded so with an armful of children's clothing and mud squishing between her toes, Bright headed out of Cruso on foot into the pale sunshine looking for a shower.
It was only the start of Bright's journey back from last summer's deadly flooding, but it also marked the start of Haywood County's journey back from devastation to recovery and resiliency.
Now, one year after what's become known as "The Green Pepper Flood" — fields were stripped of produce, which was then scattered downriver — many of Haywood 's civil institutions, leaders and residents are still struggling with the shock, the strain and the ominous foreshadowing the flood brought with it.
However, the same grit and grace that saw this rural mountain community through the tragedy has also allowed it to see something else — small signs of triumph.
Trying times
The William G. Stamey Municipal Building on Park Street, for decades a busy administrative hub for the Town of Canton's government, is now forlorn and eerily quiet.
Water inundated the structure, which also houses the town's police department. On the ground floor, workers have cleaned up the muck, removed furnishings and wall hangings, ripped out countertops and stripped the drywall from aluminum studs — giving the place an ironic aura of tidiness and sterility despite the warnings of toxic mold posted on the glass doors out front.
On the second floor, the lobby outside the boardroom is strewn with boxes upon boxes of documents hurriedly salvaged from the silty waters of the Pigeon one year ago. The darkened boardroom isn't much different.
Just up the street, town government now operates out of a modular building, where Town Manager Nick Scheuer and CFO Natalie Walker are busily pouring over a spreadsheet.
"It's been simplified a little bit," Scheuer said. "I had some columns and things like that just to make it a little easier to digest, but this is sort of what we've been working off from the beginning."
What it all boils down to is a sad testament to the destructive power of water unbound.
Kegs and brewing equipment were salvaged from the basement of BearWaters Brewing Company on Aug. 18, 2021. Cory Vaillancourt photo
According to engineering estimates, the Stamey Building sustained $5.2 million in damage and another $2 million in lost equipment.
The firehouse behind town hall incurred $4 million but is miraculously still in operation.
Across the street, the historic town-owned Colonial Theater took on $1.3 million in severe damage that makes town hall look like the Taj Mahal.
The Armory, another town-owned building used for events and recreational programming, endured $1.5 million in damage.
Camp Hope, a sprawling upriver retreat with overnight cabins and an event venue, saw almost $1 million in damage, including the access bridge to the camp itself.
The town's pool, itself underwater during the flooding, suffered almost $700,000 in damage.
All told, Scheuer's and Walker's spreadsheet shows $21,325,551 in damage to town property.
Insurance doesn't even begin to cover the costs. Just over $4 million has been or will be recouped through settlements, but the town has taken a proactive role in applying for grants and for reimbursements from the Federal Emergency Management Agency.
The FEMA process is obviously long and complicated, but Scheuer reported to the Board of Aldermen on Aug. 11 that nearly 80% of the 20 projects referred to FEMA are in some stage of the approval process, with others pending.
Still, grant money that hasn't yet arrived and the reimbursable nature of some projects mean that the town has to come out-of-pocket for the work. To date, Canton has received $3.1 million in flood damage compensation from all sources but has spent more than $4.5 million.
"Pre-flood, we had $4 million sitting in our checking account," Scheuer said. "Right now, we've got $601,000."
Of the $21.3 million in damage, the town expects another $7.6 million in FEMA funding, leaving $9.6 million in unmet needs against an annual town budget of roughly $11 million.
"We have to operate and continue to offer all of the town services that we always offer, but yet rebuild at the same time," said Walker.
That's led to cash flow concerns among town staff. If and when reimbursable grants come in, the town doesn't have deep enough pockets to take on more than one project at a time.
"What worries me, what keeps me awake at night, is how we're going to be able to rebuild sustainably and ethically with our future in mind with the very little money that we have while sustaining the current infrastructure we have for water, sewer, roads and recreation," said Kristina Proctor, a Canton alderwoman. "We have big dreams and we have ways of getting them done, but we're not going to be able to get to that next phase where we're truly sustainable without a larger influx of funds from either the state or the federal government."
Two separate direct allocations from the General Assembly totaling around $18 million — one for repairs to water and sewer infrastructure, the other, unrestricted — will help somewhat, but among the projects not yet funded are some of the most important, like a new town hall and a new police station.
The bleak financial situation, just numbers on a spreadsheet really, pales in comparison to the living color of the human tragedy that unfolded; Proctor said that for her, one of the most trying aspects of the whole experience is knowing that nearly everyone in the small, tight-knit mountain mill town was touched by the flooding in some way.
"You can feel the impact on your community. Now, it's come to a day where it's not as prevalent anymore," Proctor said, "but it's still there. And when you bring it up, the feeling that you get from people — it's palpable. You can feel the pain. You can feel the stress. You can feel the challenges when they start to think about the possibility of something like that happening again."
Trauma
It all started for Natasha Bright on the morning of Aug. 17 in her family's cabin, several miles upstream from Canton and less than 150 feet from the usually tranquil east fork of the Pigeon River. After getting her kids off to school, bright munched on a sandwich and watched the rain fall.
The remnants of Tropical Storm Fred, which had come up from the Gulf of Mexico, were beginning to drop tremendous amounts of precipitation on Haywood County, which is shaped like a bowl with Canton near the bottom. Bright's husband Kile left to pick up the kids around 2 p.m.
By 3 p.m., Bright was growing more and more concerned about the situation, especially as the water from the East Fork of the Pigeon River was now sloshing against the underside of the bridge from U.S. 276 to her home on the opposite bank.
She texted her husband, telling him that returning was not going to be possible. Then, a transformer blew. Then, the bridge was submerged. Then, water started seeping up through the cabin floor. Then it was lapping against the windowsills. It all happened so fast, she said.
Gathering her animals and her brother, Bright herded them from room to room until the only place left to go was a bedroom with a bunk bed.
There, they watched the water rise, inside and out, not knowing when it would stop, not knowing how high it would get, not knowing if they'd all drown there together in that cold dark bedroom, trapped.
Instead, after the waters began to recede around 5 or 6 p.m., they waited all night for help that couldn't come — roads were still flooded, washed out or blocked by landslides. Power was down. Cell phone towers were dead.
Later Bright came to the realization that they'd all come very close to dying.
The next morning, Bright walked bravely out of Cruso, but that doesn't mean she's left the experiences of that day behind her.
"Things get overwhelming really easily," she said. "I mean, there's some form of PTSD there somewhere."
In May, flooding again threatened Canton during heavy rains, leaving some riverside businesses scrambling for sandbags to protect what hadn't been destroyed already. Bright remembers checking social media and weather reports obsessively throughout the day.
And it's not the just weather that bothers her.
"You know how when you go and get your car washed where you go in and it's like sudsy and you're sitting in your car? That freaks me out," she said. "I think it's just being surrounded by the noise and not having a way out."
Those triggers likely stem from the scene atop that bunk bed in the bedroom, but also extend to the cabin itself.
"It can't be remediated," Bright said. "It has to be torn down."
Bright said she'd moved around a lot as a kid and felt that she'd finally found her "forever home" — a place for her kids to grow up and come back to, a place for her and her husband to grow old together.
Days after the flood, Bright said that even if they could return to the cabin she would remain concerned about the possibility of putting her kids through a repeat of the experience. Now that that's no longer even an option, Bright's "forever home" produces its own flood of painful memories.
"I will say one thing that is really, really hard about flood insurance and your property claim is that you have to remember and list everything that you lost," she said. "If you consider everything that you own, if it was gone, would you remember it all?"
Even if you could, Bright said, it wouldn't be easy.
"It's hard because you have built up all these memories and it's not just the stuff," she said. "Each thing is attached to something, to someone, to some memory and I think that was really difficult."
Trepidation
BearWaters Brewing Company was one of those riverside businesses scrambling earlier this year as water from the Pigeon River again threatened to slip its banks and inundate the tap room's basement.
A year ago, the scene outside BearWaters was one of complete disarray. Kegs, everywhere. Mucky muck boots on an office desk. Boxes, barrels and pavers tossed about randomly. Fencing, gone. A shiny silver dollar, perhaps cast into the water somewhere with a wish or a prayer decades ago, again glistened proudly in the sun, finally withdrawn from its watery bank.
In the immediate aftermath of the flooding, the brewery became symbolic of recovery efforts, playing host to all manner of elected officials including Sen. Thom Tillis, Gov. Roy Cooper and multiple members of the General Assembly. It was also the site of at least one muddy, muggy press conference, even as volunteers outside scrubbed away, cleaning bar equipment and furniture.
Astoundingly, the brewery reopened and resumed pouring its award-winning beers less than two months later. Today, it looks better than it ever has, and shows no obvious signs of the flooding that sullied it less than a year prior. But nobody's pretending it won't happen again.
Today, BearWaters Brewing shows almost no sign of the flooding from a year ago. Cory Vaillancourt photo
In Canton, the remnants of Tropical Storm Fred produced what was supposedly a 500-year flood just 17 years after the town's last 500-year flood.
The flooding that occurred in 2004, after back-to-back hurricanes moved inland, gave the town an opportunity to build back smarter, which it did in many ways.
"From day one even until today, I have to be able to look people in the eyes that have lost homes, businesses and most importantly someone in their family, and let them know that we are making progress, that we're doing all that we can to build back in a way that honors their families and in a way that protects us when the next storm hits," said Zeb Smathers, Canton's mayor. "I will never forget that phone call from the sheriff that evening that we were prepared to lose more than 60 people."
At least some of that responsibility also falls to state and county government. The headwaters of the Pigeon, where some of the most catastrophic damage and all six deaths occurred, lie far outside and above the municipal boundaries of Canton.
County government has spent the year much the same way Canton has, taking in and pumping out relatively large sums of money for projects, some of which aren't yet complete.
"If something similar happened again, here we are almost a year later and we still don't have all the debris cleaned up and all the rivers cleaned up," said Commissioner Brandon Rogers, who hails from the eastern part of the county where the damage was concentrated. "The paths of the river have changed. If we get another storm, God forbid, like we had a year ago it could be much worse. My concern and worry is these people that are in these homes, in these businesses — if they get flooded out again, I don't know if they can make it."
A month ago, Haywood Emergency Services told county commissioners that they'd secured a grant to install more rain gauges and water level indicators on the East Fork and elsewhere. The devices will have redundant power and communications systems and will tie into the state's online flood monitoring system, called FIMAN .
Aside from that, there's little outside the realm of levees and dikes and retention ponds that can be done — massive and expensive earth-moving projects in a place where topography conspires with geology against humanity's best-laid plans.
As it turns out, the only real mitigation that would protect Haywood County and counties like it across the country may come from measures many times the scale of dams or earthworks.
On Aug. 10, Rogers and Smathers hosted a meeting at BearWaters with representatives of an organization called the American Flood Coalition.
"The American Flood Coalition is, in my mind, the preeminent national think tank around flood resilience, sea level rise adaptation and advocating for resilience on both of those topics," said Tony McEwen, the Carolinas director of the AFC. "I'm an advocate at the state legislative level in both states on behalf of these issues and our members."
A nonprofit, the AFC is a nonpartisan coalition of federal, state and local elected officials, military leaders, academics, businesses and civic groups pushing for national-level solutions to exactly the type of flooding Canton experienced.
"We're here to work with local governments to make sure that their staff understand how to access those resources and how to proactively think about resilience," McEwen said.
Flooding is the most common, most costly natural disaster, according to the AFC. Since 2008, more than 70% of all presidential disaster declarations — like the one President Joe Biden issued for Haywood County last September — have come as the result of flooding.
The AFC pushes for increased federal funding and better public policy by engaging with communities like Canton and sharing best practices on rebuilding and on smart planning.
For every dollar spent, $7 in future recovery costs can be saved, the group says.
Members of the AFC include a who's who on the Hill of bi-partisan "federal champions" like Rep. Dan Crenshaw (R-TX) and Sen. Marco Rubio (R-FL), Rep. Charlie Crist (D-FL) and Sen. Mark Warner (D-VA).
Other coalition members include dozens of municipalities in Florida, Maryland, New York, South Carolina and Virginia — some, with beachside seats to the climate change crisis.
In North Carolina, Smathers is a member, along with a smattering of other state and local leaders from across the state and across the political spectrum.
"North Carolina's probably in the top two or three states in the country that has taken steps to invest not only in recovery, but resilience, which is what we advocate for," McEwen said. "The state legislature, in their wisdom, in 2021 we worked with them to help put a very impressive package into place that they passed as a part of the budget, close to $800 million. A lot of those dollars went to recovery, but a lot of those dollars also went to resilience."
McEwan credited N.C. House Majority Leader John Bell (R-Wayne), N.C. Senate Majority Whip Jim Perry (R-Lenoir), Sen. Kevin Corbin (R-Franklin) and Rep. Mark Pless (R-Haywood) for their support of the package.
"Since I've been there [in the General Assembly] six years now, I've been a proponent of the rainy day fund and having money available for disaster," Corbin said. "There's no way you could have predicted that in disaster in Haywood County. I've worked with Rep. Pless and our counterparts in the eastern part of the state, senators Bell and Perry, because our two ends of state have been hit the worst."
Corbin said the funding appropriation was a bipartisan effort, and that he'd also worked with appropriations Chair Sen. Ralph Hise to get an unrestricted $8.3 million into the budget for Canton.
McEwen also said that Rogers and Smathers had taken leadership positions on the issue, and that their input has been valuable.
"I know the legislature; they've taken amazing steps. They're interested in taking further steps," McEwen said. "These tragedies are more and more frequent. They're more and more severe. We need to make sure that Western North Carolina is listened to on these issues. What are we going to do to invest in our infrastructure, to change policies on the front end, to lessen the burden on the back end, and ultimately save lives and save property?"
After first utilizing the United Steelworkers Union hall, Canton government now operates out of a modular structure on Spring Street. Cory Vaillancourt photo
Triumph
It's too late to save Natasha Bright's "forever home," but as she and her family continue on their journey back from the flood, she reflects on where, exactly, she's been since that day in Cruso.
"It's been long and at times really frustrating," Bright said. "But I also know that we've been lucky to have good friends. We're doing okay now."
The region's ongoing affordable housing crisis hasn't made things any easier for the flood's local refugees, although an $8 million disaster recovery grant from the U.S. Department of Housing and Urban Development could provide some relief in the future.
"We were two steps or maybe even one step away from being homeless. We don't have family here. We luckily have friends, but there was nothing to rent. Nothing at all," Bright said. "My husband was in the shelter until December."
On Aug. 15, N.C. Office of Budget Management Senior Construction Manager Richard Trumper told Haywood commissioners that of the $44 million in state funding for home repair and reconstruction, private road and bridge repair, short term housing assistance and landlord assistance, only 54% had been claimed to date.
During that same meeting, Haywood commissioners approved another $20,000 — reimbursable from North Carolina Emergency Management — from its contingency fund to assist with the setup of five campers for those still without homes.
Bright and her family were fortunate to find a two-bedroom rental in Canton, with the dining room converted to a third bedroom. She's still paying the mortgage on that cabin, and although she's receiving rental assistance from FEMA, she's still coming out-of-pocket for part of the rent.
"I'm kind of an optimistic person anyway. I mean, I always think that everything is going to work out. It might take a while. It might not be exactly what I thought it was going to be or hoped it was going to be, but you know, we'll be fine," Bright said. "Everybody's going to be okay."
Bright isn't the only one who's found the silver lining in those storm clouds that caused The Green Pepper Flood.
When asked if there was anything positive about the experience, everyone had pretty much the same response.
"It pulled our community together," Rogers said. "It reminded me of a time when I was a kid, when people didn't care what your party affiliation was, how much money you had in the bank, people were pulling together and helping one another."
Indeed, there was a point when county officials ran out of places to store the influx of donations that came in — clothes, non-perishables, personal hygiene products, water and the like.
A community effort called Helping Haywood reported raising around $1 million less than three months after the flood, some of which came from an October benefit concert held in Canton by Haywood County's own bluegrass sensation, Balsam Range.
But long after the music stopped and the waters receded, and as people like Bright continue their journey, the tiny blue-collar mountain mill town that just won't stay down continues to look for the best way forward.
Proctor said that Canton is a "poster child" for what a small town can be after a catastrophic climate change issue.
"As we sit here and we figure out what we want to be again, based on the rich history that we have as a paper mill town with a gritty spirit, we get to write our future," she said. "And to me, that is the triumph that we're building right now."