Archived News
Nearly one year on, Haywood strengthens flood response capabilities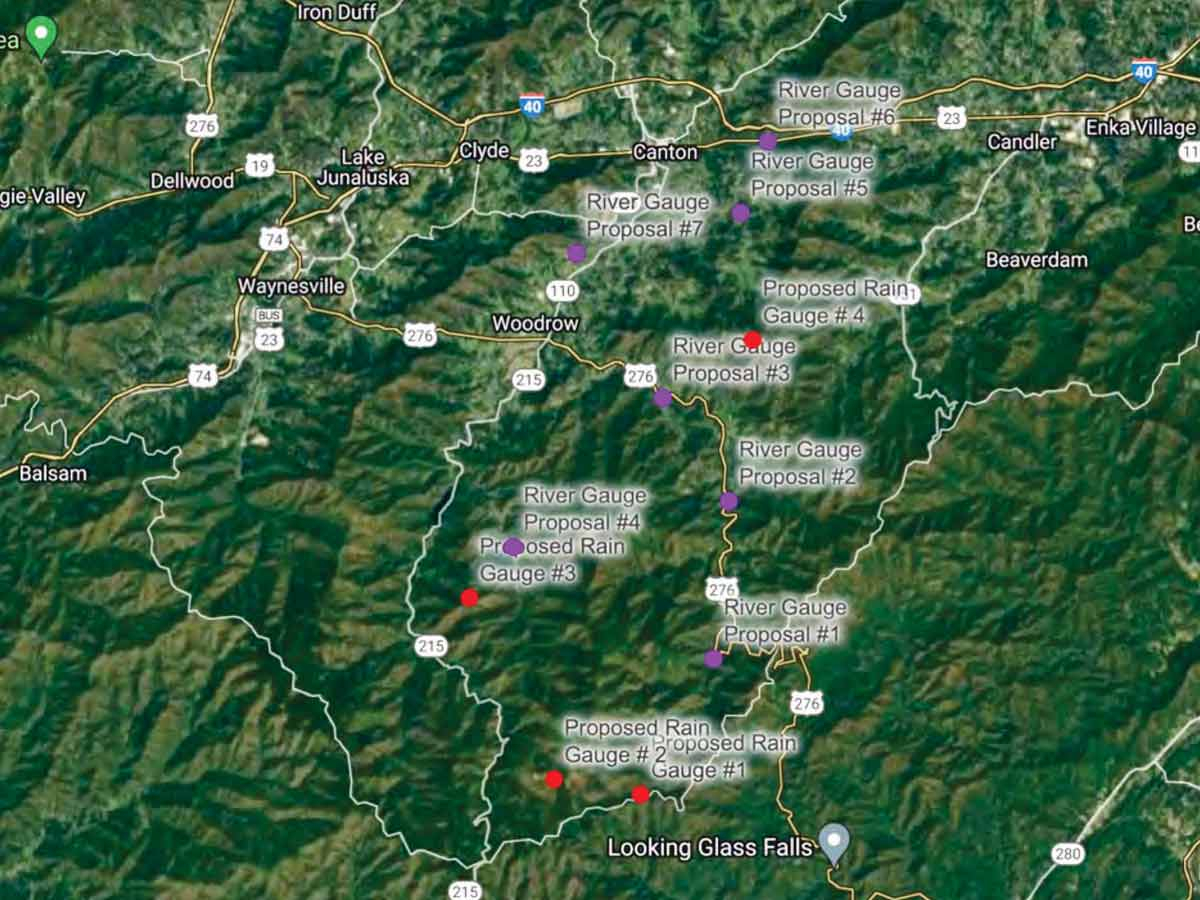 A map shows potential locations for new rain gauges (in red) and river gauges (purple) across southeastern portions of the county. Haywood County photo
Eleven months to the day after Haywood County awoke to unprecedented flood damage along the Pigeon River resulting from torrential rains the day before, Emergency Services Officer Zack Koonce and Director Travis Donaldson told commissioners they'd secured grant funding to bolster reporting and warning systems.
"Our mission at Emergency Services is to provide the citizens with preparedness, incident management and quality medical care," Koonce said during a commission meeting on July 18. "During the heavy rainfall events, one preparedness tool that we lacked is early situational awareness about how fast rain is falling in relation to how fast the rivers were rising."
During an Oct. 18, 2021 meeting, commissioners approved a resolution to pursue grant funding for additional rain and river gauges that could communicate with early warning systems.
That came after the remnants of Tropical Storm Fred lingered over Haywood County on the afternoon and evening of Tuesday, Aug. 17, 2021. Rains over the previous weekend saturated soils and by 1 p.m. that day, a gauge on the East Fork Pigeon River about a mile upriver from Jukebox Junction had begun to rise .
By 6 p.m., the East Fork had set a new record, more than 3 feet above the previous 13-foot mark. Around that time, water had reached the mountain mill town of Canton, spilling into downtown homes and businesses.
A flash flood warning was issued by the National Weather Service around 3 p.m. Shortly after 4 p.m., Haywood Emergency Services issued a flash flood alert, but for some upriver residents like Natasha Bright , it was already too late.
Bright, her brother and their pets had been trapped for several hours, holding on for dear life atop a bunk bed in her flooded-out house by the time the National Weather Service issued a flash flood emergency warning around 8:30 p.m.
Waters receded below flood stage by 10 p.m. on the East Fork and around 12:30 a.m. in Canton, but as dawn broke on Wednesday residents were appalled by the damage they found.
Initial reports listed dozens of people as missing. Six people lost their lives, some swept away from a campground as a wall of water proceeded down the East Fork.
Almost 600 homes were damaged, 160 were destroyed, landslides choked roads, cell towers and electricity failed, trucks and trailers were tossed about like toys and thousands upon thousands of pounds of produce was stripped from stalks , cast downriver only to end up littering roads, bridges and anywhere else the water went.
The $175,000 North Carolina Department of Public Safety grant, procured by Koonce and EMS grant specialist Cody Grasty, will allow the county to purchase and install four rain gauges and seven river gauges in areas that currently lack reporting capability.
The instruments will provide live data on how fast rain is falling and how that rain is affecting river levels, and should be in place within 12 to 18 months.
Previously, EMS and fire officials had to ride up and down the river by road and physically check for water levels. Had the flooding occurred later in the evening, it's likely the death toll would have been far higher.
The county will be responsible for maintenance on the solar-powered devices, through quarterly visits.
The plan is to put the rain gauges near the headwaters of major streams near High Top, Twelve O'clock Top and Dick's Creek. The river gauges are slated for Cruso, above Canton and possibly in the Upper Hominy/Asheville Highway corridor just east of Canton. Homes and businesses on Hominy Creek, leading into Asheville, also suffered damage during the flood.
Data from the gauges is transmitted to Raleigh via UHF signal and will be available instantaneously on the N.C. FIMAN (Flood Inundation Mapping and Alert Network) website, however that wouldn't have helped many residents of Cruso, most of whom were cut off from communications networks during the flooding.
To that end, another grant — this one for $1.525 million — will help the county install up to three siren warning systems in Cruso, Lake Logan and Bethel.
"We can't help anybody if we can't actually warn them that they need to take cover and take care of their own," Donaldson said.
During the flooding, Haywood EMS was hampered when power to cellular systems was lost, thus limiting the ability of the county's emergency notification system, known as Everbridge, to transmit notifications to residents at risk.
The siren system would work in conjunction with the rain and river gauges and "provide an audible way to notify the entire community to seek higher ground or evacuate," according to the county's grant application.
Donaldson compared the sirens to the type that are often found in tornado-prone areas and said they're also comparable to an existing siren located at the Clyde fire department.
Like the rain and river gauges, the sirens will offer some redundancy so they can remain functional during natural disasters.
The timeline for the project is estimated at less than 24 months and will also include a public education component designed to let residents know what to do when they hear a siren.
The entire effort to enhance they county's flood preparedness came as the result of a question posed at a campground during a meeting in the immediate aftermath of the flooding.
At the meeting, attended by Sen. Kevin Corbin (R-Franklin), Rep. Mark Pless (R-Haywood), Sheriff Greg Christopher and Commissioner Brandon Rogers, residents asked if it would be possible to explore early warning options.
Rogers took that to heart, and had conversations with County Manager Bryant Morehead about the possibility.
Commissioners unanimously approved two MOUs with NCEM to accept the grants.
"If we had something like this when this flood happened, we might not have had six people that passed away, possibly, who knows," Rogers said. "I think it's great to have it. Can't sit back and not doing nothing. And then, to get it on a grant I think it an awesome thing, too."