Archived News
'And then it was too late': Flood warning timeline reveals challenges of mountain forecasting
Wednesday, September 15, 2021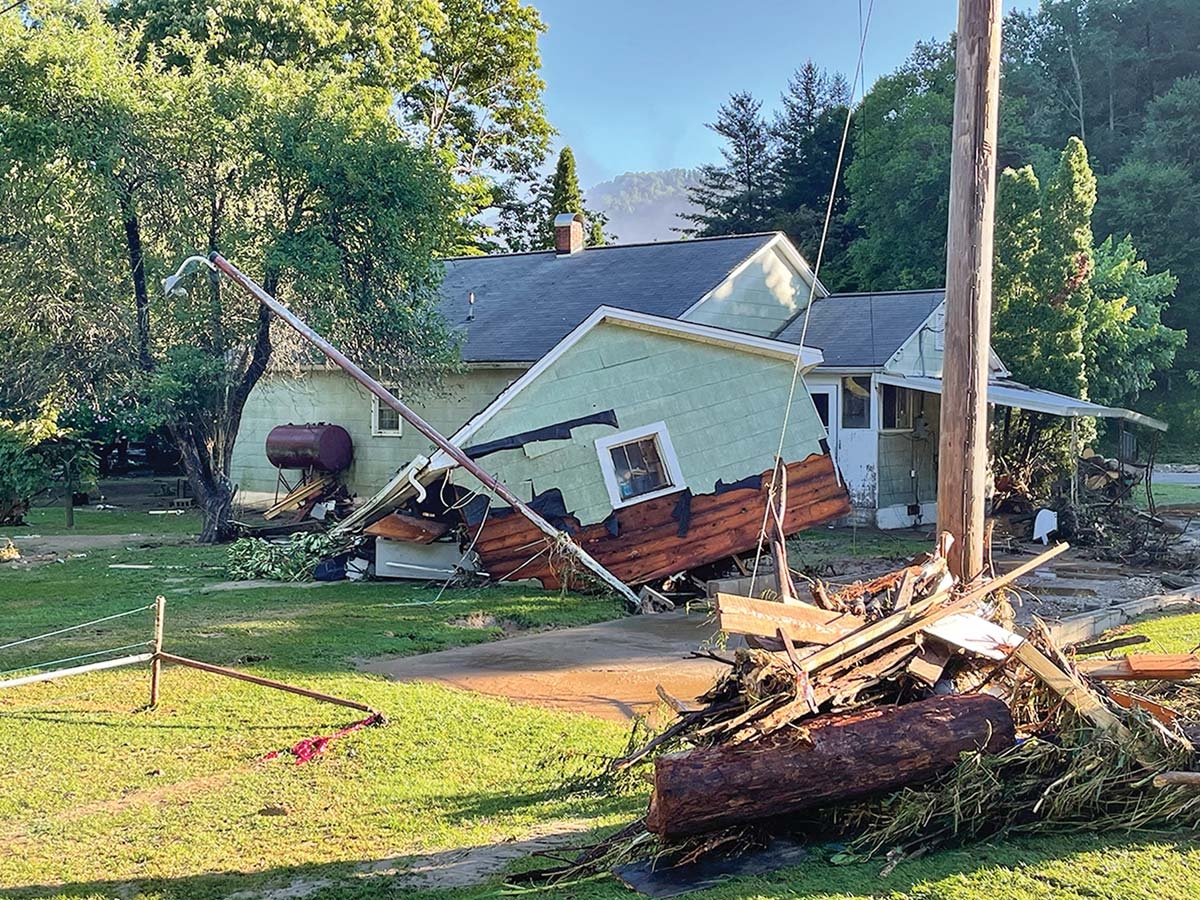 Homes throughout the Cruso area were left destroyed after the floodwaters receded. Scott McLeod photo
On the afternoon of Tuesday, Aug. 17, Rob Young was watching the rain fall. He watched it first through the windows of his office at Western Carolina University and then later at his home in Webster — and, continuously, on his computer screen, where ever-changing river depths were displayed through the state's Flood Inundation Mapping and Alert Network, or FIMAN .
"At one point I was saying, 'This is going to be more of a nonevent than I thought,'" he said in an interview Sept. 3, when bright sunshine had replaced the streaming skies of Tropical Storm Fred. "Then all of a sudden I started hearing houses are going down the river in Cruso ."
The FIMAN site features a map marking every river gauge in North Carolina, with a color-coded circle indicating its current level — green denotes a normal reading, with yellow, orange, red and purple marking progressive levels of danger. A ring around the interior circle indicates the river's forecasted peak condition. As Young watched the map Aug. 17, he waited for the outer rings to change color.
"It never happened until the gauge was reporting a flood," he said. "And then it was too late."
As director of Western Carolina University's Program for the Study of Developed Shorelines , Young has a professional interest in water, and the ways it can change even the most longstanding human settlements. He studies hurricanes and wetlands, and how science can inform management and policy in these vulnerable places.
The impact of Tropical Storm Fred shocked him, as did the suddenness with which it arrived. After the storm passed, he started asking what the National Weather Service knew, what local emergency managers knew and when they knew it. Had somebody messed up? Could this loss of life and property have somehow been averted?
But no, he concluded — the devastation in Haywood County was not the result of cumbersome bureaucracy or incompetent leadership. Rather, it was the result of the immense difficulty of accurately predicting mountain weather, of the inherent danger of living in a floodplain and of an unprecedented load of rain.
"I'm not convinced we could have done much of a better job with a flash flood like this that happens so incredibly quickly," he said.
Evolving predictions
Meteorologists at the National Weather Service Forecast Center in Greenville-Spartanburg had been watching Tropical Storm Fred for days prior to its Aug. 17 arrival in Haywood County, posting regular updates on the storm's projected path and impacts to its carefully curated social media pages.
At 2:20 p.m. on Monday, Aug. 16, those projections led the NWS to issue a Flash Flood Watch beginning Tuesday morning for a 31-county area, which included the entire far western region of North Carolina. Rainfall amounts could vary widely, the alert stated, ranging from 2-3 inches in piedmont areas to 8-10 inches in upslope mountain areas. The notification went out via mass market media, the National Oceanic and Atmospheric Administration weather radio and NWS official Twitter accounts.
That rain would come at a time when soils were already saturated. On Sunday, Aug. 15, a river gauge a mile past Jukebox Junction on the East Fork Pigeon River had peaked at 7.28 feet, not far below the flood stage threshold of 8.5 feet.
"Just in general, we absorbed a lot of rain over multiple days," said NWS Meteorologist Clay Cheney. "And so the area became really primed and conducive to flash flooding."
As the storm drew closer, the NWS began to update its messaging. First, it moved the start time for its Flash Flood Watch up earlier to begin at midnight Aug. 17. As Tuesday unfolded, it published updates on its social media accounts, and at 3:12 p.m. — half an hour before the East Fork gauge reached flood stage at 3:45 p.m. — a Flash Flood Warning was issued. Unlike the Flash Flood Watch alert, the Flash Flood Warning resulted in alerts sent to cell phones in the affected area.
Locally, Haywood County Emergency Services had also been working to communicate warnings to local residents, informing them of the danger via social media posts and Haywood Alerts messages sent directly as text messages and phone calls to those who had signed up for the service. The first Haywood Alerts message went out around 2:20 p.m. Aug. 16, alerting users of the Flash Flood Watch. Subsequent alerts went out at 3:12, 4:09 and 4:25 p.m. Aug. 17.
Challenging terrain
Predicting the weather isn't easy, and predicting mountain weather — especially extremely localized but extremely intense outbursts — is doubly difficult.
On a broad level, said Senior Service Hydrologist Joshua Palmer, the NWS was expecting heavy, potentially dangerous rainfall from Tropical Storm Fred, and that's exactly what happened.
"The challenge is — and this is where the state of the science comes into play — can we provide the Cruso residents a forecast the day or two in advance that says, 'You guys are going to get 8.5 inches of rain between 10 a.m. and 5 p.m. on Tuesday, Aug. 17?" said Palmer. "And we're just unfortunately not there yet."
There was no warning specific to the Cruso area until the river was rising in the Cruso area such that, for many people, it was already impossible to leave. But that's merely a reflection of current forecasting capabilities, not a reflection of missed cues or overlooked data on the part of the forecasters, said Palmer.
Flash flood watches don't happen too often — there have been three this year for Haywood County — so when they're issued it's important to take them seriously.
"When that flash flood watch goes out and you're in a campground setting and you're next to a river, that's a decision that has to be made as to whether there's a risk there that you could experience flooding," Palmer said.
While "being wrong is part of the job," Palmer said, when it comes to weather prediction error comes at a price. If a severe weather watch is issued and nothing happens, people who received the alert might pay less attention the next time.
For the same reason, forecasters have to avoid giving a prediction that's too specific for the science to support it with reasonable certainty. Especially in the mountains, the outcome for a local area depends on exactly where the heaviest rain is located, and therefore into which watershed it falls. Previous reporting from The Smoky Mountain News showed that Jackson County could easily have seen even more severe flooding than Cruso — but because the heaviest rain fell on the Eastern Continental Divide, the water was split across two watersheds.
Forecasters are also limited in predicting how rainfall will impact slope stability. The state of the science is "very, very young" when it comes to anticipating landslide risk, said Palmer.
"There's time scales and there's spatial scales," he said. "And so you've got your broad forecast of rainfall, and then you've got your very specific watershed forecasts of rainfall, and unfortunately that's just not something at this time that we're able to do with any kind of accuracy or skill that would build confidence with the public."
A forecast of heavy flooding on the East Fork and mild flooding on the West Fork could easily be met with a reverse outcome, he said, in which case the forecast would do more harm than good.
Improving the warning
While reliable watershed-level predictions may be a ways off, Haywood County Emergency Manager Zack Koonce hopes that next time, citizens will at least have more warning.
There are three U.S. Geological Service river gauges on the West Fork Pigeon River, the furthest upstream of which is located just above Lake Logan . The only USGS river gauge on the East Fork is located just about a mile upstream from Jukebox Junction. There is also a state-maintained rain gauge at the Cruso Fire Department, where the heaviest rainfall occurred. While the fire department gauge was critical in getting warnings out to downstream residents, all five of the above data gathering points are low in the watershed compared to the Pigeon's mountain headwaters.
There is also a state-maintained ridgetop rain gauge on U.S. Forest Service property at Daniel Ridge, which was out of order at the time of the flood due to encroaching tree canopy coverage. The Forest Service has a rain gauge at Frying Pan Tower, but its usefulness is limited because it often takes an hour or more for data collected there to display on the website, Koonce said.
Having the data from Daniel Ridge may have been helpful for forecasters, but nobody interviewed for this story said it would have saved the day. The Daniel Ridge site is a simple rain gauge, and it only tells the story of that single location. It takes time to collect the observations and receive the data needed to judge what those measurements mean for public safety — and that's time emergency managers might not have.
No real-time data existed to show the flood wave headed for Cruso, until it was already there. Koonce wants to ensure that doesn't happen again.
"The gauges we currently have in place, they update, but they don't update frequently enough," he said. "Visual monitoring is something we'd like to put in place."
That means installing cameras and fiber cable to give an instant look at on-the-ground conditions. Creating that infrastructure would be a bureaucratic challenge as well as a financial investment. The headwaters of the Pigeon River are found in public lands managed by the U.S. Forest Service and Blue Ridge Parkway, and some of that land is federally designated wilderness with myriad restrictions on allowable uses and infrastructure. Getting all the necessary approvals and partnerships in place to install such equipment would be challenging. But Koonce thinks it's possible.
"I think it is a project that's worth putting time into, and I think it is an achievable goal," he said.
Morning dawns on a debris-scattered U.S. 276 the day after the flood. Scott McLeod photo
Reducing vulnerability
More good data is nearly always a good thing, but Young doesn't think that better predications or earlier warnings will truly solve the problem. Even if Haywood County manages to install an early warning system for Cruso, what about the countless other small watersheds in North Carolina that are equally susceptible to flash flooding, given the right conditions?
"Creating a system that's going to provide enough warning in a place like this, I'm just not sure that it's possible," he said. "If you asked me what needs to happen, I would have to say that at the end of the day, the best thing is to not have trailers and singlewides and vulnerable structures built at grade anywhere near these rivers, even up in the headwaters."
Young acknowledges that would be a tough policy to enact — especially in a county with so little flat land, where affordable housing options are already scarce.
But there was just an hour between the time when the West Fork rose to the action stage of 8 feet at the gauge site upstream from Lake Logan and the time it hit the action stage of 9.2 feet at Bethel, and more like 30-45 minutes of actual lead time when accounting for the lag in data display.
In a community with limited cell coverage and poor internet, he said, it's hard to know whether that would be enough time to evacuate people who are in danger, had the East Fork had a similar distribution of gauges. And even if everybody made it out with their lives, there would still be the destroyed homes and livelihoods to contend with.
The key, Young said, is to plan around reducing both exposure and sensitivity to floodwaters, a calculation that considers whether a building will contact floodwaters as well as what impact that water will have once it arrives. For instance, beachfront homes may often be exposed to floodwaters, but because they're built with the expectation of exposure, floods below a certain magnitude don't impact them much.
"If events like this happened every year, we wouldn't develop in dangerous places," he said of the Cruso corridor. "But they don't. They happen just frequently enough that they can cause problems for us. It takes a lot of will and foresight, and political will, to say we're not going to put stuff in these places that we know are likely to flood in the future, and if we do we're going to make sure it's way above the base flood elevation."
The National Weather Service has calculated that, based on rainfall totals over the 60-hour period leading up to the flood, there is roughly a 0.15% chance each year of a similar event happening in Cruso, Haywood County Emergency Services spokesperson Allison Richmond said. If considering the county or region as a whole, that percentage would increase.
In traditional — though misleading — terminology, that 0.15% chance would equate to something like a 670-year flood. The NWS is trying to get away from such terms due to the false sense of security they can bestow, Richmond said. In any given year, there is a chance that a similar event could occur, even if the chance is small.
"We have like 50 years of data, max, in most of these places, so how would we ever know what a 500-year event is?" said Young. "We sort of make it up."
While it's impossible to know exactly how long it will be before a similar flood strikes Cruso again, it's unlikely to occur for quite a while. But overall, said Young, flooding events will be more common in a warming climate, for the simple reason that warm air can hold more water, so tropical storms will have the opportunity to absorb more moisture.
"One of the biggest impacts from global warming may be the simple fact that we're going to get more rain in events, and I think we're seeing that everywhere," he said. "Was this a 500-year event or a 0.2% event? I would not bet on that. My fear is that things like this that are going to be a lot more common in the mountains than they have been in the past, for sure, and a lot more common than we would like them to be."
Stay in the loop
Be ready for future emergencies by signing up for Haywood Alerts at www.member.everbridge.net/453003085616422 and following the National Weather Service's Greenville-Spartanburg Forecast Office at @NWSGSP on Twitter. The office also has a robust Facebook page, but due to issues with Facebook algorithms doesn't use it for official warnings.
The prediction timeline
Saturday, Aug. 14
• 11:13 a.m. The National Weather Service warns of an enhanced risk for flash flooding in Western North Carolina and northeastern Georgia over the next seven days due to Tropical Storm Fred, citing a "medium" confidence level in the prediction. Haywood County Emergency Services shares the warning at 12:19 p.m.
Sunday, Aug. 15
• 5:30 a.m. The NWS updates its advisory to state that heavy rainfall will be "the main concern" for WNC and northeast Georgia through midweek. The agency reiterates that concern in social media posts and updates throughout the day.
Monday, Aug. 16
• 3:02 a.m. A Flash Flood Warning is issued for Haywood, Transylvania and Jackson counties, expiring at 7:45 a.m. that morning. Flooding occurs in Transylvania County, but not in Haywood.
• 11:40 a.m. In social media posts, Haywood County Emergency Services warns followers that updated forecasts show a risk of flooding on the Pigeon River due to Tropical Storm Fred and asks them to sign up for Haywood Alerts to receive emergency messages.
• 2:20 p.m. The NWS issues a Flash Flood Watch for a 31-county area including parts of North Carolina, Georgia and South Carolina, extending from 8 a.m. Aug. 17 through 8 a.m. Aug. 18. Haywood County relays the warning to residents who have signed up for Haywood Alerts messages.
• 8:30 p.m. The NWS moves the start time for the Flash Flood Watch forward eight hours so that it now begins at midnight.
Tuesday, Aug. 17
• 4:34 a.m. The NWS updates its forecast to include high chance of excessive rainfall for an area that includes parts of 11 counties, including southern Haywood County. The remainder of Western North Carolina was given a moderate chance of excessive rainfall.
• 10 a.m. In social media posts, Haywood County Emergency Services advises residents that all of Haywood County is now expected to get 4 inches or more of rain in the next 24 hours and repeats its call to sign up for Haywood Alerts.
• 10:46 a.m. A Haywood Alerts message goes out to all subscribers reminding them of the flash flood watch in effect.
• 10:44 a.m. A tornado watch is issued for parts of 32 counties, including Haywood. It is later updated to include additional areas. While several small tornados occurred as a result of the storm, none were observed in the far western counties.
• 2:45 p.m. In radio traffic, Canton and Cruso fire chiefs discuss water levels, which were still in the normal range.
• 2:50 p.m. Haywood County 911 receives a call from a female hiker in the Big East Fork area who is concerned about high water on the trails. She ends up sheltering overnight in the backcountry.
• 2:56 p.m. Haywood 911 receives a call about flooding in the Burnette Cove area.
• 3:11 p.m. A caller informs Haywood 911 of a tree down just above the Cruso Fire Department.
• 3:12 p.m. The National Weather Service issues a Flash Flood Warning for southern Haywood County, set to expire at 6:15 p.m. The warning is displayed on cell phones in the alert area as part of the Integrated Public Warning Alert System.
• 3:13 p.m. The Flash Flood Warning is repeated through a Haywood Alerts message.
• 3:14 p.m. A large mudslide above the Cruso Fire Department is called into 911.
• 3:45 p.m. The East Fork reaches flood stage as the river gauge closest to Cruso, located about a mile upstream from Jukebox Junction, measures 8.54 feet.
• 4:09 p.m. Haywood County Emergency Services issues a Flash Flood Alert as the East Fork Pigeon River overflows its banks. A Haywood Alerts message urges downstream residents to seek higher ground.
• 4:24 p.m. The National Weather Service extends its Flash Flood Warning through 8:30 p.m. and includes northeastern Haywood County in the coverage area. Severity is upgraded to "considerable," which triggers a Wireless Emergency Alert on cell phones in the area.
• 4:25 p.m. A Haywood Alerts message repeats the warning to downstream residents.
• 4:45 p.m. The East Fork gauge reaches 12.01 feet, crossing the line into major flood stage.
• 5:45 p.m. The East Fork gauge crests at 16.15 feet, a record for that location.
• 8:15 p.m. The waters crest in Canton with a reading of 19.76 feet.
• 8:30 p.m. The NWS declares a Flash Flood Emergency for parts of Haywood County including Canton, West Canton and Lake Junaluska, in effect through 2:15 a.m. Aug. 18, instructing people to seek higher ground immediately. The Flash Flood Warning is extended through 2:15 a.m. Aug. 18, with the coverage area shrinking to include only the eastern-central part of the county.
Leave a comment
2

comments
Using the term "XXX year flood" is misleading and improper, and such use needs to be stopped. A "100 year flood" means there is a 1% chance of that level of flood occurring, not that such a flood occurs once in 100 years.

Sunday, 09/19/2021

Excellent article.. Thanks for the information.

Friday, 09/17/2021