Archived News
As Sylva attempts to move forward with grant application, some question value of public art
Wednesday, January 25, 2023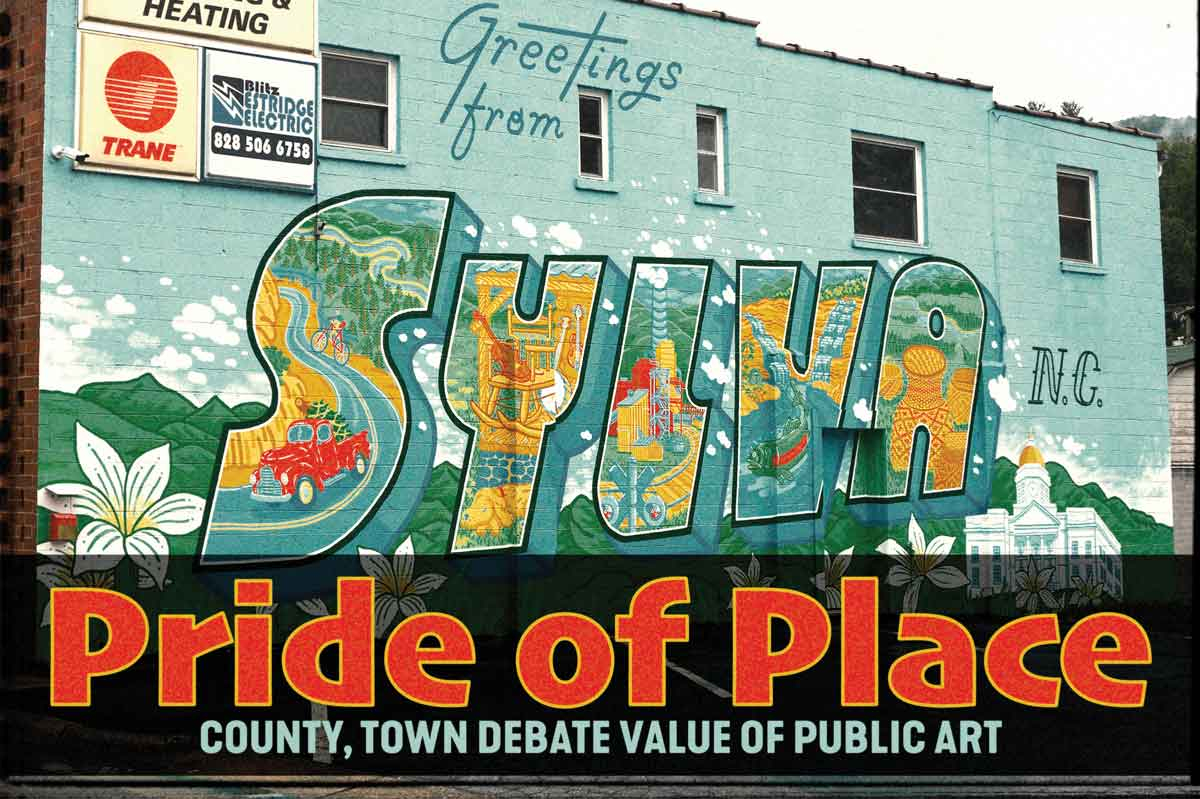 The choice by Jackson County Commissioners not to move forward with a municipal grant application from the Town of Sylva has led to discussion among residents, town and county government about the value of public art, as well as how it should be funded.
"In this community, there are so many creative people as well as support for the arts," said Sylva Commissioner Greg McPherson. "As a commissioner, I thought it would be great to formalize that spirit and take public art to a new level in Sylva."
The municipal grant program is intended to assist Jackson municipalities with the implementation of projects that will benefit all citizens of the county. This year, there is $20,000 earmarked for the program with individual applicants receiving up to $5,000.
The town of Sylva has applied for a $5,000 grant to start a Sylva Art Walk that includes murals, marketing rack cards and kiosks to hold promotional materials.
The Murals on Mill piece of the project will bring new murals that will give several local and regional artists the chance to showcase their work. This will entail three rotating murals on Mill Street over the course of the year. Art walk rack cards will include a map and QR code to the Sylva Art Walk web page. This site will include photos of all public art, galleries in downtown Sylva and maps and addresses for each. This allows for the flexibility to incorporate new projects as they come up.
The art walk is modeled in part after the Heritage Walk, a compilation of historic photos paired with the historic building registry, as well as the Tree Walk. The art walk would tie 16 public art exhibits, four galleries, several hosted exhibits at restaurants and three rotating murals on Mill Street.
"Downtown Sylva is becoming quite the art-centered hub of Jackson County," the application reads. "Many of the public art murals, miniature art, private galleries and collaborative centers have popped up over the past few years, while some have been intentional. Our goal is to tie them all together to one unified economic driver for downtown."
The project has a total estimated cost of $5,824.59, with the Town of Sylva funding the additional portion.
Overall, this is a relatively small grant opportunity. Jackson County's total budget for 2022-23 is over $80 million, while Sylva's, after grants and other proceeds, is over $5 million. However, commissioners from both town and county government recognize that money might not be the most important element of this transaction.
"Often, with these municipal grants that max at $20,000, it serves as a PR component to our communities and towns," said Commissioner Mark Jones.
"The point of this grant is to foster cooperation between municipal governments and county governments," said Sylva Commissioner David Nestler. "I think it's a good opportunity to ask for their trust in this."
But when Sylva presented its municipal grant application to county commissioners earlier this month, it wasn't smooth sailing, and the ensuing discussion among both boards has some in the community questioning the merits of public art and its funding.
The debate is not a new one. In 2016, when the Sylva town board was considering the creation of a public art committee, one of the central questions was whether or not taxpayer money should be spent on acquiring or producing public art.
This grant creates an opportunity to spur on public art in Sylva with very little money coming from the town's budget. Instead, most of the money would come out of county funds.
In 2017, Sylva formed the public art committee, and in July 2018, it finished its inaugural project, the 22-by-53-foot mural displayed on the side of Ward's Plumbing and Heating building at 548 Mill St. The mural is modeled after 1940s vintage postcards from Sylva, showing the town's name in big block letters. Within each letter there is a different scene showing components that make the mountain town special. Behind the letters is a mountainous background featuring Cullowhee lilies and the historic Jackson County Public Library.
The project was funded through a $10,000 state grant for downtown revitalization awarded by Jackson County and is currently the only public mural in Sylva. The other mural that adorns Mill Street with the words "You Belong Here," came through a collaboration between Sylva Pride, Main Street Sylva Association, Dixie Mae Vintage Market and artists Worth and Sarah LaRose, but no public funding was used.
Just over two years after forming, the public art committee was disbanded in 2019 and reassembled under the umbrella of the Main Street Sylva Association. This move allows the art committee to apply for grants and fundraise as a nonprofit entity, rather than a public governmental one.
"A lot of what the committee would do is the same, but there's more flexibility with it being a Main Street Committee that isn't considered a public body and appointed by the board," said Town Manager Paige Dowling at that time.
This Mill Street mural was the result of community collaboration. Dustin Carver photo
While several county commissioners expressed hesitancy after Main Street Economic Director Bernadette Peters and Sylva Commissioner Greg McPherson presented Sylva's municipal grant application to the county board, there does seem to be consensus among a majority of commissioners that public art is a valuable asset for any community.
Commissioners Mark Jones, Mark Letson and Todd Bryson have all touted the importance of public art in community spaces.
"I think it's important," said Bryson.
Commissioner John Smith did not express feelings either way regarding public art while in public meetings and told The Smoky Mountain News he did not want to comment on the subject. Smith wanted assurance the artwork would be family-friendly.
Commissioner Tom Stribling said he would rather see the $5,000 used for something other than public art.
The issue at hand for most commissioners that were not ready to move forward with Sylva's municipal grant application seemed to be the want for more information about what artwork would be forthcoming. However, at the same time, some of those commissioners said they did not think the commission needed to be involved in the selection process.
"I would kind of like a little more information on the type of artwork," said Smith. "Make sure it's family-friendly for the families and kids that's walking downtown."
"We would like to fund the grant fully but would like to have a little more information regarding the type and style of art to be displayed that the municipal grant will be applied toward. We obviously do not want to direct the art itself," said County Commission Chairman Mark Letson. "I don't feel commissioners need to be involved in the selecting of artists, especially since there is a committee already in place. I'm personally more comfortable with more information on who, what, when, where of the art and trust their judgment."
The hiccup is that the Sylva Art and Design Committee, which exists under the MSSA, will not begin the process of finding themes and artists to complete small murals, or prepare a timeline for creation and display, until it has the funds to do so. Peters and McPherson explained to commissioners that the Sylva Art and Design Committee would be responsible for selecting artists and type of mural artwork, with preference given to local artists. For this reason, it would be difficult to inform the commission of possible artwork, short of involving commissioners in the selection process prior to grant application approval.
Should a grant award from the county depend on whether county commissioners approve of artist selection and mural content? Should county commissioners be involved in that process? Sylva commissioners don't think so.
"It sounded like censorship, and I think the last thing you want is politicians engaging in what is and what is not art," said Sylva Commissioner Ben Guiney during a January meeting of Sylva Commissioners. "I was hoping that we could go back and maybe have a little bit more discussion about what public art is, why it's important and what it is we're actually asking for."
McPherson noted that the point of public art is to appeal to as broad an audience as possible and said that the MSSA would not be funding anything inappropriate.
"Their request to censor public art, I think we can all agree that that's not a good approach to this grant," said Nestler.
Jones said he is in favor of awarding the grant as it was presented and that he trusts Sylva's art committee to make the artist/ artwork selection.
"I have good faith in Sylva's leadership, staff and volunteers on a variety of projects," said Jones. "I believe the proposed art walk will enhance the downtown experience and bring extra revenue throughout the social district no matter what your business is."
Jones also pointed out that because there will be multiple, rotating murals, if one comes along that isn't his favorite, he knows it will eventually be rotated out for a new piece.
Bryson told SMN he would like to see plans for what Sylva has in mind for the murals, but that the county commission should not be involved in the artist or artwork selection.
"I don't think we should make the decision of what artist," said Bryson. "But we should be able to trust the Town of Sylva to put forth art, bring art that is going to be in the best interest of the county, for all people of the county, not just what the town wants. Because this money is county money."
According to McPherson, representatives from the Sylva will go back before the county commissioners again if asked and answer any questions they may have.
"This is a small opportunity to embrace a proven asset to our economy, empower a dedicated committee and help a few artists move their professional careers forward," said McPherson. "In my role at Western I am lucky enough to be able to deal with visual themes and challenging artwork daily. Something I have learned from my experience with public art is that if the artwork is done professionally and with care, each work can instill an immeasurable pride of place in the community."
The next regular meeting of the Jackson County Commission is set for 6 p.m. Tuesday, Feb. 7. The next regular meeting of the Sylva Board of Commissioners is set for 5:30 p.m. Thursday, Feb. 9.
Leave a comment
4

comments
I'm glad the county commissioners are finally listening to their constituents. After seeing what the previous commissioners and what the town board has been doing to our community I'm glad the buck stops. The woke town board is just delirious and has the mind virus. McPherson thinks just because he has a MFA he's and "art" expert". Nestler thinks just because he's an engineer that he is' better than everyone. Guiney thinks that being a doctor makes him a subject matter expert in everything.

Friday, 01/27/2023

Everyone talking about the obscene art Sylva hasn't even commissioned yet and making sure Jackson's county seat is open and friendly to everyone. Okay, cool, cool. How about you take down the racist statue you have in the middle of town? That single action would do more economically for this area than any number of murals or postcard racks.

Thursday, 01/26/2023

As a Jackson County Resident, Spending money on Displays of Art while there are other issues that the money could be better used for seems more appropriate. If the money is to be used for Art to be displayed, I strongly believe that any art that show's Religion, Sexual Orientation or Affection, Political Preferences should be off the list of approved art. A suggestion of "scenery of Jackson County Building History example- Like how the town looked like at a certain time" or a scenery of Nature would be appropriate not to offend anyone.

Thursday, 01/26/2023

As a Jackson County Resident, Spending money on Displays of Art while there are other issues that the money could be better used for seems more appropriate. If the money is to be used for Art to be displayed, I strongly believe that any art that show's Religion, Sexual Orientation or Affection, Political Preferences should be off the list of approved art. A suggestion of "scenery of Jackson County Building History example- Like how the town looked like at a certain time" or a scenery of Nature would be appropriate not to offend anyone.

Thursday, 01/26/2023