Archived News
Sylva mural complete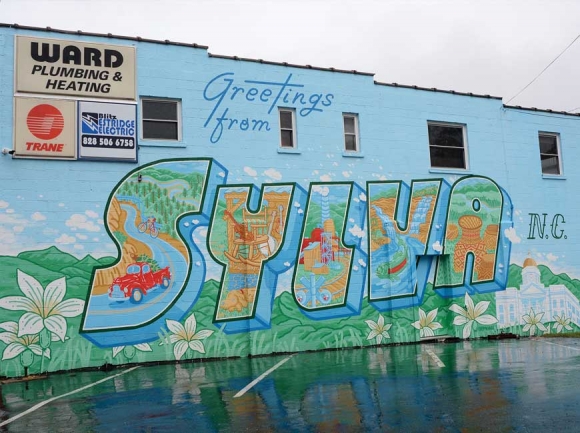 The mural design was modeled on 1940s postcards from Sylva. Holly Kays photo
A long-awaited mural is now complete in Sylva, marking the end of the Sylva Public Art Committee's inaugural project.
"We're hopeful it will lead to more art and more public art," said Town Manager Paige Dowling. "At this point the Public Art Committee will begin fundraising for future projects."
The 22-by-53-foot mural, located on the Ward's Plumbing and Heating building at 548 Mill Street, is modeled after 1940s vintage postcards from Sylva, showing the town's name in big block letters, with each letter containing a different scene showing one of the components that makes Sylva special — there's a car cruising the Blue Ridge Parkway, a log cabin with an array of bluegrass instruments on the front porch, the railroad with Jackson Paper in the background, trout in the Tuckasegee River and Cherokee baskets sitting in a field. The letters are set against a background of sky and mountain featuring Cullowhee lilies and the historic Jackson County Public Library building.
Artist Eron Hare, who is originally from Brevard but now based in Brooklyn, New York, and a graduate of the Rhode Island School of Design, painted the mural, closing out the project on Monday, June 25. It was funded through a $10,000 state grant for downtown revitalization.
"We're hopeful it will lead to more art and more public art," said Dowling. "At this point the public art committee will begin fundraising for future projects."
The art committee was created in January 2017, charged with installing public art throughout the Sylva downtown, similar to what's already present in neighboring Waynesville. However, funding is always the issue. Securing the state grant for the mural seemed like the perfect way to show residents what public art could do for a town without spending any taxpayer money along the way.
"Public art shows a sense of pride in the community and something to improve the sense of place," said Dowling.
Currently, Dowling said, the art committee is exploring the potential of a sculpture loan program. The concept would be to raise money to rent a sculpture for two years to be installed downtown. That would be cheaper than buying a sculpture outright.
To donate to the town's Public Art Fund and support future public art projects, drop off or mail checks with "Public Art Fund" in the memo line to the Sylva Town Hall, 83 Allen Street, Sylva, N.C. 28779.