Archived News
More misinformation at Haywood commission meeting
Wednesday, January 25, 2023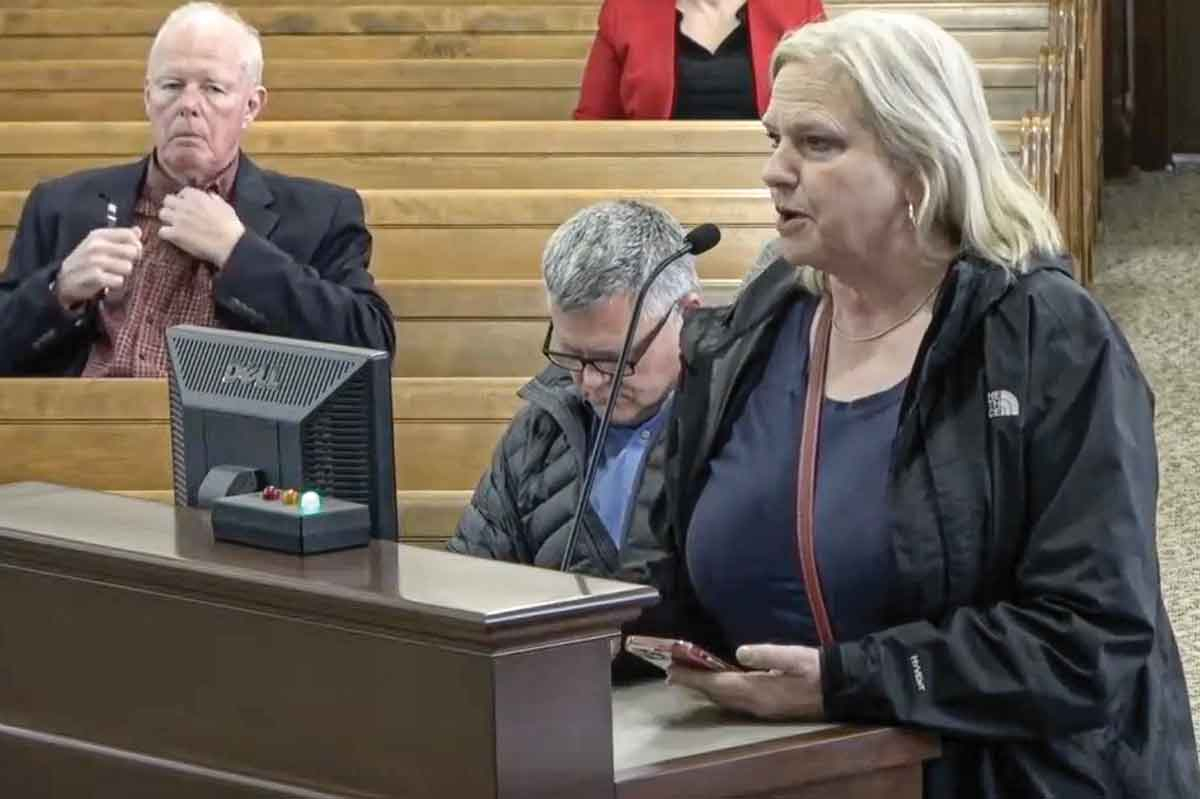 Kay Miller addresses the Haywood County Board of Commissioners on Jan. 17. Haywood County photo
It may be a new year with a new county commission, but anti-vaccination conspiracy theorists are still offering the same old falsehoods about COVID vaccine.
"I'm not asking, but pleading with you, not to take any more money to help promote this COVID vaccine," said Waynesville resident Kay Miller, who is not a physician or a scientist but is the chair of the Haywood County Republican Party.
Miller's comments came during the Jan. 17 public comment session before the Haywood County Board of Commissioners.
Slated for consideration during that meeting was the acceptance of a $75,735 grant from the North Carolina Division of Public Health/Women's and Children's Health Section/Immunization Branch that would "focus on removing obstacles to accessing [the] vaccine, increasing vaccine confidence, coordinating COVID-19 vaccine services and expanding Public Health's COVID-19 vaccination program," according to the agenda.
Along with several others, Miller urged commissioners to reject the free money.
"Now even the CDC is reporting at least a connection to some heart issues, strokes, in those people who've been vaccinated," she said. Miller's assertion is misleading at best.
Last week, the CDC and FDA issued a statement saying that the CDC's Vaccine Safety Datalink (VSD) system identified a statistical signal that there may be a safety concern for people over the age of 65 regarding an elevated risk of strokes.
"Often, these safety systems detect signals that could be due to factors other than the vaccine itself," the statement reads. "The totality of the data currently suggests that it is very unlikely that the signal in VSD represents a true clinical risk."
The Centers for Medicare and Medicaid Services reported, after a large study, no increased risk of ischemic stroke. A study by the U.S. Department of Veterans Affairs said the same thing. The Vaccine Adverse Event Reporting System (VAERS) likewise shows no increase in the reporting of strokes following the updated vaccine.
"No change in vaccination practice is recommended," reads the statement.
Regarding Miller's "heart issues," a CDC statement from September reports that myocarditis or pericarditis "have rarely been reported" and again recommends no change in vaccination practice.
Miller continued with another dubious statement.
"I know you've heard in the news of late particularly a lot of athletes dropping over dead," Miller said.
Far-right conspiracists have cherry-picked recent cases of unexpected deaths and attempted to tie them to COVID vaccines without evidence. The assumption is false.
"Sports medicine experts say there has been no increase in sudden death or cardiac injury among U.S. athletes since the COVID-19 vaccines became available," says FactCheck.org. "Yet anti-vaccine campaigners, comparing unreliable numbers to an unrelated study, have again spread a false narrative about vaccine safety since NFL player Damar Hamlin suffered cardiac arrest."
Hamlin was hit in the chest during a Monday Night Football game a few weeks ago and had to be resuscitated on the field. His injury had everything to do with the hit, and nothing to do with vaccination, but that hasn't stopped discredited talking heads Charlie Kirk and Tucker Carlson from pushing the debunked "dropping dead" narrative.
Additionally, Politifact claims "no association" between sudden death and the COVID vaccines.
The incorrect "dropping dead" claim comes from Simone Gold and a group called American Frontline Doctors, which is known for spreading COVID misinformation. Gold, who was sentenced to 60 days in jail for her role in the Jan. 6 insurrection, says that the number of athletes who died suddenly from 1966 to 2004 is the same as the number who died suddenly from 2021 to 2023. That claim is also false, according to AFP.
Next up to the podium was Janet Presson, who has a long history of spreading misinformation about masking and vaccines in general, including the COVID vaccine. At one time, Presson was an appointed member of the nonprofit Haywood Healthcare Foundation's board of trustees. While a trustee, Presson co-hosted an anti-vax movie screening featuring a documentary film filled with a "who's who" of disgraced medical professionals peddling discredited medical theories. During the screening, Presson attempted to prevent members of local media from recording or photographing the presentation.
In October 2020, Presson promoted another private movie screening in Haywood County featuring the widely discredited views of a former physician who ushered in the modern anti-vax misinformation campaign with a fraudulent study claiming that vaccines cause autism.
Presson's misinformation prompted calls for her removal from the HHF board.
Trustees had a "lengthy discussion" about Presson's removal, but in the end took no action; however, Presson wasn't renominated once her term expired in February 2022.
"The CDC has already said that the vaccines do not keep you from getting the virus, and they do not keep you from transmitting the virus," she told commissioners during the meeting.
While no vaccine is 100% effective, the CDC has repeatedly stated that the COVID vaccines protect against serious illness, hospitalization and death.
Initial research from 2021 also suggests that vaccines do indeed reduce the transmissibility of the virus. A more recent report from the CDC says that not only do the COVID vaccines protect the people who get them, they may also reduce the spread of the virus.
"If you haven't already heard about all the injuries and deaths that are associated with these vaccines, then you're living in a cave in like Afghanistan or somewhere," Presson continued, offering the same discredited conspiracy theories as Miller, including sudden death and cardiac issues.
Presson doubled down on the misleading claims, stating that "it's proven now that these things cause plenty of injuries and deaths, and we don't need more of that in Haywood County."
The CDC maintains that reports of deaths after vaccination are rare; from Dec. 14, 2020 through Jan. 11, 2023, more than 660 million doses of COVID vaccine have been administered, with 18,649 preliminary reports of deaths — a total of .0028%.
Importantly, the VAERS database is self-reported, meaning anyone can file a report alleging vaccine injury without any proof whatsoever. However, even if all 18,649 reports are true, the odds of dying by choking on food (1 in 2,745) are more than 13 times greater than from a vaccine (1 in 36,667). Presson has not yet called for the banning of food.
The next speaker, Renee Rickman, said she was "very concerned" about children, and about parental rights. The CDC still recommends vaccination of children older than six months, and at no time have parents been forced to vaccinate their children in Haywood County, or anywhere else in the United States.
Finally, it was Barry Peppers, a retired military and airline pilot who told commissioners that the FAA had "very quietly, tacitly admitted that the EKGs of pilots are no longer normal."
The FAA has made no such statement. Instead, it made a change in EKG parameters for pilots back in October, but there's no evidence it had anything to do with COVID vaccines. That the claim has been pushed by David Icke — a Briton best known for his belief that the world is secretly ruled by an illuminati race of lizard-people — doesn't do much to bolster its credibility, or Peppers'.
The DPH grant appeared on the Jan. 17 meeting's consent agenda.
The consent agenda is a long list of "non-controversial" items that typically don't require debate or discussion. Typically, the items on a consent agenda are passed en masse, although a commissioner can remove an item from the consent agenda and place it on the regular agenda.
That's exactly what Commissioner Brandon Rogers did, asking that the item be pulled from the consent agenda and put on the regular agenda for the commission's next meeting.
"I had a few folks that had reached out to me this evening with some concerns about [the grant]," Rogers said at the time.
After determining that the issue wasn't time sensitive, commissioners agreed with Rogers and postponed consideration of the grant.
Although it may have seemed that the misinformation presented during public comment might have gotten to Rogers, that's not necessarily the case, he told The Smoky Mountain News.
"I want to be clear, I'm not against the vaccinations at all. I'm not an anti-vaxxer myself. I've got people in my own family that have chosen to get the vaccination. It's fine if they do or fine if not," Rogers said, adding that he had not, but still might.
"Before moving forward with receiving these funds, I simply just want to understand how we're spending them, and I want to feel comfortable with how we're spending them. If you look at that grant, it was geared toward educating those that have been a little hesitant of getting a vaccination, and more toward our youth," Rogers said. "Before focusing on doing that, I want to be certain that we get all the data and all the facts about the vaccination beforehand."
If the grant funds were to be rejected, it would effectively impose the will of Miller, Presson Rickman and Peppers on other Haywood County residents who may choose to get the vaccine.
Rogers said that's just as wrong as forcing someone to get the vaccine.
"I firmly believe that it does need to be a choice. It still does need to be freedom of choice and not forced upon anyone, one way or the other. If you don't want it, that's fine. That's your choice — but not to force others to not get it," he said. "It goes both ways."
Leave a comment
11

comments
When I attempted to post a hyperlink refuting everything that Vallencourt said it was deemed to be spam by the Smoky Mountain news. This is a tabloid journalistic newspaper we would all do well to steer clear of such a nonsense from such a political hack like Corey valencourt and the Smoky Mountain news

Sunday, 01/29/2023

Cory slams people for speaking about vaccines without being a doctor while Cory speaks about vaccines…….and he is not w doctor. Please, Cory, take some more boosters. Please!!!

Friday, 01/27/2023

Cory (apparently) correctly points out that some of the speakers at the meeting made statements that were not factual regarding CDC public statements. Thank you for that. But throughout the article he defends the CDC's and FDA's covid vaccination policies as if they are not being seriously questioned. He does not even hint that there is a huge body of evidence of dangerous side effects from the vaccine. And that there are significant, legitimate questions being raised by reliable, responsible doctors questioning the CDC. It is not only far-right conspiracists that are questioning the CDC.
He quotes a 2021 study regarding the vaccine slowing the spread of the virus. Well, that may have been true regarding the covid variant then. But we are not dealing with the same virus now.
Wasting money to try to convince low risk people including children's parents to get vaccinated is wrong, if the money is free or not especially now that the present variants are much less deadly than the earlier ones. So I am in agreement that the county commissioners should reject the "free" grant.

Cory, try a little harder to include other legitimate data that disputes the CDC's facts that support their vaccine recommendations especially in light of the new covid variants.

Thursday, 01/26/2023

If you don't want to get vaccinated, don't. If you want to shut down the Health Department, put that on the Commissioners' agenda.

Until then, the Health Department is going to continue to offer the COVID-19 vaccine and other vaccines as the law requires, and we're going to pay for those programs one way or another. Rejecting Federal money to support the operations of our county Health Department isn't going to reduce anyone's taxes in Haywood County by a single penny. Just like our state's continuing refusal to expand Medicaid hasn't reduced anyone's taxes in North Carolina by a single penny.

Thursday, 01/26/2023

6.2 Postmarketing Experience
The following adverse reactions have been identified during postmarketing use of COMIRNATY, including under Emergency Use Authorization. Because these reactions are reported voluntarily from a population of uncertain size, it is not always possible to reliably estimate their frequency or establish a causal relationship to vaccine exposure.

Cardiac Disorders: myocarditis, pericarditis

Gastrointestinal Disorders: diarrhea, vomiting

Immune System Disorders: severe allergic reactions, including anaphylaxis, and other hypersensitivity reactions (e.g., rash, pruritus, urticaria, angioedema)

Musculoskeletal and Connective Tissue Disorders: pain in extremity (arm) COMIRNATY Package insert

Thursday, 01/26/2023

Why is it the same people who attempted to overthrow the US because they lost an election are the same people who attack drag shows, are the same people who call innocent people "groomers," are the same people who kick and scream at the first sign of gun control, are the same people who oppose Critical Race Theory, are the same people who show up with guns to defend confederate statuary, and are the same people who spread SARS like they spread misinformation, refuse to wear a mask when they're sick, and who literally ate horse dewormer because Donald Trump told them to.

Civilization seems to have lined up decent people on one side and completely unredeemable idiots on the other.

Thursday, 01/26/2023

I find it disconcerting that this article offers very little actual PROOF that the vaccines are not a factor.. Just the ever recurring statement they are false accusations out of hand. The FDA and CDC both were alright with the manufacturers exemption from prosecution, AND the redefinition of what a 'vaccine' really was. All claims were dismissed offhand as being right wing conspiracies, with little proof this was so. Which strongly suggests to me that SMN is the same type of local rag as the neighboring Marshall news record.
It is exceedingly prevalent for news rooms to point the finger at conservative commentary as 'right wing conspiracies'. Does no one ever wonder at the absence of 'left wing conspiracies? Maybe it is just easier to spread misinformation among the leftist readers, who will not question anything distracting from THEIR GOALS, as many of the COVID camps mis-info does. No one seems to be trying to debunk the rubbery clots that have only been showing up AFTER receiving the shot, while none have been known to be present in us ANTI-VAXXERS. That must be frustrating to the leftists.

Thursday, 01/26/2023

Can't get away from this county and it's righties quick enough!

Wednesday, 01/25/2023

We have already been taxed for these public health services. Not accepting them is foolish and a violation of those who could use the help.

Wednesday, 01/25/2023

Are there any strings attached if the free money is accepted?

Wednesday, 01/25/2023

Haywood County's tabloid journalist Corey Vallencourt again with another hit piece. At least this time he gave the heat to Brandon Rogers instead of Terry Ramey who he's trying to smear daily! Let me just say this about the inane assertions that valencourt makes

I have a medical education and a legal one I was just talking to one of the most prominent orthopedic surgeons in the country who just retired telling me all the incidents of cardio endocarditis and cardiomyopathy associated with individuals who have received the vaccines! He said doctors at this point in time were very well aware of the fact the vaccines are causing hemodynamic abnormalities such as intense microclotting which can be ontologically and empirically looked at with the D-dimer test! I would suggest that Corey valancort who's not medically educated stop with his hit pieces and his assertions this man needs to be booted out of this community and it's an absolute abject total contradiction to what objective journalism should be! The fact the Smoky Mountain news allows this man to continue with his ranting and raving and tabloid journalism is going to be the end of the Smoky Mountain news in my estimation and opinion probably due to short action and defamation! If my personal opinion Corey Valancourt is a legal liability to the Smoky Mountain news and since I'm most always correct I'm just waiting for it to happen

Wednesday, 01/25/2023