Archived News
HHF trustees to discuss Presson's views
Wednesday, January 13, 2021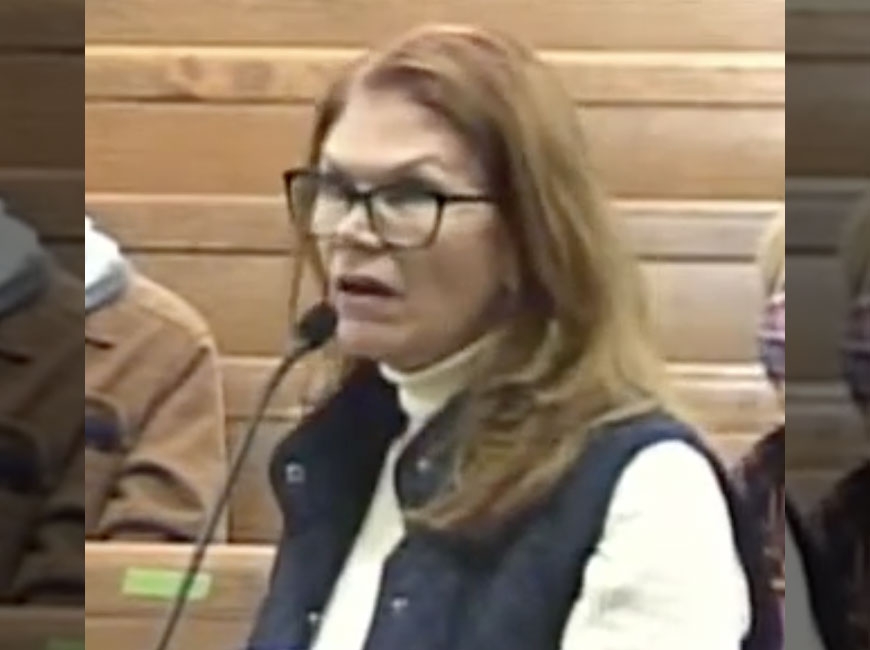 Janet Presson speaks at a Waynesville Board of Aldermen meeting on Dec. 8, 2020. Haywood County photo
A nonprofit health care foundation serving Haywood County is set to discuss whether one of its trustee's anti-vaccine, anti-mask advocacy is relevant to her position on its board.
The Haywood Healthcare Foundation's nominating committee held a special called meeting on Jan. 11 and decided the issue should come before the full board.
"A trustee brought a concern and request for removal as per bylaws," said Anthony Sutton, chairman of the HHF. "There were a couple of outcomes from the meeting and one was to move it to the full board of trustees."
Sutton was talking about Janet Presson, a nurse who's been very active in publicly spreading debunked theories about vaccines and masks. Shortly after Presson was appointed to the board in April 2019, she helped host an anti-vax movie screening at the Haywood County Public Library in Waynesville featuring a documentary film full of misinformation and studies by discredited former medical professionals.
Presson also attempted to ban members of the local media, including The Smoky Mountain News, The Mountaineer and WLOS-TV from recording or filming during the event.
Since then, Presson has spoken during public comment sessions at several municipal government meetings in Haywood County, advancing theories related to the COVID-19 pandemic that are in direct contradiction to the opinion of national, state and local public health professionals.
After her most recent appearance before the Town of Waynesville Board of Aldermen on Dec. 8, 2020, readers began writing letters demanding her removal from the HHF Board of Trustees.
"Ms. Presson is an extremist, and her discredited views can have a detrimental effect on the health and lives of our residents," wrote Bethel resident Tom Tomaka. "Janet Presson needs to be removed from her position on the Haywood Healthcare Foundation at once."
The HHF is a non-profit charged with administering the proceeds of the sale of Haywood County's once-public hospital — around $13 million. While that initial seed money can't be spent, the investment income earned from it can be.
Additionally, HHF does some minor fundraising of its own, and normally doles out more than $300,000 annually to other local nonprofits in support of its mission " … to improve the health status of Haywood County, its individuals and families through educational programs, grants, scholarships and leadership opportunities … quality healthcare is essential to a productive life. It is our goal as a foundation to assist individuals and agencies in a number of ways, all with the ultimate goal of fostering a healthier community for our present and future generations."
Foundation Trustees were asked for statements by SMN on how Presson's views align with HHF's mission. Only three of 21 responded.
The board's newest trustee, Haywood Chamber President CeCe Hipps, said she'd been to one meeting of the board and since nothing was discussed regarding Presson, she didn't have much to say.
Teresa Liner, however, did respond. Liner is a member of the four-person nominating committee that approved sending the request for Presson's removal to the full board.
"HHF's main mission is to focus on the unmet healthcare needs of individuals and families of Haywood County," Liner said. "My personal belief is that masks are effective in keeping this virus from spreading. As soon as I can get the vaccine I'm ready! However, I'm not going to judge people that think otherwise. It is up to each of us to educate ourselves and do what is right to get this pandemic under control. I'll leave it up to the HHF board and their bylaws to handle this issue to get this behind us so we can focus on the unmet healthcare needs of Haywood County citizens."
Neil Budde was the only other trustee to respond.
"I do not share the same views as Janet Presson on vaccinations and the wearing of masks," Budde said. "There is a process outlined within the HHF Bylaws regarding the removal of any HHF Board Member and I prefer to withhold any additional comment until after that process is completed, should it occur."
Dr. Charles Thomas, chair of the nominating committee didn't respond, and Sutton — the fourth member of the committee — said last week that although he had a viewpoint on Presson's presence, he didn't feel comfortable sharing it until board processes had been completed.
Sutton also said he was a supporter of mask usage, and would get the COVID-19 vaccine as soon as he could.
Kirk Kirkpatrick, a Haywood commissioner who also serves on the board, said last week that although his views differ from Presson's, he wouldn't push for removal.
Per HHF bylaws, the request to remove Presson will now move to the full board of trustees. Two-thirds of the board, or 14 people, are now needed to remove her. The board will meet on Feb. 22, via Zoom.
HHF trustees who did not respond to SMN's request for a statement include Dr. Barbara Parker, Julie Davis, Hylah Birenbaum, Julia Freeman, Jennifer Heaberlin, Jonathan Key, Linda Nulsen, Carmine Rocco, Phyllis Prevost, Charles Thomas, Allen and Cassie Braswell, Peggy Melville and Judy Ross.
Janet Presson declined multiple opportunities to participate in a recorded telephone interview with The Smoky Mountain News.