Archived News
Jackson County Commission welcomes new members
Tuesday, December 06, 2022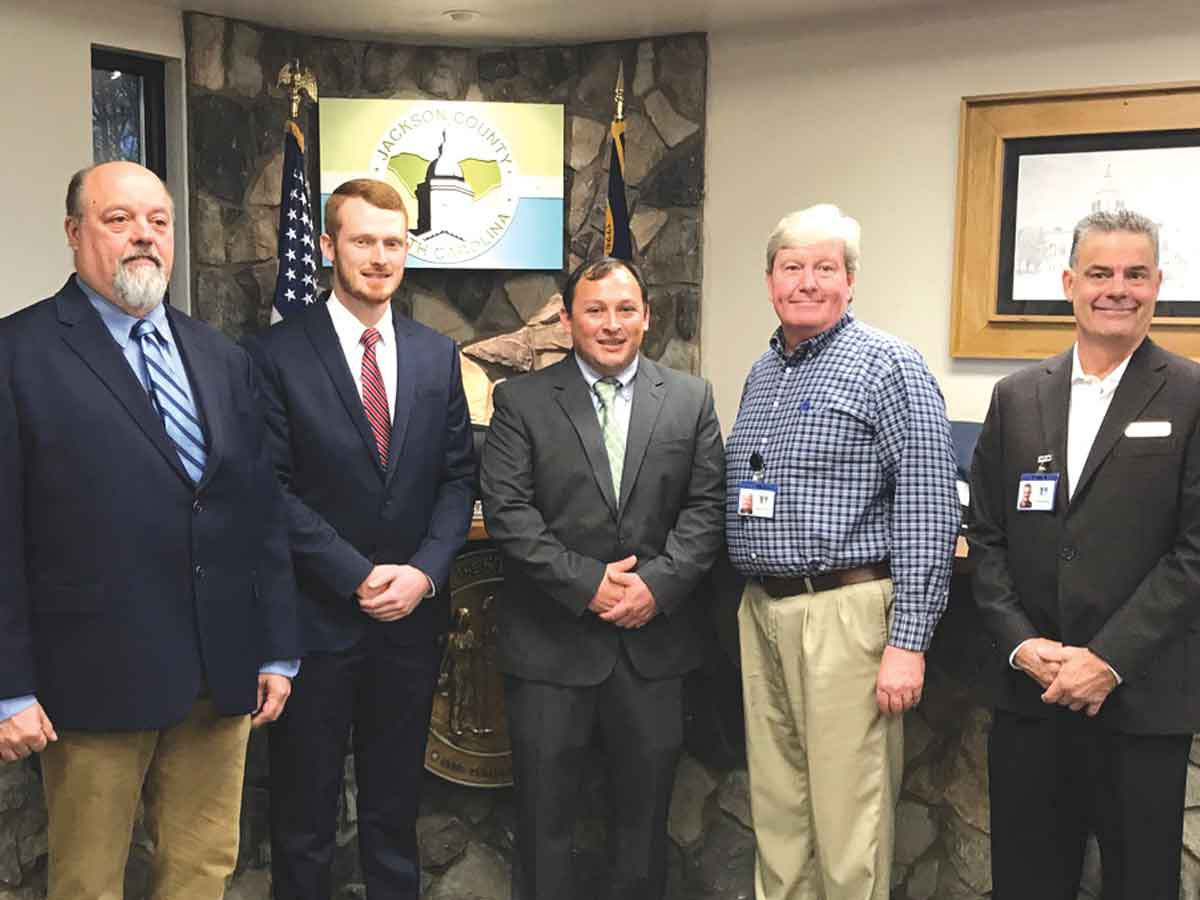 Jackson County's new board of commissioners is, from left to right, John Smith, Todd Bryson, Mark Letson, Mark Jones, Tom Stribling. Jackson County photo
On Monday evening, Dec. 5, before a room full of family and community members alike, three men took the oath of office as the newest members of the Jackson County Commission.
Republican John Smith has replaced Democrat Boyce Deitz, Republican Todd Bryson replaced Democrat Gayle Woody and Republican Mark Letson replaced Democrat Brian McMahan as chair of the county commission. Republicans dominated November elections, not only in Jackson County, but throughout the Smoky Mountain News' four county coverage area.
New commissioners joined Democrat Mark Jones and Republican Tom Stribling on the board. In addition to being sworn in, the now all-male board also held its first meeting on Monday night. As part of the organizational process, the board decided when it would have its meeting moving forward, and who would serve as vice-chair.
While most county commissions would also select a chair during this type of organizational meeting, Jackson County is unique in that candidates run for, and residents elect the commission chairman. Mark Letson won that role this election season and will serve as chairman for the next four years.
The board is responsible for nominating and voting on which among them should serve as vice-chair. Commissioner Tom Stribling nominated newcomer Todd Bryson for the role and the board approved him unanimously with little discussion. The vice-chair serves at the board's pleasure and assumes the duties of chairman if the chair cannot be present.
"It would be an honor to serve as vice-chairman," said Bryson. "I will accept that nomination.
The board also addressed its meeting schedule. Previously, regular commission meetings were held the first and third Tuesday of each month. The first was held at 6 p.m. and the second at 1 p.m. The board also held one work session each month on the second Tuesday of the month at 1 p.m.
"The six o'clock meeting is designed so people who want to speak in public comment, it allows them to be off work and be here," said Commissioner Jones.
"I would prefer that all the meetings be at six o'clock so that the public has easier access to us commissioners to discuss," said Commissioner Smith.
The board decided to hold regular meetings on the first and third Tuesday of each month at 6 p.m. and keep its monthly work session at 1 p.m. on the second Tuesday of the month. There is no allotted time for public comment during work sessions.
Commissioners were also presented with the multitude of boards and associations that different commissioners serve on. All those boards that previous commissioners Woody, Deitz and McMahan were serving on will have to be split up among new members, or those already serving. Commissioners decided to table this discussion for the next meeting, allowing them time to look over those boards and decide who would do best with which organizations.
These boards include things like the Southwestern Rural Planning Organization, Vaya Health Board of Directors, Fire Commissioner, Juvenile Crime Prevention Council and several other county stakeholders.
"I'm looking forward to working with Commissioner Stribling and Commissioner Jones," said Commissioner Bryson in a closing statement. "When I started this campaign, I set out to do what's right for the county and not for political purposes at all. I look forward to working with all of you, thank you."
"I'm humbled that the people of Jackson County selected me to represent them," said Commissioner Smith.
The Jackson County Commission held a regular meeting after press time Tuesday, Dec. 6, and will hold a work session Tuesday, Dec. 13 at 1 p.m.