Archived News
Republicans dominate Western North Carolina races
Wednesday, November 16, 2022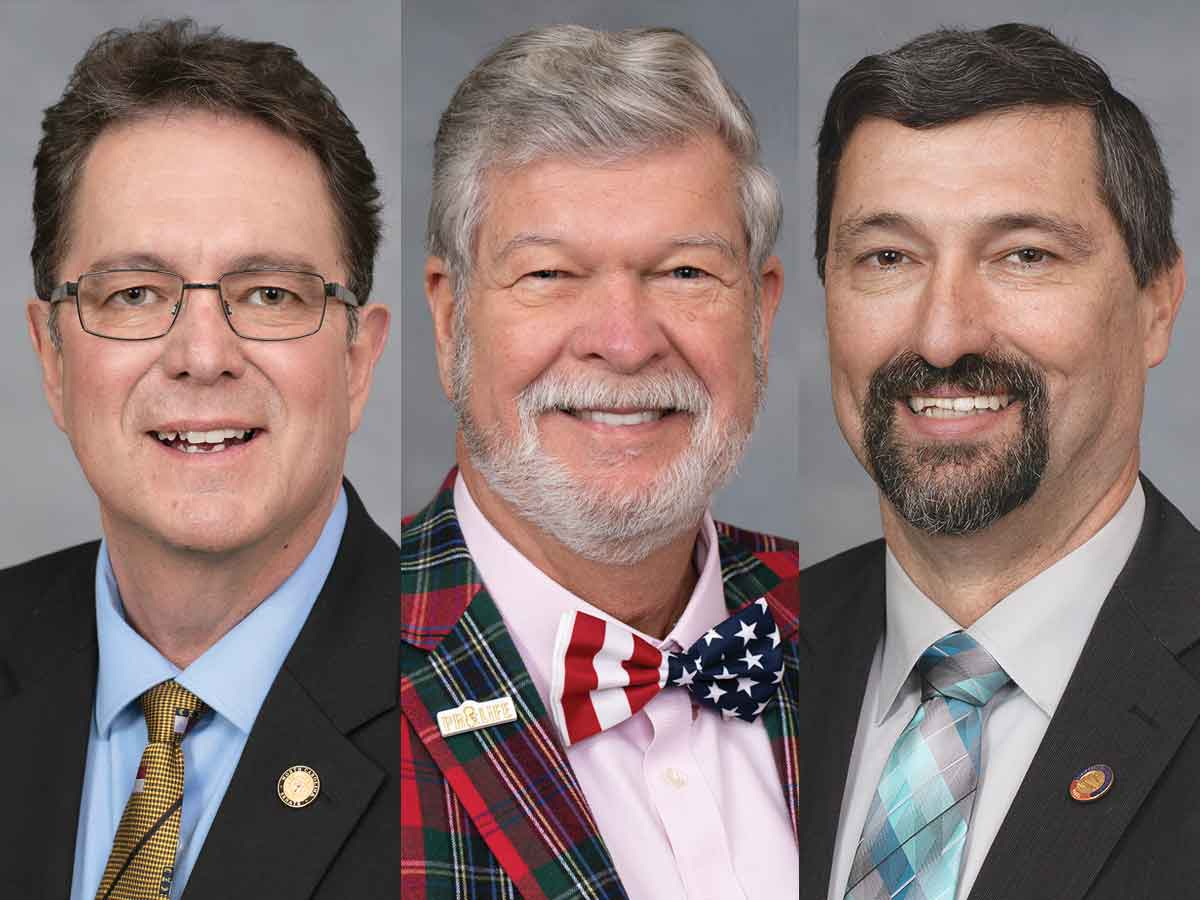 Left to right: Kevin Corbin, Mike Clampitt, and Mark Pless.
The highly anticipated red wave hit Western North Carolina hard on Nov. 8, with Republicans retaining several crucial legislative seats and knocking off some longtime Democratic incumbents on the local level.
"I think that if you look at just the individual counties basically what happened is the Republicans came out more to vote, and independents that voted Republican came out more to vote. That's the black and white of it," said Leslie Carey, the newly-elected Democratic Party chair of the 11th Congressional District.
Although the results favored Republicans in most cases, at least a few of those victories could come back to haunt Republicans in 2024 with a case of buyer's remorse.
Once again, Franklin Republican Sen. Kevin Corbin led the party's charge, defeating Jackson County Democrat Karen McCracken with 66% of the vote to retain his seat.
The victory allows Corbin to continue his long career in public service that began when he was elected to the Macon County School Board at the age of 22. He spent 20 years there, including 16 as chairman. After four years out of politics, Corbin was appointed to the Macon County Commission and then won a full term, and also went on to chair that body.
From there, he served two terms in the House, representing the 120th District.
Almost exactly three years ago, longtime incumbent, Republican Sen. Jim Davis, announced he wouldn't seek reelection to his senate seat, and endorsed Corbin. In the 2020 Republican Primary Election, Corbin won handily over upstart challenger Sarah Conway by more than 56 points.
"I appreciate the support," Corbin said on election night. "I'm an incumbent, so I'm a known quantity and frankly I appreciate the votes we got from Democrats and unaffiliated voters, because Republicans only comprise about 40% of the electorate."
Corbin's successor in the House, Macon County Republican Rep. Karl Gillespie, saw no opposition in either the Primary Election or the General Election and will head to Raleigh for his second term.
Mike Clampitt, a Swain County Republican, also won what was thought to be a somewhat competitive race in a rejiggered district.
In Western North Carolina, legislative redistricting had the most dramatic impact on Clampitt's 119th House District, removing part of Haywood County and adding all of Transylvania County to the existing counties of Swain and Jackson.
That wasn't exactly the greatest news for Clampitt, who was serving his second non-consecutive term representing the 119th District.
Voters in Haywood County who knew Clampitt from his five races against Waynesville Democrat Joe Sam Queen — Clampitt won in 2016 and 2020, but lost in 2012, 2014 and 2018 — could no longer vote for him, so Clampitt had to make inroads in a whole new county.
That county happens to be where Clampitt's opponent, architect Al Platt, has lived for decades, which would seem to give him an edge there.
Platt couldn't capitalize on his home-field advantage, but Clampitt certainly did, by posting solid numbers in Jackson (53.2%) and Swain (62.9%) and beating Platt by almost 3 points in Transylvania.
Mapping website davesredistricting.org had put the 119th District at 54.5% Republican, based on voter performance in previous elections. Unofficial results as of Nov. 12 show Clampitt with 53.7% of the vote, a slight underperformance.
However, Clampitt's victory is all the more incredible once fundraising numbers enter the picture. According to Platt's third quarter report, Platt raised $401,479 during the 2022 election cycle, including $30,000 he loaned his own campaign. Clampitt's third quarter report, detailing contributions through Sept. 30, shows total receipts of $23,000 for the cycle.
Haywood County Republican Mark Pless may have produced his share of controversy during his first term in the General Assembly, but he also produced results, bringing tens of millions of dollars in flood relief to Haywood County.
Voters rewarded him with another term, as they selected him over Haywood County Democratic challenger Josh Remillard.
"I appreciate all the support I've had," said Pless. "The voters have enabled me to do a lot of things for Haywood and Madison counties by sending me down there, and I plan to continue that. I want Haywood and Madison to be on top."
Pless served as a Haywood County commissioner for two years, leaving midway through his term to run for the seat vacated by then-Rep. Michele Presnell (R-Burnsville) in 2020. Pless coasted to an easy victory in that election over Democrat Alan Jones, beating him by more than 27 points in a district that had included part of Haywood County, along with the entirety of Madison and Yancey counties.
Recent redistricting reunified Haywood County on the House side and removed Yancey from the district.
The new 118th District was thought to be 59.9% Republican — not by registration, but by voter performance from 2016 through 2020 — indicating a slight overperformance by Pless, who ended up with 60.33% of the vote against 39.67% for Remillard.
Like Clampitt, Pless' performance is all the more notable when considering campaign spending. Pless started the 2022 election cycle with more than $12,000 in cash on hand, raised only $5,576 through the third quarter of this year and spent about $16,000, but Remillard raised more than $79,000.
Although the Republican-held seats of Corbin, Gillespie, Pless and Clampitt were all considered relatively safe, retaining them was important for NCGOP hopes of a legislative supermajority (see RIPPLE, p. 8), something the party ultimately fell short of by just one House seat.
County-level governments in Western North Carolina also experienced the red wave, turning what were already strong Republican counties into de-facto one-party public bodies.
In Swain County, Republican Kevin Seagle handily defeated Democratic incumbent Ben Bushyhead in the race to chair the Swain County Commission. Seagle had to vacate his seat on the commission to run; that seat, along with another open seat, went to Republicans Phillip Carson and David Loftis. They'll join Commissioner Kenneth Parton and Commissioner Roger Parsons, the lone Democrat.
The Macon County Board of Commissioners will also shift further to the right, after incumbent Gary Shields and upstarts Danny Antoine and John Shearl both came away with victories, knocking off incumbent Democrat Ronnie Beale and holding off Betty Cloer Wallace and Jerry Moore. Republican commissioners Paul Higdon and Joshua Young weren't on the ballot this year, so with Beale's departure Republicans now hold a 5-0 majority.
The final results of the Jackson County Commission race won't be in until after canvas on Friday, Nov. 18, but however it ends up, it has to be considered a victory for Republicans.
As it currently stands, Republican challenger John W. Smith is leading Democratic incumbent Boyce Deitz by 136 votes. Fellow Democratic incumbent Gayle Woody trails her Republican challenger Todd Bryson by 493 votes.
Republican Mark Letson has a 192-vote lead over longtime Democratic incumbent Chairman Brian McMahan — an interesting reversal of fortune for Letson, who lost to Democrat Mark Jones in 2020 by 7 votes.
Jones (Democrat) and Tom Stribling (Republican) weren't on the ballot this year after their 2020 victories, meaning if current reurns hold up through the election certification date of Nov. 18, the Jackson Commission could go from a 4-to-1 Democrat majority to a 4-to-1 Republican majority.
Similar Republican gains were apparent in local school board races. Republicans took both contested seats in Swain County and all four contested seats in Haywood County, but split two seats in Macon County.
Republicans also flipped several sheriff races, in historical fashion. Both Haywood and Jackson counties will have their first Republican sheriffs, possibly ever.
Republican Bill Wilke defeated Larry Bryson by 21 points in Haywood and Republican Doug Farmer topped Rick Buchanan by almost four points in Jackson. In Swain County, Republican Sheriff Curtis Cochran defeated Democrat Doug "Tank" Anthony by more than 43 points.
"We had some small wins," Carey said. "Just to be frank, I don't have all the data I need at this point to really take a deep dive, and I really think that's something that needs to be looked at and analyzed. I think it comes down to us needing to reevaluate our strategy and reevaluating where we fell short."
Left to right: Mark Letson, Sebastian Cothran, and Jennifer Best.
Results from other Haywood County races, however, could prove a liability for local Republicans after voters made some questionable choices at the polls that many claim put partisanship ahead of performance, said Haywood County Democratic Party Chair Myrna Campbell.
"It's like they don't care about the responsibility that citizens have to uphold the government," she said.
The most shocking upset came when newcomer Sebastian Cothran, a 21-year-old Republican, defeated incumbent Democrat Greg West for the position of Haywood County Tax Collector.
West had pushed the county's tax collection rate to new heights — despite being hobbled by the COVID-19 pandemic and tough economic times — but voters chose Cothran, who's never had a real job besides mowing lawns.
Cothran is about to graduate from UNC-Asheville as a double major in accounting and political science. As he assumes the tax collector position, he'll have to maintain that collections rate or there will be serious consequences for county commissioners during the next budget cycle — one percent of collections is equivalent to roughly $460,000 in tax revenue.
"It's just irresponsible," Campbell said. "You know that the tax collector job is maybe the most critical in county government, because if the revenue doesn't come in, then the county is in deep trouble and that's why all the other counties in the state have this as an appointed position."
The other surprise came in the form of a victory by Terry Ramey on the Haywood County Commission after he'd tried and failed to get elected to the body three previous times.
Generally, Haywood's Republican incumbents did well on Nov. 8. Commissioner Jennifer Best led the five-way race with 24.58% of the vote, a few points shy of her ticket-leading Primary Election performance.
Tommy Long, who with Pless back in 2018 handed the Haywood Commission its first-ever Republican majority, finished a close second to Best with 22.45% of the vote.
Longtime Democratic incumbent and two-time chairman Kirk Kirkpatrick, however, was ousted by Ramey, who'd run as a Democrat in 2016, a Republican in 2018 and a Republican in 2020. He finished last in each of those Primary Elections.
Just prior to the General Election, it was first reported by The Smoky Mountain News that Ramey was the only candidate who owed back taxes to the county he was running to represent. At the time, Ramey disputed the bills, but told SMN that if they were valid, he'd pay them. Some of the bills are more than a decade old, totaling thousands of dollars.
County administrators confirmed that they'd met with Ramey, and that the bills were valid. Ramey has repeatedly threatened The Smoky Mountain News for reporting on his unpaid taxes.
"You know, they talk about being a law-and-order party and all that," Campbell said. "Paying your taxes is the law and you're breaking the law when you don't pay. So to support a candidate like that, it certainly doesn't deliver the right message."
Putting local Democrats into position to capitalize on the results of the 2022 General Election will take time, and work, according to Campbell. That could involve a more concerted effort to involve Gen Z voters, who are largely credited with helping to break the red wave before it made it all the way from Western North Carolina, through Raleigh, to Washington, D.C.
"We need to start with getting some new blood, some new leadership in the at the precinct level. Young voters are what won for Democrats nationally, and I think we need to push to get more young voters involved here in Haywood County as well," Campbell said. "That was a priority of mine when I first became chair, but I didn't focus on it enough. That needs to be the focus in 2023."
Democrats across the 11th Congressional District and the state of North Carolina will convene this spring to consider new leadership from a precinct to a county level, but when Haywood Dems consider their ballots, Campbell may not be on it.
"I haven't totally decided that. I really think it's time to pass the torch. This was my fourth term. I didn't really intend to run a fourth time, but I formed a nominating committee in 2021 and they didn't come up with a slate, so I was willing to do another term," said Campbell, who previously served as a high-level aide to NC-11's last Democratic Congressman, Heath Shuler. "But I really think it's time for new leadership all around."
Carey, who will serve in her NC-11 chair role at least until that position goes up for election in May, remains optimistic about Democratic efforts to regroup by 2024.
"I think, more than anything, this is going to take time," she said. "It's going to take time, and we just have to stay hopeful and motivated about the future, which I certainly am. I think we need to work a little bit more closely with the state to make sure that our candidates are also receiving the quality of support that they need. We have some of the most dedicated, talented volunteers working in the Democratic Party and we do not fall short of having people with a lot of heart. Knowing that makes is what makes me feel so hopeful about the future."
Leave a comment
5

comments
Few Dems remain in office in Haywood County. Voters prefer a 21 yr old college student over the incumbent Den tax Collector. Polar opposite of Asheville... thank goodness!

Thursday, 11/17/2022

I love seeing Democrats bitter. It warms my heart.

Thursday, 11/17/2022

Lori, Democrats are sad and irresponsible. It's simply their nature. Those attributes are why Democrats lost. People are tired of the radical left trying to run their lives.

Wednesday, 11/16/2022

Can't wait until seeing Haywood County in my rearview mirror one last time. Sure has changed since moving here

Wednesday, 11/16/2022

This is an incredibly sad and irresponsible outcome in WNC. I hope every person who voted gets exactly what they voted for.

Wednesday, 11/16/2022