Archived News
Pless, Remillard face off with GOP supermajority at stake
Wednesday, October 19, 2022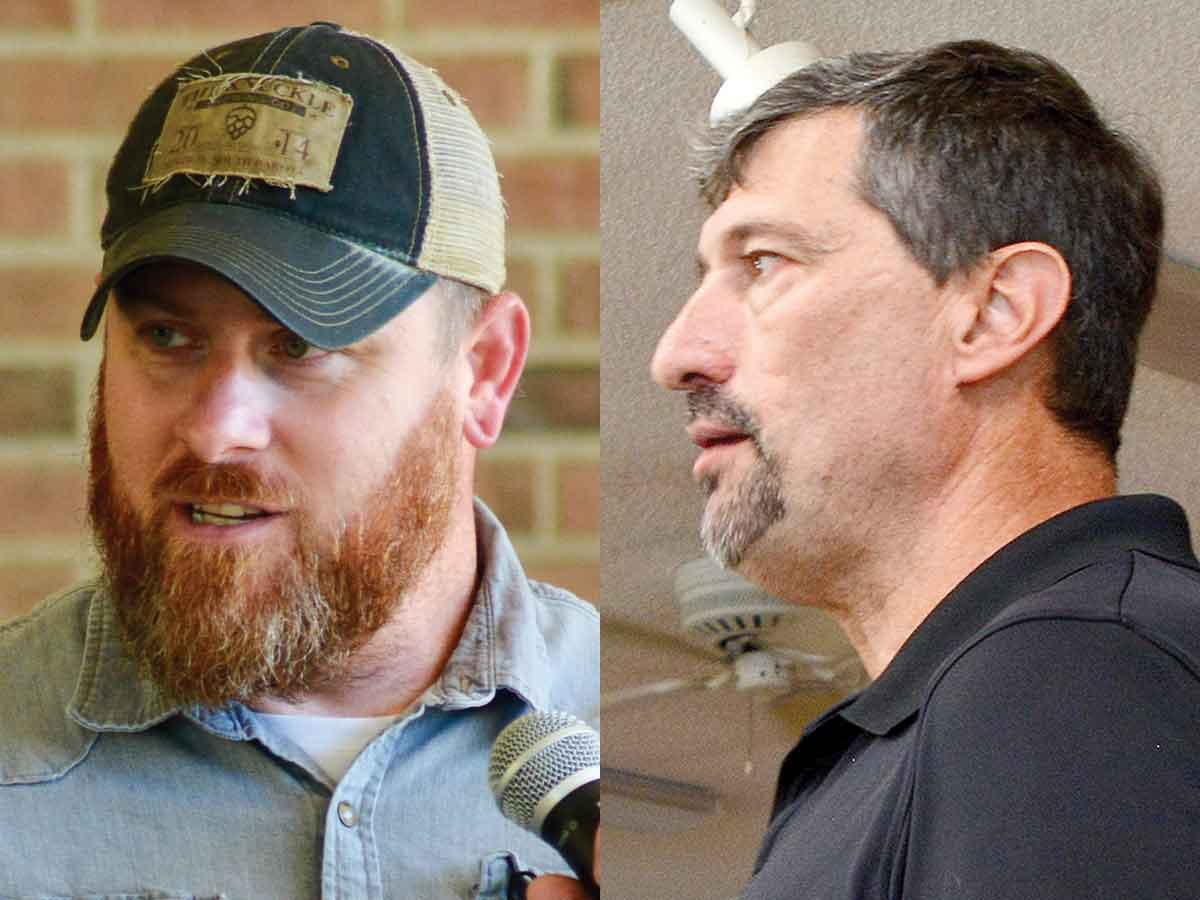 Josh Remillard (left) and Mark Pless.
Although it may look lopsided by the numbers, the race for North Carolina's 118th House District could be a bit more competitive this cycle — not only because of the personalities involved in partisan political wranglings over an odd mix of local and national issues, but also because of the statewide implications of a potential Republican supermajority hanging in the balance.
"You know, a lot of people are fearful of a supermajority. To me, it's a good thing, because it would give us the opportunity to do some things that are controversial but do need to be addressed," said Mark Pless, a first-term Republican representative and former Haywood County commissioner.
Nonpartisan mapping resource davesredistricting.org uses a composite method to rank legislative districts by partisan performance, rather than by more deceptive voter registration statistics. The site puts Pless' new district, comprised of Haywood and Madison counties, at 59.9% Republican.
Pless has a good bit of momentum behind him right now; along with Canton Mayor Zeb Smathers, a Democrat, Pless is widely viewed as the face of bipartisan flood recovery efforts after the devastation of 2021 and was responsible for nearly $20 million in direct appropriations from the General Assembly.
But Pless has also drawn the ire of elected officials and voters on both sides of the aisle with a pair of bills that some felt usurped municipal authority and ignored local sentiments.
In May, Pless introduced a bill that would have made all Haywood County elections partisan. Members of the school board and some municipal governing boards said that they weren't consulted, that they didn't want the bill and that they would pass resolutions saying so.
In June, Pless threatened to strip Haywood municipalities of their authority to act in ETJs, the extraterritorial jurisdictions located adjacent to municipal boundaries. Again, elected officials complained that they didn't want the bill and weren't consulted.
"They're having a hard time understanding that I don't answer to them," Pless told The Smoky Mountain News on June 3. "They're not my boss."
Neither bill became law, but lingering resentment could cost him some support, especially if his opponent can capitalize on it.
Democrat Josh Remillard is a Goldsboro native who was raised by his grandparents in exotic locations like Egypt, Israel and Tunisia — a consequence of his grandfather's job with the U.S. Department of State.
Remillard went on to join the Army, served two tours in Iraq, and is currently serving in another important role as a stay-at-home dad to his two children.
In 2020, Remillard ran against Republican Tim Moffitt in the heavily Republican 117th District, losing by more than 20 points. Less than six months later, Remillard declared his intent to run in North Carolina's 11th Congressional District against newly elected Congressman Madison Cawthorn (R-Henderson), citing the Jan. 6 insurrection as a major factor in his decision.
"You know, every single one of us knew what we were getting into in defense of our country," Remillard said of his military service. "So to see what some representatives were willing to do in turning Americans against Americans and trying to trying to resist the peaceful overturning of power — to me, that was a slap in the face of all those of all the service members that gave their lives for this country."
This is where things get a little wild; Cawthorn subsequently announced his intention to run in a Charlotte-area congressional district, leaving his 11th District seat open. Remillard quickly announced he'd follow Cawthorn to the Charlotte district.
However, that district never came to be, as statewide redistricting was still under court scrutiny. By the time Cawthorn announced he was coming back to the 11th District, Democrat Jasmine Beach-Ferrara (see TRUST, p. 6) had already gained substantial traction with her own campaign and Remillard opted instead to run against Pless.
Since then, two unexpected issues — national in scope, more or less — have returned to the discourse after a decades-long absence and could serve as rallying points that drive both Democrats and Republicans to the polls.
The first is abortion, settled law since 1973 but no longer. When the ruling was overturned in June, the debate over reproductive rights was returned to the states. North Carolina's 20-week abortion ban remains in place, and conservative legislators like Pless want to see tighter restrictions.
"I'm concerned with dialing it back," Pless said in support of a less lenient abortion policy. "There's going to be a heartbeat bill introduced. That's going to be the start of the conversation, and then it's going to be a long process to reach a point to where we are able to do what's in the best interest of North Carolina."
Republicans hold significant majorities in both chambers of the General Assembly, and that won't change after the November elections. What could change, however, is their ability to override Democratic Gov. Roy Cooper's vetoes.
Cooper came out in support of reproductive rights, which means he's likely to veto any abortion bill that lands on his desk.
If Republicans can post a net gain of three House seats and two Senate seats, they'll be able to override Cooper's veto on abortion as well as issues like Medicaid expansion, guns and budgeting.
Remillard supports keeping the 20-week limit in place.
"I have an issue with government overreach," he said. "When it comes to the Second Amendment, we get all up in arms, so to speak, when the government tries to come into our houses and take away our guns. To me, that same logic applies to telling a woman when she's going to be ready to be a mother."
Polling over decades shows voters side with Democrats on the issue of abortion, and some Dems in tight races have been using the issue to motivate undecided and unaffiliated voters to oppose Republicans that want to reduce or eliminate its availability.
Conversely, inflation can't be ignored and is always blamed on the party in power nationally, which this cycle happens to be Democrats. Republicans are using that very tangible issue — call it "gas and groceries" if you like — to drive undecided and unaffiliated voters to the ballot box.
"My biggest issue right now is folks are in dire need," Pless said. "The more I talk to people, they have trouble acquiring food, they have trouble acquiring gas, they have trouble acquiring food for their pets. I have spoken to several of the nonprofits in Madison County and in Haywood County and the ones who were handing out food are saying that they've had to cut back the box sizes because they can't afford to stuff them with as much as they did."
Pless did say that there's not much a state government can do about a national or global problem like inflation, but he's hoping to find some money in the next budget to provide some sort of relief for low-income people who rely on nonprofits for sustenance.
He's also trying to find funding for educational infrastructure. Aging school buildings are becoming a bigger and bigger problem across Western North Carolina and in Haywood County, especially Waynesville and Canton's middle schools.
"Both of those schools, they need to be replaced. They're 100 years old, and they don't serve their purpose anymore," said Pless. "I've had some conversations with the school system. It's their decision on what they want to do, but I'd love to be able to bring some money back to help get some of these buildings replaced and take that off of the county's back."
Then there's the issue of Central Haywood High School, which was damaged during flooding last year. Pless wants to move it somewhere away from the Pigeon River, perhaps rebranding it as a cutting-edge tech school for students interested in blue-collar careers.
Perhaps the biggest issue the next representative from District 118 will have to deal with isn't exactly a legislative one — it's the Global Opioid Settlement, and how regional leadership on a state and local level will influence the way that money will be spent.
Settlement funds will be distributed to North Carolina counties and municipalities over a period of approximately 20 years. It's not a lot of money, but it's better than what counties had been getting — nothing. Pless thinks a collaborative effort amongst western counties could have more of an impact than if each county were to go its own way.
"We have seven counties, including Haywood County, and we need a treatment facility. There are organizational plans being made and hopefully, we're going to have a meeting by the end of this month," he said. "The State of North Carolina is not in a position to do recurring funding, but we could build a building. So what we want to do is we want to get the counties together and have a conversation if this is something that the counties want to do."
Remillard says he lost a close friend and fellow veteran to PTSD-induced heroin overdose, and that he's since learned that local law enforcement agencies support the collaborative model.
"The issues that I was hearing from the police and from sheriffs was that not all counties are equipped to be able to handle these things and what they feel that would be better is to have a task force from the from the state that was applied in each county or certain regions of the state and help in establishing these centers so we can effectively work our way through this problem," he said.
The real test of the collaborative model will be if state legislators can coax local leaders in seven very different counties with very different problems to agree on the who, what and where of the project in time to start saving lives.
Remillard doesn't think Pless is the person for that job.
"Everywhere I go, be it a Republican or a Democrat, they're concerned with the fact that he's a bully. He's oppressive," Remillard said. "If he wants something done, instead of working with the appropriate people or communities to get it done, he just says, do this, or I'll get the state do this to you. Thinking about the party that he's a part of, I would assume that he'd be more about smaller government, and not about oppressive, larger government."
Likewise, Pless doesn't think Remillard has the relevant local experience to make an impact on the issues important to voters in the 118th District.
"I've spent my entire life in Haywood County, specifically, at 55 years old. I've worked in the church, I have been in the fire department, I was in EMS, I was a county commissioner. Each phase of that has brought me to a different understanding of the people of Western North Carolina. In order to be able to help folks, you have to understand the issues," he said. "If you're going to sit in this role, you can't sit and wait for things to come up and try to figure out how to understand the situation and then address it. You have to have a good foundation within your community in order for you to be successful, and I think that is the thing that he's missing."