Archived News
As expected, Supreme Court overturns Roe v. Wade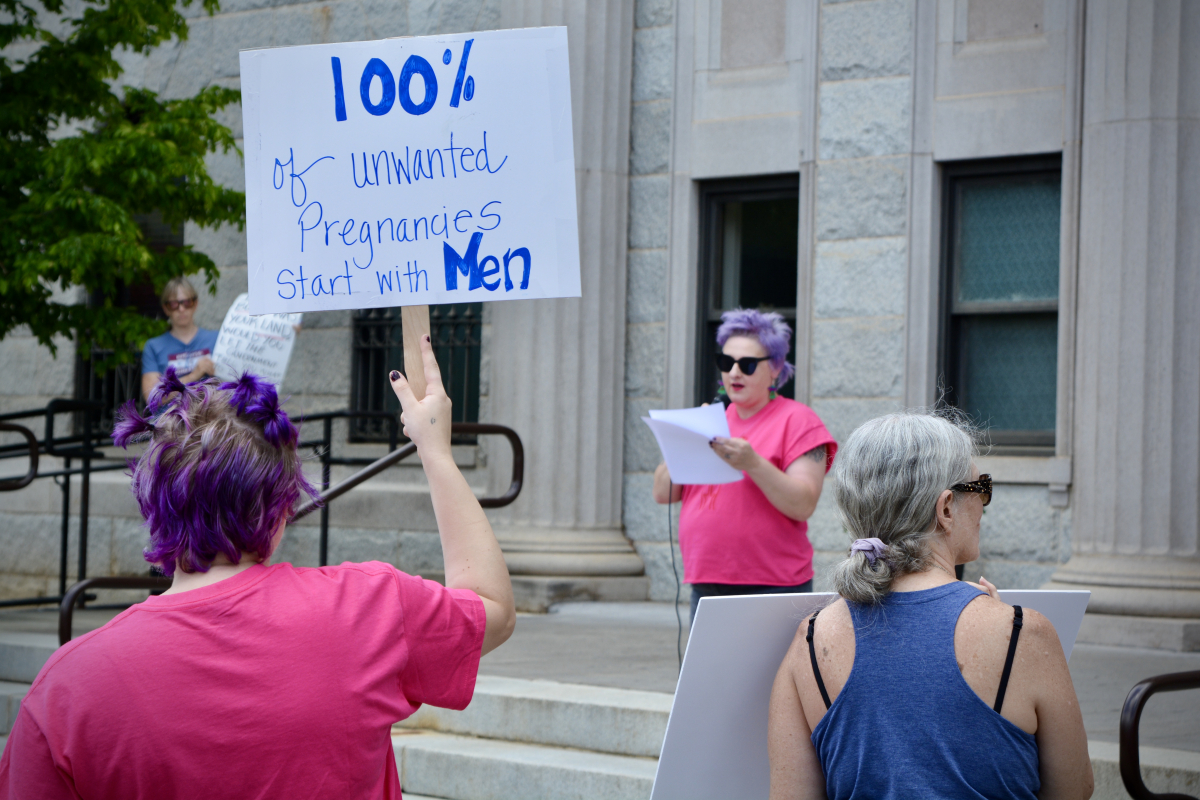 Reproductive rights advocates demonstrated in Waynesville on May 14, in the wake of a leaked draft opinion suggesting that Roe v. Wade would soon be overturned. That happened on June 24.
Cory Vaillancourt photo
Almost 50 years after the landmark Roe v. Wade abortion ruling was handed down by the United States Supreme Court, justices last week overturned it — throwing the issue back to the states to decide for themselves, just as they had for the previous 185 years before Roe.
"It is time to heed the Constitution and return the issue of abortion to the people's elected representatives," wrote associate justice Samuel Alito, who delivered the opinion of the court.
The ruling came as no surprise to most, after a May 3 leak of a Feb. 10 draft opinion was published by Politico . The act of leakage drew condemnation from the court itself — Chief Justice John Roberts called it "appalling" — but the contents of the draft drew both concern and outrage from reproductive rights advocates.
The June 24 ruling came as the result of a Mississippi case called Dobbs v. Jackson. Early in 2018, the State of Mississippi passed a law called the Gestational Age Act, which banned abortions after 15 weeks of pregnancy. Exceptions could occur due to medical emergencies or the development of a fetus incapable of life outside the womb, but not due to incest or rape.
Generally, the right to abortion established by Roe applied only to pre-viability fetuses and is based on a right to privacy, or more accurately, liberty as defined in the Due Process clause of the Fourteenth Amendment. The viability line for a pregnancy per Roe is a gestational age of roughly 24 to 28 weeks.
The Jackson Women's Health Organization, Mississippi's only abortion provider, sued the state immediately, naming State Health Officer Thomas Dobbs and state medical licensing director Kenneth Cleveland as defendants.
A judge from the Southern District of Mississippi ruled in favor of JWHO in November 2018 and issued an injunction preventing the state from enforcing the Gestational Age Act.
The state then appealed to the U.S. Court of Appeals for the Fifth District, which upheld the lower court ruling, 3-0.
In May 2019, the Southern District issued another injunction against a so-called "heartbeat law" that prevented abortions from being performed in Mississippi after a fetal heartbeat could be detected, usually no later than 6 to 8 weeks. Again, the state appealed, and again, the Fifth Circuit denied the appeal.
The injunctions were based on another landmark abortion rights case from 1992, Planned Parenthood v. Casey, which upheld the right of women to choose an abortion.
Mississippi's attorney general petitioned the Supreme Court to take up the case in 2020, and in May of 2021 the court agreed to consider "Whether all pre-viability prohibitions on elective abortions are unconstitutional ."
The case was heard last December, with Mississippi arguing that there is no direct guarantee of the right to abortion in the Constitution and asking the court to overturn both Roe and Casey.
Additional contentions by Mississippi were that since Roe in 1973 medical technology has shifted the viability line to much earlier in a pregnancy, and that more had been learned about when fetuses feel pain.
Attorneys for JWHO said that since Mississippi's arguments in Dobbs were similar to those of Pennsylvania in Casey, the court should uphold both Roe and Casey.
Instead, the court found that the Constitution does not protect the right to an abortion, in a ruling largely similar to the leaked draft.
"The Constitution makes no reference to abortion, and no such right is implicitly protected by any constitutional provision, including the one on which the defenders of Roe and Casey now chiefly rely — the Due Process Clause of the Fourteenth Amendment," Alito wrote. "That provision has been held to guarantee some rights that are not mentioned in the Constitution, but any such right must be 'deeply rooted in this Nation's history and tradition' and 'implicit in the concept of ordered liberty.' The right to abortion does not fall within this category."
Justices Stephen Breyer, Sonia Sotomayor and Elena Kagan penned a dissenting opinion, together saying that for half a century, the court had struck a balance between "respecting a woman as an autonomous being" and the state's legitimate interest in protecting life inside the womb.
"Today," they wrote, "the Court discards that balance."
Chief Justice John Roberts concurred with the majority, but in his own opinion wrote that there was a "clear path to deciding [Dobbs] correctly without overruling Roe all the way down to the studs: recognize that the viability line must be discarded, as the majority rightly does, and leave for another day whether to reject any right to an abortion at all."
Alito was joined in the majority by associate justices Clarence Thomas, Amy Coney Barrett, Brett Kavanaugh and Neil Gorsuch.
Gorsuch was nominated by then-President Donald Trump in 2017 to replace conservative icon Antonin Scalia. Scalia died in February 2016, and President Barack Obama nominated Merrick Garland that March. Senate Majority Leader Mitch McConnell (R-KY) refused to hold confirmation proceedings for Garland, saying that the "next president" — who'd be elected that November — should have the choice.
Kavanaugh was nominated by Trump in 2019 to replace retiring justice Anthony Kennedy, who was commonly a swing vote, despite emotional confirmation hearings that saw credible and substantial sexual harassment allegations presented against Kavanaugh.
Barrett was nominated by Trump in 2020 when liberal icon Ruth Bader Ginsburg passed away on Sept. 16. In contrast to Obama's nomination of Garland eight months before the 2016 election, McConnell wasted no time in confirming Barrett just two months before the 2020 election Trump ultimately lost.
Roe was first brought to a Texas court in 1970, when a litigant using the alias "Jane Roe" challenged a state law that prevented all abortions unless the mother's life was in danger. Roe said she couldn't afford to travel to have the procedure performed, and that the law violated several constitutional amendments.
When the case finally made it to the Supreme Court in 1972, justices ruled 7-2 in 1973 that a woman's right to choose an abortion during her first trimester was protected by the Fourteenth Amendment.
That time had passed for Ms. Roe, who delivered the child and placed it up for adoption. Later in her life, Roe — now using her real name, Norma McCorvey — changed her views and became an anti-abortion activist. McCorvey died in 2017.
The Dobbs ruling marks the end of Roe v. Wade as the last word on abortion in the United States, but it won't mark an end to the deep political divisions over reproductive rights.
Even before the June 24 ruling, the leak suggesting that Roe would soon be overturned sparked protests outside the homes of Supreme Court justices and "Bans off our Bodies" demonstrations from Washington, D.C., to Waynesville.
On May 14, about 50 demonstrators took to the lawn of the Historic Haywood Courthouse not only to express their support for Roe but to warn about what they saw as the start to a slow degradation of Constitutional rights.
"Where does it end?" asked Heather Hyatt-Packer, who helped organize the rally with a group called We Are WNC. "If we can repeal those rights, overturn the decision of Roe v. Wade, then who's to say that gay marriage is secure? That we can't move forward with transgender rights? I mean, it's a very slippery slope."
The rally also drew a small group of counterdemonstrators, including Thomas Sutton and about 10 members of a group called the Haywood Militia.
"I feel that abortion is murder," Sutton said. "You're taking the life of an innocent child. God says he knew me before I was formed in the womb, which means that I am a life from conception."
In the leaked draft of Dobbs, Alito opined that abortion "presents a profound moral issue on which Americans hold sharply conflicting views."
For years following the 1973 ruling in Roe, abortion was a highly charged political issue, but in recent years it had faded somewhat, as many considered the issue settled law.
A longstanding Gallup poll shows that over the years, support for a total ban on abortion never reached more than 21%, with only 13% supporting such a scenario as of 2022. Conversely, the number of Americans supporting legal abortion in certain circumstances hasn't dropped below 48% in 47-year history of the poll.
President Joe Biden was said to be weighing his options to circumvent the Dobbs ruling, and with November mid-term elections drawing near, the issue of reproductive rights will likely become a campaign issue across the country as well as across North Carolina's 11th Congressional District.
Although members of Congress don't have much of a say in state affairs, that's exactly where the issue of abortion will now reside — with the states.
"I have always been pro-life, I am pro-life today, and I'll be pro-life tomorrow," said Sen. Chuck Edwards, the Republican nominee for the 11th District. "The Supreme Court has now decided that this is a state issue, and I'll keep working with the North Carolina legislature to ensure that life is protected in our great state."
David Coatney, the Libertarian nominee, expressed dismay at the court's departure from stare decisis, a legal concept that places great value on precedence. Libertarian philosophy generally favors bodily autonomy.
"Ultimately, I think this is a conversation women need to have with their doctors and not their politicians, as it shouldn't be the role of government to be involved in these matters," Coatney said. "It's also clear that state prohibitions (which many have stated as the inevitable goal) are not effective deterrents. Prohibition usually exacerbates what it seeks to fix."
Jasmine Beach-Ferrara, the Democratic nominee, hinted at the significance of the Dobbs decision for elections across the country.
"In America, your rights should not depend on your zip code, and yet that is exactly what today's ruling means. So many Western North Carolinians, and Americans, have relied on the courts to protect our constitutional rights, and now those rights are under threat," Beach-Ferrara said. "We cannot go backwards. Every race on the ballot matters more than ever now."
Alito also said in the opinion that prior to Roe, 30 states had imposed total abortion bans and that Roe had "imposed the same highly restrictive regime" on all states. Now that that regime has passed, the legality of abortion will revert to state law.
Right now, 13 states including Arkansas, Idaho, Kentucky, Louisiana, Mississippi, Missouri, North Dakota, Oklahoma, South Dakota, Tennessee, Texas, Utah and Wyoming have so-called "trigger laws" that would immediately ban abortion in the first and second trimesters.
According to reproductive rights policy research organization the Guttmacher Institute , 16 states plus the District of Columbia have codified the right to an abortion.
North Carolina hasn't yet pursued either option, but its legislative leaders have done more than just hint that they'll make abortion restrictions a priority in the January legislative session.
A joint letter from N.C. House Speaker Tim Moore and Senate President Pro Temp Phil Berger asks Attorney General Josh Stein to "take all necessary legal action" to lift an injunction issued last summer that bars enforcement of two state anti-abortion laws .
Moore and Berger claim the injunction's underpinnings were "erased" by the Dobbs opinion. The laws make it a felony to administer, prescribe, advise or procure any substance or instrument to destroy the life of an unborn child.
During a June 26 pro-choice rally in Sylva that drew about 150 people, Democrat Al Platt spoke of the need to maintain Gov. Roy Cooper's veto-proof majority in the General Assembly to prevent abortion restrictions from becoming law in North Carolina. Platt, an architect from Brevard, is running against incumbent Swain County Republican Mike Clampitt to represent State House District 119.
"The Supreme Court's action took your constitutional rights away, but the North Carolina rights still exist. That freedom will remain unless it's taken away by the legislature," Platt said, echoing Beach-Ferrara's statement. "There's never been a more important time to vote for candidates that will stand up for the rights of women to choose."