Archived News
NOC marks 50 years in business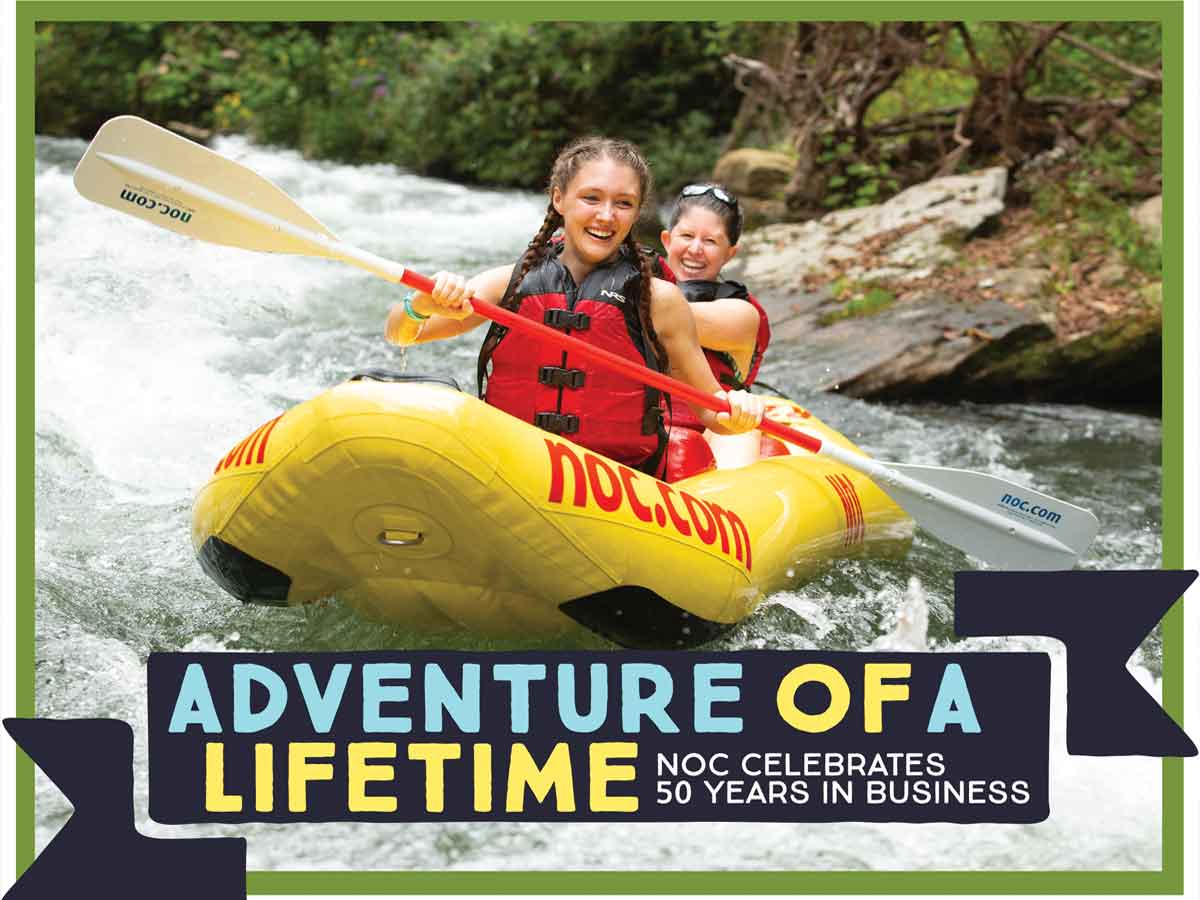 In 1971, Payson and Aurelia Kennedy were living a successful, stable life in Atlanta. Payson was a librarian at Georgia Tech, Aurelia a schoolteacher. They had four kids, retirement funds, and the deed to their house.
Then Horace Holden , an old friend of Payson's from college and fellow member of Atlanta's First Presbyterian Church, approached the Kennedys with a crazy idea . He'd just bought a little roadside motel in the Nantahala Gorge called the Tote 'N' Tarry, a 14-room complex that also included a small restaurant, gas station and souvenir shop.
Holden wanted the Kennedys to help him run it.
It was a big ask. The Kennedys had a good life in Atlanta, and their kids were nearing college age. They wanted to be able to offer them a higher education should they so desire. So they considered Holden's proposal and gave him an answer: maybe. As a schoolteacher, Aurelia had summers off, so Payson took a leave of absence from work to give it a trial run. They spent the summer of 1972 living at the little outpost the three had decided to christen the Nantahala Outdoor Center.
As the Tote 'N' Tarry, the outpost mostly served anglers and tourists to the Great Smoky Mountains National Park, Qualla Boundary and Nantahala National Forest, as well as a small but growing contingent of paddlers and hikers on the Appalachian Trail, which crosses the property .
The NOC's founders envisioned more than a wayside stop for outdoor adventurers. They wanted it to become a home base for people who love the outdoors, the nucleus of a community dedicated to sharing in adventure and giving others the tools they needed to safely do the same. They'd start out by serving both the general public and groups from Camp Chattahoochee, which Holden had founded, and offering food, lodging, shuttles, equipment and instruction for various recreational activities.
Raft trips might be the best way to bring in the revenue they'd need to cover their mortgage payments, Payson suggested. The others agreed, but they all said they wanted the center to offer a wide variety of outdoor activities — not just whitewater rafting.
That first summer was nonstop work, but the work felt like fun. The NOC took about 800 guests rafting on the Nantahala, and another 400 on the Chattooga, with the Kennedys, their kids and most of the staff sleeping in a brick house Holden had purchased from the former owners of the Tote 'N' Tarry. The season represented a financial loss, but Payson and Aurelia believed the business could be successful. And they loved life on the river.
The following fall, they made a decision that would change their lives, and the lives of countless others in Swain County and beyond. They sold their house, collected their retirement funds, and invested $25,000 in the business, permanently moving their family to the NOC campus.
Aurelia Kennedy, co-founder of NOC, smiles during an adventure in the center's early days. Donated photo
A half-century of growth
Fifty years later, the NOC is still around, and not in the barely-hanging-on, relic-of-the-past sense. It's thriving.
"We did not expect it to be anything of the scope that the NOC became," Payson, now 89, said during a 2018 interview on the spacious deck of the home he still occupies on NOC's campus. Aurelia and Holden have both since passed away. "We expected it to be a small family and friends group that would operate on a very much smaller scale. The first few years, the only heat we had was a potbellied stove, and we would spend our winters sitting around that stove doing crafts to sell in the summer and making spray skirts to sell."
Hard work, fortuitous timing and an enticing company culture that soon drew world-class paddlers to work at NOC put an end to those lean days. The year NOC opened, whitewater canoeing made its Olympic debut and the movie Deliverance popularized paddling — especially on the nearby Chattooga River, where the movie was filmed. In 1975, a year that Payson would come to see as a turning point, the NOC recruited an influx of top-level staff who, in turn, encouraged their friends in the paddling community to come work there. By 1980, NOC was turning a profit of $250,000 on an annual revenue of $4 million.
While NOC declined to release its current revenue and profit numbers, revenues are now "much healthier" than they were 40 years ago, and NOC has grown to become the largest seasonal employer in Swain County, as well as an anchor attraction for the region's swelling tourism industry.
Rafters splash through a rapid on a blue-skied day. NOC photo
In accordance with the founders' vision, NOC is not just about whitewater — in fact, only 10-15% of NOC visitors do a river activity. It's now spread across eight locations, with the main campus in Swain County offering more than 120 land-and water-based activities , including restaurants, lodging, kayaking, ziplining, mountain biking, hiking, canoeing and tubing, as well as rafting. It hosts outdoor education courses in paddling and wilderness medicine and serves as a home base for international adventures.
When planning marketing strategies, the Swain County Tourism Development Authority keeps NOC's offerings front of mind.
"We specifically target the outdoor enthusiast, and the NOC's campus complements our overall plan with multiple activities in one stop — whitewater rafting and kayaking, zipline, biking, the adventure park, treetop adventure nets for children and dining opportunities," said TDA Executive Director Mary Anne Baker. "When visitors realize they can plan a vacation in Swain County that includes not only the world-class Nantahala River at the NOC, but also the multiple adventures in the Great Smoky Mountains National Park, along with the Great Smoky Mountains Railroad and a bustling downtown, the NOC plays a major role in a vacation itinerary."
Whitewater innovators
The longevity, continued focus on the original mission and popularity of the product represent a level of success that's extremely rare in the business world, said Colin McBeath , who recently rounded out his first year as NOC's newest president.
"Not a lot of companies make it to 50," he said. "A lot of them get bought, they close, they fold. They change their name. NOC has been pure outdoor leisure recreation for 50 years. That's amazing. There are not many companies that are that fortunate. There aren't, and it says something about the vision that Payson has."
The vision was partly about revenue — after all, the founders had to make a living — but it was also about culture.
"Horace, Relia and I envisioned a community where a group of friends who loved sharing outdoor adventures together could enjoy those activities more frequently while providing support and instruction to others to make it safe and easy for them to do the same," Payson said.
The NOC campus looked much different in 1980. Donated photo
Payson's 2018 book "NOC Stories: Changing Lives at the Nantahala Outdoor Center since 1972," catalogues that culture through a collection of essays written by those who lived it in the decades following the center's founding.
"For the privilege of working, I was paid $80/week plus room and board," wrote Sue Firmstone Goddard, who worked at NOC 1974-1975. "I've never been happier. I had to be told to take my mandatory days off, or I would just keep guiding."
That team-player, joy-driven atmosphere combined with recruitment of top-notch guides to put NOC on the path to success. In addition to a retail business, NOC became a respected training ground for world-class athletes, and a hub for innovation in whitewater technique and instruction.
"I remember teaching myself to roll a kayak from a piece of paper that had a stick figure on it," Bunny Johns , a gold medalist, Whitewater Hall of Fame member, longtime employee and, later, president of NOC, said in a 2017 interview. "I'd turn over and I'd try something. Eventually I taught myself to roll. Now a good instructor could teach somebody to roll in an hour or so."
Advancements in instruction are partially due to Johns' own work, and that of other innovators at NOC. According to the nomination package that resulted in Johns' induction to the Hall of Fame, she spent "countless hours" in the 1980s working on the American Canoe Association instruction certification program. As head of NOC's whitewater instruction program, she helped develop whitewater rescue techniques that "profoundly influenced the lifesaving whitewater/swiftwater safety courses now taught worldwide."
To date, NOC has served as home base for 23 Olympic athletes, including two gold medal winners, of which Johns was one. Just last year, Bryson City resident Evy Leibfarth , 17, competed in the Tokyo Games, finishing 12th in kayak and 18th in canoe. In 2019, she medaled in two World Cup events.
Bunny Johns (far left) stands with her teammates after their historic win at the 1981 World Whitewater Championships. Donated photo
Soaked with joy
May 27 is the first dry day in a week of heavy rain , and the Nantahala is roaring. The NOC website describes the stretch of river as "crystal-clear" with "splashy" rapids and occasional calm waters, but today it's all white, rushing along at 3,600 cubic feet per second compared to the usual 750 cfs.
"If you go on this trip, you will get wet," Jess Austin, the lead guide for the 1 p.m. trip, tells the 40-odd guests sitting on the wooden benches in front of him. "The only dry seat is on the bus."
He runs through his safety speech and plays a video that warns of the risk inherent in a whitewater trip. It all sounds pretty serious.
Then we load up in the bus, and the mood changes. Everybody who's accepted a seat has also accepted both the risk and the reward of an afternoon on the water, and the anticipation births a buzz of excitement that reverberates through the metal tube. The long-haired 20-somethings assisting Austin, a retired lawyer with an admirable repertoire of dad jokes, can barely contain their enthusiasm. They whoop and holler and eye the whitecapped river rushing along the road.
They're young, but they're experienced. With the river so high, only returning guides are working today. For his part, Austin has decades of recreational paddling and seven years of guiding to his name. He'd always wanted to guide when he was the age of his fellow guides, but instead he had to pull down higher-paying construction jobs to put himself through college. As soon as he retired, he started working at NOC.
"Their guides are the most professional and put safety at the top of everything," said Mark Moseley, 34, a camp program director who, along with his leaders-in-training, shared the raft with Austin and me. "From being a trip leader and now hiring trip leaders, what do I want my campers to be on? NOC every time."
Professionalism and safety still leave room for fun. As the current bore us down the river at nearly twice its usual pace, Austin had us ducking tree branches — with helmets protecting our heads, of course — as he issued instructions to steer the raft safely and splashily through each successive rapid, to the cheers of all aboard.
He'd been right — there were no dry seats. At the takeout just above Nantahala Falls — ordinarily the trip's finale, today it was too gnarly for novice paddlers — we waded up the underwater concrete walkway soaked with the water and exhilaration that envelopes NOC guides every day.
Fifty years down, hundreds to go
"The soul of the company is the river," McBeath says as the Nantahala hurtles past the window beside his table at Rivers End Restaurant, one of two eateries on campus.
Originally from Vancouver, Canada, McBeath has lived everywhere from Taiwan to Alaska to Miami in a career that until recent years focused on hotel and resort management. In 2018, he became CEO of Grand Canyon Resort Corporation , a business owned by the Hualapai Tribe that welcomes millions of visitors each year to explore the Grand Canyon area.
He moved east with his wife and daughters in 2021 and has now been leading NOC for a full year. He's liking the vibe.
"People who go on the river and out in nature are generally a little bit different than people who stay in five-star hotels," he said. "I think I was just drawn to that clientele."
Western North Carolina, with its lush greenery and abundant water, reminds him of home in British Columbia. The place has a spiritual quality to it, and the people are genuine. McBeath said he respects the culture Kennedy and his successors have built here.
"They had a dream and they made it happen," he said. "It's pretty impressive what they've done."
As NOC marks its 50th year , McBeath is bent on anticipating the future at the same time as he honors the past. The world of 2022 is much different than the world of 1972. Staffing, inflation and recruitment challenges are top of mind.
"Whether you work at a Best Buy or a Costco, those people who fill your frontline positions are scarce," he said. "They're hard to come by, and if they do come in, they want $15, $16, $17, $18, $19, $20 an hour. And that model's not built for us."
There's an upper limit on how much people will to pay for a raft trip, which means there's an upper limit on how much NOC can pay its guides. Right now, they make about $10 an hour, and NOC sweetens the deal any way it can — by offering housing and meal options, unlimited time off and a positive workplace culture.
"You make their jobs as easy as possible," he said. "They're out here for an experience, and that experience has got to be a good one."
On any given summer, NOC has about 700 employees, of whom 550 are seasonal. As summer kicks off, the company is still down about 50 positions, most of which are servers, raft guides and housekeeping staff.
As McBeath looks around, he sees untapped potential in the proliferation of outdoor leadership programs now popping up in four-year-colleges. Those students could help NOC by filling much-needed positions, and NOC could help them by offering paid work and an experiential component to their education. Going forward, he hopes to establish formal partnerships with those universities.
A visitor takes in the view from one of NOC's Zipline Canopy Tours. NOC photo
When Holden and the Kennedys started NOC, they envisioned it as more than just a whitewater base camp. They saw it as an all-encompassing outdoor center, and McBeath wants to build on that legacy.
"If somehow something happens to this river, what do I do with my 1,000 employees?" McBeath said. "Can we survive? I have to think, how do I make this a bulletproof company?"
In 50 years, he said, he anticipates a big lodge on campus, with a "bevy" of activities for people to do outside rafting — though rafting will remain a staple.
"We've got 500 acres, so if I build a lodge, I'd expand my mountain bike trail. I'd put fly fishing on the river," he said. "I'd put more ziplines. There's going to be something down the road that's going to replace zip lines. What is that? I don't know yet, but I'm looking. So something along those lines that gets people to come to Bryson City and Wesser and enjoy themselves and enjoy nature."
This spring, NOC held a reunion for former NOC guides, and McBeath was struck by the emotion that permeated the event.
"They're all older now, but they all felt NOC was one of the most important parts of their lives," he said. "It was amazing. You don't see that very often."
McBeath credits Payson as the "father figure" who created that culture, and he hopes that the guides leading trips in 2022 will have the same tender feelings toward NOC 50 years from now — when they're retired men and women and, McBeath wholeheartedly believes, NOC will still be introducing new generations of paddlers to life on the river.
"I think NOC will be around for hundreds of years," he said.
Harrison Metzger contributed to this report.
NOC hosts up to a million visitors each year across its eight campuses, with the original location in Swain County still its flagship. NOC photo
Celebrate 50 years
NOC is hosting a party 8 a.m. to 9 p.m. Saturday, June 11, to celebrate a half-century as leaders in outdoor adventure.
At the main campus in Swain County, event highlights include a vendor village from 1-5 p.m., $20 fun passes for kids, a craft/artisan market, book signings by local authors 1-4 p.m. in the Outfitter Store, community booths with nonprofit partners, giveaways, contests, prizes and live music — Gypsy & Me 1-4 p.m. and Big Deal 5-8 p.m.
All eight NOC locations will hold celebrations that day. For more information, visit bit.ly/NOC50events.
Leave a comment
2

comments
Beautiful story!!! I first went there in 1976 and I remember the gas station and the 'old days.' These are good folk and I'm proud to have watched them all grow over the years.

Wednesday, 06/08/2022

Beautiful story!!! I first went there in 1976 and I remember the gas station and the 'old days.' These are good folk and I'm proud to have watched them all grow over the years.

Wednesday, 06/08/2022