Archived Outdoors
Celebration of life planned for NOC co-founder
Wednesday, November 06, 2019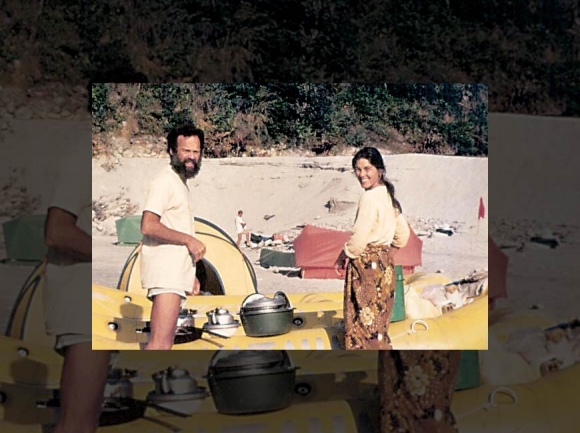 Aurelia Kennedy was a pioneering paddler in Western North Carolina. Donated photo
A celebration of life for Aurelia Turpin Kennedy, co-founder of the Nantahala Outdoor Center, will be held at 2 p.m. Saturday, Nov. 16, at NOC near Bryson City.
Kennedy passed away at the age of 84 at her home in Wesser on Saturday, Sept. 14, surrounded by friends and family. She was a wife, mother, grandmother and explorer, one of several early area boaters and one of the first women to paddle a canoe through Nantahala Falls in 1954.
In 1972, longtime friend Horace Holden reached out to Aurelia and her husband Payson Kennedy, presenting an opportunity to start an outdoor adventure company on the Nantahala River. The Kennedys packed up and moved from Atlanta, Georgia, to the North Carolina mountains, founding the NOC.
"Known for her energy and her unusual range of talents, Relia is even better identified by a consistent set of expectations and ideals that she brings to any endeavor, to find art in every activity, to honor the spirit in any pursuit, and to seek simplicity and frugality as essential paths to true appreciation of what really matters," said long-time NOC staffer Joe Huggins.
Aurelia is survived by her husband Payson, a brother, two daughters, two sons, five grandchildren, two great-grandchildren and friends around the world.
All are invited to attend the Nov. 16 gathering with stories and remembrances, as well as a Thanksgiving dish to share. NOC will provide a main course of turkey and dressing. Attendees are asked to RSVP at www.aureliakennedy.app.rsvpify.com.
Donations can be made in Aurelia's memory through the North Carolina Community Foundation for the Kennedy Endowment Fund at www.nccf.fcsuite.com/erp/donate or by sending a check to The North Carolina Community Foundation, 3737 Glenwood Avenue, Suite 460, Raleigh, NC 27612.