Archived Outdoors
Earning her place: Bryson City whitewater hall of famer reflects on lifetime on the water
Wednesday, November 08, 2017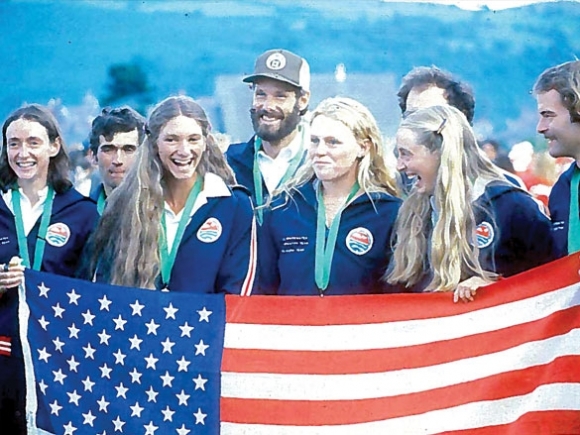 Bunny Johns became a paddler mostly by accident.
As a college freshman in the early 1960s, she'd lined up a summer job in her hometown outside of Atlanta but returned to discover the position had fallen through. Then a friend of hers called to say she'd been offered a job teaching swimming at Camp Merrie-Woode in Sapphire but didn't want to go — maybe Johns, who had been a competitive swimmer in high school, would want to take her place?
Johns accepted.
"It's one of the most beautiful spots on the face of the earth," she said of the outdoor camp near Cashiers. "I had never traveled anywhere. My parents lent me a car so I could go to North Carolina, which I had never been to."
One of the camp's offerings was canoeing, with campers given the chance to work toward a captain's hat in the sport.
"One of the things they have to do (to earn the hat) is teach somebody else how to paddle. They don't let them teach the other campers, so they teach the counselors," Johns recalled. "That's how I learned how to paddle."
Johns would go on to finish her undergraduate degree and then earn a master's, and finally a Ph.D. in plant physiology. But summers in Sapphire were the start of her entrance into the sport that would define her legacy.
Now 76, Johns has been inducted into the International Whitewater Hall of Fame, a ceremony held last month at the Nantahala Outdoor Center making her one of four people added this year and the only one to be honored in the "Advocate" category.
"It's hard to say," she said when asked her thoughts on the achievement. "I feel very honored. And I never expected it. So I don't know. I just never thought about that being something I would be in."
Perhaps, but it's also not the first time Johns has been singled out for recognition. She received the 1995 Legends of Paddling Award, which comes with an induction to the American Canoe Association Paddlesport Hall of Fame, and was named 2008 Boater Chick of the Year by Endless River Adventures, among a long list of other recognitions.
"I love being out on the water," Johns said. "I love the feeling of being able to put your boat wherever it is that you want to put it."
From plants to paddling
She developed her comfort with the paddle quite quickly, in 1964 making a first descent of the Chattooga River, Section 4, in a tandem canoe with Al Barrett. And while she left Camp Merrie-Woode to pursue a career in academia, she kept in touch with the people she'd met there — including a man who at the time was executive director of the American Red Cross and told her about a couple he knew, Payson and Aurelia Kennedy, who planned to start an outdoors center on the Nantahala River.
At the time, Johns was putting her Ph.D. to use doing research for N.C. State. But she was also in the process of leaving her husband and had gotten herself a nursing degree with adventure travel in mind.
"I thought what I was going to do was paddle and travel, but what ended up happening was when I went to the Nantahala and saw what was happening, I stayed here," Johns said. "I've been here ever since."
Johns began working days at the newly launched Nantahala Outdoor Center, heading over to Andrews to work nights as a nurse at District Memorial Hospital.
It didn't take long for her to focus her interest on NOC's instruction program. At the time, NOC did a lot of work with the N.C. Outward Bound School, taking kids who knew nothing about paddling out on three-day trips that culminated with some pretty challenging water.
"We're outside, we're teaching other people how to paddle, and that was a challenge," Johns said. "It was a real challenge to see how well we could work with the Outward Bound instructors, number one, and number two how do you get some kids who don't even want to be there in the first place to the stage where you can safely get them down a river that's actually pretty difficult?"
It was just the kind of challenge that Johns enjoyed.
Evolution of a career
Today, there are agreed-upon ways to effectively teach a host of paddling skills — Johns had a hand in developing many of those teaching methods — but when Johns arrived at NOC, the sport was still young with many techniques yet to be discovered.
"I remember teaching myself to roll a kayak from a piece of paper that had a stick figure on it," she said. "I'd turn over and I'd try something. Eventually I taught myself to roll. Now a good instructor could teach somebody to roll in an hour or so."
According to information compiled in the hall of fame nomination application friends submitted on her behalf, Johns spent "countless hours" in the 1980s working on the ACA instruction certification program, which is now the most widely accepted and recognized certification program worldwide. She chaired the ACA Training Committee — later renamed the ACA Safety, Education and Instruction Council — and as head of NOC's whitewater instruction program helped develop whitewater rescue techniques that "profoundly influenced the lifesaving whitewater/swiftwater safety courses now taught worldwide."
"This was Bunny John's greatest contribution to the sport of whitewater paddling," said Kent Ford, IWHOF Advocate — 2008 and former elite instructor under Johns, of Johns' work on paddling instruction, according to the nomination packet.
At NOC, Johns rose through the ranks from instructor to head of instruction to vice president and, finally, to president, a role she filled from 1976 to 2000. During much of that time period, it was quite rare for a woman to be in such a prominent leadership position, but Johns said she didn't meet much opposition at NOC.
"At the NOC that I knew back then it was fairly well accepted," Johns said. "Because I could paddle. I wasn't as good and I never would be as good or as strong as some men, but I could paddle with the best of them and I knew how to teach."
Throughout the '70s and into the '80s, Johns held her place as a world-class paddler, the capstone being a 1981 gold medal in the World Wildwater Championships in Wales, which she and her tandem canoe partner Mike Hipsher won with a time that beat all U.S. Men's Teams and ranked 13th among all C2 Men's times. Though Johns is a woman, she and Hipsher anchored the men's team relay and brought them into fourth place to finish the year undefeated. The gold medal was one of nine she won between 1975 and 1982, in competitions including the Open Boat Nationals, Wildwater Nationals, World Wildwater Championships and Open Canoe Nationals.
Those accomplishments, however, were reported based on a list compiled by Johns' friend Julie Thorner, who helped spearhead the hall of fame nomination — not based on an interview with Johns. Johns barely mentioned the accolades, and when asked which paddling experience she's most proud of or sees as most memorable, Johns instead spoke of a staff trip down the Grand Canyon in the early days of NOC.
"I had never seen anything like the water in the Grand Canyon," Johns said of that stretch of the Colorado River that runs between 30,000 and 40,000 cubic feet per second compared to the Nantahala's 800 cfs. There weren't many rocks, but waves would frequently rear up 10 and 12 feet high.
"For people like us who had never seen that kind of water, it was amazing," she said. "And it was a lot of fun."
For Johns, fun has figured large in the arc of her career, with a thirst for challenge not far behind.
"I wouldn't say I'm an adrenaline junkie," she said. "There must be some to it, but it's more the challenge of doing the water, doing it well and doing it up right. And that's not to take away from the fact that I've swam a lot of times."
Now retired, Johns remains a prominent face in the community. Stepping into Mountain Perks Coffee Shop in downtown Bryson City for her interview, she caused seemingly every person in the place — customer and staff member alike — to stop what they were doing and greet her by name. Johns is still the chairman of the Harris Regional Hospital Board of Trustees, a position she's held since the hospital was run by WestCare, and despite the drastic changes the sport has seen over the decades, she still maintains a passion for paddling — though in some respects she still prefers the old ways.
"I personally like the old boats better," she said. "They're longer, and they're faster."