Archived Outdoors
Dreams on the water: Bryson City paddler, age 15, wows international audience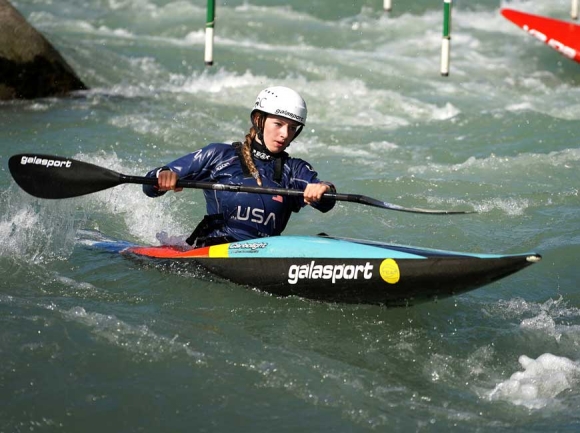 Evy Leibfarth trains on the water in Tacen, Slovenia, where she competed in the ICF World Cup No. 3 last month.
On Friday, June 21, a 15-year-old girl from Bryson City took her place in the water for the first heat of her first run as an adult competitor on the international circuit. The roiling World Cup course in Bratislava, Slovakia, was thousands of miles away from her home in Western North Carolina, and her competitors were veteran paddlers, some with Olympic appearances and even Olympic medals to their name.
The first competition Evy Leibfarth would have to win would be the fight against her own mind. She was nervous at that first World Cup competition, and it showed in those initial runs she made to qualify for the event semifinals.
"I was the last person to qualify, and I knew I wasn't paddling as well as I could," Leibfarth, who is still traveling through Europe on the competition circuit, said in an email interview. "I was able to just clear my mind and focus on my paddling for my semifinals run though, and I moved from 30th place to tenth. Having a run I felt good about made me much more confident going into the next races."
By the end of the weekend, Leibfarth had made a total of 11 runs down the challenging course for three different events — women's single kayak, women's single canoe and extreme slalom. And, amazingly, she'd earned a place on the podium. Leibfarth came out as the silver medalist in extreme slalom, also ranking seventh in women's canoe and 10th in women's kayak.
One week later, she'd do it all again. At the International Canoe Federation World Cup No. 3, held in Tacen, Slovenia, June 28-30, Leibfarth medaled once more, this time taking third in women's single canoe as well as ninth in women's single kayak. She's currently at the July 16-22 Junior World Championships in Krakow, Poland, racing in the kayak, canoe, kayak team run and extreme slalom events.
"It's completely mind blowing, I think for the entire world right now, what she's done at her first two world cups," said William Irving, president of Nantahala Outdoor Center.
As the Olympic National Teams Director for canoe and kayak from 2010 to 2012 and an employee of the U.S. Olympic Team's high-performance division before that, Irving has seen a lot of paddlers come and go. He's impressed with Leibfarth.
Her performances at the World Cup events are more than just unusually good showings. They constitute a never-been-done-before, record-setting spectacle. She is the first U.S. woman to medal at any world paddling event since Rebecca Giddens won a silver medal at the 2004 Olympics. And she's the first female paddler of any nationality to medal in a World Cup event at age 15, ever.
For many young athletes, said Irving, it's hard to transition from a star-struck disbelief at the wonder of competing with the world-class paddlers they've grown up idolizing to the realization that they're now competing against those same paddlers for a place on the podium.
As Irving sees it, Leibfarth has the mental game down.
"For Evy (Leibfarth) to have that level of mental strength I think is the thing that makes her really invincible, is that when she is competing she is such a strong competitor mentally," he said. "If she makes a mistake, she can recover from that so quickly because she's not thinking, 'I'm out of the game.'"
"During races, I try not to pay much attention to the other paddlers or let how they are doing influence my race plan," said Leibfarth. "I like to listen to music with headphones and sing out loud to try and let go of nerves. In general, if I'm feeling stressed, I'll paint or draw something. I always have a sketchbook and pencils or watercolors with me."
Leibfarth shows off the bronze medal she won in the extreme slalom event at the ICF World Cup No. 2 in Bratislava, Slovakia, her first ever World Cup appearance. Jean Folger photos
While 2019 is the first year she's been eligible to join the U.S. national team, Leibfarth has had plenty of time to learn what works best for her in a competitive setting. Her father is a former U.S. national team coach and is coaching at the World Cups and World Championships this year; her mother is a former raft guide and kayak instructor. Leibfarth began kayaking at age 4 and entered her first slalom competition at age 7.
"My parents and I were on our way to paddle the Nantahala River when I saw a small slalom race going on," she said. "I convinced my parents to let me enter because I wanted to see what it was it was like. I got my first slalom boat less than a year later, and I've been hooked ever since."
At that point, 7-year-old Leibfarth had already experienced her share of competition. Paddling is far from being the only sport in which she's competed over the years, and the first was gymnastics, not paddling. She was 6 years old when she participated in her first competition.
"Ironically, many of my gymnastics meets were as large as the biggest canoe slalom races in Europe," she said. "Because I started competing so young (in gymnastics), it's been easier to deal with the stress of racing."
In 2016, Leibfarth competed in the Olympic Team Trials and placed sixth. The environment was "incredible," she said, with hundreds and maybe even thousands of people lining the banks, cheering on the athletes. That experience ignited a desire to start training seriously, with the ultimate goal of making the 2020 U.S. Olympic Team.
"I have made the U.S. Junior and Senior teams the last three years but haven't been able (due to age) to compete in international events like the World Cups or World Championships, which has been hard," she said. "Finally making the national team this year and knowing that now I can represent USA felt incredible and terrifying at the same time. I went into the season with the goal of making finals, and so far I have made four. I'm going to keep training hard, and I hope to put down some good runs at the next few World Cups and World Championships."
Leibfarth keeps a rigorous training schedule, spending one-hour training sessions on whitewater once or twice a day, along with aerobic training like running or mountain biking two days a week and strength workouts like rings, bands and body weight exercises twice a week. She also spends plenty of time on video reviews of her time on the water to learn from and correct any mistakes.
Those workouts will only become more important as she matures, said Irving. At 15, Leibfarth is small, measuring 5 feet, 5 inches and weighing 110 pounds. That slight build can be an advantage in the water, allowing her to turn and maneuver faster than heavier paddlers. Most 15-year-olds haven't completely reached their adult height, so Leibfarth could well grow taller in the coming years.
"She's going to have to find a way to make sure she hits the gym and is able to muscle her way through some of the areas that now she's able to finesse her way through," said Irving.
All that to say, overcoming challenges seems to be something Leibfarth is comfortable with. In addition to all her training and traveling and competing, the 15 year old is also a high school student. She hopes for a career in the medical field, so there's no room to slack off in school while chasing her Olympic dreams. Because her lifestyle doesn't lend itself to regular attendance at a typical brick-and-mortar school, she attends the online K12 International Academy, currently going into her junior year.
"I have the flexibility to get ahead and fall behind in school, as long as I finish by a set end date," she said. "Planning my training and school out ahead of time is critical for staying on top of everything."
Despite her early success, Leibfarth has many miles yet to travel on the road toward the 2020 Olympic Games.
The ICF Whitewater Slalom World Championships, to be held in La Seu de'Urgell, Spain, this September, will be the first of two competitions that will determine how many paddlers from each country will compete in Tokyo. First, an American paddler in either women's canoe or kayak must have a top performance in order to qualify the USA a boat to compete at the 2020 Olympics. If Leibfarth is the athlete to qualify the USA for an Olympic boat slot, based on her placing, up to top 20, she'll get points and a leg up in achieving her goal of making the 2020 U.S. Olympic Team. The U.S. Slalom Olympic team will be determined at the U.S. Olympic Trial races in the spring of 2020.
She's gunning for a spot. But, regardless of the outcome this year, time is on her side.
"No matter how I do at Worlds, I want to come out feeling happy with my performance," said Leibfarth. "I'll be going for the 2020 Olympic spot, but I know I have a lot more years to make that dream happen."