Archived News
Draft food truck ordinance on the table in Maggie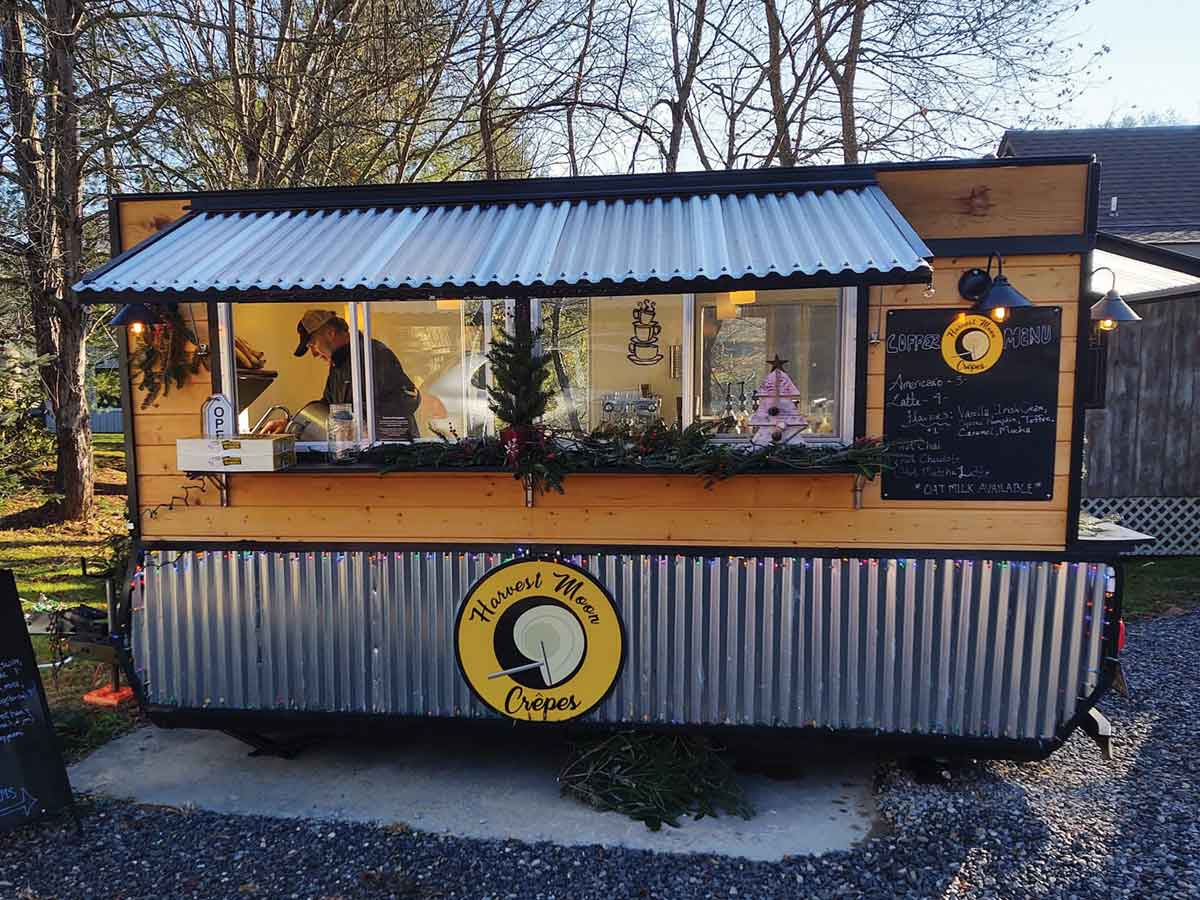 Maggie Valley is a step closer to allowing food trucks after the board of aldermen reviewed an updated working draft at this week's agenda-setting meeting.
The issue of food trucks resurfaced most recently when Dave Angel, owner of Elevated Mountain Distillery, came before the board at the March 8 meeting to request the special event permit required to allow a food truck to operate on their property. Elevated Mountain does not offer food, and under the current town ordinance, a special event permit must be obtained to allow for a food truck.
The board of aldermen had recently granted a special event permit to Harvest Moon Crepes, a food truck that wanted to set up shop outside of Tony's Tube World. The food truck was allowed to operate during Tube World's business hours for the rest of its season.
Angel submitted a request for a special event permit that would allow rotating food trucks on the property of Elevated Mountain Distilling Company, Thursday through Sunday during operating hours, through 2022. However, the board was split on the decision with Aldermen Tammy and Phillip Wight in favor of granting the permit request, and Mayor Mike Eveland and Aldermen Jim Owens and John Hinton against.
The board eventually granted Angel a scaled-back version of the permit, allowing him to have a food truck on site for 42 days, which could be spread out over several weekends. The board then appointed Tammy Wight and Jim Owens to a special committee that would work with the town attorney and town planner on a mobile restaurant ordinance for the town.
The first draft of such an ordinance was presented to the board during a workshop on the subject March 24. After hearing the opinions of board members, Town Planner Kaitland Finkle brought back a revised version of the draft at the March 30 agenda setting meeting for aldermen to consider prior to the regular April 5 meeting.
The food truck draft ordinance is intended to establish standards by which they would be allowed in Maggie Valley. The draft states that food trucks will only be located in nonresidential zoning districts within the jurisdiction of the town, or as a special event approved by the board of aldermen, like in the instance of events at the festival grounds.
One food truck is permitted per individual private lot, except in instances of special events.
"Mobile restaurants shall only be located on developed property that is occupied by a nonresidential use in operation," the ordinance reads. "No mobile restaurant may sell food to the general public within the town unless a business, nonprofit, or similar organization, with a physical location, has given signed written approval as part of an application submitted to the town."
Food trucks must be located a minimum of 500 feet from the main entrance to any brick-and-mortar restaurants or any other similar food service business — unless all restaurants, bars or food services within the 500 foot distance submit signed written approval as part of an application submitted to the town. Similar permission is needed in order to be located within 200 feet of residences.
Signs, including sandwich boards, freestanding signs or off-premises signs are not permitted for food trucks in the current draft ordinance.
Hours of operation are limited from 7 a.m.-11 p.m. A food truck may operate a maximum of three days between Thursday and Sunday in a single week. However, food trucks can operate Monday through Wednesday without those days counting toward the three-day maximum. These restrictions apply for special events approved by the board of aldermen.
The board of aldermen arrived at these requirements for permitted days of operation because several restaurants in Maggie Valley have limited hours or are closed at the beginning of the week, resulting in limited lunch and dinner options. Aldermen have been vocal in their concern for not hindering the business of Maggie Valley restaurants by allowing food trucks in the valley.
The draft ordinance will be reviewed and adjusted as necessary by the town prior to approval. The board plans to call for a public hearing in May during its upcoming April 5 board of aldermen meeting.