Archived News
Maggie Valley board walks back food truck decision
Thursday, January 13, 2022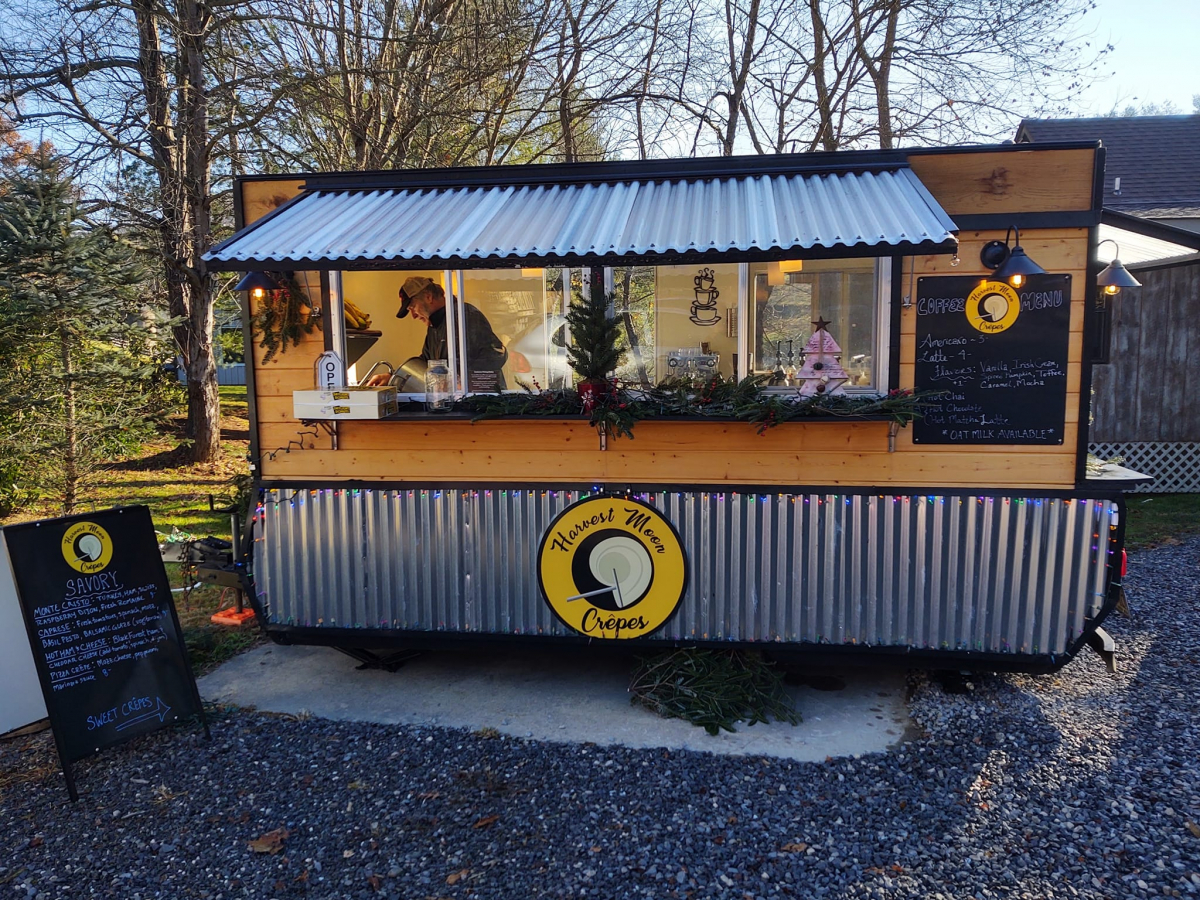 Harvest Moon Crepes
The Maggie Valley Board of Aldermen walked back a decision it made Jan. 11 denying Harvest Moon Crepes food truck a special event permit necessary to operate in the parking lot of Tony's Tube World.
Aldermen voted 3-2 with Tammy Wight and Phillip Wight voting in favor of allowing the food truck to operate, while Mike Eveland, John Hinton and Jim Owens voted against. However, midday Jan. 12 the board announced a special called meeting to be held Friday at 3 p.m. At that time Mayor Mike Eveland told The Smoky Mountain News that it appeared the board had changed its opinion, and that a majority of members were now in favor of allowing the food truck to operate.
Eveland was correct. At the meeting Friday afternoon, on a motion made by Tammy Wight, the board voted 4-1 to grant the special event permit for Harvest Moon Crepes to operate in the Tony's Tube World parking lot for the remainder of its season during hours of operation. John Hinton and Jim Owens joined the Wights in supporting the measure while Eveland voted against it.
"Oftentimes a special event permit lists a specific date or a specific time," Maggie Valley Town Planner Kaitland Finkle explained at Tuesday's meeting. "As you all know, the weather has been quite variable this year so it's pretty difficult to say when they're going to be able to set up at Tony's Tube World, because unfortunately Tony's Tube World hasn't had very many open days yet. So their request is for the season, ending this spring,"
The permit allows the food truck to operate only during Tony's Tube World operating hours, throughout the season. The truck has to be pulled on and off site; it cannot remain at the tube world overnight and will have to haul off any trash created.
"I can't," said Mayor Eveland Tuesday night. "I'm concerned, right across the street we have a business that is thriving because of Tony's Tube World, they work hard. I know we have a new vendor that's over there at the Shell Station."
This seemed to be the primary and only concern of the three aldermen who initially voted against the special event permit — competition. All three spoke about their fears that the food truck would create unfair competition for surrounding restaurants. Specifically Birdies Snack Shack, inside Soco Shell Gas Station and Grocery, and Brickhouse Burgers and Pizza.
"Tony's Tube World plays an important role in keeping our winter season alive," said Tammy Wight. "They attract tourists, locals and those from surrounding areas. I'm not sure that my fellow board members are aware that there are approximately five snow tubing businesses within one to two hours from here. All of which offer food and drinks. Out of these five, three are within a one-hour drive. Out of those three, two have food trucks on site and one has a concession stand. Having a food truck on site would allow them to compete with businesses in the surrounding area."
Tammy Wight also noted that the menu the food truck offers is unique, not offered anywhere else in the valley.
"I feel by allowing the food truck, it is a way to give back and say thank you," said Tammy Wight.
Currently, food trucks are not allowed to operate in Maggie Valley unless they are part of, and on site of, an established business, or are participating in a special event, like those that take place at the Maggie Valley Festival Grounds. Maggie Valley launched a Food Truck Pilot program during the last three months of 2021 to gather information about the possibility of allowing food trucks in the valley, but the issue has not been revisited as of yet.
"We think that there's a need out there," said Dan Galligan, co-owner of Harvest Moon Crepes. "We were there just last weekend and there were a lot of people standing around, they don't have any concessions or anything there at Tube World. I think that there's a need and it could make it a better experience for the people that come."
Co-owner Amy Deas described the menu to the board: hot drinks, sweet and savory crepes, food and drink that are easy to walk around with and don't involve utensils.
Hinton and Owens both expressed their concern for surrounding businesses. However, Tammy Wight noted that because the menus differ so much, it is highly unlikely that the food truck would be taking customers from the nearest sit-down pizza joints. She also said that parents who are at the Tube World with their children will likely not want to leave the premises for food while their children are tubing.
"If we're not going to allow special exceptions at special events, then that too needs to be taken off the UDO, because we have people coming in and asking for things that we're not allowing them to have," said Tammy Wight. "And I don't think it's appropriate for us to say that we're not going to allow any competition for restaurants but then everybody else in business has competition and that's not fair."
"My only concern is that winter is our slimmest season, so I'm also concerned about making sure we protect the restaurants that are here and still open and in business this time of the year," said Owens.
"We need to consider Tony's Tube World who are bringing these guests here and all of their competition serves food and drink," replied Tammy Wight.
Phillip Wight noted that the application fits the special event permit, that this is an allowed use under the town ordinance, that the hours don't directly conflict with surrounding businesses and that what the food truck has to offer is a unique product.
At Tuesday's meeting Tammy Wight made the motion to grant the special event permit to Harvest Moon Crepes, but with three aldermen voting no, it did not pass. Several residents walked out of the meeting aghast after the decision was made, some voicing their disbelief in frustrated expletives. The owners of Harvest Moon Crepes were polite in the face of their rejection.
"I didn't feel good about the vote," said Hinton. "I had a brief conversation with Tammy and Jim after the meeting Tuesday night and thought about it overnight."
The next morning he decided to speak with Eveland to see what could be done to remedy the situation.
"At the time of the vote, I was truly on the fence," said Owens. "That evening after the meeting, I really wasn't convinced I made the right decision. So the following day, I was pleased to hear that we have another opportunity to review the permit. And by then we had a commitment from Tony's Tube World, and we were also able to ask the applicant additional questions and made me feel very comfortable changing my vote."
At Friday's meeting, the mood was different, more supportive of Harvest Moon Crepes and the partnership they have been working to forge with Tony's Tube World for the remainder of the season. Aldermen were presented with email correspondence between Chris Bates, property manager for Tony's Tube World, and the owners of Harvest Moon Crepes, proving an amicable partnership.
"Chris Bates, who's a representative of the property owner has said that he approves of their application," said Finkle. "He's waiting for your approval for them to seal the deal and then decide how best to move forward on a contractual agreement. But he approves of the application."
Initially, in an effort to garner more support from the board, Bates and Harvest Moon had come up with a set of restricted hours for the food truck to operate. However, after speaking with the board Friday, aldermen agreed to leave hours of operation up to the food truck and property manager. According to Deas and Galligan, both parties would like the food truck to operate during the full set of hours Tony's Tube World is open.