Archived News
Haywood Waterways director moves on
Wednesday, February 16, 2022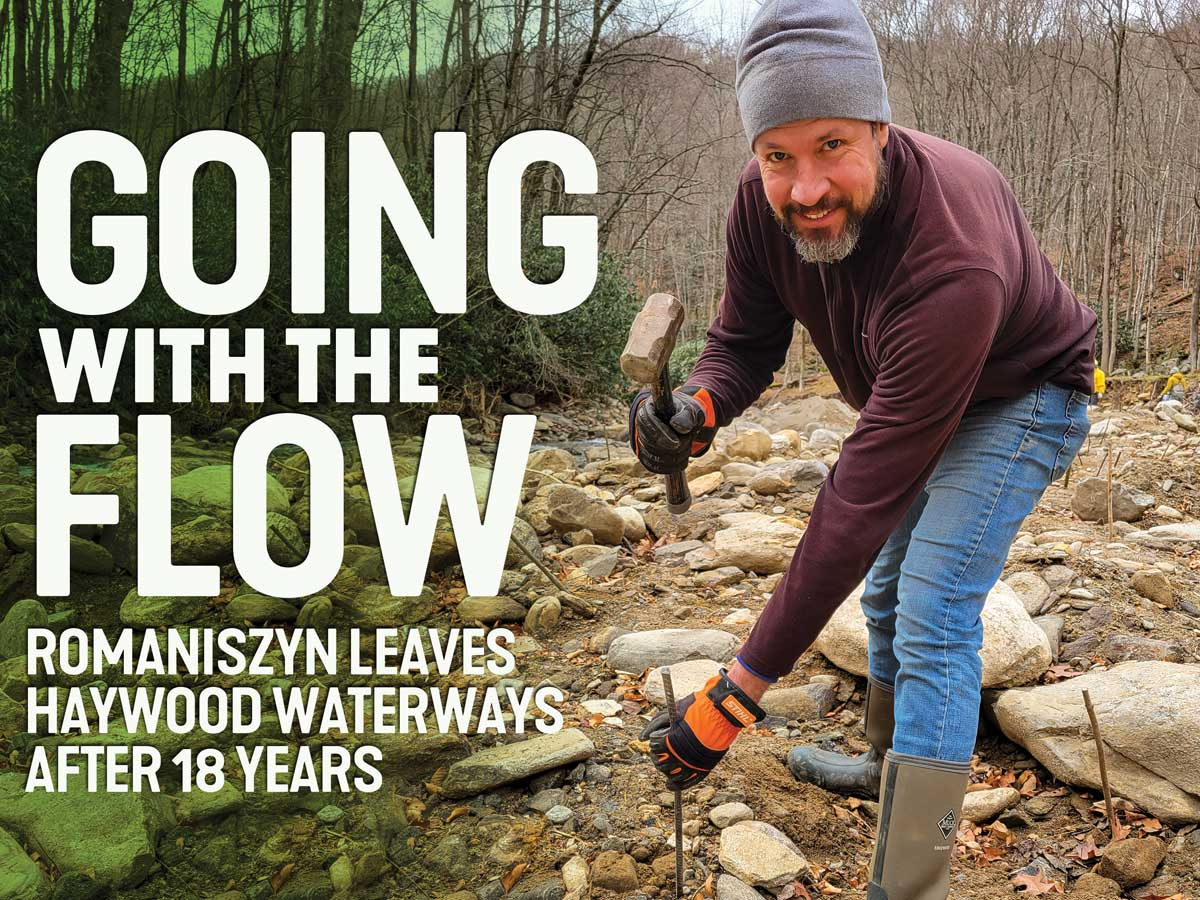 Now, after 12 years as executive director — and 18 as a Haywood Waterways employee — he's returning to the science side of water quality. Romaniszyn is leaving Haywood Waterways for a biological monitoring job with EnviroScience, the company with which he started his career in 1994. He'll be based out of Hendersonville with ClearWater Environmental Consulting, which EnviroScience recently purchased , and plans to remain an active member of Haywood Waterways and the Western North Carolina community.
"It's been a good run," he said. "I can't believe I've been here 18 years already. It's flown by."
When Romaniszyn became Haywood Waterways' second executive director in 2010, it was a smaller organization in a smaller county and had a heavier focus on aquatic science and monitoring than on education. For Romaniszyn, whose experience to that point was strictly scientific, that was just fine. Holding a master's degree in aquatic entomology from the University of Georgia, Romaniszyn did his graduate research at the U.S. Forest Service Coweeta Hydrologic Lab in Macon County. He was happiest with his feet in the water, looking for life under river rocks, and he didn't know much about fundraising or administration.
As Haywood Waterways grew, so did Romaniszyn. He learned the organizational and outreach skills he needed to lead the nonprofit, and "he really did an excellent job," said Bill Eaker, a longtime member of the Haywood Waterways board.
"I would do things outside my science training, and sometimes it was difficult," said Romaniszyn. "What was fun was seeing the results, seeing the light in the eye of the kid as he understood something, or seeing the funds come in from a fundraiser or seeing a grant that was approved. And that was always an exciting part of the job that I'll certainly miss."
Eric Romaniszyn helps eighth-graders inspect their catch of aquatic organisms during a Kids in the Creek event. Donated photo
Facing the challenges
Haywood County's streams and rivers face the same issues that challenged them 12 years ago, including sediment, litter, stormwater runoff and bacteria. But Haywood Waterways has made great strides in combating those problems — in the form of both education efforts and head-on action.
"Haywood Waterways has done a lot of great work, and I think the shining example is the state's impaired waterways list," said Romaniszyn. "These are streams that are considered the worst in terms of water quality, and through programs that Haywood Waterways did, through programs our partners did, Hyatt Creek and Richland Creek came off that impaired waterways list. So that's a sure sign that our work was effective."
For years, Haywood Waterways has partnered with the Haywood County Environmental Health Department to administer grant dollars for fixing failing septic systems, preventing that sewage from leaking into the watershed. The organization has also led numerous streamside planting and riparian restoration efforts , which prevent erosion and help filter runoff before it reaches the water. Those efforts were instrumental in delisting Hyatt and Richland creeks — but so were the education initiatives into which Haywood Waterways has leaned heavily in recent years.
"We had a couple property owners that didn't come to us asking for help — they did it on their own," Romaniszyn recalled. "They put a fence around their field so their livestock couldn't get in the stream. I think that education component is so big."
Haywood Waterways' longest-running education effort is Kids in the Creek, which marks 25 years in 2022. Every year, Haywood County eighth-graders get to spend a day in the water, learning about watershed ecology, water chemistry and aquatic wildlife during a hands-on outdoor learning experience.
But as grants, staffing and inspiration have allowed, Haywood Waterways has grown its arsenal of outdoor education programs. Several years ago, the organization launched a series of outdoor excursions dubbed "Get to Know Your Watershed," which Romaniszyn said has been "tremendous" for growing Haywood Waterways' membership . It runs an Adopt-a-Stream litter removal program, hosts numerous stream cleanups throughout the year and engages students in projects like stenciling storm drains with reminders that the contents flow directly to the stream. In the last year, Haywood Waterways formed the Haywood Youth Conservation Corps, which engages young people in hands-on environmental projects and volunteer work, aiming to prepare the next generation of conservationists.
Haywood Waterways' largest annual fundraiser, The Plunge, is instrumental in paying for those initiatives. Held each year on Super Bowl Saturday, the event invites participants to don a costume, think warm thoughts, and jump into frigid water — all in the name of raising money and awareness for Haywood Waterways' conservation efforts.
Eaker came up with the idea 10 years ago, when one of Haywood Waterways' grant sources, the Pigeon River Fund , suggested that the organization should become less reliant on grant money — at the time, about 95% of the nonprofit's revenue came from grant dollars. Grant funding is never guaranteed, so that's a precarious position for any organization.
In response, Haywood Waterways formed a fundraising committee and within a month held its inaugural Plunge event.
"We raised $11,000 that first year, and we were thrilled," said Eaker.
Since then, the event has grown into a community fixture, rotating between the Canton Pool and Lake Junaluska and raising tens of thousands of dollars each year. While donations will continue trickling in over the coming weeks, the 2022 event held Feb. 12 drew 126 participants and raised $34,000 — the second-highest total ever, below the $39,280 raised in February 2020.
The Plunge, along with other diversification strategies, has reduced Haywood Waterways' reliance on grants to about 45% of the operating budget, with roughly 30% coming from fundraising events like The Plunge and 25% from membership dues and donations. Various other sources combine to round out the remining 10%. Money raised through donations or fundraisers can be leveraged as matching funds for grants, said Eaker, bringing in $17 in grant money for every local dollar.
Canton Alderwoman Kristina Proctor braces for the cold water during the 2021 Plunge event. Donated photo
Development presents continued challenge
Romaniszyn is leaving Haywood Waterways in a good place, but future development and population growth will continue challenging the nonprofit as well as local residents, governments and everyone else committed to ensuring high-quality waters in Haywood County.
"That growth and the transition of our grass and forest to parking lots has the potential to really compound these issues unless we grow sustainably," Romaniszyn said. "The towns are taking that action on their own to make sure the development protects water quality. Different resource agencies are working with developers to make sure that what they build doesn't destroy our natural resources, helps preserve it. So there's a lot of initiatives out there, a lot of work — not just Haywood Waterways doing it."
The Pigeon River Flood caused by Tropical Storm Fred last August clearly displayed what's at stake in navigating those issues successfully.
"The next flood's going to come, so when that flood comes, you've got to give that water somewhere to go, and that's the floodplain," said Romaniszyn.
In decades past, conventional wisdom was to wall off the water with levees or stream channels — and while that tactic might offer protection to the isolated location where the levee or channel is built, it's bad for the ecosystem and compounds the problem for those living further downstream.
Romaniszyn favors an approach like the one the Town of Clyde adopted following the 2004 flood. FEMA funds allowed the town to buy the land that now forms River's Edge Park , and Haywood Waterways has collaborated to plant flood-adapted trees, shrubs and river cane to filter stormwater on land intended to serve as a safe, sustainable place for floodwaters to go — a role the park played well during the 2021 flood.
"If we can reconnect rivers with their floodplains, we can protect not only our own infrastructure, we can protect downstream infrastructure as well," Romaniszyn said. "That's one of the biggest lessons we've learned every time it floods here."
Romaniszyn works with students during Kids in the Creek. Donated photo
Hard shoes to fill
As Romaniszyn moves on to the next chapter of his career, the Haywood Waterways board is considering who should guide the organization through new chapters of its own.
The board has set up a transition team and held a series of meetings to talk about the transition and the hiring process, and Romaniszyn has agreed to contract with Haywood Waterways as needed to help with the hiring process and onboarding of the new executive director.
"We're just trying to be very thoughtful and deliberate about the whole process to make sure that we get the best person for the job," said Suzanne Klimek, chair of the Haywood Waterways board. "We definitely want to get it filled as soon as we can, but not rush it so we do it right."
Romaniszyn came to the job with a strong scientific background but a lack of management, fundraising and communication experience — he learned those skills on the job. Meanwhile, his predecessor Ron Moser, who started Haywood Waterways, mainly had a management and financial background.
Eaker said the board hopes to have a job description posted within a month and to have a new director in place around June. Both he and Klimek said they're excited about Haywood Waterways' future, but that Romaniszyn's leadership will be missed.
"Eighteen years is good, really good," Eaker said of Romaniszyn's tenure. "We were lucky to have him. He's very skilled, very knowledgeable, very personable, people like him, and he was really a perfect fit, to be honest. So it's going to be hard to fill his shoes, but I think we'll find a good candidate."
"I think one of the reasons he was there for so long was because it's a fun job," Klimek added. "There's all kinds of interesting things going on and what we do is important for the county. It means a lot to us and, we think, to our community."
Leave a comment
1

comment
Eric, Thank you for looking out for our water ways. You have been a wonderful advocate for our waters.
Margie MacDonald

Friday, 02/18/2022