Archived Outdoors
Cleanup efforts remove tons of litter
Wednesday, October 06, 2021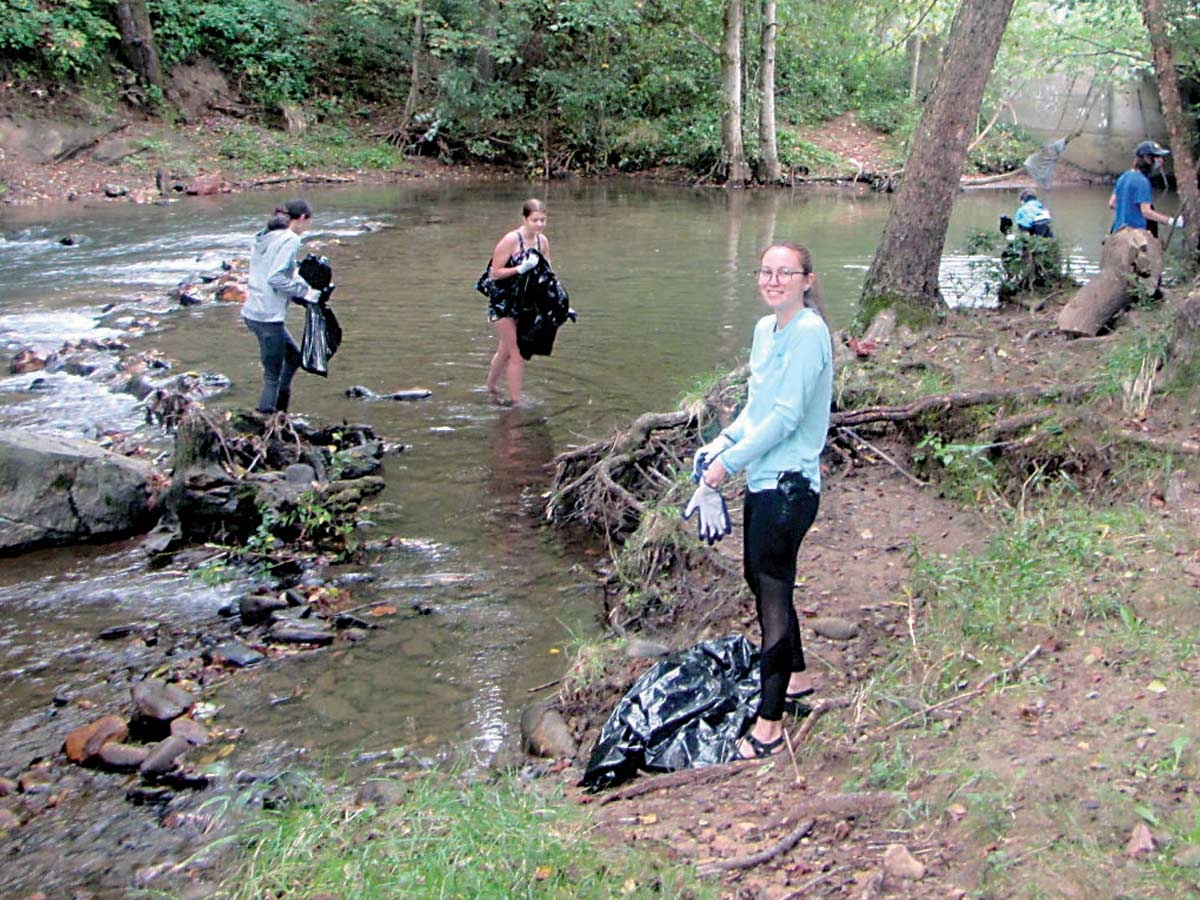 Students from Haywood Community College and Haywood Early College collect trash in Richland Creek. Haywood Waterways Association photo
This year's Big Sweep event in Haywood County removed a whopping 3,100 pounds of trash from county streams with the help of a record 62 volunteers.
Meanwhile, more than 418,000 pounds were removed from North Carolina roadsides this September during the N.C. Department of Transportation's Fall Litter Sweep, bringing the yearly total to 10 million pounds — nearly breaking the annual record of 10.5 million set in 2019.
"I was amazed there was so much trash in the creek," said Laura Green, a Big Sweep volunteer. "We live in a beautiful place and I can't understand why people don't do the right thing and keep the water clean."
In addition to the usual trash, like plastics and glass, Big Sweep volunteers also found car parts, a coffee maker, bedding, 12 tires and several shopping carts. Trash in the streams discourages activities like hiking, fishing and paddling that make Haywood County so attractive for tourism. This pollution has the potential to harm an industry that contributes $204 million annually to the county's economy and supports 1,900 jobs.
Big Sweep is an annual countywide stream cleanup effort. This year cleanups were held on Richland Creek from Depot Street to Lake Junaluska, lower Allens Creek, along Howell Mill Road, Jonathan Creek, Clyde and Maggie Valley. A variety of local partners supported the effort.
The DOT's statewide litter sweeps are typically held in the last two weeks of April and September, with residents throughout the state participating in local efforts to clean up North Carolina's roadways.
Haywood Waterways Association will host more cleanups focused on local waterways throughout the year. For more information, contact Christine O'Brien at 828.476.4667, ext. 11, or This email address is being protected from spambots. You need JavaScript enabled to view it..