Archived Outdoors
Pigeon River Fund awards grants
Wednesday, December 15, 2021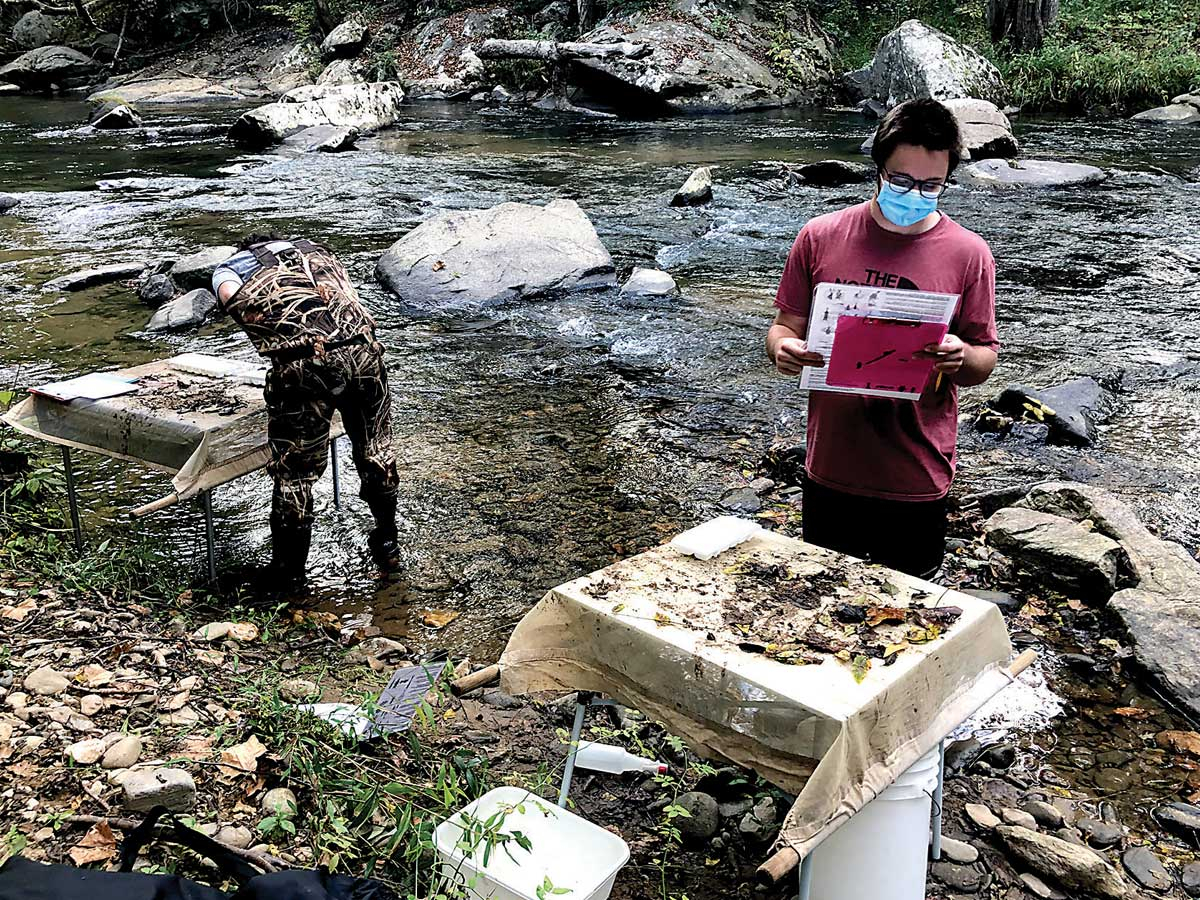 Volunteers monitor stream quality for The Environmental Institute. Donated photo
Nine grants totaling $326,348 will help environmental groups support area waterways in a variety of ways following the announcement of this year's grant awards from the Pigeon River Fund of the Community Foundation of Western North Carolina.
Grant awards include:
Haywood Waterways Association, $95,000. The award includes $40,000 to repair failing septic systems for low-income homeowners identified by the Haywood County Environmental Health Department and $55,000 for program and administrative support to improve surface water quality by decreasing non-point source pollution and increasing citizen awareness of water resources.
The Conservation Fund, $30,000 to help conserve the Maggot Spring Gap property in Haywood County, which will expand the Silver Game Land and improve water quality in the Jonathan Creek watershed.
Southwestern N.C. Resource Conservation and Development Council, $20,000 to help restore the Richland Creek Watershed in Waynesville by stabilizing the stream at East Street Park.
Asheville GreenWorks, $30,000 to decrease litter, pollution and erosion flowing into area waterways; increase citizen awareness about water resource protection; and increase the capacity of local floodways to absorb runoff.
The Environmental Quality Institute, $45,000 to support volunteer stream monitoring throughout the Pigeon River and French Broad River basins.
Laurel Community Center Organization, $26,698 to support multiple projects on the center's campus to improve access and educational opportunities at Shelton Laurel Creek.
Mountain Valleys Resource Conservation and Development Council, $44,150 to address water quality in the Ivy River Watershed and Madison County waterways.
Riverlink, $35,000 to aid construction of the Southside Community Stormwater Project to collect and treat runoff at Erskine Apartments to solve flooding issues and improve surface water quality at Town Branch.
Since 1996, the Pigeon River Fund has distributed more than $8.5 million in grants. The money comes from Duke Energy in exchange for the company's damming the Pigeon River for hydropower. The fund is managed by the Community Foundation of Western North Carolina. The next application deadline for grant funds is March 15, 2022. Learn more at cfwnc.org.