Archived Outdoors
Second fatal bear attack in Smokies history confirmed
Wednesday, August 25, 2021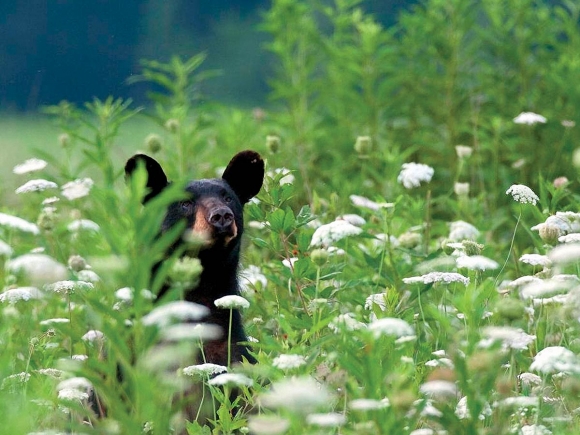 An iconic species of the Smokies, bears rarely hurt humans but on rare occasions may view them as prey. NPS photo
A man found dead in the Hazel Creek area of the Great Smoky Mountains National Park last September likely died due to a bear attack, making Patrick Madura's death the second bear-related fatality in the park's history.
The news comes following release of a final report from the N.C. Chief Medical Examiner identifying trauma from the attack as the most likely cause of death.
"Bears are an iconic symbol in the Smokies, but they are also dangerous wild animals, and their behavior is sometimes unpredictable," said Supervisory Wildlife Biologist Bill Stiver. "There are inherent risks associated with hiking and camping in bear country. Black bears are the largest predator in the park, and although rare, attacks on humans have occurred, inflicting serious injury and death."
Madura, a 43-year-old Illinois resident, was found dead on the afternoon of Friday, Sept. 11, 2020, after backpackers hiking the Hazel Creek Trail in Swain County discovered an unoccupied tent at Campsite 82 with a single sleeping bag inside. Looking across the creek, they saw a bear dragging a human body. The hikers left quickly to find cell coverage, and dispatch received word of the incident by 7 p.m.
Law enforcement rangers and wildlife officers were dispatched to the scene immediately, arriving shortly after midnight and confirming the report of a deceased adult human male. They also observed a bear actively scavenging the remains, leading the rangers to euthanize the animal. Inside the tent, they found clothing, camping gear, personal items, and Madura's ID, according to the N.C. Office of the Chief Medical Examiner's preliminary summary of the circumstances surrounding Madura's death.
At the time, park officials were unsure whether the bear had caused Madura's death or whether it had come across his body after he died. In 2018, a bear was found scavenging a man's body about 2 miles from Cades Cove, but an autopsy found the man had died due to a methamphetamine overdose, with the bear only touching the body after the man's death.
In both instances, the park's wildlife biologists decided that euthanization was necessary because the bear in question had already learned that human bodies can be a food source. The animal that killed Madura was a 240-pound adult male in good health and with no abnormalities.
While hundreds of bear convicts are reported each year (below) most years have from none to one bear-inflicted injuries. NPS graph
Park officials have no theories as to what prompted the attack, Stiver said, and rangers had no previous history with the bear responsible.
Madura had a backcountry permit for only one night at the campsite, Sept. 8, and the chief medical examiner's summary noted that low temperatures between Sept. 8 and Sept. 11 sat in the low-to-mid 50s, with rainfall during that period — clothing and other items in Madura's tent were wet when rangers found them, and Madura was clothed only in a T-shirt and sneakers.
However, a July 29 autopsy report from Wake Forest Baptist Medical Center concluded that a bear attack, not environmental factors, was the most likely cause of death. The body had multiple puncture wounds consistent with bear claw and bite marks, some of which showed hemorrhage to the surrounding tissues — that would not be the case if the injuries had happened after Madura's death.
"Numerous photographs and reports were reviewed for this case," the report reads. "Per investigation, the decedent's remains were found across a creek from his campsite. Additionally, the decedent's food bag with evidence of scavenging was found across the creek as well. There appeared to be an area of disturbance located near his campsite with evidence of drag marks to the creek. A necropsy was performed on the black bear that was found scavenging the remains, and contents of its gastrointestinal tract were consistent with human tissue. Given the investigative findings and autopsy findings it is most likely that the decedent died as a result of a bear attack."
Given that the park is home to an estimated 1,900 black bears and more than 12 million annual visitors, injuries caused by bears are extremely rare, occurring only about once a year, and sometimes not even that frequently. Fatal bear attacks are even less common — Madura's death marks only the second time in the park's 87-year history that a person has died due to a predatory bear attack.
The first recorded instance occurred on May 21, 2000, when 50-year-old Glenda Ann Bradley, a beloved Sevier County elementary school teacher, took a walk on the Little River Trail with her ex-husband Ralph Hill. Hill went off-trail to fish, and Bradley, an experienced hiker, walked down the trail alone while she waited for him. An hour later, Hill returned to the trail to find Bradley's backpack on the ground and two black bears — an adult female and yearling cub — mauling her body about 50 yards away.
When living in or visiting bear country, it's important to follow BearWise recommendations to avoid experiencing a bear encounter or contributing to the likelihood that somebody else will.
Hikers should travel in groups of three or more, carry bear spray, comply with all backcountry closures, properly follow food storage regulations, and remain at a safe viewing distance from bears at all times. If attacked by a black bear, rangers strongly recommend fighting back with any object available. Remember that the bear may view humans as prey. In this circumstance, people should attempt to appear as large as possible and not run or turn away from the bear.
The park takes active measures in the backcountry to prevent human-bear conflicts, including providing aerial storage cables for backpackers to hang their gear and food, educating visitors on how to respond during a backcountry bear encounter, and closing backcountry campsites when bear activity is reportedly high in a given area.
For more information about bear safety, visit www.nps.gov/grsm/naturescience/black-bears.htm or www.bearwise.org .