Archived News
Living in bearadise: Encounters highlight need for human responsibility in bear country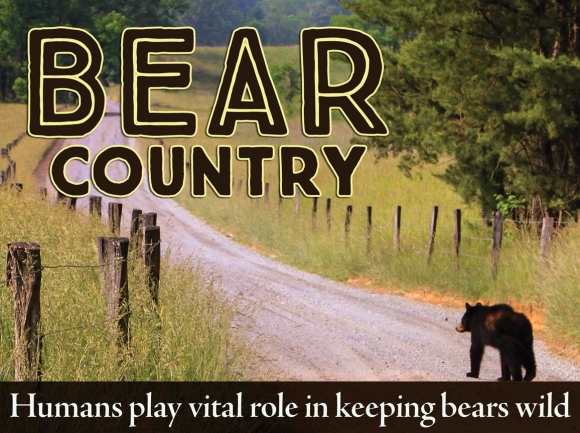 After flying into town and renting a car for their Memorial Day Weekend visit to the Great Smoky Mountains National Park, three adults visited Cades Cove on Saturday, May 29.
Located on the west side of the park in Tennessee, the scenic valley is popular with tourists, wildlife and tourists who like to see wildlife. The three tourists had at least one notable wildlife sighting — a 100-pound male bear, which one member of the group, a 27-year-old woman, decided to feed. According to Smokies rangers, she stood up through the vehicle's sunroof window and threw peanut butter balls toward the animal.
This particular bear was well known to the park's wildlife biologists. He had been hanging out along Cades Cove Loop Road for several weeks eating walnuts. But then he started to show food-conditioned behavior, leading biologists to believe people had fed him. So, they captured the bear, tranquilized him and marked him with an ear tag before re-releasing him in the same general area.
Aversive conditioning techniques such as this seek to discourage bears from frequenting areas where they might be tempted to approach vehicles in search of food. However, shortly after its release, the bear received a tasty reward for its dangerous behavior when peanut butter balls rained upon him from the rented vehicle.
Often, such incidents occur out of rangers' sight and it's difficult to hold anyone accountable. In this case, however, witnesses caught the incident on video and provided that video to rangers, who investigated. The woman was issued a citation on Thursday, June 5, which carried a fine of $100 plus $30 for processing. Federal regulations prohibit feeding wildlife on public property, and federal law states that violating an NPS regulation is a Class B federal misdemeanor punishable by a fine of up to $5,000.
"Managing wild bears in a park that receives more than 12 million visitors is an extreme challenge, and we must have the public's help," said Smokies Wildlife Biologist Bill Stiver. "It is critical that bears never be fed or approached — for their protection and for human safety."
When bears get too used to human presence — and in particular to the idea that human presence means food presence — they lose their fear of people and may become bold and aggressive. This leads to situations that can result in harm to humans, or force biologists to euthanize or relocate bears exhibiting dangerous behavior. Fortunately, park staff have not yet had cause to take such measures with the bear that received the peanut butter balls.
Bold bears
So far this year, Smokies biologists have captured eight bears and relocated three of them outside the park, said Smokies spokesperson Dana Soehn. A typical year sees 10 relocations. Through May 31, there have been several reports of bears approaching people for food or searching campsites and other developed areas. Park managers have issued one warning related to bear activity on a trail and four warnings at backcountry campsites and issued seven site closures due to bear activity.
"Human-bear conflicts peak in late May and June," Soehn said. "Bears are hungry and actively searching for natural foods. However, high-quality natural foods such as berries are not available yet, so bears are attracted to the smell of food and garbage in our developed areas. The level of activity this year is in alignment with what we expect this time of year."
A sow and her yearling amble through the forest in the Great Smoky Mountains National Park. Warren Bielenberg photo
The Smokies has perhaps the highest density of black bears in North America, but bear issues affect the region outside park boundaries as well.
On June 10, the U.S. Forest Service announced a camping closure on the Appalachian Trail between Grassy Fork Road and Max Patch Road following multiple reports of bear encounters, also urging caution on miles 92.5-96 in the Southern Nantahala Wilderness and miles 246-248 on Snowbird Mountain.
The announcement came on the heels of a June 2 camping closure in the Cherokee National Forest that includes 13 miles of the A.T. from Double Springs Shelter to Backbone Rock Trail in northeast Tennessee. On June 4, the Forest Service sent out a warning related to bear encounters in the Joyce Kilmer-Slickrock Wilderness in the Nantahala National Forest. And on May 4, a Henderson County woman came away with a bite after a bear encounter that involved her unleashed dogs. She didn't incur any serious injuries and was released from the hospital the same morning she sought treatment there.
"This year has definitely been very busy for bear activity," said Justin McVey, District 9 wildlife biologist for the N.C. Wildlife Resources Commission. "What I call my 'nuisance bear season,' the season people start calling and complaining about bears, usually that starts around Memorial Day. But this year, I have basically been getting phone calls since mid-March, right around the time when bears — especially male bears — were coming out of their hibernation."
Many of those interactions are the result of human actions that inadvertently — or, in some cases, purposefully — encourage bears to approach people, said Wildlife Commission Black Bear Biologist Colleen Olfenbuttel.
"I can think of two different neighborhoods in Asheville where there's purposeful feeding, and we have bears that are following people or even bluff charging people," she said.
Overall, in the last few years Olfenbuttel has seen an increase in the bears' boldness. Many of them are habituated to human presence to the point that they sometimes try to get into occupied homes and open the doors while the homeowners are on the other side, yelling at the bear to leave. The root cause, she said, is human food — habituated bears pass that knowledge on to their cubs, resulting in an escalation in problems over time.
"People just underestimate what a bear is," said McVey. "They think they're cute and cuddly and don't realize they're a wild animal. While they look docile, they're still a dangerous wild animal, and feeding them causes a ton of problems."
A conservation success story
Safe coexistence with bears is possible, but it requires the human residents of bear country to do their part to keep bears wild. Such practices are more important than ever, because both human and bear populations are on the rise in the greater Smokies region.
By 2020, the human population in Sevier County, Tennessee, had grown to 240% of what it was in 1980. During that same year, Buncombe County's population was 164% of the 1980 census and North Carolina's was 180%. Add in increasing numbers of seasonal residents and tourists, and the number of people in the mountains these days is incredibly high compared to what it was just a few decades ago.
Meanwhile, the bear population is also increasing. In Western North Carolina, the bear population was estimated at just 1,000 individuals in 1980, but now that figure exceeds 6,000.
Over the 30 years Stiver has worked in the Smokies, the black bear population has nearly quadrupled while annual visitation has increased by 47%.
"As human population continues to grow and visitation continues to grow and we have this really high bear density, we have to work together to solve human-bear conflicts," he said. "It can't just be the National Park Service or the City of Gatlinburg or the Town of Waynesville."
Toward that end, wildlife managers throughout the Southeast are working to push a unified message about life in bear country through the BearWise program, which seeks to provide sound information and solutions to help people, neighborhoods and communities prevent bear conflicts. The six basics are to never feed or approach bears; secure food, garbage and recycling; remove bird feeders when bears are active; never leave pet food outdoors; clean and store grills; and alert neighbors to bear activity. More information is available at www.bearwise.org .
While life with bears can be challenging, managers say, it's important to remember that not too long ago the charismatic creatures were a rarity in North Carolina.
"Back in the '70s there were hardly any bears," said McVey. "We started the system of bear sanctuaries, and a lot of hunting regulations, and that worked really, really well. Bears have been a conservation success story. Now we've gone from having hardly any bears to having a whole lot of bears."
At one time, North Carolina bear populations were expanding by 10% per year. Now that increase sits between 5 and 7%. Managers are now shifting their focus from growing the bear population to stabilizing it so that annual growth hovers between 0 and 1%.
Census time for bears
Key to meeting those metrics is knowing how many bears there are to start with. Wildlife managers in North Carolina, Tennessee, Georgia and South Carolina now have better bear population information than they ever have before thanks to a recently completed study from the University of Tennessee Knoxville, the largest-scale black bear population study ever done.
Lead researcher Joe Clark, Ph.D., collected data for the project in 2018 within a research area that included 16.5 million acres across four states, including 8 million acres in Western North Carolina. Using a grid system, researchers set up hundreds of "traps." These consisted of two lines of barbed wire wrapped in a circle around several trees with donuts suspended in the center, and the goal was to snag bear hair on the wire for DNA analysis. They checked each trap weekly for six weeks and then tested the hair to determine if each sample belonged to a new individual or to a bear that had already visited a trap. This allowed Clark's team to estimate population sizes and densities across the research area.
A density map resulting from Clark's study shows that the Great Smoky Mountains National Park has by far the greatest concentration of black bears in the region. Donated map
The resulting data, released to partners in September 2020, provided the most reliable bear population estimate ever completed, and the good news is that the results aligned closely with the number Olfenbuttel had been working with based on the less labor-intensive estimation tool her office has been using for decades.
"It helped us compare what he did to the tools we're currently using, and it validated the current tool we use to monitor trends in the bear population, which was a huge relief to me," she said. "All this data we've been collecting since the '70s and '80s till now, it showed we are collecting the right data."
Clark only analyzed hair samples belonging to female bears. He made that choice as a money-saving measure and because female home ranges are more stable than those of males, making the data easier to handle. Knowing the female population makes it fairly easy to extrapolate the overall population.
The study showed a total of 5,949.8 female bears in the 16.5-million-acre study area, with just over half of those — 2,983.4 — residing in North Carolina. Georgia has an estimated 1,181.1 female bears, Tennessee has 1,522.1 and South Carolina 263.2. Of the total, 733.9 reside in the Great Smoky Mountains National Park.
Extrapolating that data out yields a total estimated abundance — including males and cubs — of 14,616 bears in the region, of which 7,318 live in North Carolina. The estimate puts 3,753 total bears in Tennessee, 2,897 in Georgia and 648 in South Carolina. The Great Smoky Mountains National Park is home to an estimated 1,909 bears.
However, it's important to note that bears do not claim state residency. Females have a home range of up to 50 square miles, and males wander through a much larger home range that can reach 300 square miles. That's why it was so important to do a regional study that looks at the landscape as a whole.
The Great Smoky Mountains National Park is home to 1,909 black bears, according to a recent study. Warren Bielenberg photo
Research indicates that 95% of male bears and 50% of female bears in the Smokies leave the park at some point, Stiver said, which makes it all the more important for communities and jurisdictions to work together when it comes to bear management.
For Olfenbuttel, the next step will be to drill into the density component of Clark's results. Right now, the Wildlife Commission manages the 25 westernmost counties as a single bear management unit, enforcing the same hunting seasons and bag limits throughout that area. Clark's density results might indicate a need to break that management unit up, said Olfenbuttel, because areas with low bear densities require a different management approach than those with higher densities.
She's also working with another scientist, Dana Morin, Ph.D., of Mississippi State University, to conduct an analysis in Eastern North Carolina similar to the one Clark conducted in the western part of the state. In addition, Morin will take a look at the model Olfenbuttel currently uses for population estimates and determine if there are any ways to tweak it and improve the results.
The end result, she hopes, will be better numbers that beget better policies and better understanding from the public that bears are their neighbors — and that responsible coexistence is crucial to keeping that situation sustainable for everyone.
"North Carolina's landscape has changed tremendously over the past 100 years, and it continues to change, and these bears continue to adapt to that," she said. "It's fascinating. They've shown a higher tolerance than expected for human disturbance and development. The key now is, they adapted to us. Are we willing to adapt to living near them? I hope the answer is yes."
Be BearWise
When living in or visiting bear country, it's important to do your part to keep bears wild. This means keeping bears away from human food, whether that's keeping the garbage locked up at home or properly hanging a bear bag in the backcountry.
The six basics are to never feed or approach bears; secure food, garbage and recycling; remove bird feeders when bears are active; never leave pet food outdoors; clean and store grills; and alert neighbors to bear activity.
More information, including best practices for backcountry recreation, is available at www.bearwise.org .