Archived News
Smokies bear euthanized after scavenging human remains
Saturday, September 12, 2020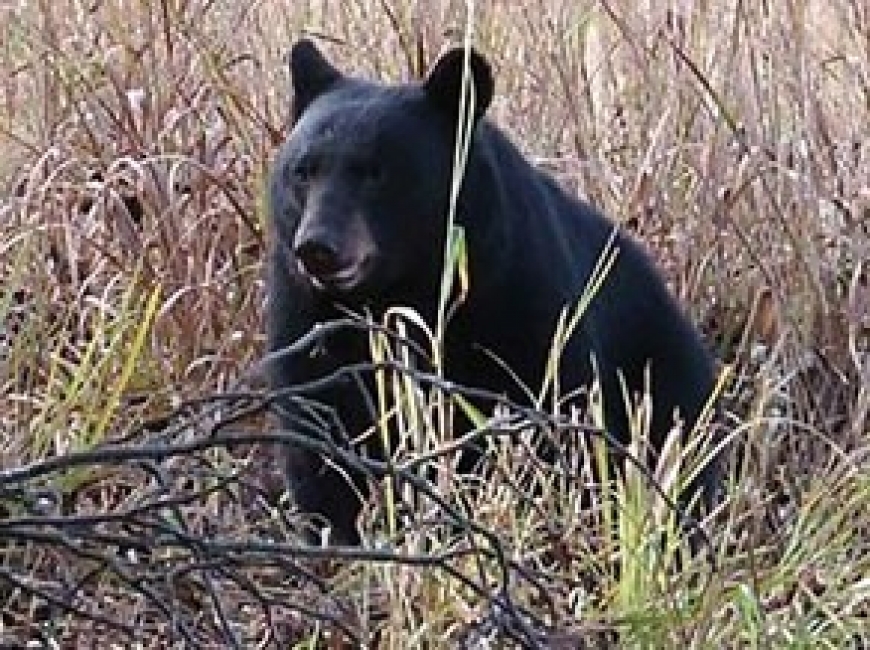 On the afternoon of Friday, Sept. 11, backpackers were hiking the Hazel Creek Trail in the Great Smoky Mountains National Park when they found an unoccupied tent at Campsite 82 with a single sleeping bag inside. Across the creek, they discovered human remains and a scavenging bear.
Park officials would later identify the remains as belonging to 43-year-old Patrick Madura of Elgin, Illinois. Madura had a backcountry reservation for a solo multi-day trip in the park and was scheduled to stay at campsite 82 just northwest of Bryson City on Tuesday, Sept. 8. No other reservations were scheduled for the site between the evenings of Sept. 8 and Sept. 11, when the body was discovered.
The hikers quickly left in search for cell coverage, and by 7 p.m. Emergency Communications had received word of the incident.
Law enforcement rangers and wildlife officers were dispatched to the scene immediately, arriving shortly after midnight and confirming the report of a deceased adult human male. They also observed a bear actively scavenging the remains, leading the rangers to euthanize the animal.
The cause of death and the incident overall are still being investigated, and park officials do not yet know whether the bear caused or contributed to Madura's death. No additional details will be released until the park receives a coroner's report, said park spokesperson Jamie Sanders.
However, said Sanders, the park's wildlife biologists decided that euthanization was necessary because the bear in question had already learned that human bodies can be a food source. The animal was a 240-pound adult male in good health and with no abnormalities.
"The decision to euthanize a bear is never made lightly," Sanders said. "Wildlife biologists with expertise in human bear conflicts believe that bears that scavenge on human remains may pose an increased risk towards humans in the future. Bears are known to learn by behavior, particularly as it relates to finding food. Once a bear learns of a food source, either by killing or scavenging, they have the potential to repeat the behavior."
Additionally, she said, the contents of the bear's stomach could provide evidence to law enforcement that will aid the investigation.
Previous attacks
Park officials were faced with a similar decision in September 2018, when they found a bear feeding on the body of a man who had been reported missing two days earlier. An autopsy returned months later showed that the bear did not attack Tennessee resident William Hill prior to or during his death and that Hill had methamphetamine, amphetamine and caffeine in his system at the time of his death.
In that instance, the park cited the bear's aggressive behavior in guarding the body as the reason for euthanization.
"This is always one of the hardest decisions a wildlife manager has to make, and is one that we did not take lightly," Smokies Superintendent Cassius Cash said at the time of Hill's 2018 death. "Over 2 million visitors come to the Cades Cove area annually and there are several residential areas very close to where we found Mr. Hill's body. We could not take the risk of allowing this bear to approach or show aggression towards other people."
Bear attacks are rare, but they do happen occasionally. Since 2000, five people have been attacked by black bears, and only one such attack was fatal. In the same period, the park has recorded more than 204 million recreation visits.
In 2016, a bear attacked a tent occupied by 49-year-old Bradley Veeder near the Spence Field Shelter on the Appalachian Trail, biting and injuring Veeder's leg. And in 2015, a bear attacked 16-year-old Ohio resident Gabriel Alexander as he was sleeping in a hammock at Campsite 84, a site located just a few miles away from the place where Madura was found dead last week. The bear bit the teen on the head and dragged him away, but Gabriel's father Greg eventually fought the bear off by beating it repeatedly and jumping on its back.
Earlier attacks included a 2008 incident in which an 8-year-old boy sustained serious injuries in the head and back after being attacked by an 80-pound male bear and a 2001 incident in which a bear pulled a man from a hammock by his arm, while another camper beat the bear off with a broom.
The only recorded bear fatality in the park's 89-year history occurred in 2000, when 50-year-old Cosby, Tennessee, resident Glenda Ann Bradley was attacked, killed and partially consumed by a 112-pound female black bear about 2.5 miles from the Little River Trailhead.
In both the 2016 and the 2015 incidents, the park came under fire after DNA results showed that the first bear euthanized in connection with the attack was not in fact responsible for the incident. In both situations, the park was unable to capture the correct bear.
Bears and visitors plentiful in the Smokies
Bears have an instinctive fear of humans and will by nature seek to avoid interactions and conflicts with them. However, that instinct can be trained out of them if they learn to associate humans with food — whether that food is offered on purpose or by accident, such as when bears figure out how to get into garbage cans or become accustomed to finding leftovers at campsites. Bears that become habituated to human food are at much greater risk of being killed or euthanized.
The opportunity for human-bear conflict is high in the Smokies, which continually breaks its own record as the nation's most visited national park and is home to approximately 1,900 bears. That's an average of more than two bears per square mile.
In 2019, the park broke the 12 million mark in visitation for the first time when it recorded 12.5 million visits, and while year-to-date visits are currently down nearly 20 percent from the same point in 2019, that's mostly due to the six-week period when the park was completely closed in response to the pandemic. In both June and July, visitation surpassed that of 2019, with a 4.5 percent increase over 2019 numbers in June and a 7 percent increase in July. August figures are not yet available.
Despite this summer's high visitation, said Sanders, "There have been no significant bear/human encounters in this area of the park this year."
The best way to avoid a bear encounter is to dispose of trash properly and store all food, food scraps and other fragrant items safely. Bears are most active in the late evening and early morning hours, so visitors should be especially vigilant during these times.
If you see a bear, remain watchful and keep your distance. If your presence causes the bear to change its behavior, you are too close — back away slowly while continuing to watch the bear. If it follows you, change your direction. If it continues to follow you, act aggressively to intimidate it — shout at it, make yourself look as large as possible and throw non-food objects such as rocks or sticks. If the bear attacks and shows interest in your food, separate yourself from the food and back away slowly. If it attacks while showing no interest in your food, fight back aggressively with any available object. Don't play dead, don't run and don't turn away.
More information about bear safety is available at www.nps.gov/grsm/learn/nature/black-bears.htm.
Hazel Creek Trail between Cold Springs Gap Trail and Welch Ridge Trail is closed until further notice.