Archived News
Republican field for Cawthorn's seat grows to five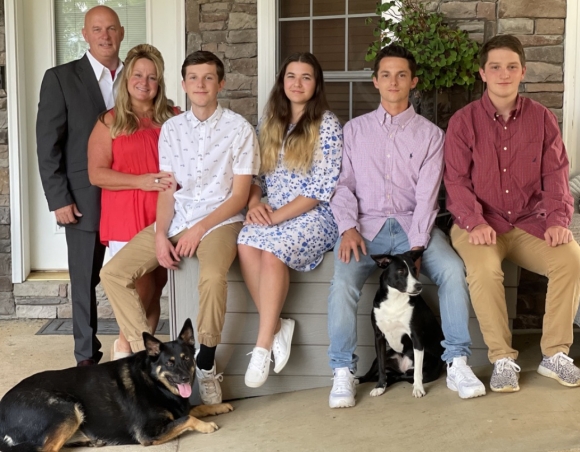 Rod Honeycutt, left, poses with his family.
Donated photo
On the heels of " Gungate " and a shouting match with a West Virginia congressman on the house floor, Western North Carolina Rep. Madison Cawthorn has drawn a fourth Republican Primary Election challenger.
Rod Honeycutt started off as a bagger at the Patton Avenue Bi-Lo in Asheville, and after graduating from Erwin High School enlisted in the U.S. Army. While enlisted, he earned a scholarship to the University of South Carolina, and graduated with a bachelor's degree in criminal justice. Recently, on July 1, he retired as a colonel.
On Aug. 1, Honeycutt announced his candidacy for the 11th Congressional District seat currently occupied by Cawthorn, who was elected in November 2020, after the sudden retirement of Rep. Mark Meadows. Like Meadows, Cawthorn has quickly become a nationally recognized figure.
"I will not watch from the sidelines as inexperienced, self-promoting characters seek to further careers while the hard-working men and women of WNC suffer the consequences," Honeycutt says on his website, www.cuttforcongress.com . "Serving at the tip of the spear requires a steady hand and proven leadership."
His website shows strong support for traditional Republican positions like smaller government, border security, enhanced funding and training for law enforcement, and a special focus on the mental health and homelessness issues that affect veterans.
On Aug. 2, Honeycutt told The Smoky Mountain News that he'd just registered to vote for the first time, citing his need to be apolitical while serving in the Army. His voter registration hasn't yet shown up on the state's voter lookup website, but Honeycutt says he lives in the northern part of Buncombe County, not far from the Madison County line.
Honeycutt joins a group of Republicans challenging Cawthorn that currently includes Asheville veteran Wendy Nevarez , Pisgah Inn owner Bruce O'Connell and Haywood County Sheriff's Deputy Eric Batchelor , a retired Lt. Col. who was wounded in the line of duty.