Archived News
Back to the blue: Wounded Haywood deputy returns to work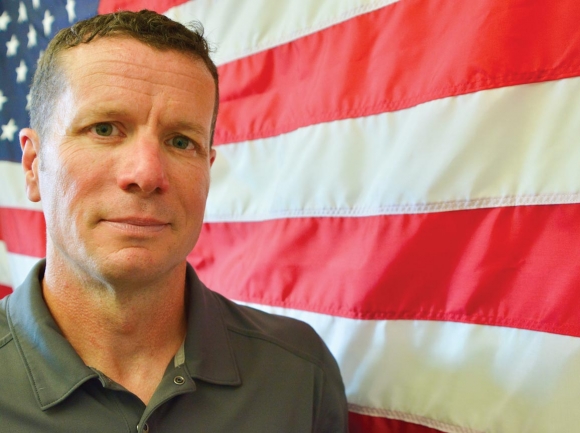 Cory Vaillancourt photo
UPDATE: Shortly after this story was published, Batchelor declared his intent to enter the NCGOP NC11 Primary Election field.
He'd been on duty since 5 p.m. and it was already shaping up to be a busy night, but as Eric Batchelor sat in his patrol car writing up reports around 2 a.m. on July 28, 2020, he got another call about a disturbance.
"I think the quote was, 'Hooting and hollering at the moon,'" Batchelor said. "To be honest, we get a lot of these calls."
Batchelor had only been a Haywood County Sheriff's Deputy for 10 months, but he was no rookie. A U.S. Army infantry officer with a bachelor's degree in criminal justice, Batchelor served multiple combat tours in Iraq and Afghanistan, rising from platoon leader to battalion commander before retiring after 20 years as a Lt. Col. in 2015.
Driving toward the scene on Old Asheville Highway, Batchelor heard updates on the call. Someone's in my yard. Someone in my yard has a gun. Someone in my yard has a gun and they just shot at my house. Someone with a gun is moving toward the main thoroughfare.
"And so you start driving faster and faster, and you're paying more attention to the road than you are to what's going on with the radio, but then as you show up there and you get yourself under control, you start to take in the situation and then you get it," Batchelor said. "He has an assault rifle. He's up on the billboard."
A Georgia native, Batchelor could have retired comfortably after leaving the Army, but his personal bucket list wouldn't allow it.
"First, I became a paramedic," he said. "I worked for a little while as a paramedic and I really enjoyed it, but I knew eventually I wanted to get back to law enforcement."
After retiring from the Army in 2015, Batchelor worked as a paramedic before entering law enforcement. Donated photo
After earning his North Carolina credentials, he was hired by the Haywood County Sheriff's office in 2019.
"This sounds really cheesy when I say it, but when I was in the Army you get this feeling of having a higher purpose, a higher calling. It's not about the money," Batchelor said. "When you're in the Army, you feel like you're doing these good things, but you have very little interaction with the civilian population that you are taking care of. The draw of law enforcement for me was to be able to have that same kind of feeling of a calling, but to interact with people on a regular basis."
That's exactly what he was doing on the night of July 28, when an elderly woman home alone made that initial disturbance call. Canton police beat Batchelor to the scene and found Jacob Wilbur Wright, 32, perched on a billboard catwalk a dozen feet off the ground, holding an assault rifle.
Batchelor had been in dangerous situations before, having been fired upon during his Army service, but when he pulled up, he immediately felt the stress — the accelerated breathing and the tunnel vision as he scanned the scene, awash in flashing red and blue lights.
Eric Batchelor (right) stands with wife Kristin during an Army function in 2015. Donated photo
Taking cover behind his car, Batchelor made visual contact with Wright and began communicating with him.
"If I remember correctly, I think I told him, 'Hey, let's go get a cup of coffee. We'll talk about it. We'll figure this out,'" Batchelor said. "He was saying things that I probably don't need to repeat."
Wright's weapon appeared to be jammed, so Batchelor decided to make his move. Using his remote, he popped his trunk to access his shield as the Canton officers covered him.
"As soon as I stood up from behind the vehicle," he said, "I watched him clear the jam, the barrel of the weapon came up, and he pulled the trigger."
Something that had never happened to Eric Batchelor in combat happened to him that night just outside Canton — he was shot.
"The immediate thought is, 'Oh dear God. I just got hit by a truck,'" Batchelor said.
His surgeon later told him that the .556 round that had exited through his left triceps had literally been shot straight through his humerus — his funny bone.
"You know how much that hurts just hitting it on something," said Batchelor. "That pain that you feel, that shock that you feel through your body when you bump it into something is just magnified a hundred times."
He tried to fight the pain, but slowly crumpled to the ground.
Officers returned fire, killing Wright, who had only been out of prison for four months and had prior drug convictions.
Batchelor was whisked away to Mission Hospital in Asheville. Although he couldn't know it at the time, he was at risk of losing his arm.
"I have two plates that basically connect my elbow to my shoulder, 21 screws holding those in place and a bone graft that came out of my leg went in between those plates and reconnected the shoulder to the elbow," he said.
Now, less than a year after that fateful day outside Canton, Batchelor's gone back to the blue after being cleared by his surgeon nearly a month ago. Batchelor credits his physical therapist, Eric Yarrington, with whipping him back into shape after such a devastating injury.
"Eric is also a CrossFit coach and we got to the point where physical therapy evolved into workouts, and he started taking videos and pictures of me doing pull ups and rope climb and throwing sandbags around," he said. "When I went to see the surgeon about three weeks ago, I showed him those pictures and videos and, he's like, 'Yeah, you're good. We can start working you back into patrol.'"
Physical support is one thing, but Batchelor is also grateful for the support shown to him by the community during his long recovery, including from Haywood and Canton first responders, his squad, his surgeon, even the members of the local law enforcement who he said cut his grass for months.
"You would not believe how many cards and how many texts I got, not just from people in Haywood County but people in Western North Carolina," he said, choking up. "This has been about a whole bunch of people reaching out and taking care of me."
On July 28, 2020, Batchelor was wounded in the left humerus with a round from an assault rifle. Donated photos
Batchelor recently began working one 12-hour shift a week with his squad, just to get back into the groove.
Although he says he tires more easily and gets sore more quickly, he'll be back on normal patrol duty in the coming weeks.
Nobody would have blamed Eric Batchelor if he decided to hang it up — once and for all — after such a devastating wound at age 47, but it's clear he still hears that call to serve.
"In this day and age, law enforcement has such a bad reputation. I would say that that is not really who we are. We're a cross section of society and you get the same personalities in law enforcement that you get in society," he said. "Like 99.9 percent of the people that I work with are just here to serve. That night when I and the rest of those officers were on the way to that call, we were just there to serve."
And if Wright were still here, listening, Batchelor knows what he'd say to him.
"I would have rather talked to him than have this outcome," Batchelor said. "We were going there to make someone who was at home — alone, afraid — feel a little bit better. This could have turned out so much easier for everyone involved. I was talking to him, trying to get him to come down and I wish to God that he would have just come down and had a conversation."
Leave a comment
10

comments
~When a paid servant is called upon to serve his community, To help and protect someone in need. And that person responds without a dought the responsibility that is bestowed on him, to safeguard not only the victim but help the suspect to place himself out of harm's way by lethal force. This first responder has gone beyond the call of duty. To keep the peace and deescalate the situation, by the way, he was trained and by the human instinct to come away only wounded for doing his duty. This is a remarkable experience by any means~

Wednesday, 07/21/2021

Thanks Michael Loomis for that info. He's got my vote!

Monday, 07/19/2021

You're a good man Mr Batchelor - we are blessed to have you in our area sir!

Monday, 07/19/2021

You are the best uncle I could ask for an two my uncle is not a democratic politician liberal he's a second amendment supporter an a republican.

Saturday, 07/17/2021

may god be with you and family.thank you for your service ! i use to live in clyde for 21 years. now i live in fredericksburg va. thank you !!!!!!!!!!

Thursday, 07/15/2021

I see this "news" was coordinated with Batchelor's campaign to run for Congress. For some reason, when Batchelor announced he was running for that office, he forgot to mention which political party he is in. And then I read his positions the issues on his campaign website. It's pretty clear that he is a Democrat who plans to vote in lockstep with Nancy Pelosi, but wants to sound more Conservative than he in fact is. I would go so far as to characterize his "positions" as lying by misdirection. For instance, he writes, "I can say with a fair bit of confidence, I own more guns than most people. I am a certified gunsmith, an NRA pistol instructor, I reload, I hunt, I've done a fair amount of competitive shooting, and I carry a firearm in the line of duty. I will never be a part of legislation that seeks to take away second amendment rights. " He then goes on to talk about background checks meaning that he will vote for taking away the guns from people under the smallest pretense, No doubt he will also vote for transsexual boys in women's sports and greatly increasing government spending that we can't afford. He doesn't represent western North Carolina values.

Thursday, 07/15/2021

so glad your getting better, come buy 49 honeysuckle st. in clyde sometime , would like to meet you. this thing wont take my message.

Thursday, 07/15/2021

so glad your getting better, come buy 49 honeysuckle st. in clyde sometime , would like to meet you.

Thursday, 07/15/2021

so glad your getting better, come buy 49 honeysuckle st. in clyde sometime , would like to meet you.

Thursday, 07/15/2021

Eric, I'm Kendal Foster's grandmother. His dad is my son. I to wish the outcome could have been different. I'm glad you're getting back to work. Thank you for your service.

Wednesday, 07/14/2021