Archived Outdoors
Riding high in Jackson: Proposed 35-mile trail system would be East Coast's highest for bikes
Wednesday, March 03, 2021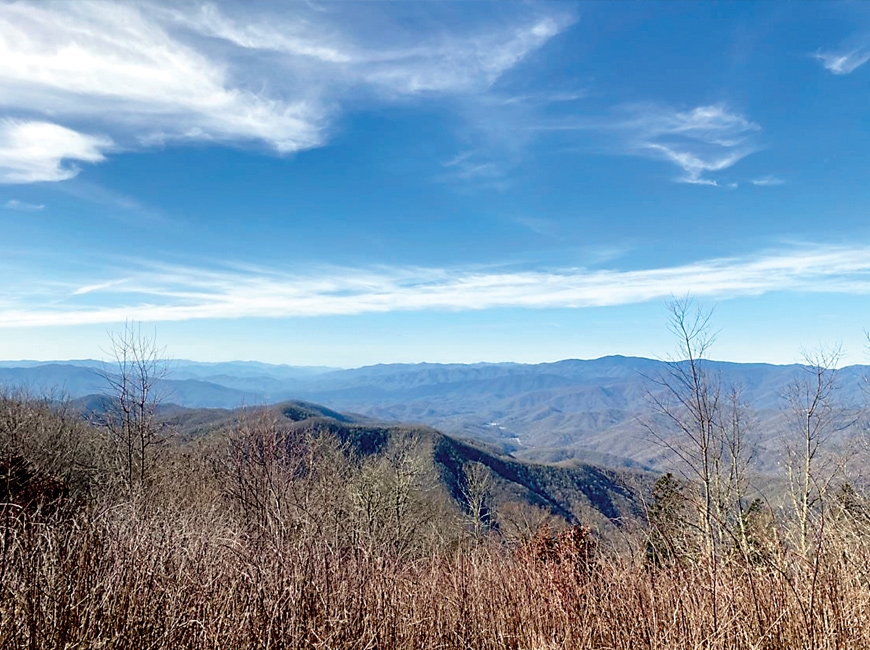 A flat area at the end of Blackrock Road offers a sweeping view and could be used as a helipad in case of emergency. Donated photo
A group of Western North Carolina mountain biking enthusiasts has unveiled plans to bring the highest-elevation mountain bike trail on the East Coast to Jackson County, and after receiving a thumbs up from leaders in Cherokee and Sylva last month they'll start seeking grants to make it a reality.
"Sylva is so set up for this, where it's a destination," said Sylva Commissioner Ben Guiney during a Feb. 25 meeting. "People go out and they ride, then they go to any of our local restaurants and our breweries."
The planned 35-mile trail system would be built across a nearly 2,000-acre area that includes Sylva's Pinnacle Park and adjacent Blackrock Creek Tract as well as the Eastern Band of Cherokee Indians' Shut-in Creek Tract. The latter two properties were conserved in 2019 through a collaborative conservation effort and are now under a conservation easement held by the N.C. Land and Water Fund and monitored by Mainspring Conservation Trust. Mainspring is under contract for an additional 250 acres on the south side of Pinnacle Park, which would be suitable for additional trails should the purchase go through.
Choose your own adventure
While mountain bikers have been driving the efforts and conversations behind the trail project, the plan does not call for "bike-optimized" trails, Wes Bintz of Nantahala Area Southern Off Road Bicycle Association told the board.
The trail system will accommodate a variety of users, from bikers to hikers, and it will feature the wider turns and milder grades that are critical for mountain bikers but omit the berms and jumps that bikers like but that drive hikers and runners crazy. A "stacked loop system" will aim to reduce user conflict, with loops closer to the trailheads featuring wider trails to better accommodate heavier traffic. Loops venturing more deeply into the backcountry will see lighter traffic, and these likely more experienced users will be expected to abide by a set of trail etiquette rules governing who must yield to who when two people cross paths.
Together with fellow Nantahala SORBA member Peter Tay, Bintz has put in about 200 volunteer hours to design the proposed system.
"Really it's about giving the local residents another opportunity to do something close to home, because we can't all drive an hour to experience a trail. It's just not practical," Bintz said.
It's also about attracting overnight visitors to Sylva and Cherokee. The stacked loop system would offer novice riders short and easy jaunts through the woods while giving advanced riders the opportunity for full-day backcountry excursions of 20 miles or more.
"This is a significant amount of single track that would take even advanced riders a full day to try to experience," said Bintz. "This is in contrast to the other local trails we have now, WCU and Fire Mountain, which are really afternoon destinations. This would be a full, total day destination."
That would in turn translate to more overnight stays in Sylva and Cherokee. During an EBCI Planning Board meeting Feb. 16, Principal Chief Richard Sneed said those additional hotel stays would come at a critical time for local businesses, as Harrah's Cherokee Casino prepares to finish work on a hotel tower that will add 725 rooms to the complex.
"Once the new convention center opens, the majority of the hotels around here are not going to have the contracts they've had, because they (Harrah's) won't need them," Sneed said.
Though it's not a partner in the project, Maggie Valley could reap positive benefits as well. Due to the rugged terrain of the Plott Balsam area, no road goes directly through or around the property, so while half of it is accessible from Sylva, the other half is accessible only from roads coming off U.S. 19 between Cherokee and Soco Gap.
Quadruple the trail
Pinnacle Park once served as Sylva's watershed, but since 1991 it's been used for outdoor recreation and conservation.
While it's an increasingly popular hiking area, Pinnacle Park has very little in the way of purpose-built hiking trail. Most of the 9 miles of existing trail are derived from old logging roads, meaning that they're significantly wider and steeper than current sustainable trail guidelines advise. Portions of those existing trails have average grades of 16 to 18 percent, far above the recommended maximum of 10 percent. The project would include rehabilitation and rerouting of existing trails in addition to construction of new ones.
"One of our biggest goals was to find some way to go around East Fork Trail," Bintz said, referring to the trail that branches off from the main route to Pinnacle Rock near the bottom of the property. "If you've been up that, it's an incredibly steep trail that is not sustainably designed, so it needs rehabilitation."
After substantial time spent crawling through laurel thickets, Bintz was able to flag an alternate bypass that would knock the average maximum grade down from 15 percent to somewhere between 6 and 8 percent.
"It's a significant softening of the grade for people trying to get to the top," he said.
In total, the proposed trail system would add 9.6 miles to the existing 9 miles of trail at Pinnacle Park. The Blackrock and Shut-in tracts would get 5.2 miles and 7.9 miles, respectively, of new trail joining a total 3.4 miles of existing paths on those properties. Altogether, it adds up to 22.7 miles of new trail that combines with existing mileage for a total of 35 miles.
"At this time we're keeping all three parcels and treating them as one major unit," said Bintz. "The partnership between Sylva and Cherokee is really important here to make this trail system function fully, and it's a way for both communities to have a trail system that's greater than the sum of their parts."
When complete, the new trail system would rival the acclaimed Tsali Recreation Area Recreation Area, which features four loops for a total of 41.8 trail miles. The 35 miles in the Plott Balsams will be widely spaced, said Bintz.
"This is a considerably lower trail density than what you could normally do with 2,000 acres," he said. "That low trail density is due to the steepness and ruggedness of the existing topography."
This map shows proposed trails in color, existing trails in gray, and emergency access routes in thick orange lines. Donated map
Parking and funding
While town and tribal leaders support the concept, two big questions remain regarding its future, the first of which is where people will park.
Currently, a single parking lot serves the entire 2,000 acres, and it's already too small for even the 9 miles of trail already in existence. When the weather's nice, the lot at the Fisher Creek Trailhead fills up and cars begin to line the sides of the narrow residential road leading to it.
While there are no other parking lots on the property, there are two other existing public accesses. One is a U.S. Forest Service Road at Shut-in Gap on the Sylva side of the ridge, while the other is a steep and rutted gravel road branching off from Black Rock Road in the Wolfetown community. Additionally, hikers can access Blackrock from a trail that begins near Waterrock Knob and passes through other conserved lands before arriving on the Blackrock Tract.
Nantahala SORBA proposes an expanded Fisher Creek Parking Lot as the system's main trailhead and creation of a secondary parking area at the intersection of Blackrock and Shut-in Main Road. Located "at the heart" of the property, this lot would serve the Cherokee side of the property and reduce impact to residential properties in the Blackrock Road community by virtue of its location in the middle of the tract, Bintz said.
Nantahala SORBA's report flags the end of Shut-in Creek Road as a potential parking area but said because the connection would require "significant construction" it would be more useful as an emergency response route than as a dedicated trailhead. A location near Blackrock is suggested for use as a helipad in emergency situations. Forest Service Road 7019 starting at Dicks Creek Road in Whittier is also a potential access point.
During the Sylva meeting Feb. 25, there was some discussion as to the feasibility of using Parris Branch Road as an access route. From a construction standpoint, said Public Works Director Jake Scott, it would be a much easier place to put a parking lot than anywhere else. However, a homeowners' association owns that road, and it's unlikely the organization would agree to accommodate the high volume of traffic likely to use the road should it become a trailhead access.
The second question is who will pay for it all.
"Hopefully it's not going to cost the town anything," Tay told the Sylva board.
He's optimistic that the project, which he estimates could cost about $1 million to complete, could be covered with grant funds from the N.C. Recreational Trails Program, which administers federal grant monies for trail creation and maintenance. These grants require a 25 percent match from recipients, but that match does not have to come in the form of cash. Tay said that the tribe and the town could both use the value of the land and in-kind labor donations from SORBA as their match.
But there is a catch. The grant maxes out at $250,000 per year. Tay is still seeking clarification on whether the tribe and the town could both apply for separate $250,000 grants or whether the endeavor would be considered as one project eligible for only a single grant. Either way, securing the entire funding amount will likely take multiple years. Award announcements for 2021 will come through in November, with preliminary applications due in April and final applications in September.
In addition to presenting the proposal, Tay and Bintz asked both Sylva commissioners and the Cherokee planning board for formal endorsement of the endeavor so that they could note that approval in their grant application package.
While trail construction itself will cost the governments that own the land very little or even nothing at all, the completed projects will incur ongoing expenses. At Tsali, trash removal and portable restroom maintenance at the trailhead costs about $15,000 per year. Tay said that Sylva and Cherokee could expect a similar cost for such services but added that Tsali covers its maintenance costs by charging a small user fee. Sylva and Cherokee could consider instituting something similar.
There is also the issue of law enforcement and emergency response. During multiple previous discussions, Sylva Police Chief Chris Hatton has told the board that his department is not prepared to respond to backcountry emergencies in the Pinnacle Park and Blackrock Creek properties. During a Jan. 29 budget meeting, he told commissioners that he'd had "a little bit of a panic feeling" following a recent call that a family including small children was lost in the area on a night when freezing temperatures were predicted.
Luckily, the family found their way out just as police arrived to start looking, but they did not have the means to maneuver around the rugged property had a search been necessary. The town is considering buying a $19,000 Polaris ATV to aid future search and maintenance efforts.
During the discussion in Tribal Council, former Chairwoman Terri Henry — who is now director of the Tribal Employment Rights Office — reminded council members that there have already been issues with break-ins and poaching in the area and urged them to consider law enforcement when making their plans.
"There's a serious law enforcement issue and natural resources enforcement issue that should be taken into consideration as well as respect for the property owners who live in Blackrock and Shut-in," she said.
While those are significant issues to address, Bintz and Tay are certain that the trails will be a net benefit to the community, citing a 2018 study funded by The Outdoor Alliance that found mountain biking visitors spend an estimated $30.2 million each year in and around the Nantahala and Pisgah National Forests, supporting 366 full-time jobs and $9 million in job income.
"It's to give community members a place where they can run, they can bike, they can dog walk, they can bird, they can hike — all the same trails, all year long, and they'll essentially have different experiences with every single one of those modalities," Bintz said. "It's something that won't get old after a couple of years."