Archived News
Tribe votes for Plott Balsam conservation
Wednesday, February 13, 2019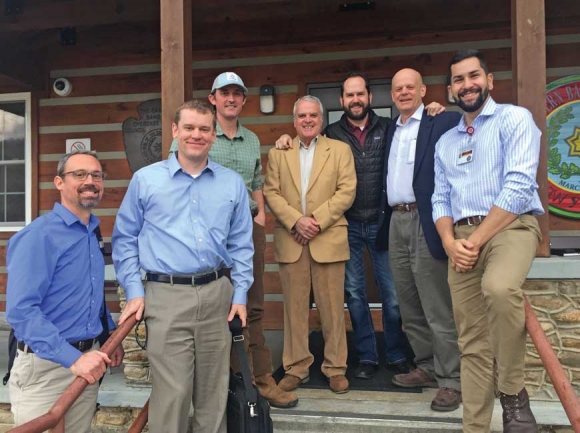 The team of nonprofit and government partners behind the conservation project celebrates Tribal Council's approval of funding outside the council house Feb. 7. The team includes (from left) Mainspring Deputy Director Ben Laseter, Mainspring Land Conservation Manager Jordan Smith, the tribe's supervisory biologist Mike Lavoie, Pinnacle Park Foundation Chairman J.K. Coward, EBCI Secretary of Operations Jeremy Hyatt, The Conservation Fund N.C. Director Bill Holman and EBCI Secretary of Agriculture and Natural Resources Joey Owle. Holly Kays photo
An effort to conserve 912 acres along the Plott Balsam ridge in Jackson County cleared the final hurdle of a five-year-long race last week when the Cherokee Tribal Council narrowly voted to contribute $1 million to the project.
"That watershed is going to be preserved forever," Jay Coward, a Sylva attorney and longtime Pinnacle Park Foundation chairman, told Tribal Council as its members deliberated Feb. 7. "This is a perpetual thing. It's going to make that one ridge dynamically special."
The property in question abuts Sylva's 1,088-acre Pinnacle Park, as well as the Nantahala National Forest, the Qualla Boundary and more than 5,000 conserved acres that are in the process of being transferred to the National Park Service. It's rugged, high-elevation land featuring panoramic views, sparkling waterfalls and the headwaters of Blackrock and Shut-In creeks, which supply the tribe's water.
Homebuilder America's Home Place purchased it for development, but when the recession hit those construction plans began to look less feasible, and the company approached The Conservation Fund about selling the land for conservation instead.
The plan evolved over the course of multiple years, with the final agreement a complex arrangement involving the Town of Sylva, Jackson County, the Eastern Band of Cherokee Indians, Mainspring Conservation Trust, The Conservation Fund and private donors. Last year, Jackson County and Sylva both voted to contribute $250,000 apiece to purchasing the 441.5-acre Blackrock portion of the property, with funding completed through $500,000 in private funding and a $1 million grant from the Clean Water Management Trust Fund. After the purchase, Sylva will own the property and add it to its existing Pinnacle Park tract.
Mainspring took the lead on conserving the 471-acre Shut-In Creek portion, landing a $500,000 Clean Water grant and securing $500,000 in private donations to round out the $1 million it hoped to receive toward the $2 million purchase price from the tribe, which would ultimately end up owning the property.
Debating developability
But first, the partners had to get Tribal Council to vote yes.
The purchase was briefly discussed in the tribe's Budget Council meeting Feb. 5, but because Vice Chief Alan "B" Ensley and Councilmember Bo Crowe, of Wolfetown, were both absent due to illness, council opted to table the vote for the end of the planned Tribal Council agenda for Feb. 7 so those officials could voice their opinions.
When the discussion began Feb. 7, Crowe and Ensley both expressed concern about the proposal. Crowe said his constituents who live nearby were worried that people using the conserved property would wander onto their adjacent private land, or that public rights-of-way would pass over their properties.
Secretary of Agriculture and Natural Resources Joey Owle assured Crowe that the project would not require any right-of-way over tribal members' possessory holdings and that the property's topography would strongly discourage visitors from passing onto private holdings.
Ensley, meanwhile, told Tribal Council that he was against the project entirely. The proposed resolution asked the tribe to grant right-of-way access on Blackrock Road — which passes through tribal land — to Town of Sylva and Mainspring personnel. If the tribe simply refused to grant any rights-of-way on that road, ever, then the property — which "ain't fit for anything but rock cliffs and growing mountain ivy," said Ensley — would be inaccessible and remain undeveloped, he said.
"For the tribe to put a million dollars into 470 acres that can't be developed to begin with is a total waste in my opinion," said Ensley.
Others disagreed with that assessment.
"I think this is a good investment," said Jeremy Hyatt, the tribe's secretary of operations. "I think that the fact that we are protecting our watershed is enough in itself, especially when we're paying half the appraised price for it. Water is our lifeblood. We talk about it all the time."
Besides that, the economic opportunities are huge, said Hyatt, citing the marked success of the still-fledgling Fire Mountain Trail System. That system has 10.5 miles of trail on 212 acres and has drawn a steady stream of mountain bikers to town to ride the trails and spend money on food and drink, with two successful outdoor businesses locating in Cherokee as a result.
Last year, Fire Mountain hosted its first mountain bike race and drew 150 riders, a level of participation that Hyatt said is "unheard of" for a first-year event. The Shut-In property offers opportunity to continue expanding on that ecotourism niche. The negotiated conservation easement would allow for a variety of uses, including mountain biking, limited hunting, sustainable harvest of craft materials and food plants and more.
"It's not just cycling. It could be camping. For all I know it could be hunting, horseback riding. It could be a zillion things," said Hyatt. "I have been to this property. It's not just rock cliffs. It's beautiful."
"I believe the statement was made earlier that there's no use for that land," added Owle. "Well that's just not true if you get outdoors and use it."
Principal Chief Richard Sneed shared that point of view.
"We now have an opportunity through Mainspring Conservation Trust to get this property at half price," he said. "It protects our watershed. We have the opportunity for economic development. We're going through this long process to ensure our people have the ability and the right to harvest plants for food in the national park — that's built into this agreement as well. Everything that is important to us is included in the language of that."
Next steps
However, some council members were less than thrilled that the tribe was being asked to pay $1 million for its portion while the two government partners in Jackson County were putting in half that between them.
"We're paying double what they're paying for about the same amount of acres," said Vice Chair David Wolfe, of Yellowhill.
"I'm all for protecting our water and our natural resources, but I think Jackson County can do better than what they're doing," agreed Councilmember Tommye Saunooke, of Painttown, directing her comments at Coward. "You need to come up with more money up there instead of asking the tribe."
Wolfe also worried about the implications of increasing traffic through the neighborhood without consulting with the handful of members who live up that way, though Owle responded that relying too much on those opinions could be unfair, since the tribe doesn't do the same thing when deciding to build along busier corridors like U.S. 19 or U.S. 441.
Ultimately, Tribal Council approved the purchase — but barely. It passed with a weighted vote of 49-32, with 19 votes absent. In favor were Councilmembers Jeremy Wilson, Boyd Owl, Perry Shell and Crowe, as well as Chairman Adam Wachacha. Opposed were Councilmembers Lisa Taylor, Richard French, Bucky Brown, Saunooke and Wolfe. Councilmembers Tom Wahnetah and Albert Rose were absent.
The vote provided the final funding required to carry the project through to completion. The Conservation Fund is scheduled to close on the property with America's Home Place this month, and in early April a separate series of closings — to take place consecutively in a single sitting — will result in the Shut-In tract being transferred to tribal ownership and the Blackrock tract deeded to Sylva, which will manage it as an expansion of the existing Pinnacle Park property that adjoins it.
Sylva and Jackson County both voted unanimously last month to approve a memorandum of understanding for the purchase and management of the Blackrock property, with the county voting Jan. 22 and the town Jan. 24. The agreement allows for all types of "passive recreational uses" including hiking, fishing, hunting, mountain biking, education and more, also stating that if the town decides to sell the property or restrict its use further, it would be required to refund the county its $250,000.
Editor's note: This story was reported using online meeting videos, as Tribal Council's April 2018 decisions to ban non-Cherokee media from its chambers prevents The Smoky Mountain News from attending in person.