Archived News
Global market for recyclables is down in the dumps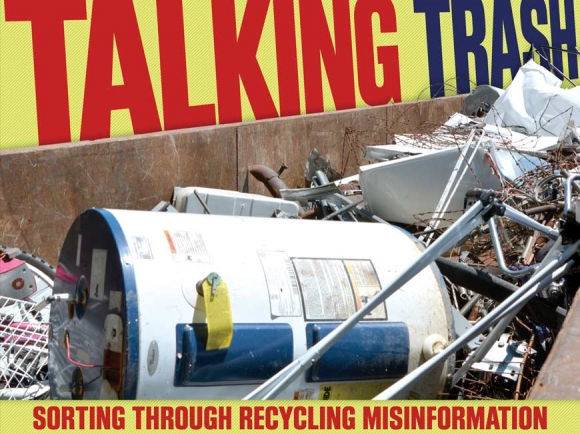 Local governments try to do their best in keeping recyclables out of local landfills, in part because it extends the life of the landfill and saves taxpayers money, and in part because of the tremendous energy savings realized when something like a glass bottle is made into a new glass bottle.
But those recyclables don't just magically appear somewhere, ready for repurposing. They're collected curbside or at convenience centers and then hauled to places like Haywood County's Materials Recovery Facility, where they're separated, stockpiled and shipped to sorters who sell to buyers.
Unfortunately, buyers aren't always buying.
SEE ALSO:
"You have to understand the recycling market," said Kris Boyd, Haywood County's development services director who also serves as solid waste administrator. "It's just like all other economic drivers — some things are up, some things are down. Cardboard was always pretty good, but now it's down a lot. By some accounts, it's about 20 percent of what it used to be."
In 1960, municipal solid waste generation was estimated to be about 88 million tons a year, according to global business data website Statista. That grew steadily to an estimated 265 million tons in 2015.
Of that 88 million tons in 1960, only 5.6 million tons of it was recycled, or about 6.4 percent. Thankfully, that number has grown through the years, with more than 25 percent of 2015's trash — about 67 million tons — now being recycled.
That's led to a global waste recycling services industry that was valued at $265 billion in 2017 and is expected to grow to $377 billion through 2024.
That estimate, though, might have to be revised downward in light of a recent move by China, which had long been the biggest buyer of recyclables in the world.
After it joined the World Trade Organization in 2001, China began shipping consumer products across the world in shipping containers; rather than let the containers come across the Pacific Ocean back empty, Chinese firms began buying up all the recyclables they could.
Early in 2018, the Chinese government enacted a policy known as "National Sword" but also called "Green Sword." The anti-pollution measures in that policy banned four categories of recyclable imports outright, and further demanded that imported recyclables be 99.5 percent free of contamination; even the best American firms only reach about 97 percent contamination-free loads.
As a result, demand for certain types of recyclables has plummeted, and recyclables that used to sell quickly can now languish for months.
A pile of refuse awaits processing at Haywood County's Materials Recycling Facility in Clyde. Cory Vaillancourt photo
"Some things now, there's no market to recycle them," said Boyd. "One of them is carpet. There used to be a market, now there's nowhere to take it to recycle."
According to Haywood County Recycling Coordinator Zondra Kuykendall, other things that used to be in high demand like the rigid plastics found in outdoor furniture aren't as sought after as they once were. The same goes for plastic bags.
At least part of that is due to the emergence of cheap domestic shale oil that makes creating new plastics cheaper than at almost any time in history; recyclable plastic exports from the United States dropped from an all-time high of over 5 billion pounds in 2014 to less than 4 billion pounds by the beginning of National Sword.
Boyd says there's still a market for electronics and televisions. Tires and computers, also still in demand, end up getting shipped to buyers in Northeast Georgia.
"We do recycle things, we just don't have the markets very close for a lot of them," Boyd said. "So we will stockpile them until there's a tractor-trailer load, and ship that tractor trailer load in time."
According to a CBS News report last fall, a bale of mixed paper used to go for about $100, but now it actually costs money — about $15 — to get rid of it.
The United States has no national recycling policy, so some municipalities have tried to find other markets in other countries for their recyclables, often to no avail, but some segments of the global market remain strong.
Last year, U.S. exports of scrap steel were up 18 percent over 2017, and scrap aluminum rose by 16 percent.
Still, some municipalities are being forced to dispose of some of their unrecyclable items in their local landfills.
"If there's no market to recycle, that's our only option," Boyd said. "We prefer to recycle, obviously. But when that bell [curve] pops up on the other side, there will eventually be a place for it."