Archived News
'Zero Waste' group forms in Haywood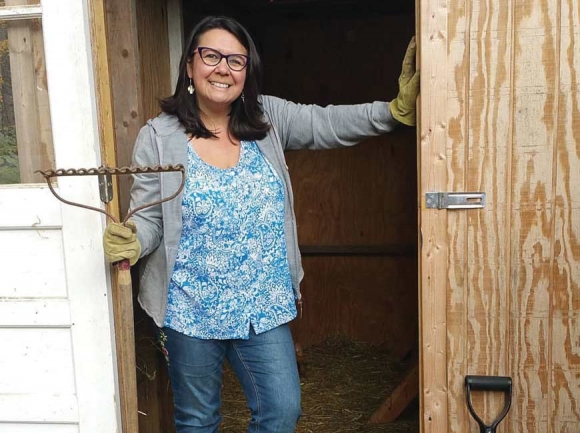 Tatia Childers.
Recycling is great but there is more people can do if they want to keep trash out of the landfill — don't produce as much trash.
Waynesville resident Tatia Childers — a certified sustainability consultant and zero-waste coach who recently received a bachelor's degree from Purdue University in health and wellness with an emphasis in environmental science — is trying to raise awareness about the importance of reducing waste by starting a Toward Zero Waste chapter for Haywood County.
"Once I started having children, like all parents, I wanted to leave a healthy planet for them when I die. I feel like I can't truly tell them that I love them if I'm not willing to do everything I can to make sure that happens. Love isn't about convenience. It's about doing the difficult — or inconvenient things — no matter what," Childers said.
The mission of Toward Zero Waste, a statewide organization, is to create "a North Carolina where individuals, families, businesses and local governments are mindful of the waste they create and take active steps to drastically minimize landfill contributions." The organization is working toward a state where reusing, refilling, repairing, composting and bringing-your-own become the norm, where recycle bins are used only when necessary and were garbage bins are used as a last resort.
To get the group going, Childers started a Facebook page that has about 25 members right now. Anyone looking to learn more about sustainability and ways to reduce their waste is welcome to join the group. So far, the group has been communicating online but there will be a Toward Zero Waste Happy Hour Mixer at 7 p.m. Friday, July 5, in the Birdie Room at the Waynesville Inn.
"When we moved here, I loved the town of Waynesville's tagline of 'progress with vision,' but then was dismayed to see that being environmentally responsible didn't seem to be very high on the list of priorities," she said. "That's why I volunteered to lead the Toward Zero Waste Haywood County Facebook group. It's a place where residents can share resources, provide support for one another in their Zero Waste journey, ask questions, and band together to create change in our beautiful corner of the world."
While the market for recyclables varies throughout the year and you may not be sure what is actually recycled and what ends up in the landfill anyway, Childers said it's much easier for people to simply reduce the trash they create in the first place.
"Recycling is a business, so if there is no market for the materials that we send to be recycled it's because not enough people and businesses are demanding recycled products. The more we demand recycled products, the more they will be produced, creating more demand for recyclable materials," she said. "However, even recycling isn't the pinnacle of what we should be doing. Recycling should be our last choice. If we can get out of the mindset that by sending anything to be recycled, we're doing our part, that would be a huge step in the right direction."
Childers wants people to go beyond recycling and that means changing the way you shop, how you cook and how you store items at home. People have to rethink everything from using disposable plastic bags at the grocery store to the packaging food comes in at the store or in a take out container.
"Opting for things that are reusable, thrifted, repaired, etc. first should be the go-to, rather than something that is disposable because when something is thrown away, there really is no 'away — it has to go somewhere," she said.
Childers encourages residents to find alternatives to the items that can't be recycled and to stop using one use plastics like water bottles, containers and straws. Those items can easily be replaced with reusable bottles, reusable containers and metal straws. Making those simple changes will eliminate the need to recycle and also save you money.
"I'm happy to come and talk to groups, businesses, or other organizations if they would like to get started on their journey," she said. "I know it can seem overwhelming at first, but with a strategic, step-by-step plan, I know that anyone can make simple changes and different choices. Sometimes the problem is simply not knowing that other options are available, so I do my best to help."
Search for Toward Zero Waste Haywood County and ask to join the group to be a part of the movement or visit www.towardzerowaste.org to find out more.