Archived News
Local waste management resources expensive, finite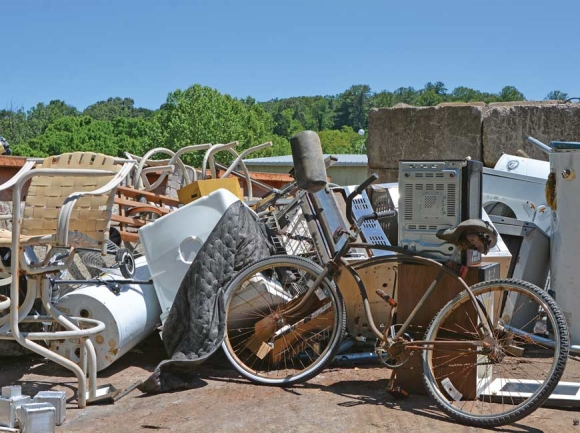 A pile of refuse awaits processing at Haywood County's Materials Recycling Facility in Clyde. Cory Vaillancourt photo
Most people don't give a lot of thought to what happens when they throw something away, but the ecological and economic consequences of the western consumerist lifestyle don't end when that bag, bottle or box hits the garbage can.
"So many people think, 'It's gone, I've thrown it away, it's in the compactor in the convenience center,' but that's where the life starts, and where the expense starts," said Kris Boyd, Haywood County's development services director who also serves as the county's solid waste administrator.
The story of Haywood County's waste disposal process begins with two characters, affectionately referred to as "Wolf" and "Murph." Wolf is the county's White Oak Landfill — hence "WLF," located in the Fines Creek area.
"It's not a dump," said Haywood County Manager Bryant Morehead. "There's a lot of science behind everything."
True trash with no recyclables goes to WLF, where two of seven available cells have already been filled; at current rates of disposal, there's at least another 30 years of use left in the site, which has a capacity of 160,000 cubic tons of trash per year.
All Haywood County municipalities use WLF, which is managed by private company Santec and is permitted by the state to accept waste from up to 18 surrounding counties, but currently only four — Buncombe, Henderson, Madison and Jackson — have a contract with Santec to bring trash to the site. Santec collects a fee for that privilege, of which Haywood County receives a small percentage.
Madison and Jackson's contributions are very small, according to Haywood County Program Administrator David Francis, but as WLF's capacity is finite, county officials are doing everything they can to ensure its longevity.
"I've heard for years, that it would almost be impossible to permit a new [landfill], not specifically here, but anywhere in the state," said Morehead. "But in North Carolina, we're growing like crazy, so as a state we've got to figure out how to do a better job because — talking about NIMBYism, nobody wants a landfill in their back yard."
That's where "Murph" comes in. The Materials Recovery Facility — MRF — in Clyde accepts and attempts to process recyclables, to help keep things out of WLF that don't belong there.
Those recyclables come from citizens dropping them off directly at MRF, from curbside pickups in municipalities or from one of the county's 10 convenience centers.
Three convenience centers have recycling compactors — Mauney Cove, 209 and Hazelwood — but not every recyclable can go to the convenience centers. Things like TVs and tires have to go directly to MRF, but some convenience centers accept used oil and oil filters, compact fluorescent bulbs, antifreeze and other hard-to-dispose-of items.
Blocks of baled paper sit inside the warehouse at MRF. Cory Vaillancourt photo
"At some of our larger convenience centers, we're trying to accept more things, but some like Hazelwood are so tight and compact, you can't get anything else in there," Boyd said.
But there are still lots of myths and misinformation out there about recycling in general — something Francis says the county is trying to counter.
"Kris and Bryant and I have been working through some of these challenges, and we thought we needed to dedicate someone to that," he said.
That someone is 19-year county employee Zondra Kuykendall, who recently added the title of "recycling coordinator" to her other county duties.
"There's lots of efforts to really promote it more than we have in recent years," said Boyd.
Kuykendall said she was about to embark on a public education campaign, including in schools, but also took the opportunity to dispel a lot of popularly held beliefs about what recyclables are and how they're handled.
"We're doing single-stream now, it all goes together, your cardboard, everything will go into that compactor together," she said. "No plastic bags, no plastic film, anything that's film-ish, Styrofoam, even if it's got a number on it, we don't take Styrofoam because we don't have a way to process that."
Even the term "single-stream" doesn't mean what many people think it means.
"When we said single stream, everybody thought, 'Oh, I'll put my recycling and my trash in the same can because it's all together and they'll sort it,'" she said. "General household recyclables — anything that you're going to generate in your kitchen, in your bathroom, your bottles, cans paperboard, paper, toilet paper rolls, that kind of thing, that all goes together."
The biggest misconception, though, about local recycling efforts isn't the difference between single-stream and the county's old dual stream system — it's about contamination.
"That seems to be the single biggest thing we can address and educate the public on," said Boyd. "That's the single biggest thing we see, is the lack of understanding of what is a clean recyclable."
Take a plastic Coke or Pepsi bottle, for example. If you throw it away with a small sip remaining, that bottle cannot be recycled. Even if you screw the cap back on the bottle before placing it in a recycling bin, if that bottle gets punctured in transit (possible) or in a compactor (probable), that sticky-sweet syrup will contaminate everything it touches, rendering other recyclables unrecyclable.
"People don't understand how contaminated things can be," Boyd said. "A pizza box — the grease on the bottom contaminates it. But if it's clean on the top, you can rip that off. That's why it's perforated."
Along those same lines, other unwashed recyclables aren't actually recyclable — things like yogurt cups or cans that once contained meats and vegetables. Even Starbucks cups, which obviously have coffee on them, are contaminated — only the cardboard sleeves are recyclable, but at least the lifespan of that cup in a landfill is short, and it may have already been made from recycled paper in the first place.
Then there are the multi-component recyclables, like cereal boxes. The box is recyclable, but the bag inside is not, similar to the cardboard Amazon boxes that also contain unrecyclable plastic packets filled with air for shipping.
Such recycling mistakes nationally end up contaminating upward of 25 percent of all materials bound for recycling.
Several refrigerators await their eventual fates outside MRF in Clyde. Cory Vaillancourt photo
"We hear one comment a lot — 'I saw them dump a bunch of plastics in the landfill when I was out there.' Well, you probably did," Boyd said. "That's the only place to dispose of it, if they become contaminated. People don't understand contamination. If you don't rinse that drink can or bottle and get that contamination out of that bottle, it does go in the trash. It's going to get kicked out. So you wasted your time putting it in a bag, you wasted your time putting it in the recycle compactor, we wasted our time trying to haul it to Curbside [an Asheville-based sorting center] when it gets kicked out because of contamination."
Kuykendall said that the state does not allow certain recyclable items to enter a landfill.
"We have a cardboard ban, a tire ban, a plastic bottle ban and aluminum ban," she said. "By law, you can't knowingly throw them in the landfill, but once it's contaminated, it's not a recyclable. I get a lot of people who just leave things dirty, [saying,] 'It's going to end up in the landfill anyway.' That's the mentality we're trying to change. If it goes to the landfill, you bury it once, but you're paying for it forever. Instead of paying for 50 years to have that bottle sit in the landfill, give it a quick rinse, and it's going to become something else."
There's also the misconception that Haywood County is being used as a dumping ground for out-of-state trash.
"We can't take anything from out of state," Kuykendall said. "So even as close as it is, we can't take anything from Tennessee."
Boyd said he gets complaints like that regularly.
"I've heard people say, 'I just saw a truck with Florida or Georgia plates [full of trash headed for Haywood County],'" said Boyd. "Well, Waste Management has lots of tags on lots of vehicles. We hear that a lot about tags from Louisiana."
Francis said that even if it were allowed, transporting trash isn't cost effective after about 70 miles. Finding cost-effective solutions is in everyone's interest — in fiscal year 2019, the county spent $6.37 million on its waste management operations at WLF, MRF and the convenience centers. This year, the county will spend $6.42 million.
There aren't really many other options on the table for reducing the amount of waste that goes into the finite confines of WLF, so ensuring the public is knowledgeable about the limits of Haywood's system seems to be the wisest thing to do.
"There's always something," Boyd said of emerging technologies in recycling. "Folks talk about incineration, and there is a mechanism for recycling Styrofoam, but the cost for a private investor is enormous."
That, coupled with the county's current investment in WLF and MRF, means that the way Haywood County handles its waste is unlikely at any time in the foreseeable future.
"We set a path with buying that much land for the landfill, and opening it with seven projected cells over the life of that," said Boyd. "We're only in cell three out of seven, so there's 30-plus years of life. The 'cutting edge' is not enough, or not cheap enough, to warrant throwing away that investment."