Archived Outdoors
The Naturalist's Corner: Bald eagles, gators and manatees, oh my
Wednesday, April 24, 2019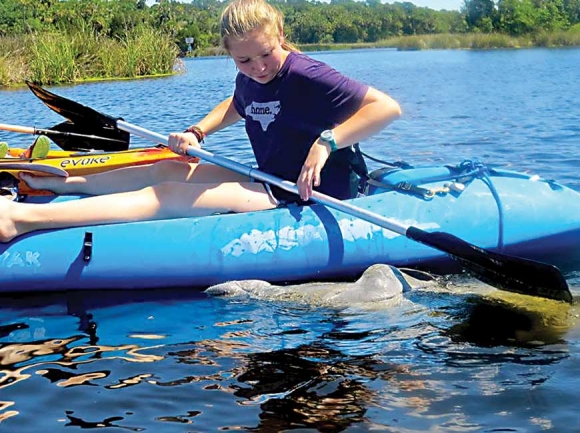 Lily Seymour and friend. Don Hendershot photo
It was another great Spring Break along the Gulf Coast of Central Florida. We stayed in Homosassa Springs on the Halls River.
The Halls River is the main tributary of the Homosassa River and both are designated as "Outstanding Florida Waters."
The Halls is only about 2.5 miles long from its headsprings to its confluence with the Homosassa. We booked our stay online through VRBO, mainly based on the photos and the knowledge there were kayaks and river access right from the property and we got more than we anticipated. The Riverlake Cottage sits on two wooded acres and is one of only 10 private properties on the Halls. The easy launch site on a small canal is less than a minute's walk from the cottage. Well, it could be lass than a minute unless you happened to have two 13-year-old girls in tow who created a morning ritual of sharing the rinds from our fresh-squeezed Florida orange juice, banana peelings and other assorted leftovers with the two pigs, various chickens and ducks plus the emus belonging to our generous, accommodating and knowledgeable hosts Gary and Joanne Bartell who live adjacent the cottage.
We slide our kayaks into the mullet-filled canal, say goodbye to the menagerie and in a few short strokes we glide into one of the open ponds along the Halls. The Halls is a series of narrow channels through a lush brackish marsh with a backdrop of lowland hardwoods and palmetto punctuated by open ponds and the occasional hardwood hammock.
Riverlake Cottage is probably a half-mile or so downstream of the headsprings, and on the afternoon we arrived Denise and the girls took a short paddle upstream. But this more developed stretch wasn't as appealing as "Old Florida" downstream so we focused our daily paddles in that direction.
Denise and I paddled solo, Maddie, our daughter, and her friend Lily paddled tandem and generally left us in their wake. The Halls is an easy paddle, the gentle current will keep you drifting downstream but is no great obstacle on the return trip. The wind can be more problematic, especially in the open ponds but if it gets too strong you can always hug the marsh where the tall grass gives relief. Plus we found the prevailing wind usually comes in from the Gulf, thus was blowing us back upstream on our return paddle.
I was drifting along, the first morning out, taking some photos while Denise and the girls decided to explore one of the ponds. They were around a bend out of sight and when they didn't return for a while I decided to investigate. When I rounded the bend, I saw the boats together and they were waving and pointing at the water in front of the boats. They had been discovered by three friendly manatees.
It's important to remember manatees are endangered and the Florida Manatee Sanctuary Act of 1978 states: "It is unlawful for any person, at any time, intentionally or negligently, to annoy, molest, harass, or disturb any manatee." So there are rules of manatee engagement in the wild. Mainly, do not pursue them. They are big ole curious critters and if they are in the mood they will approach you. If you are in the water, they might nudge or bump you; if you are in a kayak they might rest against it. If they do, you may touch them lightly with one hand — it's illegal to put two hands on a manatee.
These three manatees were definitely in the mood for some interaction, they would come right up against the kayak and roll over for a belly rub. That was the first morning and we were really fortunate. We saw manatees the next two mornings as well but they did not approach, so we watched from a distance then went on our way.
We paddled three mornings, Thursday, Friday and Saturday. Saturday was the only day we encountered other kayaks; Thursday and Friday we were completely alone on the river — alone as far as human contact. But animal-wise it was a different story. Along with manatees, we encountered mullet, gar, sheephead and other fishes plus one alligator. River otter was the only mammal we saw in the river but avian species were well represented — herons, egrets, cormorants, anhingas, wood ducks and more. Saturday was a four bald eagle morning.
We also slipped away one evening for a Gulf sunset. The Halls, Riverlake Cottage, manatees and the Gulf made for a great spring break. And we even discovered a little unique Homosassa history … more later.
(Don Hendershot is a naturalist and a writer who lives in Haywood County. He can be reached at This email address is being protected from spambots. You need JavaScript enabled to view it.)