Archived Opinion
George Robert Ellison II — Thoreau in a jockstrap
Wednesday, February 22, 2023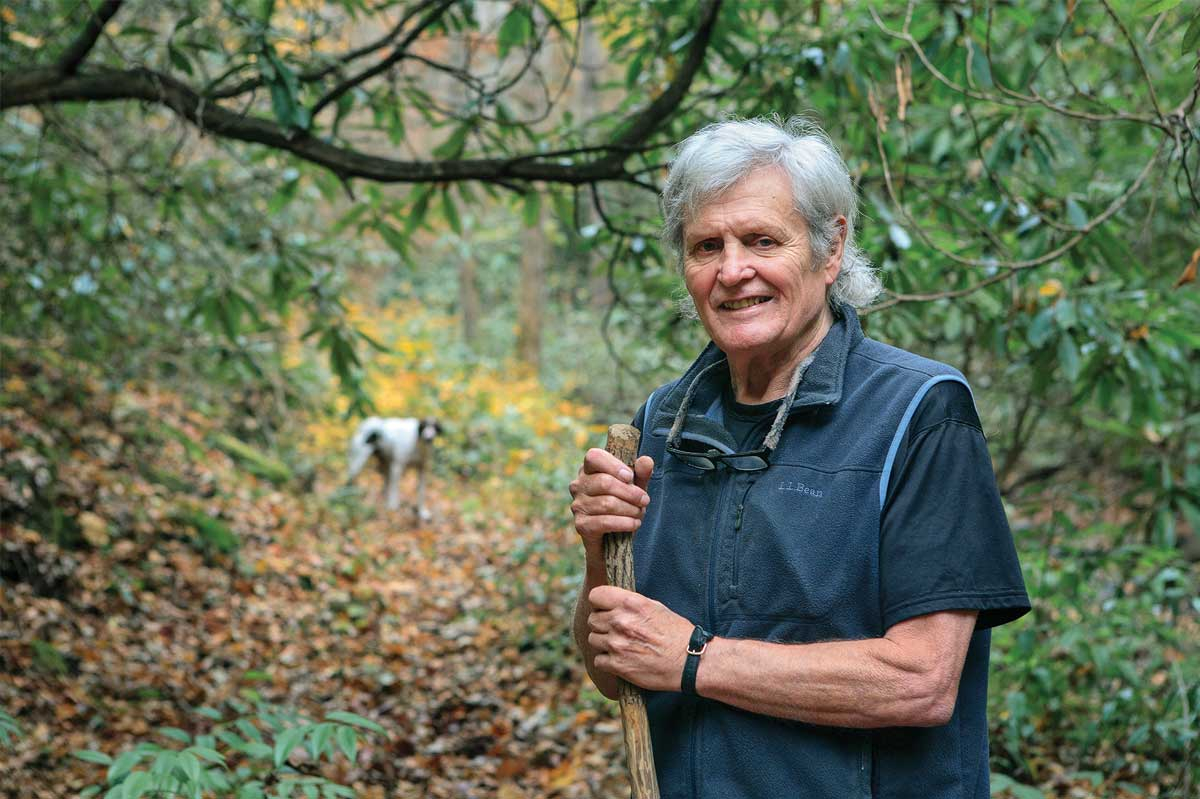 Writer and naturalist George Robert Ellison II passed away Sunday, Feb. 19, at the age of 81. Donated photo
Editor's note: George Ellison, a renowned naturalist and writer who lived in Bryson City, passed away on Sunday, Feb. 19. Below is a tribute to Ellison by Don Hendershot. Ellison wrote hundreds of columns for The Smoky Mountain News, which can be read by searching our archives at smokymountainnews.com.
There is a space, a void, an empty spot in the soul of Appalachia. It's like when you're watching one small ember in a pile of glowing embers and suddenly it burns out — it's simply gone and nothing will replace it. That peculiar and singular ember — that place in Appalachian history and folklore that will never be filled again — that place was George Robert Ellison II.
I first encountered George in Highlands, N.C., sometime in the mid- to late 1980s; pretty sure it was at a "naturalist's" program at The Mountain Retreat & Learning Center. Back in the day if a program said "naturalist" you would surely find George's name. George led trips and/or presented programs for groups and venues ranging from North Carolina Arboretum, University of Tennessee's Smoky Mountain Field School, North Carolina Center for the Advancement of Teaching, to the Intentional Growth Center, Center for Life Enrichment, to the Swag Inn on the Cataloochee Divide, to Snowbird Lodge, etc.
George brought a combination of academia (exhaustive scholarly research), first-hand knowledge (gained through years of tromping over these mountains studying their flora and fauna) and enthusiasm for this "place." One of George's most beloved programs was titled "Where are We — The Geologic Past & Present Day Geographic Setting of the Blue Ridge Province." The program was informative, educational and entertaining, whether you were college professor or a "little ole lady in tennis shoes."
Suffice it to say George was "the" naturalist when it came to Western North Carolina and the greater Southern Appalachians. George grew up in Danville, Virginia, where he excelled as an athlete. He was a wrestler and a football player. George was an All-State football player and captain of his Danville high school team. He was also captain of University of North Carolina's freshman squad and played for the Tar Heels until a knee injury against Ohio State sidelined him in 1962. That's when the football player turned scholar, getting a degree in English; grad school at University of South Carolina; and teaching at Mississippi State before the lure of the Smokies brought him to Swain County.
George and Elizabeth lived in a tiny cabin on 46 acres — surrounded on three sides by the Great Smoky Mountains National Park — where they raised three children in a pioneer-like setting. I believe it was 2004 when they first got electricity in the cabin. They recently placed their beloved homestead in a conversancy, ensuring the cabin, stream and acres they tromped for five or so decades will not be developed.
George's literary accomplishments are well documented but I will list a few here: He wrote the biographical introductions for the reissues of two Southern Appalachian classics: Horace Kephart's "Our Southern Highlanders" (Knoxville, University of Tennessee Press, 1976; originally published 1913) and James Mooney's "History, Myths, and Sacred Formulas of the Cherokees" (Asheville: Historical Images, 1992; originally published 1900). A collection of his essays, "Mountain Passages: Natural and Cultural History of Western North Carolina," was published in 2005 (Charleston SC: The History Press) and has gone into its fourth printing. In 2006, the same press published "A Blue Ridge Nature Journal: Reflections on the Appalachians in Essays and Art," a large format volume that includes 30 of George's essays on the natural areas, flora and fauna of the southern mountains as well as 40 full-color watercolors and 30 illustrations by his wife, Elizabeth Ellison, and it continued with his prose and poems being recognized. In 2019, Ellison was honored with the prestigious Thomas Wolfe Memorial Literary Award for co-authoring with Janet McCue, "Back of Beyond: A Horace Kephart Biography," by the WNC Historical Association.
Few naturalists (and I am one) can ascribe to George's penchant for historical accuracy and documentation. But some naturalists (and I am one) can reflect on George's enthusiasm for accuracy and documentation. I have had to wade through shin-deep mud with George to verify we were, in fact, hearing sedge wrens at Kituwah. And few naturalists, far too few, ever had the opportunity to spend time with George — I was one of the lucky ones.
My personal eulogy for George — forgetting about his prodigious literary accomplishments and the cementing of his legacy in the tomes of Appalachian literary history: George didn't talk much about his football career, but was always willing to tell you he was a wrestling star at Danville High School (he had a "take down" move that couldn't be countered.) He felt so secure about that move that once in the late 1970s he decided to take on "Victor the Wresting Bear" in Cherokee. In George's words : "You'd suppose that few people would want to wrestle a bear, but in Cherokee in those days there was always a line of guys at the cage door waiting their turn. Most lasted about half a minute. I had wrestled in high school. I thought I saw a weakness in Victor's technique. I didn't think I could whip Victor, but I did suppose that maybe I could get his attention and hold my own for several minutes.
"The next Saturday my wife, our three children, several friends, and I drove over to Victor's place and went in. I got in the participant line. I recall being a little apprehensive, but not too much since Victor had been de-clawed and had a wire muzzle on his snout.
"When my turn came, I pulled off my shirt, underneath which I had a T-shirt that had a picture of Superman on the back and S-U-P-E-R-M-A-N spelled out on the front. The crowd went wild, but as I was entering the cage the bear's owner and attendant, whose name was Tuffy Truesdale, leaned over and whispered in my ear: 'The bear can't read.'"
That was the George I knew.
Sometime in the mid- to late 90s George posted a pic from Lake Junaluska that he identified as a Bewick's wren. I studied the photos and replied that it looked more like a Carolina wren. George changed his post, with some "George" demeaning remarks about me and said he believed this was actually a Carolina wren.
I didn't think much of it until later that spring after one of George's "Great Smoky Mountain Birding Expeditions" (which I attended religiously) when counters would gather at that tiny cabin in Swain County and have an adult beverage and recount the progress so far. It was then and there that George announced that I had rescinded his posting of a Bewick's wren and suggested the only way to resolve the issue would be a wrestling match. I immediately jumped up and proclaimed that after further review he (George) could have actually seen a Bewick's wren.
I believe people who knew George well are cemented by a particular glue, fomented by intelligence, wit, ability and a historian's desire to get it right. I will wrestle you in heaven or on whatever plane we may find ourselves, but I will know you right away.
(Don Hendershot is a writer and naturalist and the author of the long-running Smoky Mountain News column "The Naturalist's Corner." This email address is being protected from spambots. You need JavaScript enabled to view it.)
Leave a comment
6

comments
Thank you, Don, for sharing memories of your relationship with George Ellison. I never had the privilege to meet him. However, I feel as if I knew him personally from conversations and books my son, Brent Martin, often shared with me. I feel lucky to have a copy of his and Elizabeth's book, "A Blue Ridge Nature Journal: Reflections of Nature on the Appalachians on Essays and Arts." It's a beautiful book -- one I will cherish always. He will truly be missed.

Monday, 02/27/2023

Thank you, Don, for sharing memories of your relationship with George Ellison. I never had the privilege to meet him. However, I feel as if I knew him personally from conversations and books my son, Brent Martin, often shared with me. I feel lucky to have a copy of his and Elizabeth's book, "A Blue Ridge Nature Journal: Reflections of Nature on the Appalachians on Essays and Arts." It's a beautiful book -- one I will cherish always. He will truly be missed.

Monday, 02/27/2023

Thank you Don,
Some great in-sites into a great member of our community. My first siting of George, close to 40 years ago, was a bare legged man running thru town one cold morning, staying athletic and fit. George is a great example for us all of a life lived to its fullest.
When I think of Elizabeth and George sharing a life together, I think of two people pursuing what is important to each of them, sharing it with those around them along the way. What a gift.

Saturday, 02/25/2023

Beautifully written about our mutual friend. Don, I believe we may have both been at The Mountain Retreat Center during one of the weeks he taught there.. i remember meeting George when we first moved to the NC side of the Smokies. I was concerned that I might be encroaching on "his territory" as a fellow Naturalist. But George assured me every Naturalist has their own particular knowledge and so we complement each other rather than compete. and sure enough, We became co-leaders for "same but different" subjects over many years. Memories I treasure
George may no longer be visible us, but his spirit lives on in his writings.

Thursday, 02/23/2023

George is one of the wonders of the Smokies. I am glad he his voice is preserved in print, and speech, in memory.

Wednesday, 02/22/2023

Perfect! Thank you Don. Wish he had had longer. Still had a lot he wanted to write but he did finish more than 50 beautiful poems that will be published hopefully by the fall. It is like a great tree has fallen here at Permanent Camp

Wednesday, 02/22/2023