2018 Midterm Elections
Regional roundup of election returns shows mixed results
Wednesday, November 07, 2018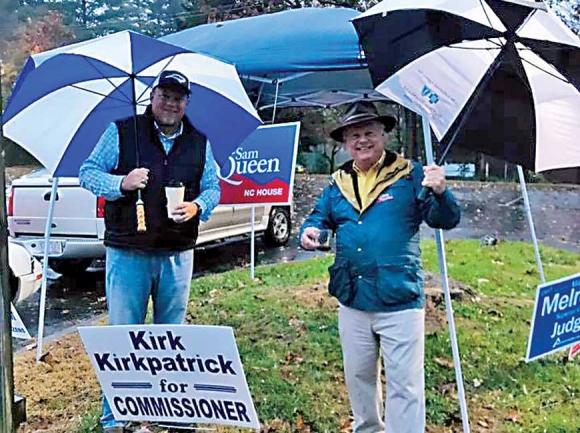 Greg West (left) beat Mike Matthews for tax collector while Democrat Joe Sam Queen beat Rep. Mike Clampitt for the N.C. House seat.
Any notion of a red tide or blue wave ebbed quickly Nov. 6, as both Republicans and Democrats celebrated victories, mourned defeats, said goodbye to some incumbents, and hello to new ones.
Congress
Nationally, Democrats began Election Day needing a net pickup of 23 seats in the U.S. House of Representatives to regain control of the chamber; as of press time they were poised to do just that, defeating several well-known Republicans, but N.C. 11th District Congressman Mark Meadows, R-Asheville, wasn't one of them.
Meadows defeated McDowell County Democrat Phillip Price by a margin of 59-38. Meadows won his first three elections with ever-increasing margins of 57, 62 and 64 percent of the vote, respectively.
"I'm honored, humbled, and grateful to again receive the trust of Western North Carolinians to serve them in Congress for another term," said Meadows in a statement released election night. "Their support has been unwavering and truly means the world to me."
N.C. General Assembly
Senate
Franklin Republican Sen. Jim Davis will serve his fifth term after defeating Franklin High School and former submarine commander Bob Kuppers by a 60-40 margin.
House
Republicans looking to maintain their veto-proof supermajority over Democratic Gov. Roy Cooper could only afford to lose four seats to keep it; two that were thought vulnerable by Democrats were here in Western North Carolina.
Franklin Republican Rep. Kevin Corbin wasn't one of those, and easily cruised to victory over Clay County Democrat Aaron Martin, earning his second term in the process. Corbin's 73 percent vote total was a slight improvement on 2016, when he garnered 72 percent of the vote in his rural 120th District, which covers Cherokee, Clay, Graham and Macon Counties.
One seat that was, however, was looked at as an opportunity for a Dem pickup was that of Rep. Michele Presnell, R-Burnsville. In 2016, Presnell earned her third term in the General Assembly by defeating Haywood County Democrat Rhonda Cole Schandevel, and this year did it again, by a 57-42 margin.
But probably the most vulnerable House seat in the state was that of freshman Bryson City Republican Rep. Mike Clampitt, who narrowly defeated Waynesville architect and former Rep. Joe Sam Queen in 2016 by less than 300 votes after losing to him twice previously.
This time around, however the seat's flipped back to Queen, who said he knows exactly why.
"The facts — and the people getting them straight," he said. "That has been a big help."
Queen also said he'd like to return to some unfinished business he left in Raleigh last time around.
"I want to expand Medicaid. I'm still working hard on that because it makes so much sense," he said. "That's why I beat Clampitt. My constituents weren't going to stand for that. Even if you're from Mars you can see that."
Like other Dems across the state, Queen has held to his message of supporting education.
"I'm not interested in pretending we're fixing education when we've actually been undermining it," he said. "I will push that hard for my governor, my state, and the future of our young people."
Proposed N.C. Constitutional Amendments
With 94.79 percent of the state reporting
Protect right to hunt and fish
For: 57.18%
Against: 42.82&
Strengthening victims rights
For: 62.05%
Against: 37.95%
Maximum income tax rate of 7.0%
For: 57.32%
Against: 42.68%
Photo ID to vote
For: 55.45%
Against: 44.55%
Nonpartisan judicial merit commission
For: 33.14%
Against: 66.86%
Bipartisan board of ethics and elections
For: 38.37%
Against: 61.63%
N.C. 11th District
Mark Meadows* (R) 176,900 59.24%
Phillip Price (D) 115,665 38.73%
Clifton Ingram (I) 6,068 2.03%
N.C. Senate District 50
Jim Davis* (R) 48,107 60.32%
Bob Kuppers (D) 31,648 39.68%
N.C. House District 120
Kevin Corbin* (R) 25,448 73.45%
Aaron Martin (D) 9,201 26.55%
N.C. House District 119
Mike Clampitt* (R) 14,166 47.69%
Joe Sam Queen (D) 15,537 52.31%
N.C. House District 118
Michele Presnell* (R) 19,312 57.24%
Rhonda Schandevel (D) 14,425 42.76%
Haywood County Commission
Tommy Long (R) 12,953 18.82%
Kirk Kirkpatrick* (D) 11,953 17.37%
Mark Pless (R) 11,377 16.53%
Mike Sorrells* (D) 11,322 16.45%
Danny Davis (D) 10,896 15.84%
Phillip Wight (R) 10,308 14.98%
Haywood County Tax Collector
Mike Matthews* (R) 11,797 47.85%
Greg West (D) 12,855 52.15%
Haywood Board of Education
Jimmy Rogers* 12,910 70.05%
Jonathan Rowland 5,468 29.67%
Judicial races
District Justice
Kristina Earwood (R) 41,511 64.36%
Leo Phillips (R) 22,992 35.64%
Superior Court Justice
Bradley Letts* (D) 16,914 54.68%
Mark Melrose (D) 14,017 45.32%