Living Well
Creason reflects on 40 years as Jackson County's swim teacher
Wednesday, August 30, 2017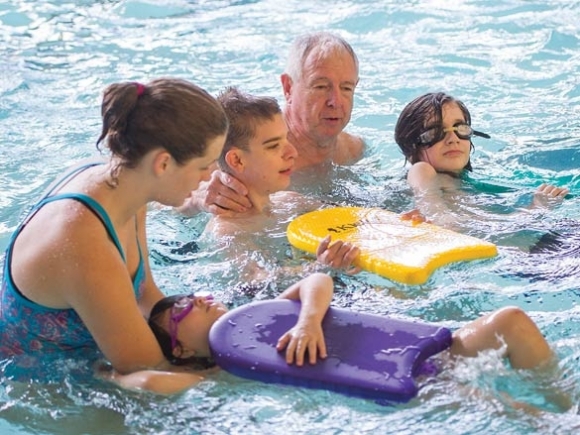 For someone who's spent decades introducing thousands of children to the joy of swimming, Mike Creason's relationship with water didn't begin too auspiciously.
"When I was 6 years old, I got thrown out of a boat at High Rock Lake. It scared me to death," Creason, now 67, recalled from a comfortable leather armchair in his home near Caney Fork. "I was petrified of water after that."
Young Creason was wearing a life preserver, and the person who did the throwing — he declined to say who — had hoped that the dunking would get him over his fear of water and on with learning to swim. Instead, he went under, swallowed a bunch of water and rose to the surface with enough residual panic that he didn't learn to swim until he was 12 years old. Even then, it took him several years to really start enjoying the water.
"Probably when I got to be about 16 I started feeling real comfortable. In fact, I felt too comfortable," Creason said. "When I was 18 I graduated from high school and got caught in a rip tide at the ocean, but I didn't know I wasn't supposed to swim against it … I got to the beach but I thought I was going to drown before I got to the sand."
He took a lifeguarding class after that incident.
Finding home in the mountains
After high school, Creason left his hometown Winston-Salem for the mountains, starting his freshman year at Western Carolina University in the fall of 1968. He was an accounting major at first — his dad "always had this majestic view of me being an accountant and doing people's taxes" — but that didn't last. In his sophomore year he switched over to health and physical fitness.
"I was a gym rat," Creason explained. He could pretty much always be found working out or playing racquetball or competing in all manner of intramural sports, and he was a lot happier in a major that matched his interests. After graduation he taught fifth and sixth grade health and physical fitness in Guilford County, but with just one year under his belt he returned to WCU for a master's degree in intramural sports.
He never left.
Creason was given the only graduate assistantship his program offered, and when his boss left to pursue a doctorate degree, Creason was hired in his place. Two years later he was named intramural sports director, a position he would hold until his retirement in 2004 in addition to serving as assistant professor of physical education.
"(My dad) said, 'I don't believe they give jobs to people for stuff like that.' He couldn't believe it," Creason said. "But my mom was happy. My dad was too, but he still couldn't believe it."
Creason hadn't been with WCU long before he started teaching swimming lessons. The response was instant — classes filled almost immediately.
"It was unreal," Creason said. "And they had to turn people away because they could only get so many people in the pool."
After 10 years, Creason found himself in charge of all the swimming. He soon began to think about offering classes targeted to toddlers and babies in addition to classes for kids and adults. After collaborating with his colleagues he came up with a plan, and ever since WCU has offered swimming classes for children ages 3 to 5 and 6 months to 3 years. Parents are required to be in the pool with their kids, and Creason walks them through each drill, whistle in hand.
"Research indicates that activities in the water from say, a year and a half or babies on up to [age] 7 improve self-esteem," Creason said. "I've always felt like that is true. Something about the water and a kinship with it, developing skills in it, it just helps you feel better."
Over the years, the swim sessions have remained popular. He teaches swim classes three times per year — in June/July, October and March, often hiring young swim team members to help out. Asked to estimate how many kids he's taught over the years, Creason hesitates, trying to add the numbers in his head. Finally, he puts it somewhere between 160 and 200 kids per summer — the total number is easily in the thousands and possibly in the tens of thousands.
Creason retired from WCU in 2004, but he still teaches swim lessons, just as he always has.
"As long as God permits me to be able to do this, I would like to keep doing it, and I'm thankful for the privilege," he said.
Since his retirement, Creason has been staying busy as a substitute teacher for Jackson County Schools, and he's started to realize just how many children he's introduced to the water. While teaching a class at Blue Ridge School recently, he decided to ask for a show of hands from everyone who'd taken his swim lessons — out of 20-some kids, about eight hands went up. Another time, he asked the same question of a fourth-grade class, and 13 or 14 hands went up.
"Some of these tiny tots, I've had their parents," Creason said. "I'm thankful that I have this privilege. It is something that shocks me sometimes. I don't feel that old yet, but I'm sure it will hit me sooner or later."
Staying young
Creason may be 67, but he still goes full-force. After retiring from WCU, he applied for a grant to jumpstart his next venture — a blueberry farm. The $2,500 grant helped him plant 400 blueberry bushes and set up two beehives. His backyard also features fruit trees hanging with pears and apples, and when he's not farming, he's out walking or hiking —or else in the pool, where he's taken to doing a series of underwater exercises to keep his body flexible.
"I encourage everybody to stay as young as they can," Creason said. "Take care of your body and you'll enjoy life longer. The Lord meant for us to enjoy life if we can, but all of us have challenges with different types of habits that are not good for us."
Swimming has certainly made Creason's life better — and he's seen its impact on his students, too. It certainly affected an 18-year-old student he once had, a boy who was preparing to ship out for the U.S. Marine Corps but had never learned to swim. His parents called begging to get him into any swim course possible, but at the time the only classes Creason had running were for 6- and 7-year-olds.
"I said, 'He's welcome to take it but he's got to realize that he's got to swim with these children,'" Creason recalled.
Creason kept trying to get the teenager to relax, to conquer his fear of the water, but it was hard work. But the turning point came the day the class ventured to the deep end, at which point the littlest kid in the class took a fearless leap into the water.
"He's sitting there looking at this little boy and he said, 'I gotta do it. I gotta do it.' He jumped in and he came back up and he swam over to the side. He was so happy," Creason said. "I was thankful. And anyway he took off and he was all over that pool before the course was ended.
"He could swim."