Outdoors Latest
Face-to-face with fish
Wednesday, August 09, 2023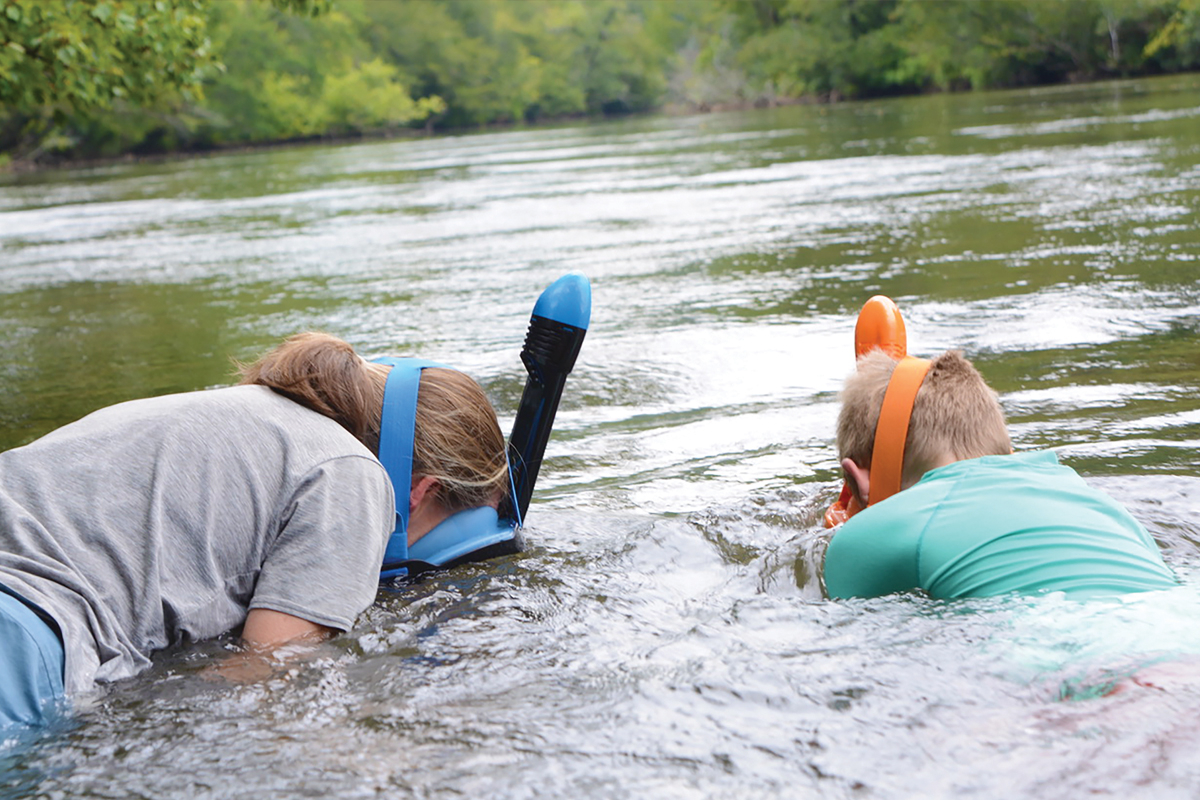 Maury Wahtera, of Franklin, snorkels with her son Henry, 8, during an event Aug. 2. Holly Kays photo
Blue Ridge Snorkel Trail celebrates kickoff
The Little Tennessee River isn't deep as it flows through the patchwork Needmore Game Lands near the Macon-Swain county line. Like many mountain rivers, in most places it comes up only mid-calf at best, the clear water running over a bed of rock and stone. I can't help but feel a little silly as I pull goggles over my eyes and nose, a snorkel dangling to the side. The Little Tennessee is a far cry from the blue Caribbean waters that snorkeling usually brings to mind.
But Jason Meador, aquatics program manager for Mainspring Conservation Trust, promises the group of roughly 20 people assembled on the banks of Mainspring's Queen Branch property that they're in for a treat. This stretch of river is known as the Noah's Ark of the Little Tennessee, he says.
"It's the only stretch that is still free-flowing and has all the fish that we believe have always been here, with the exception of perhaps the American eel," he says.
The Little Tennessee is designated as a Native Fish Conservation Area, and it's home to more than 100 species of native fish, 10 species of native mussels and a dozen crayfish species — including 35 species considered rare at either the federal or state level. While not every species is present at the particular site where Meador spoke, overall the river is a treasure of biodiversity.
As such, it's a natural fit for the Blue Ridge Snorkel Trail, a first-of-its kind effort in the Southeast that aims to set up public-access snorkeling sites in 24 Western North Carolina counties, as well as parts of northern Georgia and eastern Tennessee. The first phase in this joint venture from the N.C. Wildlife Resources Commission, MountainTrue and Mainspring is the debut of 10 pilot sites, one per county. The event at Queen Branch, held Wednesday, Aug. 2, inaugurated Macon County's stop on the snorkel trail.
Meador gives the rundown on how to use the snorkel equipment, how to stay safe and how to see fish. Fish usually face upstream, he says, waiting for the current to bring them food and oxygen. When snorkelers swim up behind them, the fish sense that something big is coming near, and they scatter. You see more if you look down the river, he promises.
Jason Meador gives the group some snorkeling tips. Holly Kays photo
"Most of these fish are eating those aquatic insects that are under those rocks and in that sand, and you're kicking up little things, and they're just like, 'Wow, this is a big scary person. But look at all the food they're kicking up,'" Meador says. "And so they're going to be right there in your face."
Coming out of an abnormally warm July, the water is pleasantly cool and almost warm as I wade out toward the middle, stepping slowly to keep my footing on the uneven bed of rocks. I secure the mask, bite down on the snorkel mouthpiece, and lie down in the water.
The current carries me more quickly than I'd expected when viewing the lazy river from land. I barely have time to take in the underwater forest of waving riverweed before it's gone, replaced with a miniature canyon formed by two facing rocks. A recent rainstorm has left a fair bit of sediment hanging in the water, and what looked clean and clear from above is actually a bit murky. I can't see far, and I certainly can't see any fish.
Then I remembered the second bit of advice Meador had dispensed before releasing the group to go play in the river.
"Because of our size compared to their size, you just want to stay put for a second," he said. "Sometimes they're going to scatter, but then they'll come right back to you."
I make a few adjustments to my mask and snorkel, move closer to the bank where the slower current is more conducive to staying put, and try again.
Raelyn Gililung, 7, and her dad, both of Houston, splash in the Little Tennessee River. Holly Kays photo
The effect is almost immediate. As before, I open my eyes to a deserted riverbed, but this time I grab onto the rocks below me, bracing myself against the current, and within seconds a collection of small, sliver fish has convened. They swim under and in front of me, close enough to touch, unbothered by the looming presence of my comparatively massive frame. It is — there's no other word for it — enchanting.
I took several more dips after that, each time submerging, anchoring myself to a rock, and waiting for the fish to find me. The last dip was the longest, a magical interlude during an otherwise stress-filled week. The only sound was that of my own breathing, loud and bubbly under the water, and the occasional bit of muffled speech percolating down from the invisible world above. I watched the fish come and go, and the river brighten and dim in concert with the sun's faraway dance with the clouds. I no longer cared whether I looked silly, lying belly-down in this shallow mountain river, entranced by a world invisible to anyone who wasn't looking at it the way I was now.
Once they stopped bobbing in the water, the event's other participants said much the same. Ranging in age from seven to 77, they smiled as they spoke.
Visiting from Houston with her parents and little brother, Raelyn Gililung, 7, hopes to be a dolphin trainer when she grows up. While the fish of the Little Tennessee are quite a bit different than dolphins, they still presented a fascinating variety of color, shape and size.
"It was cool, because I saw a lot of fish," she said.
Franklin resident Marsha Luczak, who has seven decades on Gililung, also had a great time. She's snorkeled on cruises before, but it never occurred to her to try it out in the mountains.
"I never thought about it, but why not?" she said. "There's water — why not? I'd just like to see a hellbender someday."
Henry Wahtera, 8, also had fun and spotted lots of fish. He's old hat at mountain snorkeling — over the years, he's dipped his head in the water plenty of times along with his sister Lander, 11, and mother Maury, all of Franklin.
A typical snorkel mask costs about $25-35. Holly Kays photo
"We've spent a lot of time on the river, paddling, floating," said Maury Wahtera. "It's really neat to see what is underneath the water, what makes it home."
With the launch of the snorkel trail, that underwater world will be open to even more people. August is a big month for the trail, featuring launches for sites in Marion, Stone Mountain State Park, East LaPorte and Bryson City in addition to the event at Queens Branch. Events have yet to be announced for sites in Graham and Cherokee counties. Sites in Canton, Mills River and Black Mountain opened in June and July. Some events drew more than 60 people.
And that's just the beginning.
"This is obviously successful, and folks have been participating in this year's events," Meador said. "We just want to give them more opportunities to get them in the creek. There will be more sites added for next year."