Archived News
Snorkeling the mountains: New Blue Ridge Snorkel Trail will show off WNC's vibrant streams
Wednesday, March 22, 2023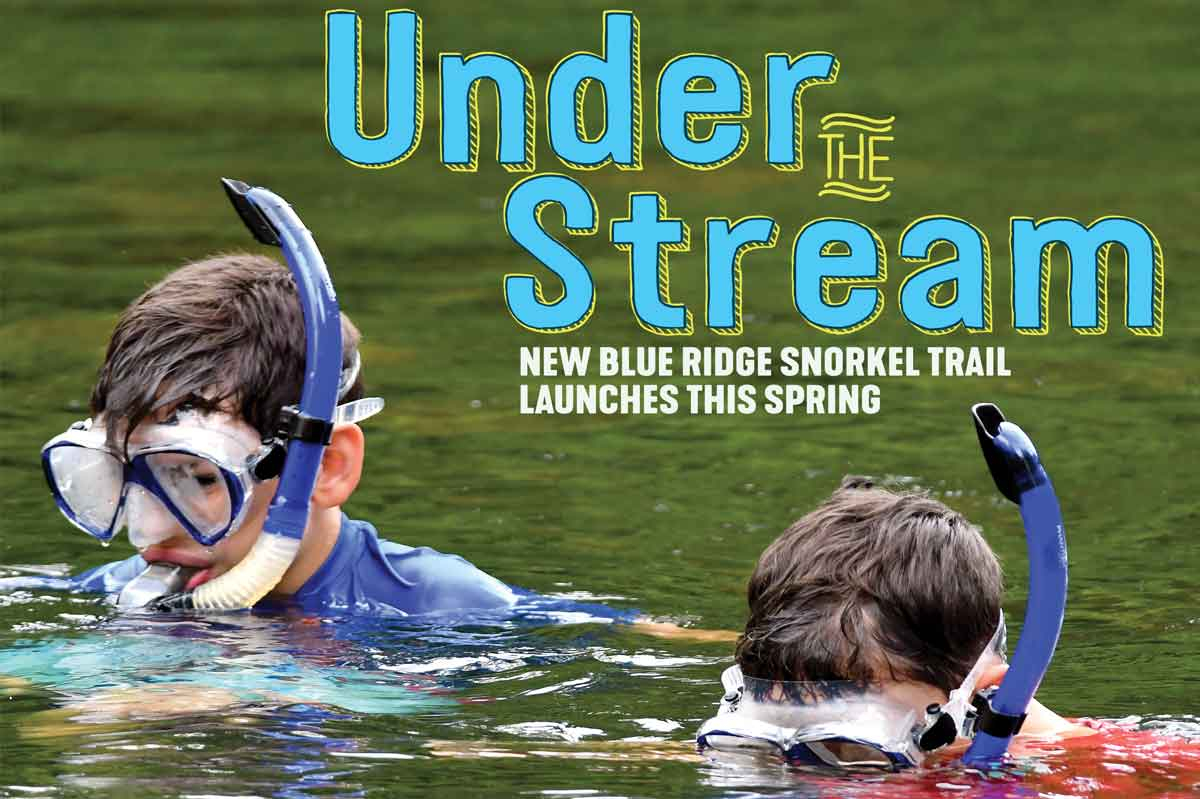 For most people, the word "snorkeling" conjures images of blue Caribbean waters, pink coral reefs and a rainbow of tropical fish. But witnessing a world of aquatic beauty doesn't require a flight to the Florida Keys.
From the top of the Tuckasegee to the waters of the French Broad, Western North Carolina is home to an incredible diversity of fish, salamanders and other aquatic creatures. The new Blue Ridge Snorkel Trail will make it easier than ever to meet them.
"When you get under the water with your snorkel and stuff on, the fish think you belong there," said Callie Moore, western regional director for MountainTrue. "They're not afraid of you at all. And as long as you don't thrash around and make a bunch of noise, you can just sneak right up on them and they'll just keep building their little nests in the rocks and crayfish come out, and it's just really incredible."
The snorkel trail, a joint venture of the N.C. Wildlife Resources Commission, Mainspring Conservation Trust and MountainTrue, is the first of its kind in the region. In her research, Moore said the only similar trail she found was in Michigan.
"Of course, we have way more biodiversity than they do, so ours is going to be even more impressive," she said.
In WNC's shallow streams, snorkeling is an all-ages activity. Mainspring Conservation Trust photo
Sense of connection
The Blue Ridge Snorkel Trail consists of 10 pilot sites, one in each of 10 western counties, but the partners hope to expand it to include all 24 western counties — and maybe even parts of northern Georgia and eastern Tennessee.
The 10 sites are located on easily accessible land that's already open to the public, and in the coming months they'll each have a kiosk highlighting the species that live there and giving pointers about how to identify them. The information will also be available on the website, blueridgesnorkeltrail.com. The group hopes to eventually publish a guide to help people better explore the trail and understand what they see there.
"I'm obviously biased as an aquatics person, but in my mind, [snorkeling] covers all the bases," said Jason Meador, aquatic programs manager for Mainspring who has been taking groups out snorkeling since 2014.
Snorkeling gives an up-close view of creatures that normally live out their lives unnoticed in Western North Carolina's cool mountain streams, but it's also easy to try and low-impact, allowing people to experience aquatic creatures in their natural state without harassing or harming them. A decent snorkel mask is relatively cheap — about $30 — and will last for years. Plus, it's fun.
"There's so much to see, and it's refreshing in the summertime," Meador said.
Luke Etchison, western region aquatic wildlife diversity coordinator for the Wildlife Commission, said he and Mountain Habitat Conservation Coordinator Andrea Leslie came up with the concept as a way to get people excited about aquatic wildlife and to show them the importance of clean water and healthy streams.
"One hundred fifty years ago, if your neighbor dumped something in the water, you'd be mad about it because that was your drinking water," Etchison said. "As how we drink water has changed over time, people's concern about the quality of the water has also changed, and as people don't eat as much fish from the river, they also don't care as much about what the condition of the fish in river is like, so this is just another way to reconnect people with their local resource and help them see why they should care."
It's hard to care about something that you've never seen, Etchison said, so the more experiences people have in their mountain streams, the more they'll want to protect them. That's a philosophy that's become something of a rallying cry in the conservation field, birthing multitudes of endeavors aimed at connecting people to the beauty, complexity and necessity of the species and ecosystems around them — in the hope that sense of connection will lead to a sense of urgency to protect them.
"It's really just trying to get more folks out there and get more folks thinking about what what's going on in the water," Etchison said.
Different site, different fish
The 10 pilot sites cover five different watersheds, featuring a diversity of freshwater habitat, ecosystems and species.
The trail features four locations in the Little Tennessee River Basin, starting with the Tuckasegee River at East LaPorte River Access Park in Jackson County. The river eventually flows down to another site at Island Park in Bryson City. The water is warmer there, resulting in an assemblage of fish distinct from that seen higher up at East LaPorte.
At Mainspring's Queen Branch Nature Preserve property in Macon County, the river is broad and shallow, with a lot of bedrock. The water at the Joyce Kilmer Bridge Fishing Access on the Cheoah River below Lake Santeetlah is warmer and home to a community of fish that were reintroduced to the stream after that stretch of river was dewatered in the past. In the Hiawassee River Basin is a site on the Valley River in Andrews, one of the lower-elevation locations at about 1,780 feet above sea level.
In the French Broad River Basin, there's the Pigeon River at Canton Recreation Park, Mills River at Mills River Park and the Swannanoa River at Black Mountain Veterans Park. The trail also features a stop at Stone Mountain State Park in the Yadkin River Basin and at the Joseph McDowell Historical Catawba Greenway in Marion.
"The hope is that people be able will to go to each site and see the unique species that are at each site, even when they're close to each other," Etchison said.
North Carolina is home to 234 freshwater fish species, each with distinct needs for food and shelter. Even slight variations in geology, elevation and water quality can have significant impacts on the types of aquatic creatures living in a given section of stream.
"They have all very different aquatic communities," Etchison said, "so they'll be able to see the difference in even a 15, 20-minute drive."
Snorklers explore the underwater world of a Western North Carolina stream. Mainspring Conservation Trust photo
Expanding the trail
Thus far, funding for the snorkel trail has come in bits and pieces from a wide range of partners. The group received a $5,000 grant from the Tennessee Valley Authority and $1,000 from the North Carolina chapter of American Fisheries Society, with funding for signage at individual sites coming either from the property owner or from a watershed group partnering on the effort.
"Site partners have been able to pay for it themselves, and the other grants help fund the design and the signs were unfunded," Etchison said.
However, the snorkel trail partners hope to see more resources come their way to expand the trail and create a guide helping visitors to get the most out of it. MountainTrue's lobbyist is asking Raleigh legislators for $150,000 toward the effort, Moore said.
"Hopefully they're going to go ahead and support it in the budget this time anyway, but if not, we're going to keep at it until we're able to expand it to include all of Western North Carolina," Moore said. "And even beyond."
MountainTrue does work in Georgia and Tennessee as well, so in the years ahead the trail might look for funding to create snorkeling sites in those states, too.
"That's why we called it the Blue Ridge Snorkel Trail, so that it doesn't have to just be Western North Carolina," she said.
The trail's supporters hope its launch coinciding with the 2023 North Carolina Year of the Trail, will help it gain more support and attention. The N.C. General Assembly passed a resolution in 2021 giving 2023 that title, and all year groups across the state will be holding events and focusing their marketing to draw even more people into the state's growing community of trail enthusiasts. The Great State Trails Coalition, which is leading the Year of the Trail effort, is asking the General Assembly for $50.5 million toward a competitive grant pool funding development of local community trails.
The rivers are open for snorkeling now, but the water is still a little cold for anyone who doesn't own a wetsuit to consider jumping in. According to the U.S. Geological Survey, the Pigeon River at Canton is currently around 45 degrees. Kickoff events will be held this summer, once the water has had a chance to warm up.
"When people find out how much aquatic biodiversity there is, and that it's not just trout or not just bass in the lakes that's under the water, I think there's a lot more incentive to be asking the questions like, okay, how do we protect that?" Moore said. "I think that it really goes to the conservation efforts and things like riparian buffers and native plants on the stream banks and stopping erosion when you see it on your property and things like that. "The more people love a resource, the more they're willing to do to try to protect it."
Check out the trail
The new Blue Ridge Snorkel Trail boasts 10 sites spanning 10 Western North Carolina counties. They are:
The Blue Ridge Snorkel Trail website is still under development at blueridgesnorkeltrail.com and will be populated with information about site kickoff events with guided snorkeling, the trail and snorkel sites.