Archived Outdoors
Four months of fees: Smokies reports high revenues, compliance following parking fee implementation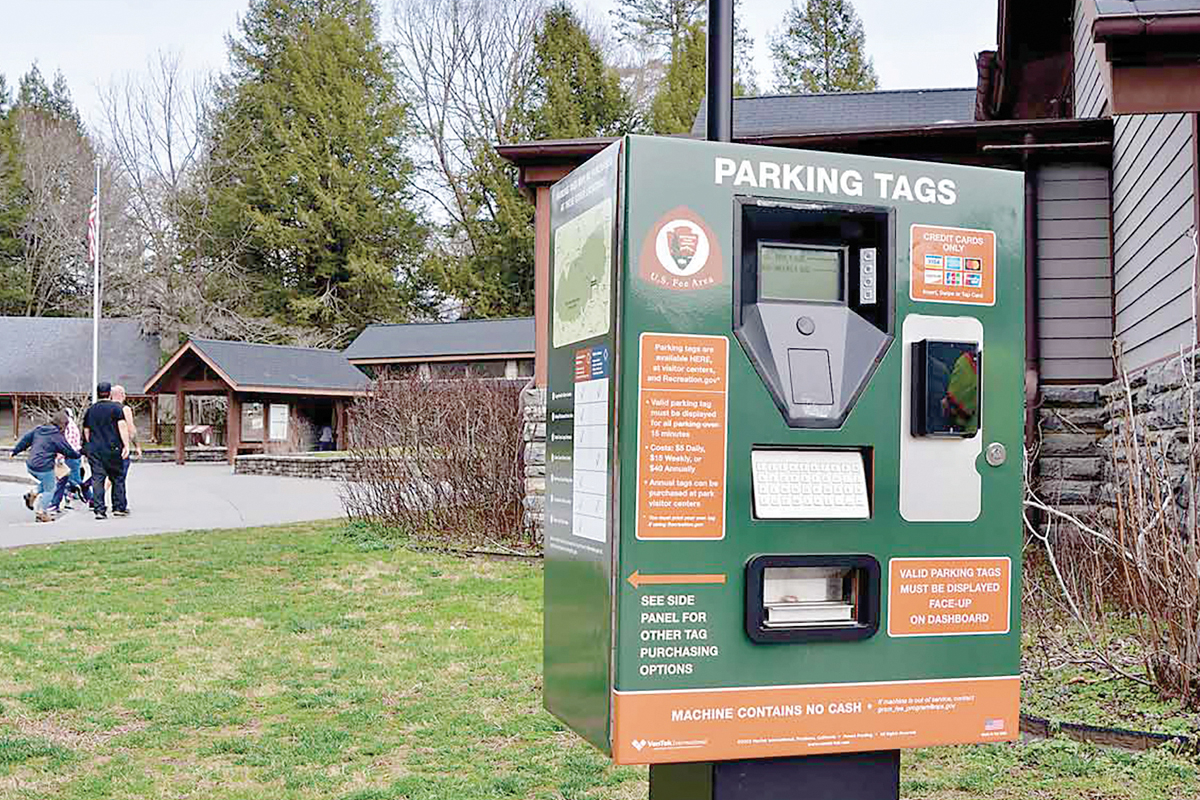 Automated fee machines can accept payments and dispense daily or weekly parking tags. Cory Vaillancourt photo
When new fees went into effect in the Great Smoky Mountains National Park March 1, park managers were expecting limited revenues and limited compliance during their inaugural year enforcing the Smokies' first-ever parking fee. But four months in, both metrics are coming in higher than anticipated.
"We were basing our revenue projections on around a 30% rate of compliance … we haven't done a systematic study on that, but anecdotally, particularly in some of our most heavily visited sites, we're seeing a higher compliance rate," said Kendra Straub, management and program analyst for the park. "And we are exceeding our revenue projections."
Between June 30 and the beginning of the fiscal year, Oct. 1, 2022, the park collected $6.2 million in recreation revenue from parking and camping fees. Despite the new parking fee and higher camping fees being in effect for less than half that time, the year-to-date figure is double the $3.1 million collected during the entire previous fiscal year.
By the end of June, the park had sold more than 150,000 single-day parking tags, 63,000 weekly tags and 34,000 annual tags. As of press time, the park could not say how much revenue these sales had produced.
Prior to the program's March 1 launch, Superintendent Cassius Cash said he expected the parking tags to bring in $5 million for the current fiscal year ending Sept. 30 and $8-10 million annually thereafter. Including fee increases approved along with the Park it Forward parking fee program — backcountry camping rates doubled, and campground fees rose across the board — he said he expected to see total revenue of $12-$14 million each year.
The parking tag program was controversial within the communities surrounding the park, where many of the descendants of the 1,200 families evicted during the park's creation still reside. The governments of all six surrounding counties and the N.C. House of Representatives issued formal statements in opposition to the policy. However, among park visitors, reception has been mostly positive, said Smokies spokesperson Emily Davis.
"They understand why we're doing this," she said. "Many visitors are used to paying some sort of fee at other parks that they go to, whether those are state parks or national parks."
Educational enforcement
The park has not yet decided how to spend all of its new revenue, but its first investment related to the Park it Forward program was hiring seven recreation fee technicians to monitor the park's busiest areas. Wearing the traditional NPS uniform and flat hat, these park rangers are responsible for checking the 16 fee machines currently installed at six park locations and for informing visitors who arrive without a parking tag why the fee program exists and how to comply.
"A big push is the education component behind this, so they're doing a bunch of outreach with our visitors," Davis said.
Fee technicians can't write tickets — only law enforcement rangers can do that. Rangers have issued "well over" 1,000 warning stickers since the start of the program but have been more focused on enforcing parking safety than on the parking tags themselves, Straub said. Warning stickers can be issued for both types of violations.
"We are really working hard to ensure that vehicles that are parked in the lane of travel, in a very unsafe manner, inappropriately, that we are seeking those visitors," she said. "Perhaps we're providing a written or verbal warning, and in fact we have towed some vehicles recently because we really want to maintain visitor safety."
No cars have been towed for not having a parking tag, she said; towing has occurred only in case of extremely unsafe parking.
By hiring more preventative search and rescue rangers, By hiring more preventative search and rescue rangers, the park hopes to reduce the need for backcountry rescues. NPS photo
Multi-purpose rangers
Meanwhile, the new fee technicians serve a variety of purposes unrelated to the new parking fee program.
"Critically, they're also a ranger in a flat hat accessible for questions, and so our visitors are really hungry for that," Straub said. "Fee rangers are very knowledgeable, and they're out and about in busiest places of the park."
During a recent ride-along, Straub said, she saw fee rangers answer questions about trail difficulty, waterfall locations and tree identification.
"They're providing a lot of visibility, preventative search and rescue information, making sure people are prepared for the trail they're about to hike," Straub said. "They're really a general ranger."
Increasing resources for preventative search and rescue — ensuring visitors are prepared before leaving the trailhead to reduce the need for emergency rescue later — has long been a priority for the park. In 2020, the Smokies hired its first emergency manager, who was tasked with reducing searches by 20% within five years.
Park it Forward will help the Smokies meet that goal. The park is in the process of hiring seven preventative search and rescue rangers using that revenue.
"That's really exciting to be able to have those first responders out there that will be out patrolling trails, and will be able to help out in emergencies," Davis said.
The Smokies is not done deciding where to direct its new revenue stream. There is specific policy dictating how recreation fee revenues can be spent, and because the fee is new, the park didn't know how much revenue would result until after implementation. All this means that deciding how to spend the money will take time and oversight.
"A lot remains to be planned for those funds, because we really started out conservative without the knowledge of what revenue we would actually see from the program," Straub said.
More hiring is coming, but the fee will fund more than staffing. A variety of projects are already in the planning phases, including improvements to walkways, sidewalks and accessibility at certain sites, as well as expanded facilities such as parking lots.
An annual parking tag is displayed in the windshield of a car. NPS photo
Busiest June ever
Despite the new parking fee and a crackdown on illegal parking, the park has logged its busiest June ever, with an estimated 1.56 million visitors last month — up 4.7% from June 2022. As of the end of June, year-to-date visitation was 2% higher than the same point in 2022, though 6.2% lower than in 2021, the park's busiest-ever year.
An additional 70,000 people using Foothills Parkway West was a major contributor to June's high numbers. While Big Creek and Greenbriar both saw significant dips in visitation — 37.9% and 12.7% less than June 2022, respectively — several other smaller entrances saw big increases. Visitation at Cataloochee was 20.4% higher than in June 2022, and Abrams Creek saw a whopping 339% increase.
"We aren't shocked that there is additional traffic to that area, really thinking about the reopening of Look Rock Campground, and that area becoming in some ways more of a standalone destination," Straub said. "And I think that's what we're seeing with the increase in Abrams Creek."
New traffic counters were recently installed in that location, and due to issues with the old counters, Straub thinks it likely that visitation was underestimated during parts of 2022.
Locations like Cataloochee and Abrams Creek saw substantial increases in visitation despite the difficulty of complying with the new parking tag program in those areas without advance planning. Remote entrances like Big Creek, Cosby, Cataloochee, Twentymile and Abrams Creek do not have automated fee machines or nearby visitor centers where tags can be purchased.
The park hopes to fix that shortcoming in the future, Davis said. Automated fee machines were first installed in locations with amenities like power and cell signal, but an offline machine installed at Metcalf Bottoms seems to be operating well. The park is developing plans to place about 14 new machines across six different locations in the park. Additionally, it's working to partner with small businesses nearby to sell tags there.
"We're still solidifying the locations but we're looking at places like Cosby, like Big Creek, like, potentially Cataloochee," Straub said. "So we're still narrowing in on those, but we're looking at areas like that, where right now there's not an easy in-person location necessarily, if that's your primary and first and maybe only destination in the park."