Archived Outdoors
Pay to play: Smokies parking tags now on sale
Wednesday, January 25, 2023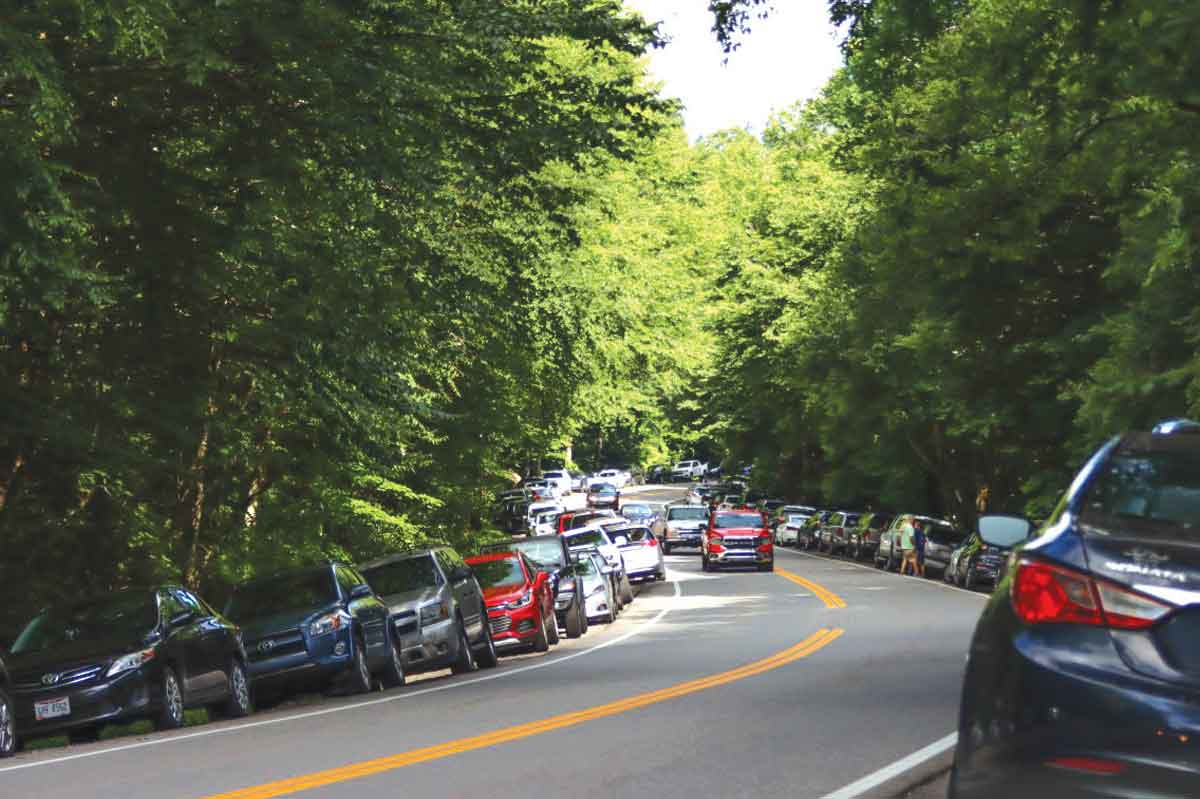 On a Saturday in July 2020, cars line both sides of Newfound Gap Road near the trailhead for Alum Cave Trail. NPS photo
Starting March 1, Great Smoky Mountains National Park visitors will have to pay to park. As the date approaches and annual parking tags go on sale, park management is working to iron out the details and communicate them to the public.
"We're going to continue to finely tune these programs to make sure that the intent that I had in creating this program is actually having that impact on the ground," said Superintendent Cassius Cash.
Cash first proposed the parking tag program, called Park it Forward, in April 2022. It was a response to rising visitation and stagnant federal funding that made stewardship of America's most visited and largest free-to-enter national park increasingly difficult. The park logged a staggering 14.1 million visits in 2021, a 57% increase from 10 years prior.
Though 2022 visitation came in significantly lower, at 12.9 million, that's still the second-highest annual visitation on record and marks a 33.9% increase from 2012. Meanwhile, inflation-adjusted federal funding has fallen and along with it, staffing. A 1992 federal law in combination with a restriction in the 1951 deed transfer placing key park roads in federal ownership meant that the Smokies could not charge an entrance fee to scale its budget to its popularity.
Park it Forward aims to raise new revenue for the park without violating the ban on entrance fees.
The proposal was controversial, to put it mildly. The governments of all six counties surrounding the park issued formal statements opposing it, and the N.C. House of Representatives passed a resolution to the same effect. Creating the park required evicting 1,200 families from their homes. Many of their descendants still live in the communities surrounding it and believed the park would remain free to use forever. However, public input from residents of the six counties showed an even split between support and opposition, and overall comments revealed much greater rates of support than opposition. In August, the proposal received official approval.
Starting March 1, visitors planning to park their cars for 15 minutes or more will need to purchase a parking tag. Annual tags are $40, weekly tags $15 and daily tags $5. Cash expects the program to bring in $5 million for the current fiscal year ending Sept. 30 and $8-10 million on average thereafter. When including other fee increases approved along with Park it Forward — backcountry camping rates doubled, and campground fees rose across the board — total revenue is estimated at $12-14 million each year.
Smokies Superintendent Cassius Cash proposed the Park it Forward program in response to rising visitation and stagnant federal funding. NPS photo
Educating visitors and hiring staff
The park has determined that it needs to bring in enough money to bridge a 40% gap between buying power and spending needs. Without the fee increases approved in August, the park would have had roughly $30 million this year, 80% of which would come from the federal budget. The $12-14 million Cash estimates will come from the fee increases will fill that 40% deficit, with all fees collected remaining within the park's local budget.
"One of the primary things that we want to be able to do in the first year of raising the revenue is to start restoring our staffing," said Management Assistant Dana Soehn. "We can't accomplish the project work that desperately needs to be done across the park without the staffing to do the work."
Priority hires will include custodial staff to pick up trash and clean toilets, law enforcement officers to ensure visitor safety and respond swiftly to search and rescues or accidents in the backcountry and facility maintenance workers to keep park amenities in good working order. The park has also prioritized contracted project work, including help with storm damage response so roads and trails can reopen more swiftly after a severe weather event. As revenue starts to come in this year, the park will hire about two dozen new permanent, full-time staff, with 13 such positions already approved.
"We're on our way to right the ship to be able to have the human infrastructure to be able to address the visitation level that we have here in the park," Cash said.
To enforce the parking tag requirement, law enforcement rangers can use consequences as severe as writing citations and impounding vehicles. But a visitor's behavior would have to be "egregious" to incur such a response, Soehn said — especially in the first year of the program.
"Especially in year one, there's a lot of focus, as you can imagine, on raising awareness and providing education," Soehn said. "We know that people have been coming here for nearly 90 years and they didn't need a parking tag. So it's going to take a while for everyone to understand the program."
The park has already hired new recreation technicians who will rove the park, especially at busy locations, letting visitors know about the parking tag requirement and where they can get one for their next visit. New signage going in over the next several weeks will also explain how to comply with the parking tag requirement. Law enforcement rangers have a "series of tools" at their disposal, Soehn said, ranging from verbal or written warnings and courtesy stickers for absent car owners to citations and impoundment.
Visitors can purchase tags online ahead of time, or in person at any of nine visitor centers. Annual tags are available now, with weekly and daily tag sales starting in late February. By March 1, daily and weekly parking tags will be available via credit card purchases from six automated fee machines to be installed throughout the park.
"In future years depending on the success of those machines we hope to be able to put them in more places," Soehn said.
The park is also working with community partners to advertise places where visitors who don't have a printer can print out daily or weekly tags purchased online.
Annual parking tags cost $40 and are good for a year, with weekly and daily options also available. NPS photo
Looking ahead
The Park it Forward program is a seismic change in the management of the Great Smoky Mountains National Park, and it won't be the only major shift to take place in the coming years.
One big change is already underway — in December, the park began a months-long effort to place barriers preventing roadside parking in areas of the park where that has proven to be an issue. The barriers will be made of varying materials chosen specifically for each site — including boulders, split-rail fencing and wooden bollards — and will be placed at Newfound Gap Road near the Gatlinburg, Alum Cave and Chimney Tops trailheads; Little River Road near Laurel Falls trailhead; Cherokee Orchard Road; Big Creek and Deep Creek picnic areas; and sections of Clingmans Dome Road and Roaring Fork Motor Nature Trail.
"We feel that for visitors having to get out of the car and walk almost a mile along a roadside, one of the busiest roads in the park, eventually that Swiss cheese can line up and someone gets hurt," Cash said. "I feel the best policies in regards to safety are the policies that are put in place before there's a fatality, not after there's a fatality."
Cash said that for the next few years, ironing out the details of Park it Forward to make the program work seamlessly for its intended purpose will be the park's priority. However, park leadership continues to consider additional measures to relieve congestion and improve visitor experience at exceptionally busy locations.
"We're still experimenting with different kinds of visitor use management solutions such as shuttles, timed entries and hopefully some other possibilities that just provide better information to visitors about when the parking lots fill up and what the current conditions are," Soehn said.
No new pilot projects are planned for 2023, with the park intending to focus on implementing Park it Forward. But that program's success could fuel development of new visitor management initiatives in the future.
"Some of the revenues from that program can help us toward some of those goals to improve the visitor experience at some of those places," Soehn said.
Tag purchase details
Park visitors can purchase daily tags for $5, weekly tags for $15 and annual tags for $40. Parking tags are required starting March 1.
Annual tags are on sale now at smokiesinformation.org. They take about two weeks to ship.

Weekly and daily tags will be on sale starting Feb. 21 at recreation.gov and can be printed out for use.

Starting late February, in-person tag sales will be available at the Clingmans Dome Visitor Center, Oconaluftee Visitor Center, Swain County Visitor Center, Gatlinburg Welcome Center, Sugarlands Visitor Center, Townsend Visitor Center, Cades Cove Visitor Center, Cades Cove Orientation Shelter and Great Smoky Mountains Institute at Tremont.

Starting March 1, daily and weekly tags can be purchased 24 hours a day from one of six automated fee machines distributed throughout the park. Locations have yet to be announced.
For more information, including answers to frequently asked questions, visit nps.gov/grsm/planyourvisit/fees.htm.
Leave a comment
5

comments
Will there also be restrictions on parking on the shoulder of 441 N to observe the elk ?

Wednesday, 02/08/2023

You pay a fee for the privilege of hopeing to find a parking spot. I believe people who paid the fee will park in areas not suitable or legal to park. IMO this will lead to more problems.
Shuttles, with a fee is more suitable, specially to trail heads, which is often the most crowded. The only problem is where would people park to get the shuttle. A parking Deck at Sugarlands would be a good spot.

Wednesday, 02/01/2023

Supporting the Park this way is the least we can do for the incredible benefits we all enjoy there. I have no problem at all shelling out $40 a year for this.

Monday, 01/30/2023

This is an unmitigated boondoggle, only the latest in an ongoing onslaught from the Sugarlands swashbucklers. The fact that leaders of every county with lands in the Park went on record against the fees is telling. So is genuflecting to the Eastern Band of the Cherokee Indians with a "pass" that is likely illegal because it gives a segment of the local population special treatment. Moreover, the Park is provably manipulated figures to justify this initiative. Their own data uses unacceptable suppositions, if you look at the counts some are the same year after year, and the ostensible figure of 14.1 million (so readily accepted by the likes of Fletcher Scott without realization they are being misled), awareness soon dawns that Park leadership is unresponsive to local sentiment and historical commitments as well as being all to willing to play fast and loose with the truth.
I realize these are strong words, but there's a traceable history of activity on the part of Park leadership validating my statemens.

Monday, 01/30/2023

14.1 million visitors! That is a lot of vehicles, road wear, and footprints! The concept of visited to death has real meaning here. Im all for the parking passes.

Monday, 01/30/2023