Archived News
Smokies adopts parking fee
Wednesday, August 17, 2022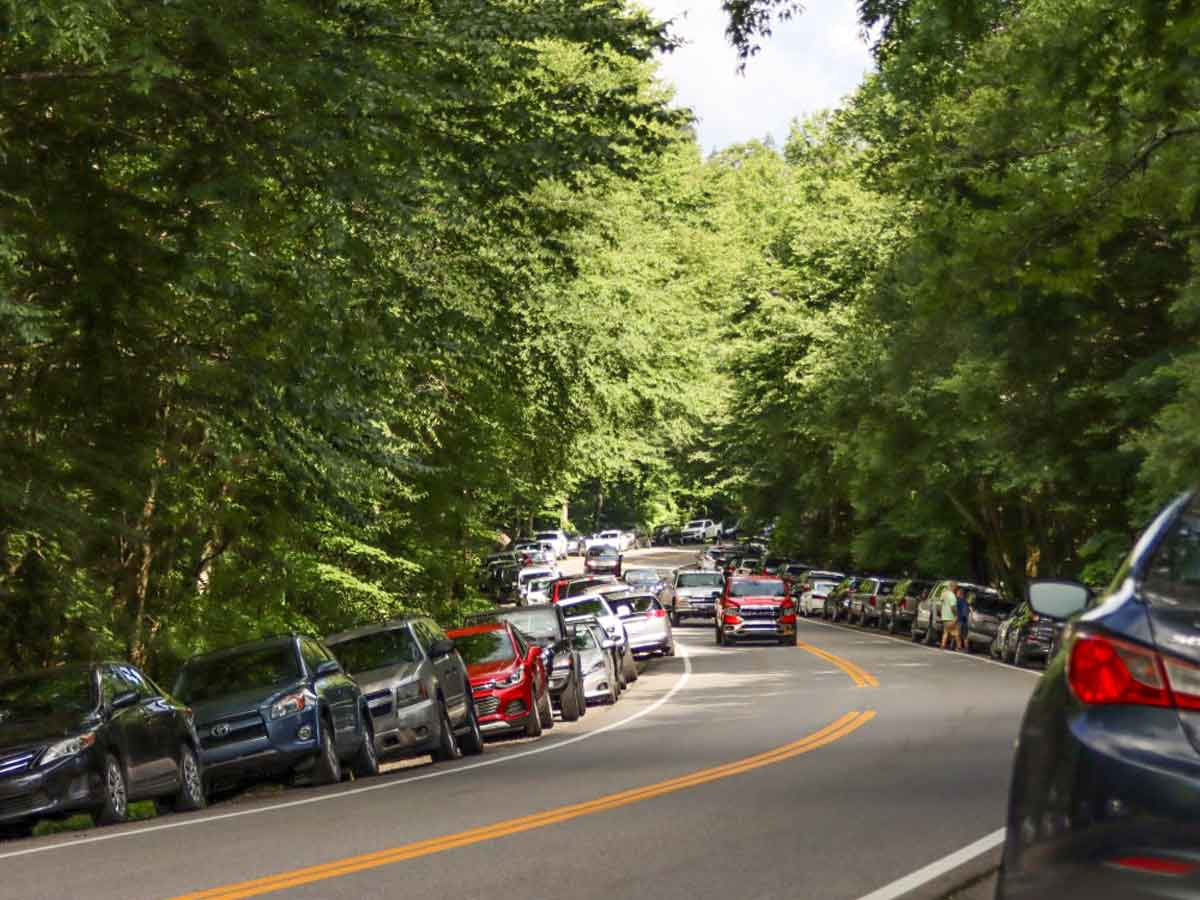 On a Saturday in July 2020, cars line both sides of Newfound Gap Road near the trailhead for Alum Cave Trail. NPS photo
Starting March 1, visiting the Great Smoky Mountains National Park will no longer be completely free — a first for park history.
This week, Superintendent Cassius Cash announced his final decision on the much-debated Park it Forward parking tag program and camping fee increases, first proposed in April. After receiving 15,512 comments from 3,677 letters, the park will enact its originally proposed price structure — parking tags will cost $5 per day, $15 per week or $40 per year; backcountry camping fees will double from $4 per night to $8 per night, with a maximum of $40 per camper; and frontcountry camping fees will increase to a standardized $30 per night for primitive sites and $36 per night for sites with electrical hookups. Rates for daily rental of the Appalachian Clubhouse and Spence Cabin in Elkmont will be set at $300 and $200, respectively.
"I think today is a very historic and exciting time for the park," said Cash. "This park will be 100 years old in 12 years, and I am proud of the staff here, for us to explore and look at different ways of how we assure that these resources are going to be around for the next century of service."
The park received 1,112 and 1,143 correspondences, respectively, on the backcountry and frontcountry camping increases, with each proposal garnering roughly 80% support from those who weighed in.
The parking fee proposal, however, was far more controversial. Creating the park required evicting 1,200 families from their homes, and many of their descendants still live in the communities surrounding it. Many area residents think of the Smokies as their own local park, and because the terms of a 1951 deed transfer in combination with a 1992 federal law means the park can't charge an entrance fee , they had understood it would remain free to use forever.
Overall, the 3,677 people who commented on the parking fee proposal supported the idea more than they opposed it — 51% of comments were supportive, 34% were neutral and 15% opposed the proposal. However, among the 828 commenters from the park's six neighboring counties in Tennessee and North Carolina, opinion split evenly— 25% opposed the proposal, 25% supported it and 50% were neutral. That opposition includes formal statements from all six county governments as well as a resolution from the N.C. House of Representatives.
Opposition was strongest in Swain County, where only 11.6% of 138 commenters supported the proposal and 40.6% opposed it.
"We want to let them know as we went through those comments that we heard them. We heard them loud and clear," said Cash. "But the thing that inspired me to still move forward with this is based on our employees, making sure they have the tools they need to take care of this precious place and to make sure that this precious resource is going to be around for the next generation."
Over the last decade, park visitation has increased by 57% to a record 14.1 million visits in 2021, even as inflation-adjusted federal funding has fallen, causing park staffing to decrease by 10% over the same period. Other parks double their resources through concessions, fees and donations.
"We feel that this park deserves just as much," said Cash.
Even assuming only 30% compliance when first enacted, the parking fee is expected to generate $10-$14 million based on 2021 visitation numbers. That's a massive increase for a park that currently operates on about $25 million in federal funding, fees, concessions and donations. All the revenue will stay in the Smokies, and as mandated under the Federal Land Recreation Enhancement Act, 55% of those funds will go toward the park's $246 million in deferred maintenance needs. Much of the remainder will fund staff positions that improve the visitor experience — especially law enforcement and maintenance positions.
While the park has made its final decision on the fee, questions remain as to how the new policy will be implemented. Additional details will be announced this fall.
Facts about the fee
Each parking tag issued will be tied to a specific vehicle. Households with multiple cars will not be able to pass a single tag between those vehicles.

Members of the Eastern Band of Cherokee Indians will not have to pay for a parking tag. The park will provide free tags to the EBCI government, which will then distribute them to citizens.

Local residents will not have access to free or discounted parking passes. The park received special permission from Washington, D.C., to offer an annual pass for $40, targeted to local families.

Visitors will be able to purchase tags digitally, in person or using automated fee machines in the park. The Park also hopes to sell them at businesses outside the park.

No parking tag will be required for cemetery visits, family reunions or decoration days. People visiting for those purposes can obtain a special use permit at no charge, which will double as a parking tag.

Motorists driving through the Smokies or parking for less than 15 minutes will not need a tag.
For more information, visit nps.gov/grsm/planyourvisit/2023-fees.htm.