Archived Outdoors
Park it Forward: Congress won't pay for Smokies maintenance backlog — you will
Wednesday, March 08, 2023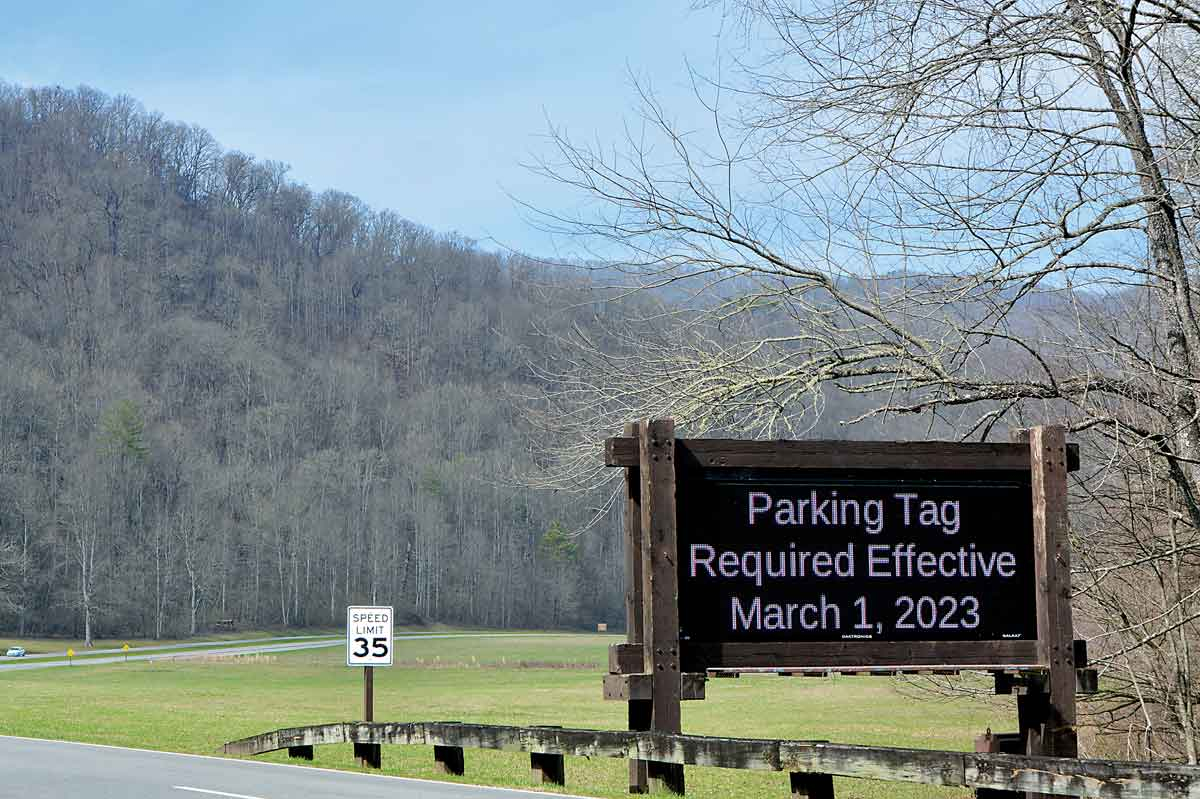 Visitors to the Great Smoky Mountains National Park will now have to purchase parking tags. Cory Vaillancourt photo
After years of inaction by Congress led to a massive $262 million deferred maintenance backlog in America's most-visited national park, it will now be up to visitors to pony up their own money to support the park's most basic staffing and maintenance needs.
Effective March 1 and after substantial public input — mostly positive — the National Park Service has for the first time in the history of the 89-year-old Great Smoky Mountains National Park implemented a parking fee program.
"A hundred years from now, we hope that people, especially our employees, don't have to think about where they might be getting the funds to do some program that they want to do, or to help maintain the trails," said Emily Davis, an NPS public affairs specialist based in Gatlinburg. "We want this program to be so influential that when they're looking at it in 100 years, they're looking back at us and saying, 'Wow, that was a really groundbreaking moment. thanks to that program, we're able to do what we can to protect the park and our visitors are having a great experience because of it.'"
On a Saturday in July 2020, cars line both sides of Newfound Gap Road near the trailhead for Alum Cave Trail. NPS photo
In early April, 2022, GSMNP Superintendent Cassius Cash announced a proposed parking fee structure due to what he called "challenges" to the park in the form of "wear-and-tear on aging facilities and a strain on park resources and employees."
At that time, the park operated on a $25 million annual budget, a combination of federal funding, camping and rental fees, concessions and donations.
Entrance to the park would remain free; however, the plan as proposed would hike backcountry camping fees from $4 to $8 per night with a $40 cap per camper and also standardize frontcountry camping fees at $30 for primitive sites and $36 for improved sites.
The plan would also institute a fee structure for anyone parking for more than 15 minutes. Tags would cost $5 for a day, $15 for a week or $40 for a year. The tags would be tied to a vehicle's license plate number and would not be transferrable between individuals or even different vehicles belonging to the same households.
A meeting was held on April 15 to solicit input from the public. The NPS also accepted comments on the proposal via both electronic and hand-written means.
The camping fee proposal garnered more than 2,250 responses with 80% support, but the parking fee proposal was more controversial, especially among locals.
When the May 7 comment deadline passed, a total of 3,677 comments were received, with 51% of the commenters supporting the idea, 34% neutral or indifferent and 15% opposed.
Of the 828 comments received from the park's six neighboring counties in North Carolina and Tennessee, 25% were supportive, 25% were opposed and 50% were neutral. All six county governments issued formal statements opposing the parking fees, as did the North Carolina House of Representatives.
In Swain County, where a substantial chunk of the park actually sits, 40% of the 138 comments received by NPS opposed the proposal.
To some, the park's very existence remains controversial; at least 1,200 families were evicted from their homes during its creation, and in a region where memories linger almost as long as the mountains that constitute the park, ill will remains.
Some of that ill will was ameliorated when, in 1951 and 1992, deed transfers and federal laws established the principles of a park that would remain forever free, unlike other large national parks, which on average draw more than half their budgets from fees, including entry fees.
Given that the park is but a short drive from most of Western North Carolina, residents have over the years come to consider it their own — a local attraction featuring a world-class swath of unspoiled wilderness home to more than 900 miles of trails, including 71 miles of the 2,190-mile Appalachian Trail, as well as a number of endangered species of both flora and fauna.
The park is also a major economic driver for an otherwise sparsely populated, rural region and supports untold numbers of entertainment-related tourism businesses, like restaurants, bars, hotels, outfitters and retail establishments.
In 2022, nearly 13 million people visited the park, slightly down from the 14.1 million who visited in 2021. During the decade preceding that, visitation increased by 57%, dramatically outpacing the rest of the national park system's 6.5% growth over that same time.
During that decade, however, funding remained flat despite regular increases. Factoring in purchasing power due to annual inflation, the $18.95 million funding the park received for 2012 would be worth $25.01 million today.
Funding the national park system, including GSMNP, is a responsibility of Congress. According to NPS, at the end of fiscal year 2022 the deferred maintenance backlog systemwide was more than $22 billion.
That's up from an estimated $12 billion back in 2016, when mayors from four east Tennessee towns — Gatlinburg, Maryville, Pigeon Forge and Sevierville — asked their congressional delegation to help address the maintenance backlog in the park, then estimated at $232 million.
Whatever help may have been provided at that time failed to outpace growing decay in the park, leading to the current figure of $262 million, or about $4.2 million in annual growth over the past seven years.
Assuming a 30% compliance rate, the new fee structure is expected to generate between $10 million and $14 million per year, but only 55% of that revenue will be appropriated for deferred maintenance.
Unless compliance becomes more widespread, that means only $5.5 million to $7.7 million will be spent each year on a backlog that grows on average by $4.2 million each year. Using that model, it would take between 75 and 202 years to completely clear out the backlog.
Extrapolating 90% compliance, $30 million to $42 million in revenue each year — with 55% devoted strictly to the backlog — and $4.2 million in annual backlog growth, it would still take between 14 and 21 years to set the park right without a direct appropriation from Congress.
Rep. Chuck Edwards (R-Henderson), who was elected in November 2022 to represent the congressional district that contains the North Carolina side of the park, didn't respond to multiple requests from The Smoky Mountain News for comment.
By mid-August of 2022, upon the conclusion of the public comment process, Superintendent Cash announced the park would adopt the new fees as proposed, effective March 1, 2023.
Automated fee machines can accept payments and dispense daily or weekly parking tags. Cory Vaillancourt photo
While the long-term prognosis for the backlog may be somewhat less-than-rosy, visitors to the park should begin to see some immediate, substantial improvements because a full 100% of funds raised from visitors and locals through the "Park it Forward" program will remain in the GSMNP.
"By both our intent and by policy, these funds can only be spent on things that directly impact visitors," said Kendra Straub, a management and program analyst with the National Park Service.
Straub said that in addition to maintenance — backlog and otherwise — there are several other ways in which the funds will improve visitor experience.
"It could be building new infrastructure where we need it, maybe new restrooms or a new parking lot where we need it," she said. "We have an amazing amount of facilities in the park. There's a lot going on here behind the scenes. Even like wastewater treatment, all of our water systems, hundreds and hundreds of miles of roads, snow plowing, repaving, sidewalks often need maintenance, making sure they're safe for folks to walk our hundreds and hundreds of miles of trails, making sure our crews can get out resurface those trails as needed and clear downed trees. Those things can be funded with these funds, but also things like cleaning restrooms more frequently, making sure we can keep the grass mowed."
Such issues are related to staffing levels. Straub said that 13 new full-time permanent maintenance positions have already been approved.
Funds can also be used to increase ranger staffing, both in a law enforcement capacity and an educational capacity. The NPS can't currently serve all of the schools that want to participate in educational programs or tours in the park, according to Straub.
Habitat restoration is also directly related to the visitor experience, as is supporting wildlife viewing and angling in the park, but probably the most visceral way visitors will realize the impact of the Park it Forward program is on the trails themselves, according to Davis.
"It's very important here in this park. It's one of the reasons people come here, to hike," she said. "We have a variety of trail options for people of all abilities, so some of the trail maintenance might go toward paving and making trails more accessible, and may go to providing things like benches along the trails for people to sit and have a break. Overall, it'll just make for a better visitor experience by improving trail conditions."
Daily, weekly or annual passes can be purchased in person, at automated fee machines or online. They're not location-specific and are non-replaceable, non-refundable and non-transferrable.
Once purchased, daily or weekly passes cannot be upgraded to weekly or yearly passes.
All passes must be prominently displayed on the dashboard or windshield of the vehicle. For motorcyclists, the annual passes will cling to a windscreen, but the daily and weekly passes are paper and should be taped to the windshield or another highly visible location on the bike so they don't fall off or blow away.
Enrolled members of the Eastern Band of Cherokee Indians will not have to pay for a parking tag, but are still required to use them. The tags are given free of charge to the EBCI government, which distributes them to citizens.
A variety of groups can obtain a waiver for specific uses and won't need to display the tags, including school groups, researchers and those with ancestors buried in the park. People with disabled parking placards or license plates don't need to display the tags either.
Daily passes begin on the day of purchase and expire at 11:59 p.m. each day. Weekly passes expire at 11:59 p.m. seven days from the purchase date.
Hours vary at the nine in-person purchasing locations, which are visitor centers in Bryson City, Gatlinburg, Maggie Valley, Townsend and Tremont or at Cades Cove, Clingman's Dome, Oconaluftee, Sugarlands and Tremont.
Automated fee machines are available at many locations within the park, like at Oconaluftee.
Annual passes may be purchased through the Great Smoky Mountains Association, a nonprofit that supports the park. Those passes will be shipped; however, as of March 4 the GSMA was reporting an unusually high volume of orders and a backlog of their own, estimated at two weeks.
There's also a purchase-and-print option available through recreation.gov, but only for daily or weekly passes.
"When you purchase a parking tag, yes, it's a parking tag — it's something you put on your dashboard, but you're also directly contributing to the care and upkeep of this national treasure for today, and for future generations," Straub said. "We're asking everyone to participate in keeping this national treasure safe and enjoyable for today's visitors and visitors to come."
For more information on the Park it Forward program, visit nps.gov/grsm/planyourvisit/2023-fees.htm.
Fee Facts
Each parking tag issued will be tied to a specific vehicle. Households with multiple cars will not be able to pass a single tag between those vehicles.

Members of the Eastern Band of Cherokee Indians will not have to pay for a parking tag. The park will provide free tags to the EBCI government, which will then distribute them to citizens.

Local residents will not have access to free or discounted parking passes. The park received special permission from Washington, D.C., to offer an annual pass for $40, targeted to local families.

Visitors will be able to purchase tags digitally, in person or using automated fee machines in the park. The park also hopes to sell them at businesses outside the park.

No parking tag will be required for cemetery visits, family reunions or decoration days. People visiting for those purposes can obtain a special use permit at no charge, which will double as a parking tag.

Motorists driving through the Smokies or parking for less than 15 minutes will not need a tag.