Outdoors Columns
Notes from a plant nerd: The plant nerds are coming!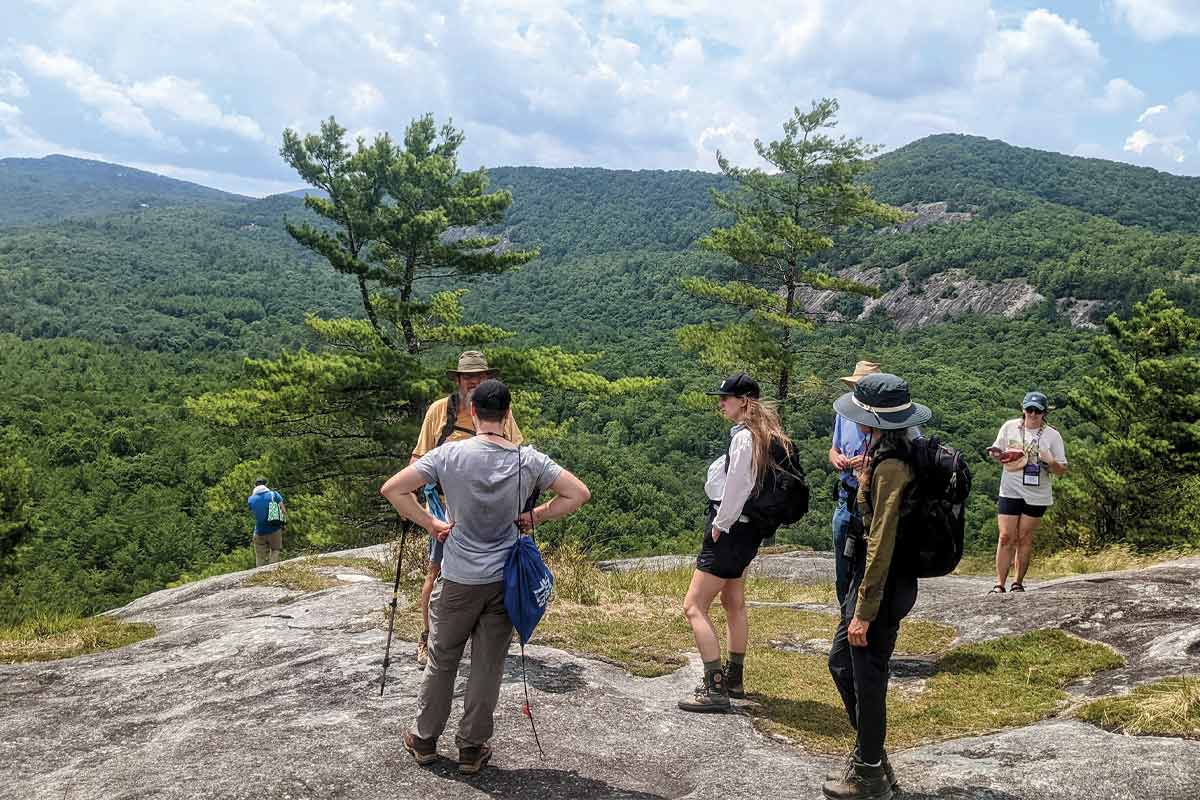 A group from the 2022 Cullowhee Native Plant Conference takes a field trip to Little Green Mountain in Panthertown Valley. Adam Bigelow photo
If you find yourself on the campus of Western Carolina University in the summer around the third week of July, you might notice a large and slightly odd group of people walking around.
While there are conferences and events all summer long at WCU, during this week you will see groups of people walking around the campus pointing at the ground, looking at the weeds and wildflowers, staring up into trees discussing how they can tell which species it is, tsk-tsking the mostly exotic plants found throughout the campus, and praising the occasional native plant used in the landscaping.
The plant nerds are coming! The plant nerds are coming!
Every summer for the last 18 years, save for one unnamed yet infamous year when we couldn't hold the conference, I have attended the Cullowhee Native Plant Conference. This will be my 17th year. This is the largest and oldest native plant conference in the country, and it happens every year right here in the heart of Southern Appalachia, Cullowhee, USA. And this year's conference, the 39th annual event, looks to be among the largest and most well attended ever in the history of the conference, topping out at over 450 people.
In 1984 the very first Cullowhee Native Plant Conference saw 170 people come to Cullowhee to attend what was initially proposed as a "plant utilization" meeting, an attempt to help increase the use of native plants in the horticulture industry, which was and mostly still is dominated by plants that are native to other parts of the world. With so many beautiful and resilient plants to choose from that evolved in the Southeastern U.S. the founders of the conference, including Cullowhee's own Dan Pitillo, a retired WCU botany professor, wanted to focus on planting and using native plants in the landscape.
These native plant visionaries decided to not just hold a strictly academic, or single trade type of meeting, but to invite people from a wide range of backgrounds including professors, nursery growers, landscape architects and designers, public garden managers and workers, teachers, native plant enthusiasts and home gardeners — anyone who shared a love and appreciation of native plants — to gather and exchange ideas and information. And they did. And they came back the next year, and the year after. And it has been going on for most of 40 years ever since.
It is still attended by a wide range of people from diverse backgrounds and careers. The conference is often split 50-50 between people who are attending for the very first time and those coming back through multiple years. I have friends that I have made at the Cullowhee Native Plant Conference who have been attending for 30-plus years. I've become close with fellow plant nerds who live as far west as east Texas, up through Pennsylvania, south to Atlanta and Florida, and east throughout the piedmont and coastal plain of the Southeast.
And while registration has been closed for some time due to the record-setting attendance, you can still come and check out the conference between 9 a.m. and 1 p.m. Saturday, July 22. We open the last day of the conference up to the general public to attend free of charge. This includes being able to come listen to the final day's speakers, and access the many vendors who are offering native plant themed art and books — and especially the plant sales.
And what a plant sale it is. Every year we turn the floor of the Ramsey Center, normally a basketball arena, into the largest and best native plant nursery in the south. We invite native plant nurseries from all across the Southeast to come and sell plants. And they do, often bringing their best and sometimes oddest native plants to sell.
So come and check out the Cullowhee Native Plant Conference and see what the buzz is all about. And while you're at it, go ahead and pencil in the third week of July 2024 to your calendar, and make plans now to attend what will be the 40th anniversary of this incredible conference. You might just keep coming back, year after year. I know I'll be there. Can't wait to see you.
(Adam Bigelow lives in Cullowhee and leads weekly wildflower walks most Fridays and offers consultations and private group tours through Bigelow's Botanical Excursions. This email address is being protected from spambots. You need JavaScript enabled to view it..)