Archived Outdoors
State budget funds more trails, parks and conservation
Wednesday, November 24, 2021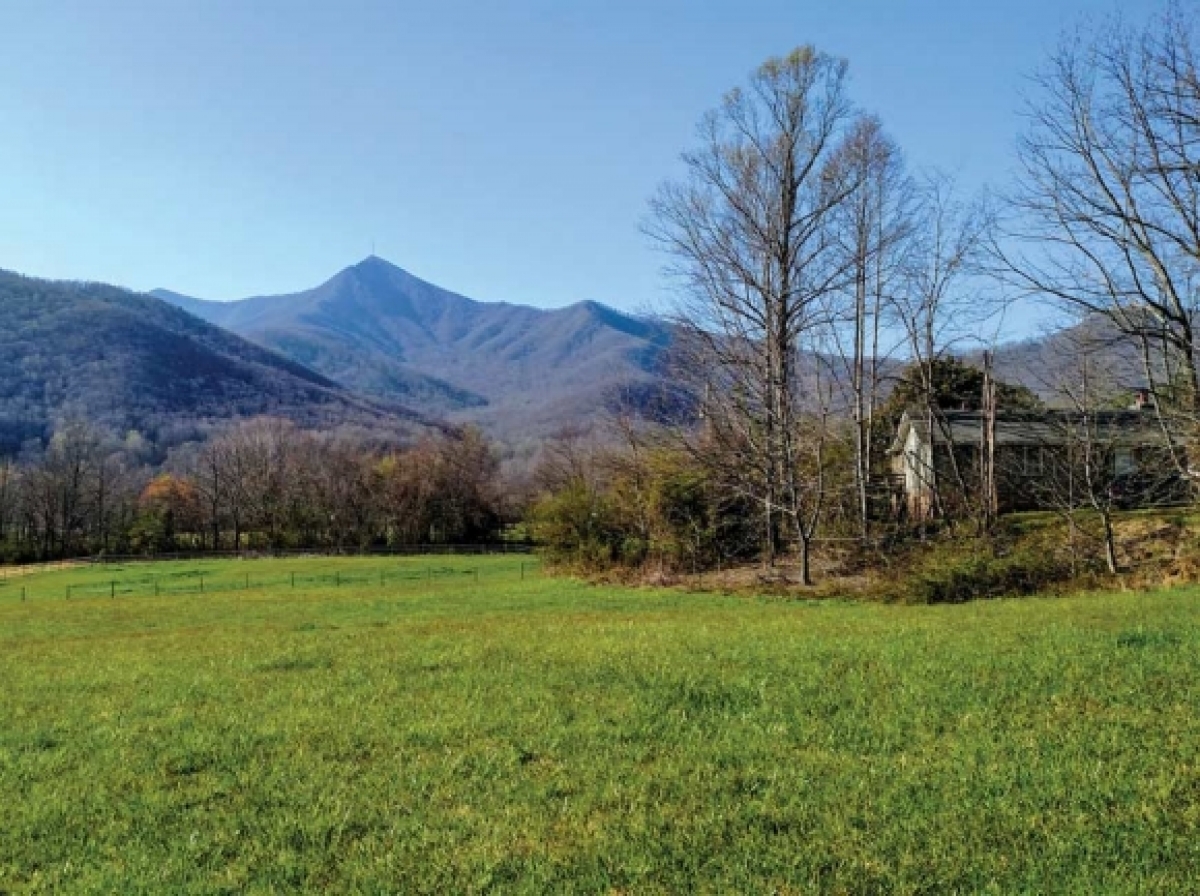 Mount Pisgah rises above the fields at Pisgah View Ranch. Donated photos
Western North Carolina will see a new state park, rail trail and miles of backcountry paths following Gov. Roy Cooper's Nov. 18 signature on the first state's first comprehensive budget law since 2018.
Over the next two years, the budget will increase state funding for parks, trails and conservation grants by hundreds of millions of dollars, a boost that's largely due to pandemic-related federal aid. Some federal dollars will go directly toward recreation and conservation budgets, while others fund other areas of the budget, thereby freeing up additional state revenues.
"I think we're going to see significantly more parks and trails and greenways both in state parks but also local parks, local communities all across the state," Reid Wilson, secretary of the N.C. Department of Natural and Cultural Resources, told The Smoky Mountain News. "What's exciting about that is that the budget shows that the state's leaders recognize the high value that North Carolinians put on having plentiful outdoor recreation opportunities. I think that bodes well for continued expanded funding in the future to continue to provide outdoor recreation to people in North Carolina."
Clearing the way for Pisgah View
The budget includes $12.2 million in nonrecurring funding for Pisgah View State Park, 2.5 square miles of former ranch property straddling Haywood and Buncombe counties. The legislature approved it as a new state park in 2019, but it has yet to be purchased out of private ownership. The enabling legislation allowed the state to start seeking funding toward the approximately $18.2 million purchase price it had agreed to with the current owners, the Cogburn family.
About $6 million of that price tag has been paid so far, and the newly enacted budget will provide the balance, with $9 million available in the current fiscal year and $3.2 million in 2022-23.
The contract was set up as a five-year installment plan, but the budget's adoption will shave a full year off that timeline, meaning that the park will likely open to the public sooner than originally planned, Wilson said.
The budget also provides initial staff for the park to develop a master plan in partnership with the community. That process will take "a couple years," Wilson said, and once it's complete a certain amount of work will need to take place on the property before inviting the public to explore it — primarily building renovations, parking and trail work, though Reid said that existing trails on the property seem to be "in pretty good shape."
"When it's open, it's going to be 1,500 beautiful acres for hiking, for going to the big meadow and looking at Mount Pisgah in the distance," he said. "It's just a spectacular place."
Located about a 40-minute drive from both Asheville and Waynesville, the park's location and stunning beauty are sure to make it a destination, Wilson said.
"It's truly stunning," he said. "The fact that it's so close to Asheville and Waynesville I think means it will be very popular and heavily used, because we all know that people in the North Carolina mountains love to get outside and hike or bike."
There's no firm date for the park's expected opening, but Reid said he anticipates that to happen at least by 2025. A more specific goal will likely be announced once staff come on board and start working through the master planning process.
Preparing for "Year of the Trail"
In August, North Carolina declared 2023 to be "Year of the Trail," and the new Complete the Trails Fund established in the 2021-23 budget aims to get the party started early, providing $29.25 million in nonrecurring funding to support the N.C. Trails System.
While official state parks have long been eligible for grants through the Parks and Recreation Trails Fund, this is the first time that the budget has included a significant pot of money reserved just for trails. Funds will be administered by the N.C. Trails Program within the Division of Parks and Recreation, and could be used to plan, build, promote and maintain North Carolina's 12 official state trails — a count that includes the Roanoke River Paddle Trail, newly established in the budget law. The budget also provides $95,000 in recurring funding for a state parks trail coordinator to oversee trail development efforts.
"That is new and bold and quite substantial," said Wilson. "It's so important to fund additional trails because we have seen during the pandemic how much people want and need to get outdoors and stay healthy in mind and body, and so having this new almost $30 million go toward expanding the state trail system is really an important step forward. Literally many steps forward when you think about it."
North Carolina has 12 official state trails that will benefit from the money, including the 1,175-mile Mountain-to-Sea Trail that stretches from Clingmans Dome to the Outer Banks and the 117-mile French Broad River Trail that starts at the Tennessee border in Madison County and curves around to the east before ending near Gorges State Park in Transylvania County.
The number also includes several trails that have been authorized but not built yet, including the Fonta Flora State Trail, a hiking and biking trail to connect Morganton and Asheville; the Hickory Nut Gorge State Trail, which would connect Chimney Rock, Lake Lure, Weed Patch Mountain, Bat Cave, Florence Nature Preserve and Bearwallow Mountain; and the Wilderness Gateway State Trail, which will meander through Catawba and Burke counties and along the border of Rutherford and McDowell.
The Great Trails State Coalition, a group of organizations, agencies and individuals that advocates for increased investment in trails statewide, celebrated the funding as a "landmark victory."
"It is a job well done by everyone — from the coalition to members of the General Assembly to Governor Cooper," said Judge Robert C. Hunter, president of Friends of the Fonta Flora State Trail, in a press release from Great Trails. "The citizens of North Carolina will benefit from this cooperative effort, whether a trail brings them recreational opportunities, healthy lifestyle choices, a positive economic impact or transportation options
The budget also provides $500,000 to fund development of the Ecusta Trail, a proposed 19.4-mile rail trail connecting Brevard and Hendersonville.
"There couldn't be a better time for there to be more funding to provide natural surface trails for people across the state," said Wilson. "And again, as the state's population grows and more and more people clamor for outdoor exercise, giving them what they want and need for their health is really important."
More grants for parks and conservation
State trails and parks, as well as locally managed projects like the much-anticipated Chestnut Mountain Nature Park in Canton, will get a boost from the $91 million in additional funding the budget provides to the Parks and Recreation Trust Fund, as well as the $100 million allocated to the N.C. Land and Water Fund over the next two years. Those appropriations are non-recurring funding the programs will receive above and beyond what they typically get from the state each year.
Of the PARTF funds, 30% is distributed to local governments for projects like parks and greenways, while 65% goes toward state park projects, Wilson said.
Canton Town Manager Nick Scheuer said he's hopeful that a chunk of that money could fund a $500,000 grant request the town put forward to develop trails and other recreation amenities on the 450-acre Chestnut Mountain Nature Park property. The town did not receive its requested funding in the first round of grants this year but was told that the program would likely announce additional awards if the state passed a budget with more PARTF funding.
"We were told previously that pending the large funding apportionment approval in the budget, PARTF would consider additional applications for approval this year," said Scheuer. "I have since reached out to our PARTF contact and was told that a decision would be made within the next two to three weeks."
Because two-thirds of PARTF monies go toward state park projects, the money could also help hasten development at Pisgah View, Wilson said.
"I think the pandemic showed us how much people want to be outside and need to be outside," he said, "and this budget is responsive to that."
BOX
Budget news for parks and recreation
While the list is not exhaustive, here's a look at the biggest-ticket items benefiting parks and recreation in the 628-page budget document that will guide North Carolina for the next two years.
N.C. Land and Water Fund, $100 million (nonrecurring)
Parks and Recreation Trust Fund, $91 million (nonrecurring)
State Parks water and sewer projects, $40 million (nonrecurring)
Complete the Trails Fund, $29.25 million (nonrecurring)
N.C. Land and Water Fund floodplain grants, $15 million (nonrecurring)
Pisgah View State Park, $12.2 million (nonrecurring)
State Parks operating reserves, $3.5 million (recurring)
Ecusta Trail, $500,000 (nonrecurring)
Youth Conservation Corps, $200,000 (recurring)
State Parks trail coordinator, $95,000 (recurring)